The MasterChef Canada Back to Win finale has finally arrived and after tonight's episode, one of three talented MCC sophomores will secure themself a $100,000 prize, a "Chef's Culinary Package", and will become the seventh MasterChef Canada champion in the acclaimed cooking competition's storied history.
For the first time ever, three white-jacketed chefs enter the MCC kitchen to face off in the finale. As if that pressure wasn't enough, in addition to cooking for their lives in front of the three esteemed judges, they will also have to perform under the captious gaze of their former fellow competitors.
Having each reached the finals of their respective original seasons, this is a chance for both Andy and Thea to complete their redemption arcs and take the only step that eluded them during their previous runs.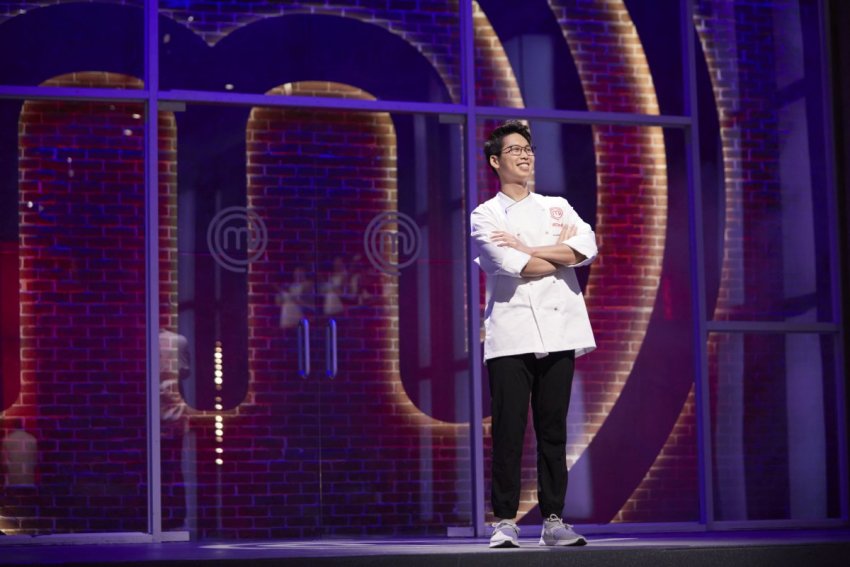 Christopher has long since improved upon his inaugural sixth place finish, but tonight the award-winning pastry chef will be looking to add another accolade to his impressive resume while proving that his culinary prowess extends beyond the world of baking.
Before tonight's proceedings get underway, each of the finalists receive a welcomed boost of support and encouragement courtesy of their loved ones back home, and after taking a brief moment to recover from the emotional impact, we jump right into the challenge.
The final challenge of the season will span a total of three hours. At the end of each hour, the chefs will deliver one of three courses to the judges. The appetizer and entree courses will be judged in private, while the judgement process for the dessert course will take place in front of the finalists and their balcony audience.
Appetizer Course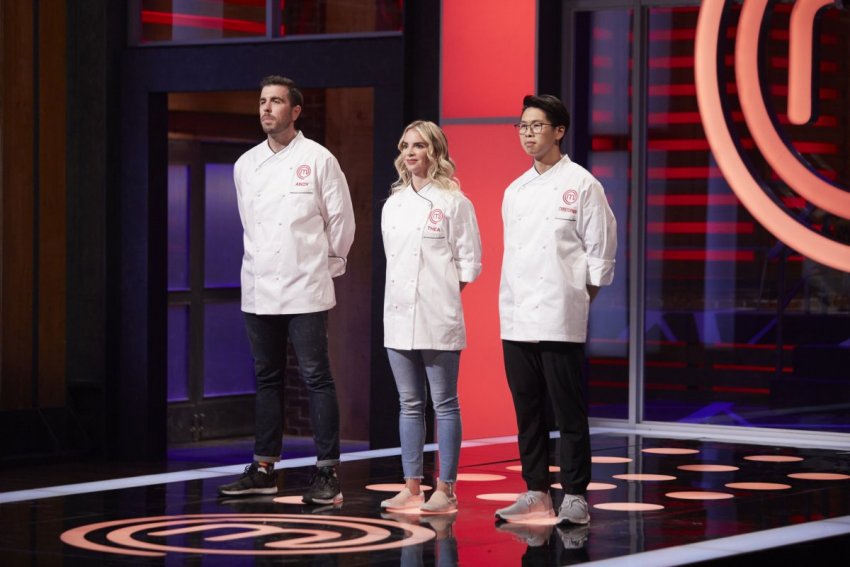 Since the chefs had prior knowledge of tonight's challenge parameters, they very likely already have preconceived menus in mind. After quickly gathering their ingredients from the pantry, the finalists take their place in their circular cooking station.
Christopher says his menu is going to take a creative spin on traditional Asian flavours, Andy says his menu is going to represent East Coast hospitality, and Thea's menu is going to fuse the flavours of Mexico and her home region of Vancouver Island.
Thea says she grew up fishing and eating fish tacos with her dad, so as an elevated homage to that experience, her first course will be a crispy snapper crudo with compressed cucumbers, whey cucumber foam, and a masa tuile topper.
Christopher is starting his menu out with a calamansi and chili marinated spot prawn ceviche. He's going to serve it in a tom yum gai ice cream base, which he says will give the judges an interactive dining experience while keeping the ceviche itself cold. Before the pandemic, he and his wife had planned a destination wedding in Thailand, but since they weren't able to go, this dish will bring Thailand to Canada.
Andy's appetizer is going to be a seafood platter of sorts featuring pan-fried scallops, cornmeal-fried oysters, pickled mussels, caviar, and a green apple vinaigrette. Although it does sound like a delicious assortment of seafood hor d'oeuvres, based solely on the description we're privy to, I have to wonder if it will be enough to outshine his competitors' concepts.
With 30 minutes of the first hour already elapsed, Christopher notices a potentially fatal flaw in his ice cream mix that may render my last point moot. He's added too much starch and the texture is looking far too thick. To avert the crisis, he begins blending a clever combination of chicken stock, cream, fish sauce, and lime juice, which seems to salvage the dish.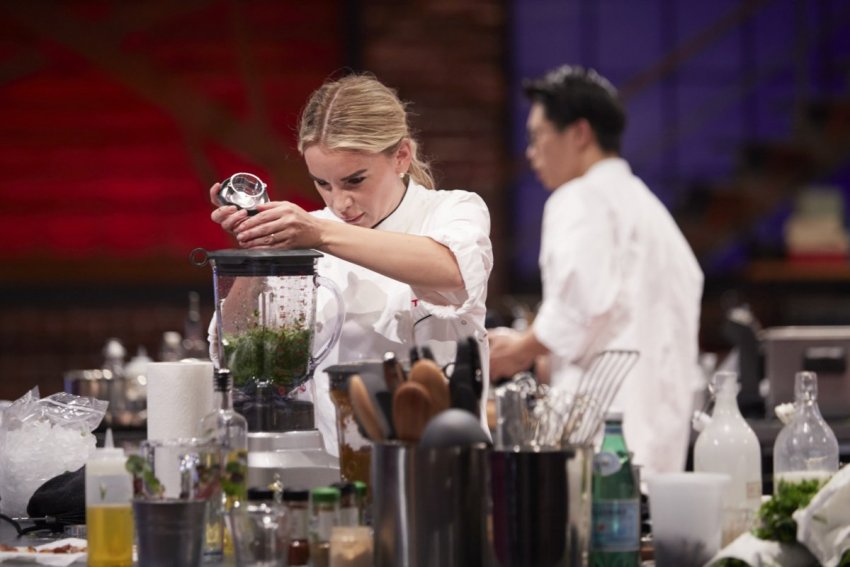 Thea says she's 100 per cent worried about balancing flavours, so to increase the assertiveness of her compressed cucumber component, she uses a vacuum sealer to infuse a combination of lime and cucumber juice into the cucumbers themselves.
As the clock continues to wind closer to the one hour mark, Thea seems on track. Andy, however, is scrambling to assemble the final pieces to his seafood platter puzzle, and Christopher, who is now worried his ice cream won't have time to set, starts pouring liquid nitrogen into his ice cream maker to speed the process along.
Claudio points out that the decision will either make or break the dish… literally; if he adds too much, the ice cream maker could potentially seize up and stop working. The situation may be tense, but it does provide a poetic encapsulation of the Toronto baker's MasterChef Canada run thus far.
Despite the last-minute panic, the finalists finish their dishes on time and the judges head back to their private dining room to taste each of the appetizers.
The judges all seem impressed with Christopher's presentation, and after digging in, they are equally pleased by both the textures and flavour. Claudio says Christopher demonstrated great control and infused the right amount of acidity, but could have used more calamansi to balance everything out.
The presentation of Thea's crudo also receives an overwhelmingly positive response from the judges. Alvin and Claudio also praise her innovative technique, but Michael suggests that she was a tad too subtle with her seasoning.
We then get our first glance of Andy's completed "seafood platter" and I definitely do not think his initial description did the final product justice. Like his competitors' appetizers, his presentation looks pristine. Alvin applauds the cookery, the balance between richness and acidity, and Claudio claims that the dish is one of Andy's crowning achievements.
It's certainly starting to look like the judges will have their work cut out for them tonight.
Main Course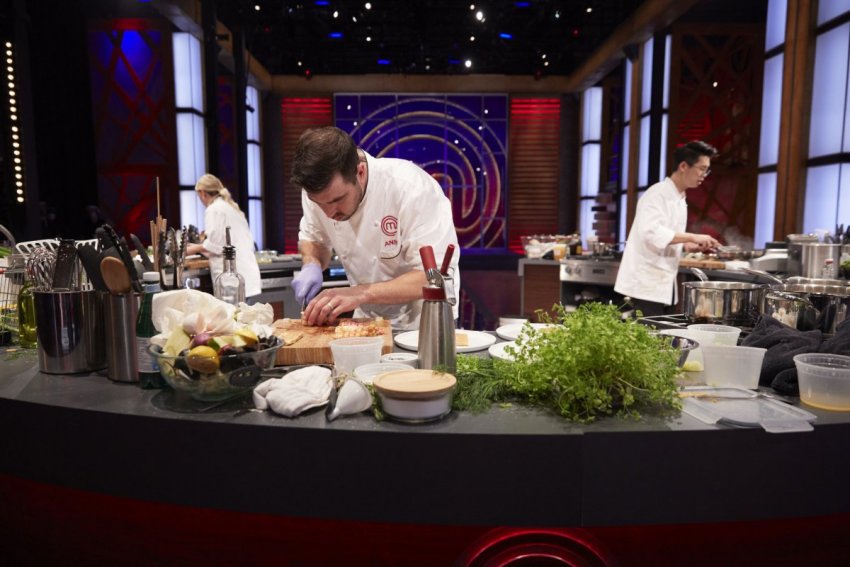 As the judges continue to sample and deliberate over the first course, the competitors are already busy cooking their entrees.
For Thea's main course, she's going to be making a sous vide venison loin with roasted turnips, rapida verde, and a poblano mole. To ensure her sous vide goes smoothly, she's decided to use the vacuum sealer for a second time.
Andy explains that he's going to be doing an East Coast lobster roll with a compressed choux pastry in place of the standard bun, salt and vinegar potato chips, and a sabayon made with Nova Scotia's own Tidal Bay wine. Similarly to Thea's new favourite technique, he's using a vacuum seal to infuse tarragon, white wine, salt, and butter into his lobster tails.
Between Thea and Andy's multiple usages and the judges' repeated mentions, I'm starting to wonder if they had some kind of sponsorship quota that they were required to hit by the end of the season.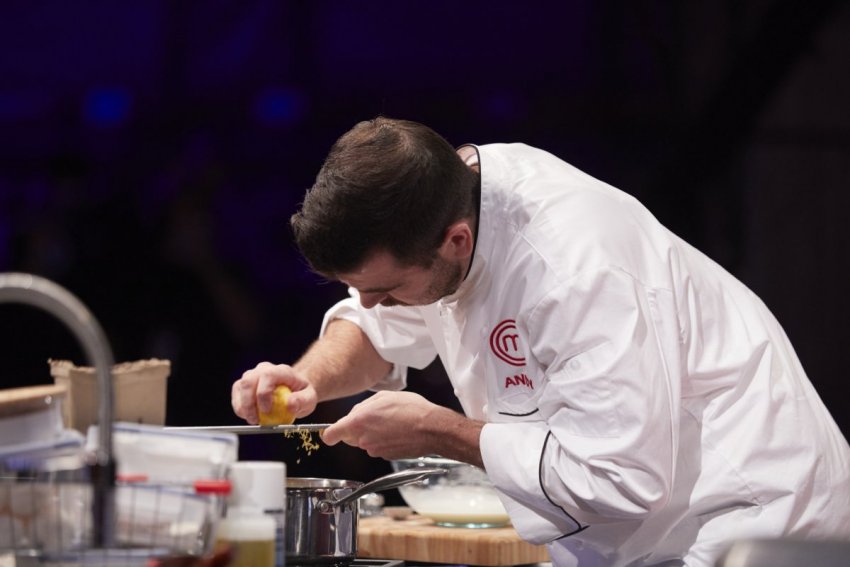 Christopher is doing a duck breast with a smoked tea egg in a taro nest, served alongside a duck jus and a celeriac puree. Just like he has throughout the season, he seems to have every minute of the hour precisely allocated, so knowing there won't be any surprise challenges tonight has to be a relief.
Just as the competitors begin getting into their grooves, Alvin announces that there are only 20 minutes remaining, so Andy decides to start working on his choux pastry. His first attempt proves unsuccessful, but he maintains his composure and nails it on the second effort with time to spare.
Thea also appears to also have time on her side as she continues to develop her flavours by tasting each component and adjusting them accordingly. Christopher isn't as fortunate and announces to the balcony that he's starting to fall behind. He's built the base of his dish and he's starting to smoke his eggs, but he still needs to make his celeriac puree and carefully fry each of his taro nests.
With five minutes now remaining, Thea is the first to start plating. We only get a brief view of her venison and it does seem a little on the rare side, but since it has time to rest I think she'll be probably alright. Christopher has also cut into his protein and despite his initial concerns, the cook on his duck looks spot on. Andy's lobster also looks perfectly cooked so it seems we're about to have another nail-biter on our hands.
The servers swoop by to pick up the judges' entrees and the chefs move seamlessly on to their dessert courses.
Before digging into Andy's lobster roll, Alvin proclaims he's succeeded mightily in deconstructing the classic East Coast comfort food in an elevated and alluring way. Michael and Claudio follow by praising the tenderness of the lobster and the light and delicate nature of the sabayon, but both feel somewhat let down by the choux pastry.
Michael then moves on to Thea's main course and confirms that the venison is slightly undercooked, but Claudio says he is captivated by Thea's plating and that he admires her modern interpretation of traditional Mexican cuisine. Although slightly thrown off by the doneness, Michael says the venison is packed with flavour and the mole is big, bold, and balances beautifully with the rapida verde.
All three judges appear immensely intrigued by what Christopher has created for his main course, but say the dish's success will be decided by the cook on his smoked egg. Thankfully for Christopher, after a delicate slice down the centre, the judges determine the dish has been executed impeccably. They remark that the concept was highly ambitious, but that every element has been cooked to perfection.
Dessert Course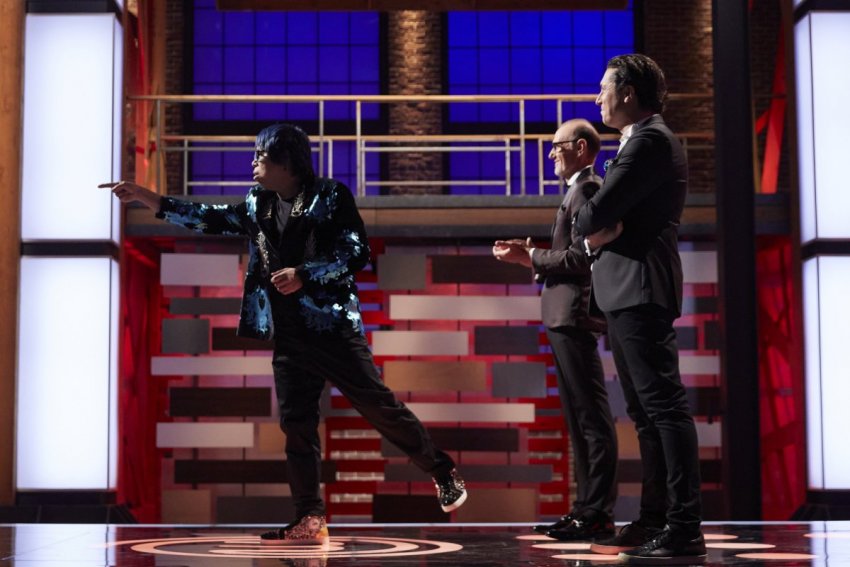 When we rejoin the chefs, 15 minutes have already elapsed and they now have 45 minutes left to complete their dessert course. The competitors all seem relatively spent, but with the MasterChef Canada crown on the line they each rally en route to the finish line.
Christopher is making a cheesecake that he says will play on a traditional Chinese dessert called mango pomelo sago. Michael asks him what the wow factor will be and Christopher explains that he will be creating a cheesecake foam filled with a mango pomelo sago mixture with brown butter crumble, lemon sponge, passion fruit meringue, and coconut snow.
Thea tells Claudio she's going to be doing a play on a chili-rimmed hibiscus margarita, inspired by a past trip to Mexico with her husband. The dessert will feature a coriander sponge cake with hibiscus panna cotta, habanero ice cream, and macerated tequila and lime melon balls.
Andy is making what he affectionately titles "The end of the night at the cottage with Andy." He's sticking to his East Coast theme with an elevated interpretation of Nova Scotia's popular blueberry grunt. He says the traditional dessert is typically enjoyed around a campfire, so he's making his lemon blueberry grunt with a smoked blueberry compote, toasted meringue, and a lemon gelato disc.
If you've seen any of the previous episodes, it likely comes as no surprise that each of the steps Christopher has tasked himself with are highly technical. After creating his cheesecake foam, he begins the process of transforming it into a "sugar bag" by cooking it down with isomalt sugar. To the visible amazement of his former competitors, he's also broken out the liquid nitrogen for the second time tonight to help craft his coconut snow.
Not to be completely outdone, Thea and Andy are also employing a few advanced techniques of their own. Thea has combined cream, milk, and sugar with hibiscus leaves and gelatin to create a stunning purple panna cotta, while Andy begins blowtorching a cookie cutter which he then uses to punch out individual disks of gelato.
As the final 10-minute countdown commences, the balcony audience are cheering the chefs on like never before, but Jen suddenly points out that Thea is nowhere to be found. She's back in the equipment room dealing with the same problem that Mai faced in the episode that ended her MCC run; she's desperately trying to shape her quenelles, but the ice cream is not cooperating.
While Mai ultimately elected to scrap her quenelles and use a piping bag instead, the ever-resilient Thea decides to gradually shape her ice cream over time by repeatedly inserting them in and out of the blast chiller.
The clock strikes zero and it appears as though each of the three finalists have completed their desserts on time.
As Christopher describes his dessert to the judges, both the judges and the balcony audience alike seem blown away by the ambitious technical creativity of his concept. Claudio is the first to offer his critique and his assessment is strikingly similar to the one he gave for Christopher's Gateau St. Honoré. He says he doesn't like it… he loves it. I don't think he fooled anyone this time around.
In addition to a fantastic flavour profile, each component is well-executed, thought-provoking, and complimentary of one another. He tells him the dish is a showstopper, which Michael agrees with, but states that he would have liked it to have more mango.
Andy has already lost a finale to a show-stopping dessert, and you can tell he's clearly brought his A-game this time around. His dessert creation showcases an impressive level of finesse and Michael asserts that it is the most lovely blueberry grunt he's ever laid his eyes on. Alvin tells him he's succeeded in elevating the humble dessert, but his sponge cake is a touch heavier than he would have liked.
Thea's chili-rimmed hibiscus margarita-inspired dessert is the last to receive judgment. Alvin remarks that he's amazed by the simple geometry on display, while Claudio says she's created "one of those desserts that simply stops the conversation." Not only has she nailed the delicious hibiscus flavour, he's also enamoured by the panna cotta's pleasantly unique and satisfying texture.
He goes on to say he's amazed by her imagination and Michael exclaims that she's created a fiesta in a bowl, but he would have liked her to utilize the leftover juice from her vacuum pack.
Judges' Table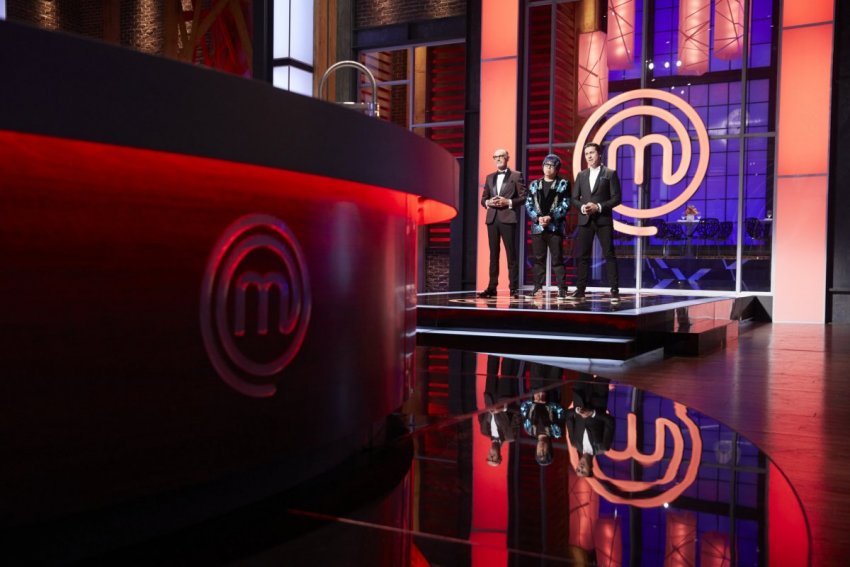 As the judges begin to break down each of the chefs' three courses, Alvin says Thea's presentation and concept were very strong, Andy's flavour was very comforting, and Christopher's innovation and creativity was out of this world.
He states that previous finales have typically come down to which dessert was best, but this season's dessert course just made their final decision harder. Christopher echoes that sentiment and says he didn't expect Thea and Andy to create such amazing desserts. I can't help but concur; I imagined Christopher would win the dessert round by a landslide, but in reality it couldn't be closer.
Claudio tells the chefs that each of their final menus would have been enough to win them the title in previous seasons, but after a long and difficult deliberation, they've come to a unanimous decision.
The finalists then line up to receive the judges' verdict, and to their elated surprise, they're told that since they all had such strong performances, each of the three will be rewarded with a "Chefs' Culinary Package" featuring a gas range and hood along with a stainless steel refrigerator and dishwasher, valued at over $18,000.
After the chefs celebrate what sounds like a pretty stellar consolation prize, they wish each other luck and prepare for the judges' final decision. Although it was a tremendously close call, one chef left a more lasting impression than the others. By the slimmest of margins, Christopher is crowned the winner and Canada's new MasterChef.
Kitchen Scraps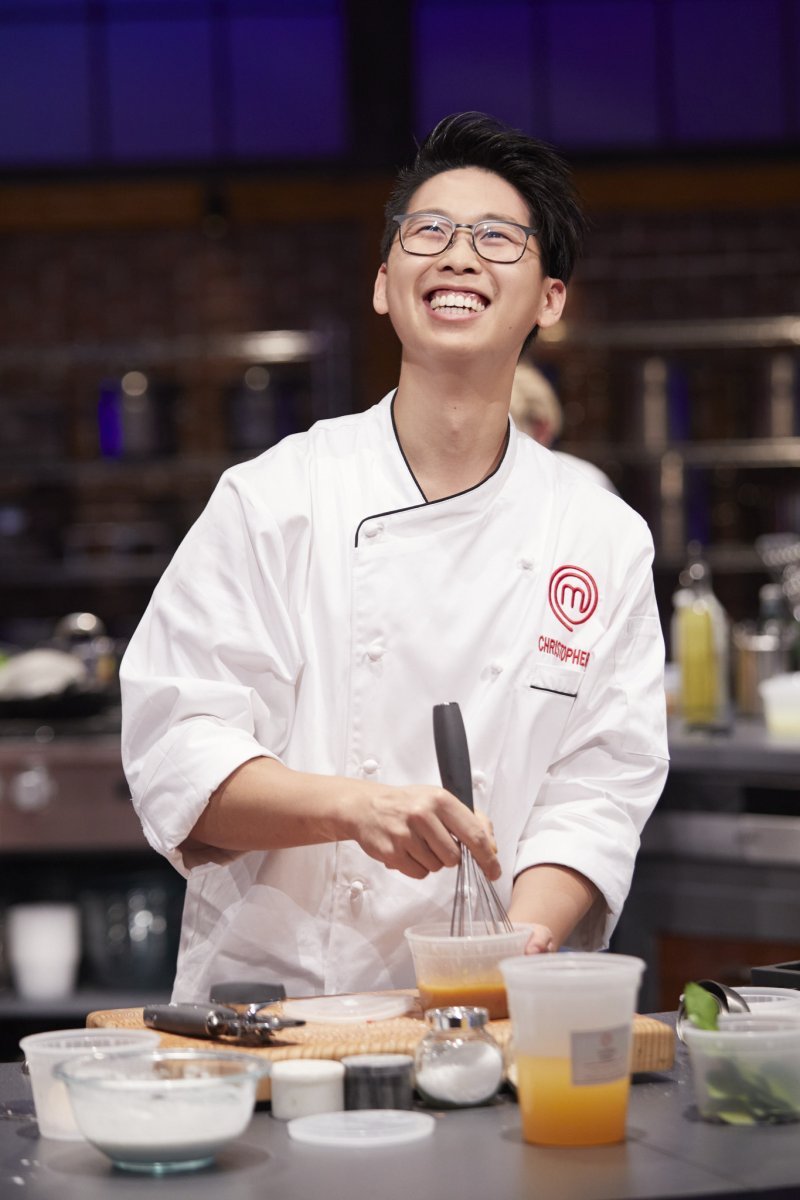 Considering the sheer amount of strenuous volatility each of the competitors endured throughout the season, I think I would have been happy to see any of the three finalists come out on top in tonight's finale, but witnessing Christopher's face light up after finding out he had become the new reigning MasterChef Canada champion felt particularly uplifting.
I think all three chefs showcased a great deal of talent and growth, but the way Christopher conceptualizes his cuisine is truly on another level. Considering he is already doing amazing things with his burgeoning Toronto-based baking empire, it will be quite interesting to see how much the MCC crown accelerates his culinary progression.
I've said it fairly frequently as of late but I feel obliged to say it once more, Andy and Thea may not have achieved their ultimate goal, but the two-time runners-up definitely deserve to feel proud of what they accomplished this season.
Aside from possibly Andrew, Thea put forth the most consistently strong performances this season and despite finishing the series in the same position as her Season 4 run, her growth in terms of confidence and technique was tremendous. Additionally, the inspirational determination she never failed to display in the face of fear and anxiety is something I won't soon forget.
Andy's tenacity has also been really remarkable to watch. He found himself competing in almost every single elimination challenge that took place this season and proved that he can go toe-to-toe with the best chefs in MasterChef Canada history. Christopher and Thea may have the advantage when it comes to fine dining, but given the option, I would likely choose to crush East Coast comfort food at the end of the night at the cottage with Andy.
In any event, I'm very much looking forward to seeing what the future holds for each of this season's talented cast of competitors.