After 10 weeks of grueling competition, we are officially down to the final four and just one episode away from the MasterChef Canada Back to Win finale. For the third straight week I'm still wondering whether we're going to see the first double elimination of the season or if this year's finale will feature three chefs for the first time ever.
Perhaps the chefs' penultimate performances will play a determining factor. Only time will tell.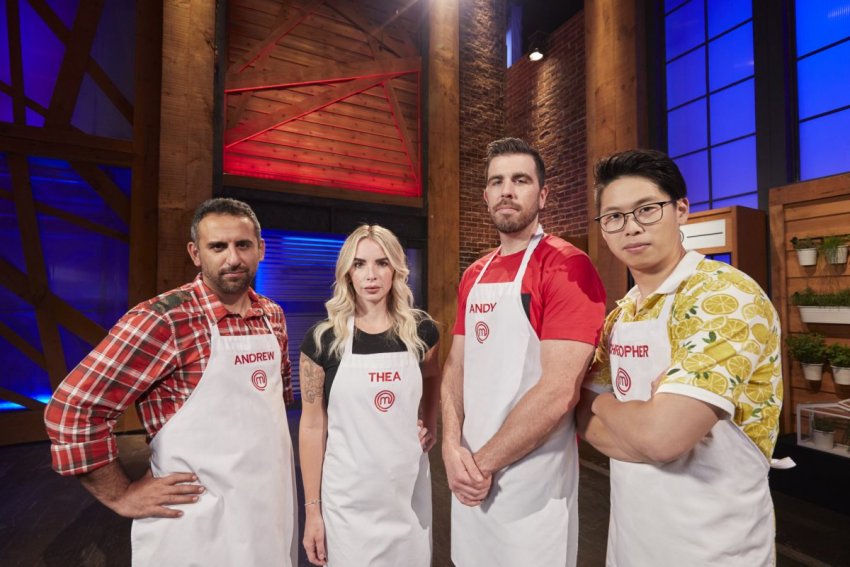 There seems to be an extra air of confidence surrounding the cooks as they enter the MCC kitchen today and rightfully so; they've overcome onerous obstacles, fierce competition, and weathered the storm of enhanced expectations to earn the right to take their place in the final four.
The judges arrive and it turns out we don't have to wait long at all for them to finally address the elephant in the room. Three competitors will cook in this year's finale and only one chef will be eliminated tonight.
Skills Challenge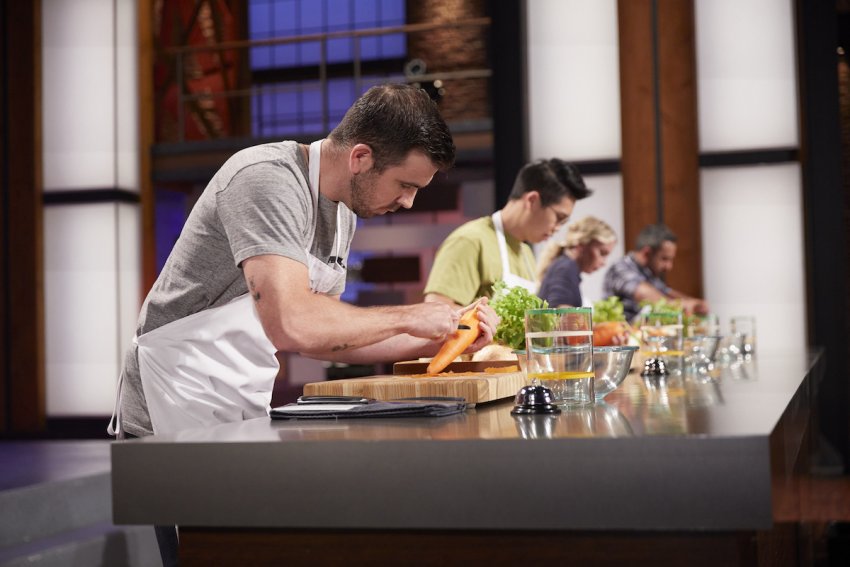 Alvin tells the competitors that the first challenge will feature three skill-testing rounds and that the winner will be granted an important advantage in tonight's elimination challenge. On numerous occasions, Andrew has been the one to rise up when an advantage is on the line, so we'll see if he can keep up his impressive track record here.
Claudio proceeds to present the chefs with a mirepoix of aromatics that have been uniformly diced, Alvin unveils a broken down coconut, and Michael lays out a trussed trio of chicken, roast beef, and trout. The chefs will have to replicate all three of the judges' demo displays to move on to the next round of this challenge.
Andrew and Andy probably have the most restaurant experience of the final four, so I'm expecting them to have the advantage since they've likely spent the most time doing prep work. But Christopher, who has admitted to doing very little prep work at his bakery in Toronto, is the first to finish, followed by Thea and Andy. I'm a little surprised that the judges didn't inspect the quality of their knifework, but I suppose we have a lot to get through today.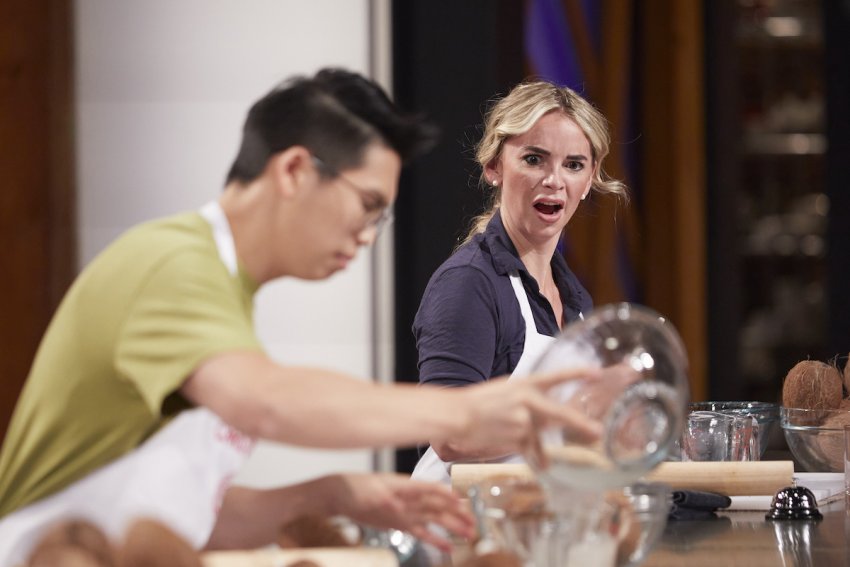 For the second round of this challenge, the three chefs will have to extract enough water from their collection of coconuts to fill a glass and harvest the meat from one. What experience Christopher lacks in routine restaurant prep he more than makes up with his expertise when it comes to coconuts. While the other two cooks have yet to open a single coconut, Christopher is already filling his cup, which results in a hilarious gasp of impressed amazement from Thea. He's unsurprisingly the first to finish, followed by Andy.
For the final round, in addition to trussing all three proteins, the two chefs must also gut and stuff their trout within ten minutes. Andy flies through the trussing of the roast and jumps to an early lead, but after struggling for some time with his chicken, Christopher catches up. Neither of the two finish their trout on time, but unlike the previous rounds, technique is key and Andy's is deemed superior.
Elimination Challenge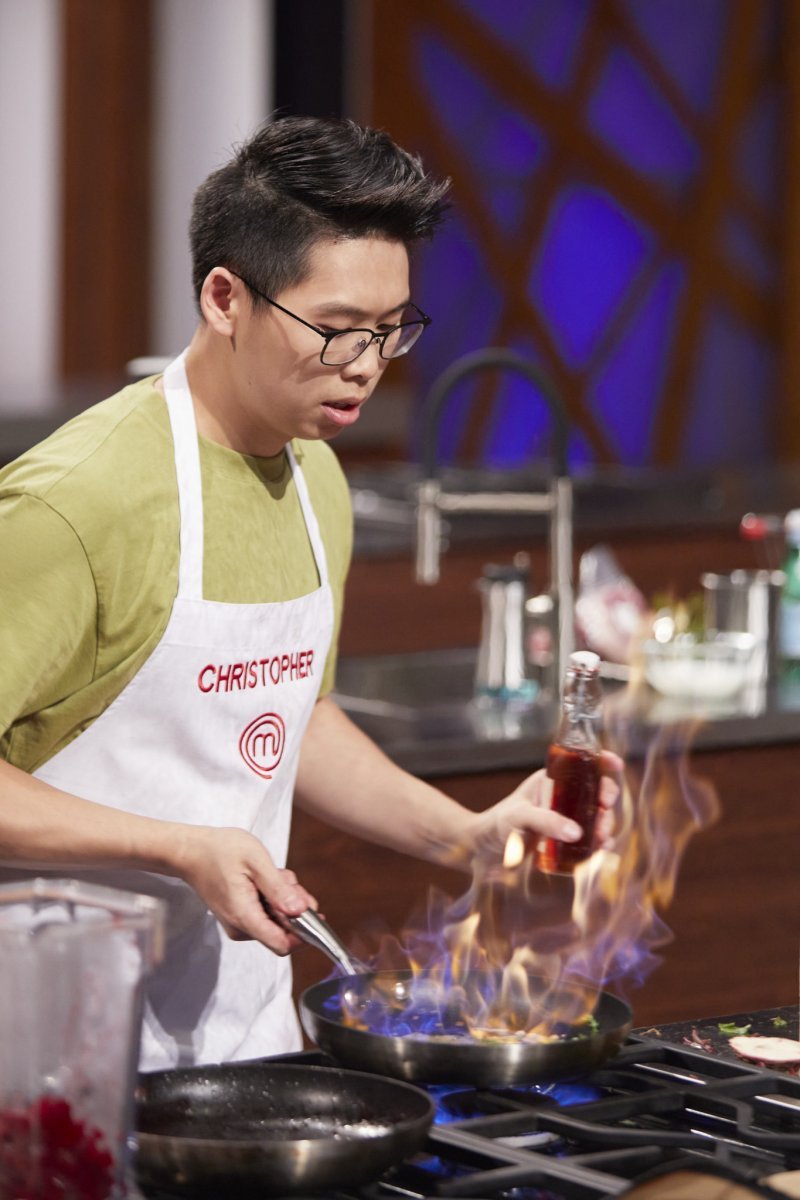 The judges explain that the chefs will have 75 minutes to demonstrate their culinary range by showcasing one ordinary ingredient–onion, carrot, cabbage, or beet–in an extraordinary three-course meal.
Since Andy won the skills challenge, he will get to decide each of the chefs' feature ingredient. He chooses carrots for himself, onions for Thea, cabbages for Andrew, and beets for Christopher. Both Andrew and Christopher appear quite happy with their ingredient, but Thea definitely does not. She's going to have to find a way to elevate a predominantly complimentary ingredient into the forefront, which could certainly pose a problem for the Vancouver chef.
After the chefs assemble their grocery baskets, Alvin explains that the judges will be expecting a marriage of ingenuity, innovation, and creativity from the final four competitors to make each of their humble ingredients shine.
Andy says his culinary style usually veers more toward comfort food, but for this challenge he's taking an elevated approach. For his first course, he'll be making carrot and ginger stuffed dumplings, crispy duck in red carrot curry as his main, and honey brown butter roasted carrots with Sicilian pistachios to finish.
Thea tells Michael she's going to do a play on a French onion soup with dumplings to start, followed by a pork tenderloin with an onion and apple slaw, and a striploin steak with charred onions in a sauce soubise.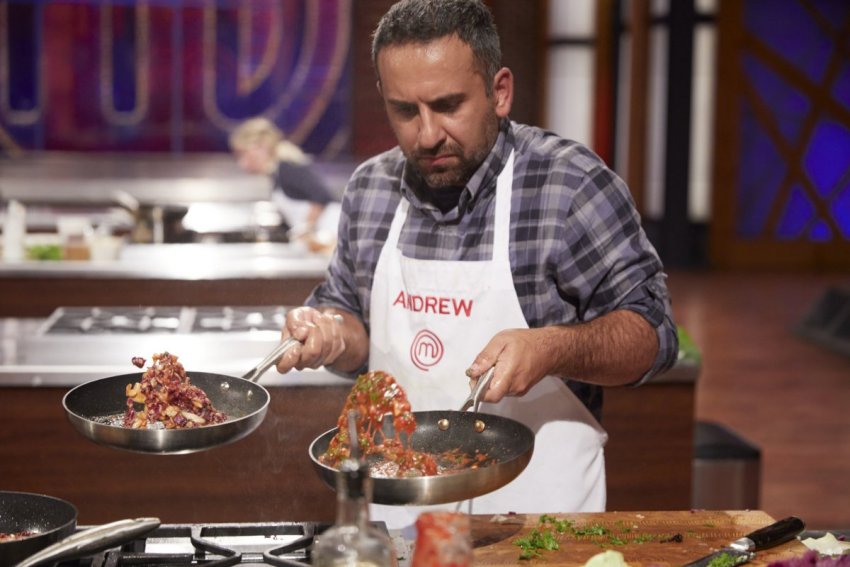 Andrew, who was probably the most elated of all the chefs with his ingredient selection, explains to Alvin that he's going to be making a Syrian-inspired cabbage roll with ground lamb, allspice, cinamon, garlic, and shredded cabbage in place of the usual rice component. For his second course he's making curry cabbage pakoras with mint raita and red cabbage chutney, and to conclude, he's doing a rendition of a choucroute garnie using caraway seeds and sauteed cabbage sauerkraut. Much to the very visible chagrin of the judges, he's also using canned luncheon meat as his primary protein.
Similarly to last week's elimination challenge, Christopher is going to be starting out tonight's menu with a palate cleanser. He's making a beet and pomegranate sorbet with ginger foam, charred corn, and a splash of balsamic, followed by a beet au gratin served with an onion and pine nut emulsion. For his final course, he's making a beet salad with salt roasted beets, smoked duck breast, goat cheese, and sherry vinaigrette.
I'm far less surprised to hear Christopher say that he may be overstretching himself than I am to see that he isn't making a dessert, but you've got to admire his courage.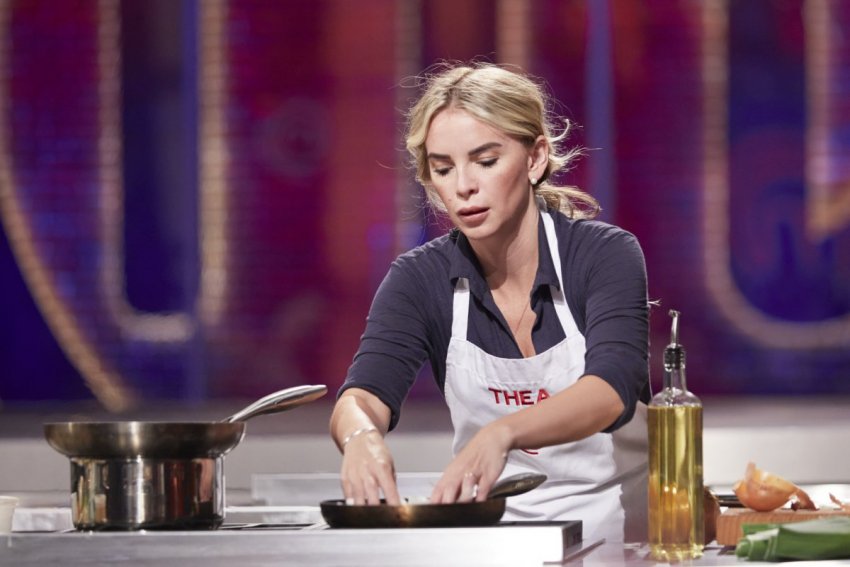 With 30 minutes remaining, Claudio points out that Andy and Thea are each making dumplings, but of the two former finalists, only Thea is making hers from scratch. Andy says the decision is a sacrifice he's had to make due to time constraints.
Although the judges weren't fond of his usage of prepackaged dumplings, as the clock continues to wind down, Andy's sacrifice is starting to seem like a wise decision. With five minutes now remaining, Thea's tenderloin is out of the oven but may not have time to rest properly, while Christopher's beets have yet to cook all the way through.
The clock strikes zero and based on the competitors' initial reactions, their collective emotional state currently resides somewhere between defeatedness and relief.
Judges' Table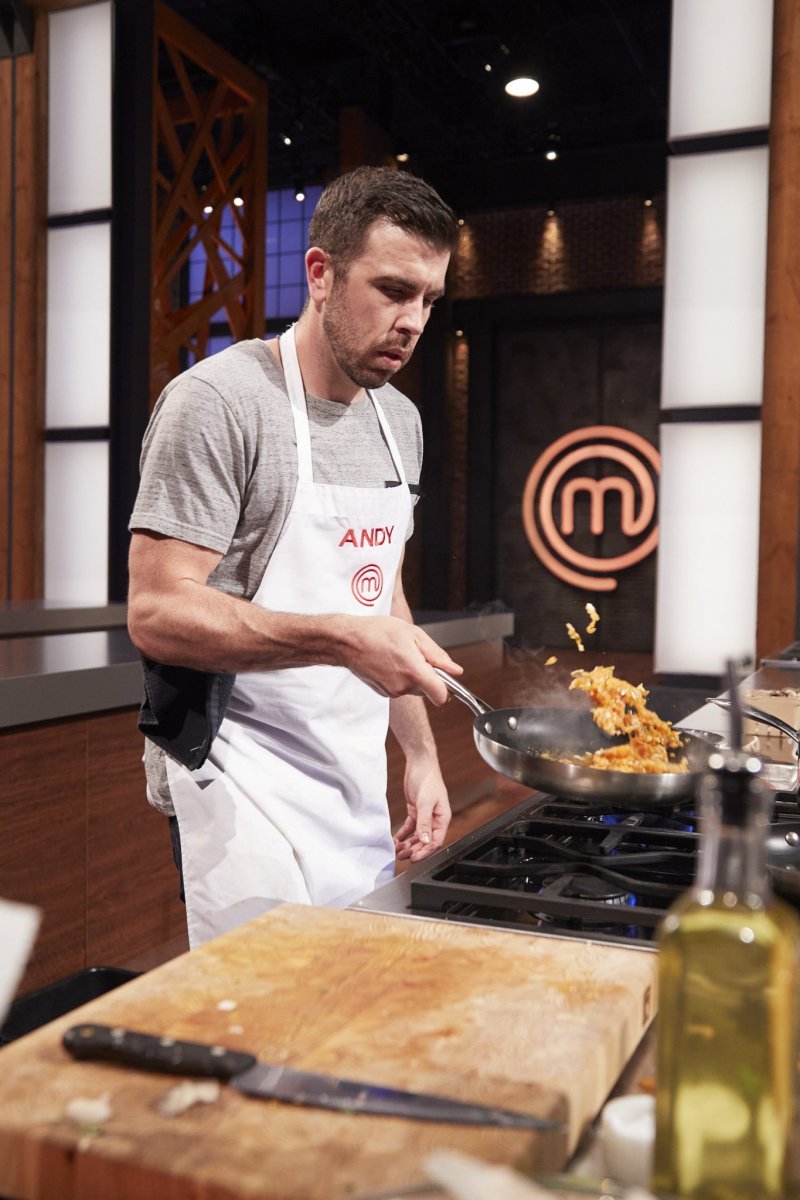 When Andy was selecting his competitors' ingredients, he said he specifically chose onion for Thea because she tends to showcase a lot of colour in her dishes, and as he approaches the podium, the first thing I'm noticing is how much vibrance he's managed to achieve in his own dishes tonight.
Alvin appears equally impressed by Andy's presentation. He wastes no time knocking him for his prepackaged dumplings, but the sacrificial transgression proves trivial as the Demon Chef smiles and states that Andy has honoured the Chinese dumpling. His honey and brown butter roasted pistachio carrots also receive a stamp of adulated approval from Michael, and Claudio claims that aside from the carrots getting somewhat lost in his red curry sauce, his duck dish is very smart.
Despite Andy's best efforts to thwart Thea's typical technique, her three dishes also look delightful. Although her charred onions required a touch more seasoning, Michael says her striploin, sauce soubise, and sauteed onions are all spot on. Alvin praises her perfectly executed French onion soup and dumplings, but Claudio is less impressed by the lack of creativity in her onion ring-wrapped onion and apple slaw.
Christopher has already stated that in terms of presentation, this has probably been his poorest performance of the season. The camera has yet to display all three of his dishes, and that kind of foreshadowing is definitely worrisome.
We finally get a glimpse of his final product and it does look significantly less well-composed than his usual offerings. His beet sorbet palate cleanser has some pop to it, but his smoked duck breast and his beet au gratin seem to lack the finesse we're used to seeing from the perfectionistic pastry chef.
Fortunately for Christopher, after Michael digs into his duck, he determines that it tastes much better than it looks. The cook is on point and the beet shines through in every bite. To my surprise, Alvin says his beet au gratin looks beautiful and that he's impressed by the technique on display. Claudio marvels at the ambitiousness of the beet sorbet, however, despite being generally pleased with the overall flavour profile, he's confused by the concept and he's not fond of the texture of the charred corn.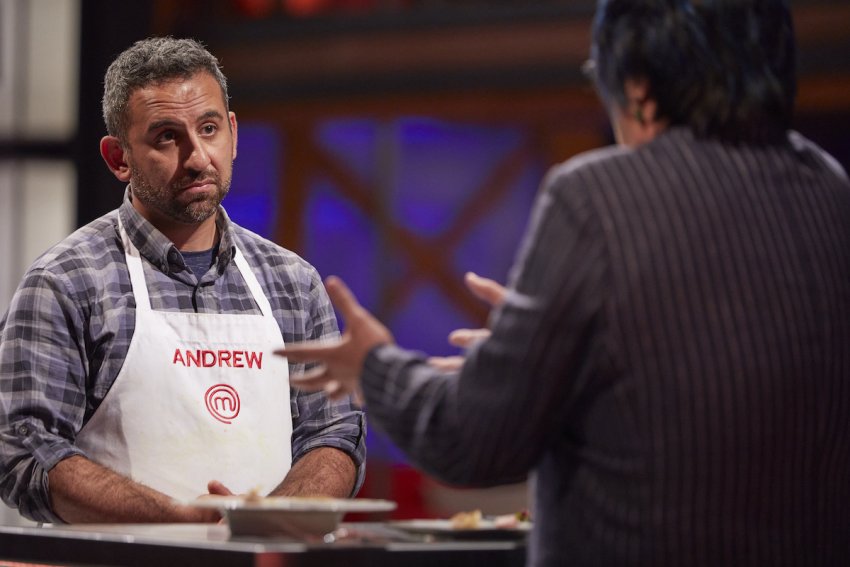 Andrew is the last to present his plates to the podium and of the four we've seen, his unique Middle Eastern-inspired menu looks the most intriguing to me. You can tell he's put a lot of himself into these three dishes and he appears quite proud of what he's produced.
Michael also seems excited to taste Andrew's creations, but after he steps up to sample his cabbage rolls, he looks a little let down. He compliments the cook but says he was expecting more boldness from his seasoning and aromatics. Claudio cuts into his cabbage pakoras and unlike Michael's response to the cabbage rolls, Claudio is blown away by both the flavour and the texture he's developed.
Alvin is less enthused about the presentation of his choucroute garnie. He says it looks too rustic and that he should have elevated the dish a lot more. He goes on to tell the Halifax chef that he doesn't mind his use of canned luncheon meat, but it overpowers the cabbage sauerkraut, which is also undercooked and underseasoned.
As he returns to his station with his head hanging low, the pride and optimism Andrew brought with him to the Judges' Table is nowhere to be found. I have to say I'm a little shocked by the judges' response to his menu, but in contrast to the feedback Christopher received, Andrew's food clearly looked better than it tasted.
After a quick conference to determine how the chefs fared, the judges say that they've come to a unanimous decision. They tell the final four competitors that they are all exceptional cooks, but unfortunately, the impressive run by the season's winningest chef has come to an end. Andrew has been eliminated from the competition.
Kitchen Scraps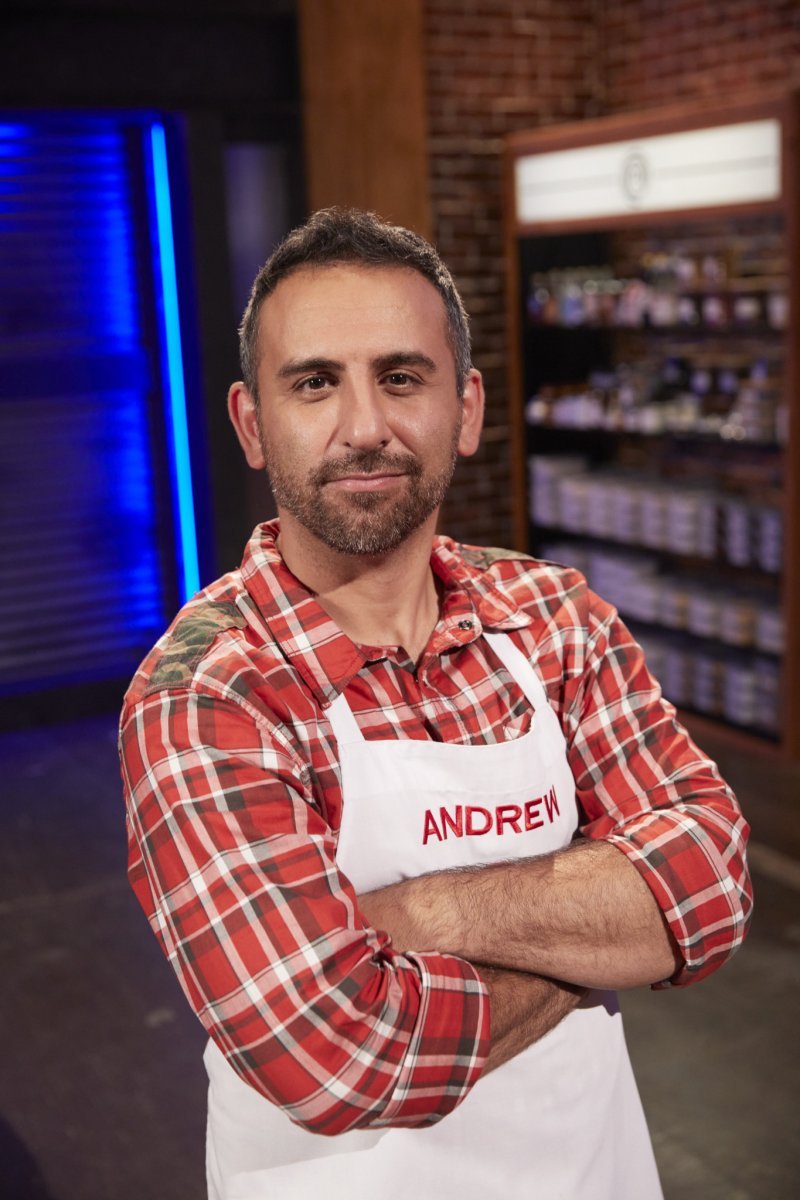 Being the final remnant of my original picks to make the finale notwithstanding, watching Andrew's reaction as the judges told him he put together the weakest menu was heartbreaking. He placed his plates on the podium with the youthful optimism of a kid on Christmas morning, only to find a singular lump of coal awaiting in his stocking.
Despite falling short of his ultimate goal, Andrew should be proud that he put together one of the most impressive runs we've seen in MasterChef Canada history, and that he stayed true to his heritage and to himself every step of the way.
I think the chefs would agree that Thea probably had the toughest task tonight, but in typical Thea fashion, she rose to the challenge yet again. No matter what obstacles are thrown her way, she seems to always put together pristine plates that are packed with flavour.
Christopher dodged a bullet tonight thanks to Andrew's poor performance, while Andy very likely delivered his best showing of the season. Christopher has shown that he has the ability to bounce back in a big way, but Andy peaking at the right moment could prove problematic for his fellow finalists.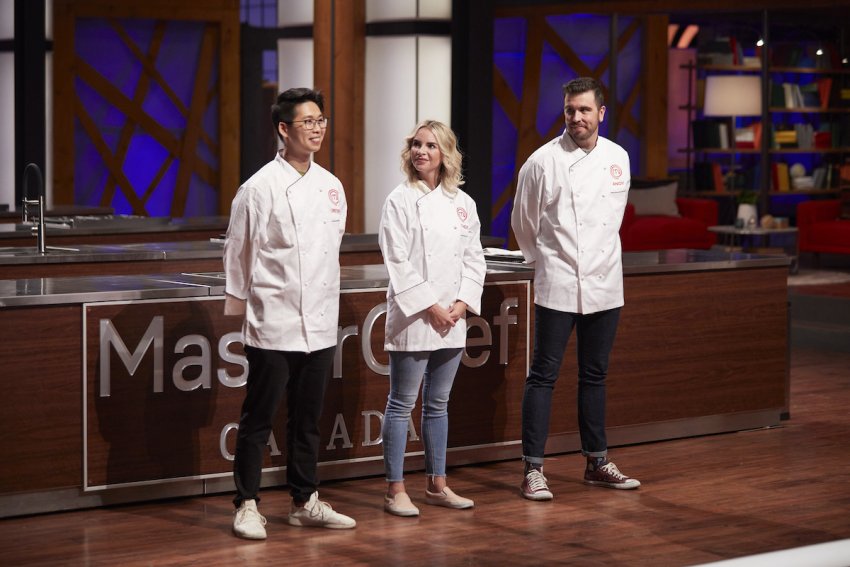 Since nearly all of my predictions thus far have been invariably incorrect, I'm hesitant to make another, but based on her gradual improvement throughout a series of consistently strong performances, something tells me that Thea might be in line for her first individual win of the season in next week's finale.
The MasterChef Canada: Back To Win finale airs Sunday, May 16 at 7 p.m. MDT / 9 p.m. ET on CTV.