Last month, the BC Wine Institute teamed up with market research and analytics company Leger Marketing to conduct an industry-wide survey to help gauge the impact of COVID-19 on the B.C. wine industry.
The survey focused on understanding and assessing the effect the pandemic has had on the industry as a whole, the effectiveness of provincial and federal relief programs, and the perceived challenges the industry faces going forward.
According to key findings from the survey results, roughly 10 per cent of B.C. wineries and grape growers believe they are at risk of permanently closing, with 58 per cent having experienced a loss in revenue and 55 per cent showing reduced access to customers.
"It's imperative that we understand the full effects of the pandemic on our industry to ensure we're successful in the recovery phase. By engaging Leger Marketing to conduct a comprehensive industry-wide survey, we are better able to see where our efforts should be focused," said Miles Prodan, president and CEO, BC Wine Institute. "Although the long-term financial impacts may not be fully realized, we believe this is a first step in identifying key areas where critical, lasting solutions and government policy are required for the successful recovery of the industry."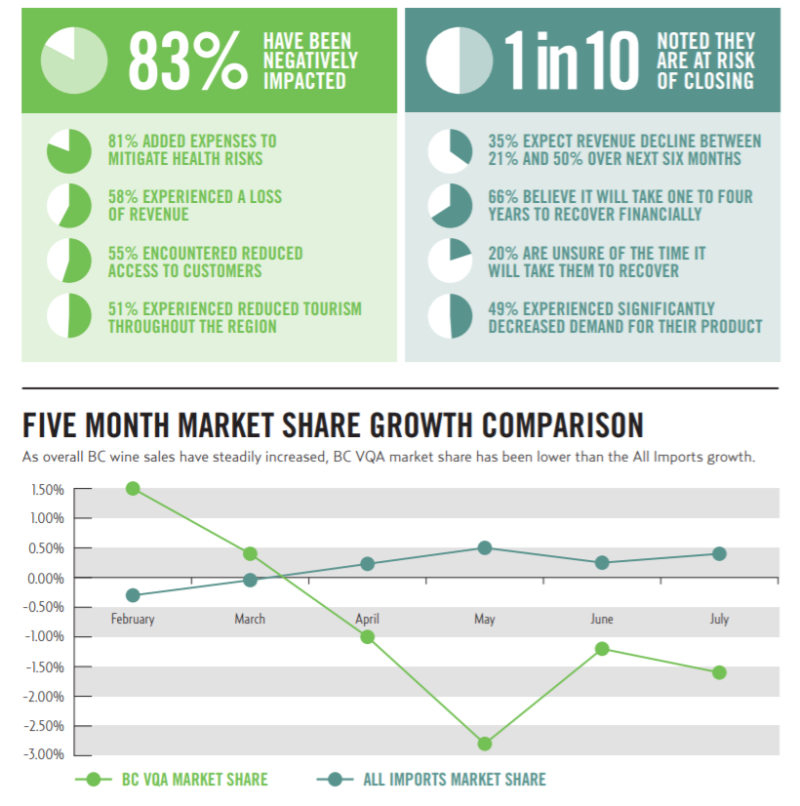 Despite the new and innovative ways wineries have adapted over the past months--which have led to a slight sales increase in the wine category at 5.01 per cent up from 4.73 per cent--the BC VQA market share continues to trend lower than last year's, which causes concern for the future growth of the industry.
"As winery inventories begin to grow with, by all early indications, a great 2020 vintage starting to come in, this trend is worrisome for our industry," adds Prodan. "It highlights the need for the continued support of the BC wine industry not just from consumers but in sound policies from all levels of government."
The survey suggests that roughly 66 per cent of wineries believe it will take them one to four years to recover from the pandemic, with 35 per cent expecting their revenue to decline between 21 and 50 per cent over the next six months.
"I think it will take some time for the industry to see the full effects of COVID-19. Obviously for smaller wineries who depend on restaurant and wine shop sales--and many of them do--they're going to feel the effects more immediately, but for others, it may take until the end of the season to fully understand the effects industry-wide," says Kathy Malone of Hillside Winery.