Throughout his career, Jeremy Drury has seen a lot of success as a drummer. After spending roughly 10 years performing, spanning different genres, within Toronto's club scene, the multitalented artist has been a member of Juno Award-winning group The Strumbellas for the past decade and counting.
Though still part of the band, Drury is set to embark on a new, additional musical journey as a solo artist. His upcoming debut album, Company Store, draws on the veritable melting pot of influences he's experienced during his career as a musician, from modern folk-rock to alternative Americana, to structured pop sensibility.
In addition to providing the lyrics and vocals to his self-produced debut record, Drury also performs on all of the instruments. His first two singles, "Pour Another" and "Tadoussac" showcase a versatility that speaks to Drury's creative and ever-evolving range.
We had a chance to chat with the Hamilton-based musician ahead of the official release of his debut album on August 28, to talk about the one thing that may rival his passion for music: food.
Favourite Canadian dish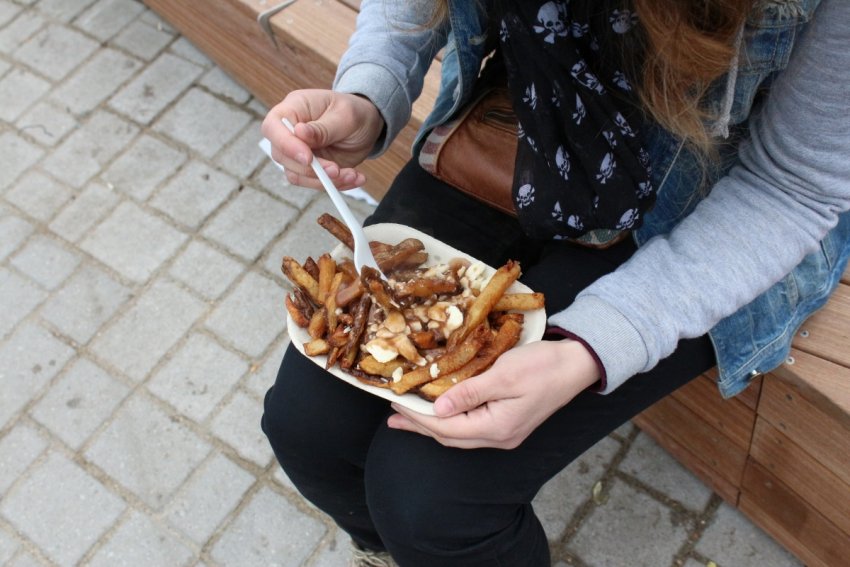 Anyone who knows me well enough would be very disappointed if I didn't answer this question with poutine. This Québécois dish can be found just about everywhere across the country, in so many forms and iterations. I'm always game for trying out different takes on the classic recipe. I can, however, be a bit of a purist and do tend to favour the traditional three-ingredient version over the more elaborate, especially if done with a proper sauce brune.
As one might expect, what I have crowned the "Best Poutine in Canada" was found in a small town in Québec, from a takeout window behind a restaurant in Tadoussac called Roger la Frite. While I don't specifically mention poutine in my song "Tadoussac", it was most certainly a consideration when I wrote its final lyric, "We'll be back, dear Tadoussac."
Favourite meal growing up
My favourite dish growing up was my mother's mac and cheese. She got the recipe from her sister-in-law before I was born--it seems like the kind of thing that came from an early issue of Canadian Living. Simple and to the point, the creamy sauce topped with soda crackers just tastes like home. I've since gotten the recipe myself and have made a few slight modifications, but nothing beats mom's secret ingredient of love. She still makes it for me from time to time when I visit.
What is your go-to place for breakfast or brunch in Hamilton?
There's a great greasy-spoon-type joint called the West End Diner in Hamilton that represents everything you could ask for in a classic diner. My go-to breakfast order is their regular breakfast: three eggs over-easy, sausage, home fries (deep fried, not baked) and white toast with side of pancake for sharing (or as an excuse to get syrup for drizzling over the sausage). Sure, I could whip something up at home that's comparable, but they nail over-easy eggs every time. At best, I'm at 50 per cent and I don't have to do dishes.
Lunch
My favourite lunch place is a toss up between The Burnt Tongue and Delirious Burger. While on somewhat different sides of the spectrum, they both share a similar concept of doing their limited menus extremely well. The Burnt Tongue specializes in their fresh-made soups, with a regular rotation that changes daily and revolves around what's in season. If I happen to be feeling less adventurous than daily offerings, their staple creamy tomato and tortellini with Grana Padano and basil pesto always satisfies and satiates.
I've toured all across North America and Europe, had my fair share of burgers along the way, but have found nothing that compares to Delirious. Coming home from a tour, I've driven straight from the airport to Delirious Burger on more than a few occasions. Double burger with cheese and all the toppings, it's just a perfect balance of flavourful, juicy patties and condiments that represents the pinnacle of the format.
Dinner
The Restaurant at Pearl Morissette, located just east of Hamilton in the Niagara wine region, made headlines a couple years back when named Canada's Best New Restaurant by Air Canada's enRoute magazine. While I was 100 per cent on board with this evaluation, what it meant for my ability to get a reservation made me feel like quite the hipster with my "I was into it before it was cool!" attitude.
The ever changing multi-course prix-fixe menu quickly transforms high-end dining into a full-on culinary adventure as servers tell the stories of how they used peach wood cut from the far corner of the property to smoke the scallops harvested from the Maritimes, or tell of their use of preserved currents pureed and infused with basil, drizzled over top of an olive sorbet. Each ingredient is very thoughtfully selected, prepared and combined into the unexpected dishes that not only excite the palate, but your entire core as you anticipate the next plate. While the wine pairings accompany the dishes perfectly, it's their juice pairings I really find intriguing, creative and inventive. Based on ingredients such as sweet onion or rosehip, the compare and contrast that the juices add to the meal is an absolute delight.
Dessert
Using the term "dessert" a tad loosely, Grandad's Donuts in downtown Hamilton takes the cake for me. Old-fashioned style donuts with traditional fillings and toppings stand their ground against the modern trend of the Instagrammable artisanal and boutique creations that have seen recent rise in popularity.
Reminiscent of the bygone era when Tim Horton's baked their own in-house everyday, it's not uncommon for a fresh batch of Grandad's to hit the shelf while waiting in line. The still-warm sugar donuts melt in your mouth and take me back to my childhood, but probably an even better, (possibly filtered) version of my childhood, as even my fondest memories of Tim's doesn't come close to Grandad's.
Watch: Jeremy Drury's "Pour Another"