After giving my friends a hug upon arrival at the spiffy National Bowl, the new 10-pin bowling alley below National 10, I promptly looked down at their footwear. Between the boat shoes and heels being worn within the group, no one was wearing socks.
"Are we bowling today?" I asked. "I brought a pair of socks."
Coincidentally, everyone thought of this (even though the venue provides it) because none of us wanted to be that kid watching the game from the sidelines because she forgot her gym clothes.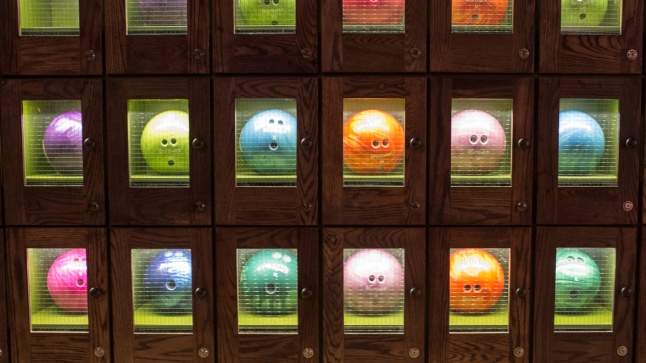 Even though it's located in the basement, National Bowl doesn't feel cramped at all. With white painted ceiling, dark walls, neutral floors, big block lettering and long, brown tufted sofas against the side wall and at every lane, the space has a casual, yet luxe, Portland vibe that is reminiscent of the lobby at Ace Hotel.
Neatly stacked bowling pins and balls in bright display cases line the walls around the bowling area and the dining area with high tables with yellow stools. Try not to get distracted by the clown staring you down (with a smile, of course) from the corner of the room.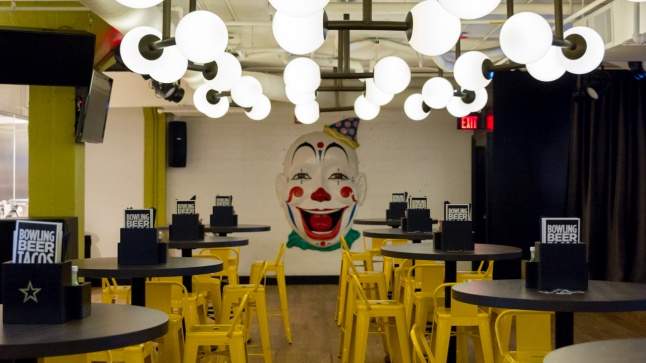 Like a typical bowling alley, National Bowl offers rental shoes, snacks, booze and of course, bowling.
But that's where the similarities end.
Unlike the typical bowling alley, ambient lighting from pendant twin globe lights hanging from the white ceiling replace de-energizing fluorescent lights. There are no ugly pictures of the cosmos or any silly themed illustration above the lanes, only gigantic lane numbers. Lastly, and most importantly, you will not find those plastic swivel chairs that are affixed to the floor (the ones that you think will work your obliques). Between embarrassing turns of throwing the ball down the gutter, you can rest your ass on comfortable and inviting sofas that make it easy to say, "Go on, I'll play the next game."
Normally, the food at a bowling alley is nothing to Instagram about, but here, you get the good stuff. You will not find soggy pizzas, boiled hot dogs or cheap domestic beer. What you will find are bold and flavourful tacos, tequila/mezcal cocktails and premium beers.
Don't leave without trying the Jesus Quintana, made with Pisco, ginger and chilli bitters, because, "Nobody fucks with the Jesus!"
With table tennis and foosball on the main floor, bowling in the lower level (with plans to bring in retro arcade games) and the swanky Bourbon Room on the top floor, National has really outdone itself to be the entertainment complex for adults in Calgary. It's perfect for a night out with friends, corporate team-building events (provided that team member don't point fingers at each other for losing; they probably sucked equally) and date nights.