A few years ago, Ross Bowles was helping River Café's then executive chef Matthias Fong prepare the restaurant's signature mangalitsa prosciutto --a tradition passed down by each head chef since the eatery opened in 1991--before leaving his post to explore the diverse food and drink culture of Europe. The young chef likely didn't expect to be serving that very same now-aged prosicutt on his own menu at River Café as the executive chef, but it's interesting how a little time away from home can help one appreciate their roots.
"I encounterd some incredible food, talent and restaurants while working and eating through out Europe these last few years. Still, nothing seems to compare to the [ingredients being used] at River Café," says Bowles. "These incredible local products is what drew me back to Calgary and this special restaurant."
At only 24 years old, Bowles, who is a SAIT graduate, started his culinary career at River as a teenager and now boasts a commendable resumé that includes a recent stage at Amass in Copenhagen (one of the world's most sustainable restaurants) and was part of the opening team of the two-Michelin-starred restaurant Core by Clare Smyth.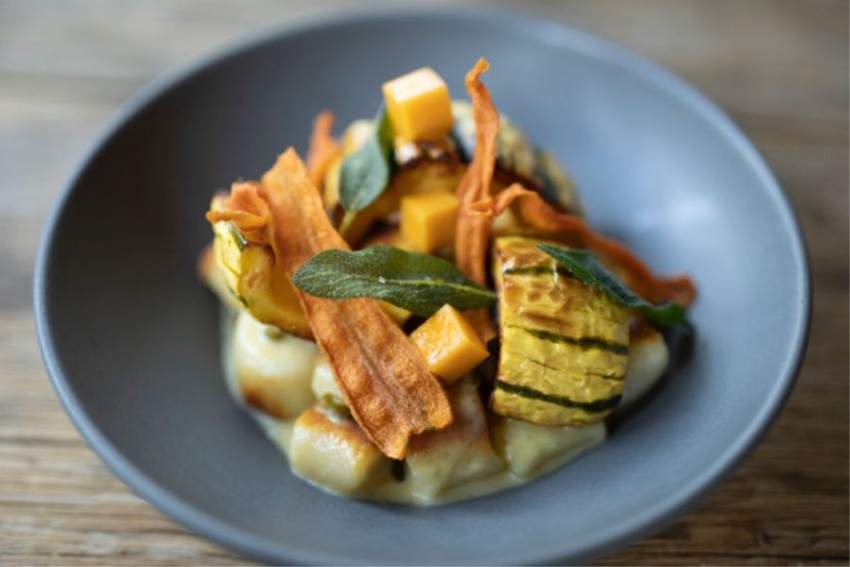 River's proprietor, Sal Howell, expressed her excitement for having Bowles return to Calgary to lead the culinary team at the restaurant following chef Matthias Fong's recent departure, citing that his experience working abroad with some of the world's most renowned sustainble concepts will lead to further improvements in her business' sustainbility approach with a fresh set of eyes.
"He quickly responded to the restaurant's philosophy and challenge for 'How local can we be?' and [our] ongoing quest for new sustainable practices in the kitchen and beyond, adopting and creating innovative techniques with exceptional local ingredients," says Howell.
Bowles' culinary talents are ready and waiting for tasting on River Café's fall menu, including dishes like delicata and butternut squash with sage and burnt sourdough soubise (pictured above) and the three-year cured mangalitsa prosciutto served with tiger blue cheese, Fraser Valley walnut paste and roasted beets.