Buzzworthy - adjective - likely to arouse the interest and attention of the public, either by media coverage or word of mouth.
At this time of year, leading up to enRoute magazine's unveiling of their Best New Restaurants list of the top 10 restaurants for 2014, new restaurateurs get pretty excited, crossing their fingers for landing one of the coveted 10 spots, or at least in the people's choice category that usually consists of 30 to 35 establishments when fall 2015 rolls around.
Here are 11 spots across Canada, in alphabetical order (no biases here), that are currently getting people talking.
You'll need to taste them for yourselves to decide if they're worth the hype.
ACE Mercado (Ottawa, ON)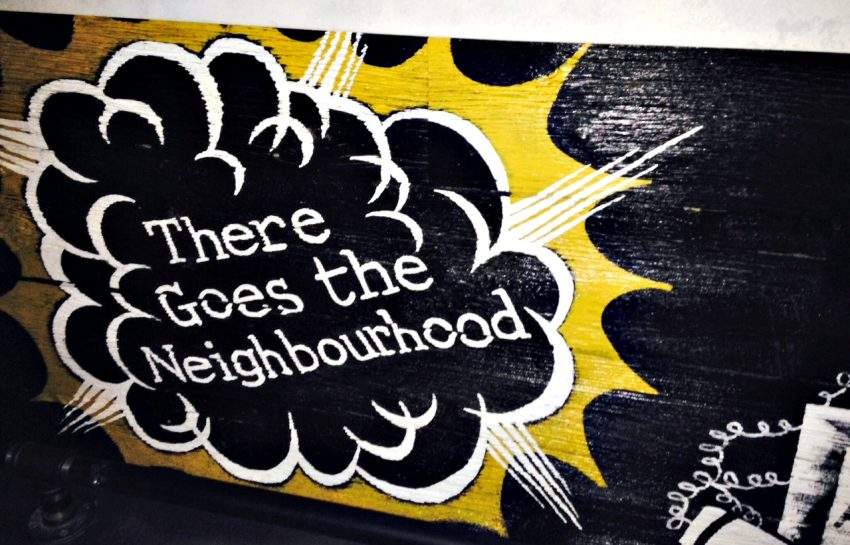 Sure, that late night burrito you had at 2 a.m. is Mexican food, but there's so much more to the cuisine than just street food. Determined to show off the polished side of Mexican cuisine with finesse is the winner of Top Chef Canada Rene Rodriguez. Using local and seasonal produce, prime meat cuts, as well as sustainable seafood, Rodriguez crafts Mexican-inspired dishes like crispy pig cheek, chile rellenos, sea scallop ceviche and, of course, tacos. Cocktails are not to be missed at ACE Mercado. Start with the signature margarita, and then order as many of its other unique offerings as you can handle.
Anju (Calgary, AB)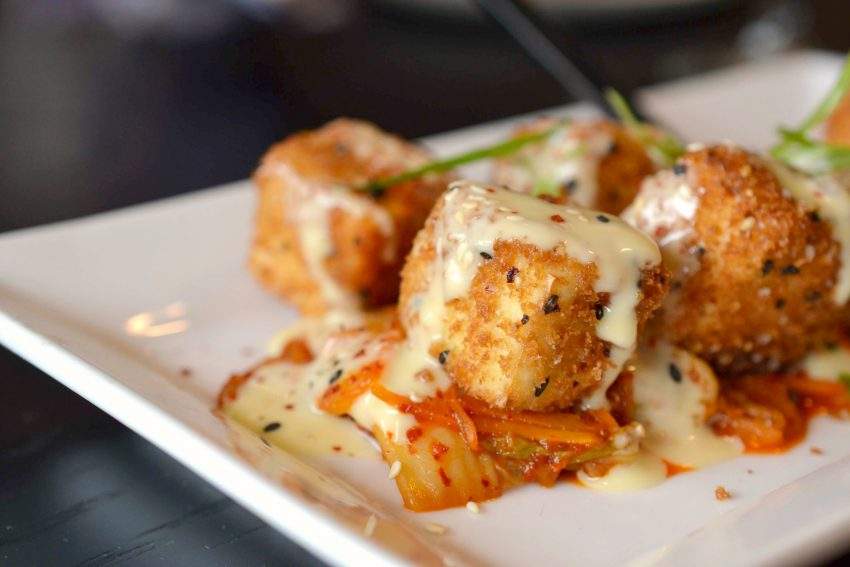 In recent years, Calgary seems to be opening a new restaurant every month. So, it can be hard to keep track of what the new "hot thing" is. Technically, Anju restaurant is more of a rebirth than it is new, but when a place has been closed for over a year, I'd chalk that up to being new-ish, for sure.
Tofu haters can't deny the tastiness of the fried tofu with sautéed kimchi and citrus aioli. And, that's just the beginning to a meal that's all about harnassing the power of Korean flavours (for good) and making you crave them more than a romantic romp with your significant other.
As much as we love to flip through Lucky Peach, we think this is one city that doesn't need a David Chang because, well, it's got Roy Oh.
(@AnjuRestaurant on Twitter)
Boulevard Kitchen and Oyster Bar (Vancouver, BC)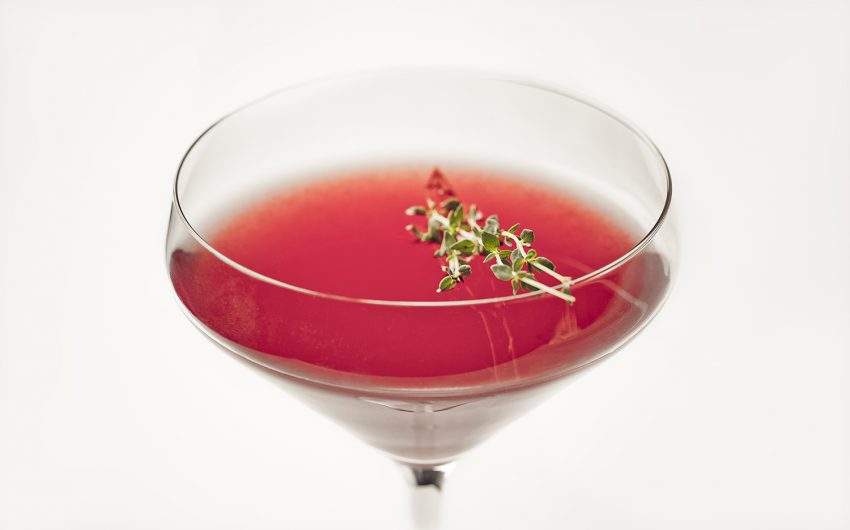 In the ever-bustling West Coast city, it's hard for new restaurants to stand out and truly make a splash, but one place does so and makes many in its class seem like white noise. After a massive (we suspect millions of dollars) overhaul, the Sutton Place hotel revamped and relaunched its restaurant as the seafood-focused Boulevard: a room with rich and luxe interiors, service that leans on the more formal side, complete with an oyster bar and some more private sections for those important "business meetings" aka food and scotch free-for-all sessions.
Seriously though, what really makes our ears perk up like dogs seeing a milk bone, a hard perk, is the fact that both the restaurant's chef de cuisine (not to be confused with the executive chef, kitchen titles can get muddled, we admit) and pastry chef worked under Daniel Boulud in New York for years.
Colour us impressed.
(@blvdYVR on Twitter)
Enoteca (Winnipeg, MB)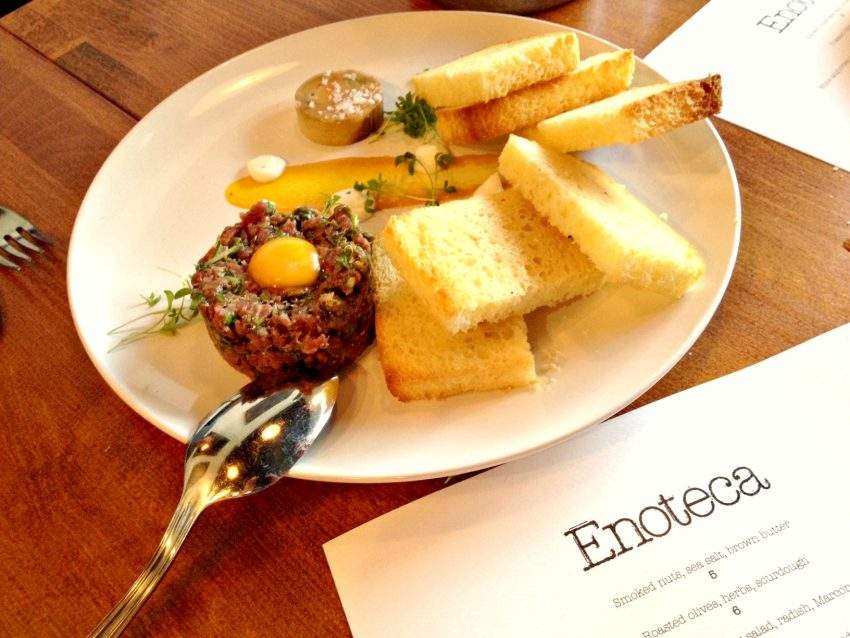 Winnipeg never ceases to amaze us when it comes to quality dining. Though the city may not have as many contemporary restaurants as more high profile cities, it certainly seems to preference quality over quanity.
(Also see: deer + almond, Segovia)
The newest addition to its food scene, Enoteca, comes from Scott Bagshaw, the owner of the much celebrated Deseo Bistro. Built into what used to be a Quiznos in a neighbourhood about 15 minutes outside of the downtown core, the little restaurant seats about 30 people and is jam-packed almost every night.
It serves up beautifully balanced beef tartar with toasted brioche and foie torchon as well as a hamachi crudo topped with taro root crisps that any seafood-focused chef would approve of.
You go Winnipeg, you go!
(@yourenoteca on Twitter)
DaiLo (Toronto, ON)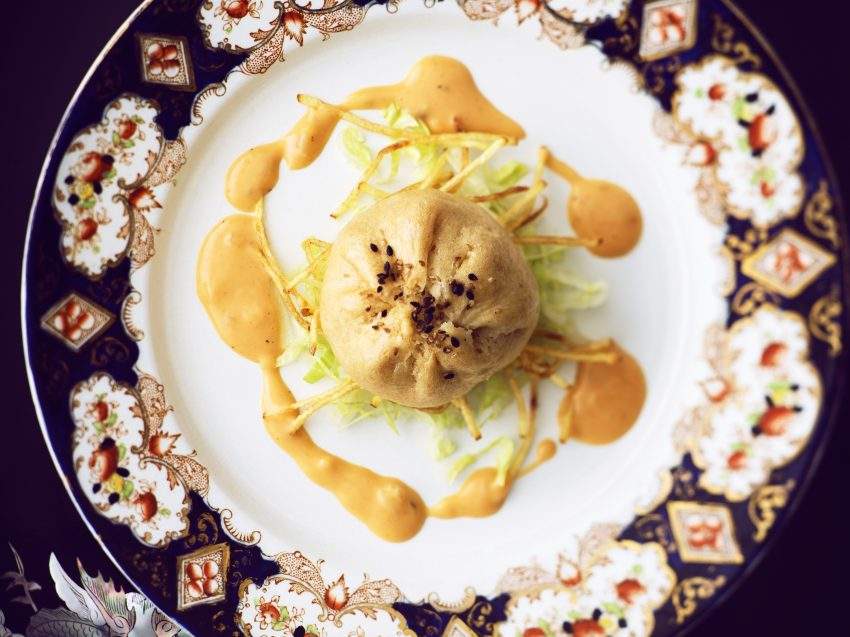 It's finally here! From the pop-ups of GwaiLo to a permanent address of DaiLo, Nick Liu has created a highly anticipated "new Asian food" restaurant that raises the profile of authentic Asian cuisine with a modern and fresh twist. DaiLo proves that dim sum need not be a Sunday afternoon family event, but a late night snack among friends. Fresh ingredients, prepared with expert techniques to create exciting flavours, is what you can expect from DaiLo.
(@DaiLoTO on Twitter)
Krafty Kitchen and Bar (Kelowna, BC)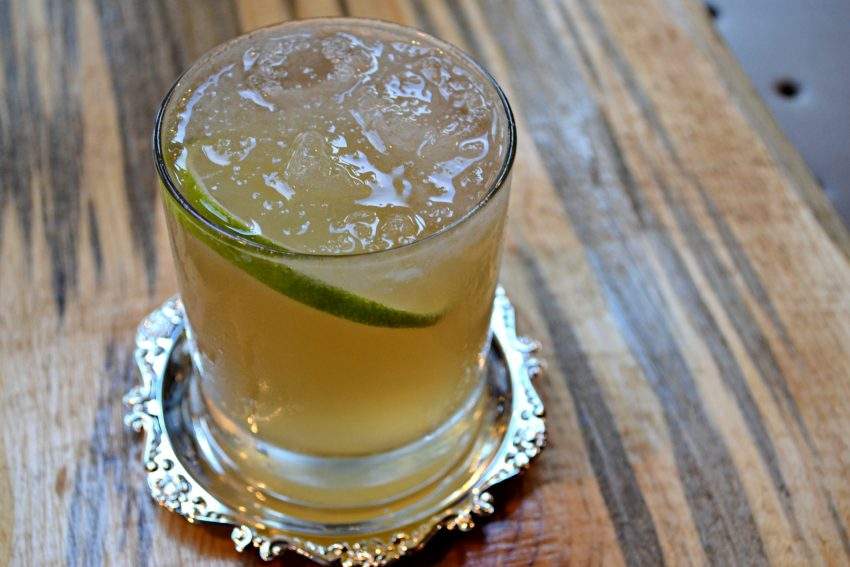 After the dissolution of his relationship with MasterChef Canada's Kaila Klassen, chef Chris Shaften has been running Krafty Kitchen and Bar, a new Kelowna eatery, solo.
Most definitely a welcomed addition to the interior B.C. dining scene, Shaften's food is simple and well-balanced. And, the cocktails here easily outshine Micro down the road and give whatever RauDZ liquid chefs are mixing up a run for their money. With menu item names like "octopus tattooed on my arm" and quirking descriptors like "grandma plate and good memories" when referring to their chocolate chip cookies, the restaurant's chef doesn't take himself too seriously, which is kind of refreshing.
We don't know what the deal is with the name, but there are definitely worse names out there.
(@KRAFTYkitbar on Twitter)
Lincoln Street Food (Lunenburg, NS)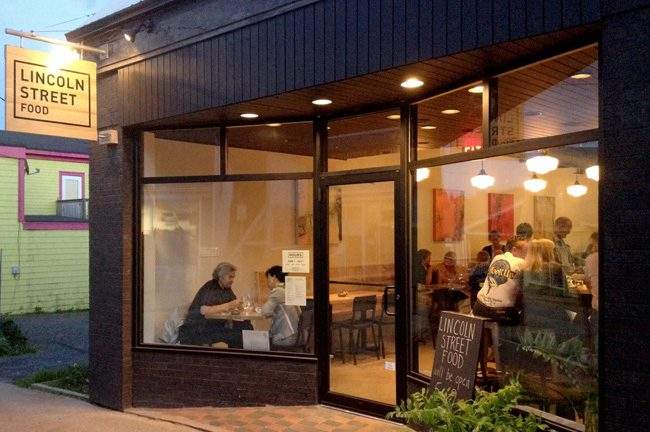 The East Coast certainly gets less attention than the West, but it's gaining momentum and no one is ever surprised to find good food in Nova Scotia. Though many conjure up images of seafood by the coast, Lincoln Street Food shatters the kitschy idea of the East Coast with a modern neighbourhood kitchen that features a menu of seasonal and mostly coastal offerings, like spiced cornmeal haddock, bouillabaise and chili seared scallops.
Odd Couple (Saskatoon, SK)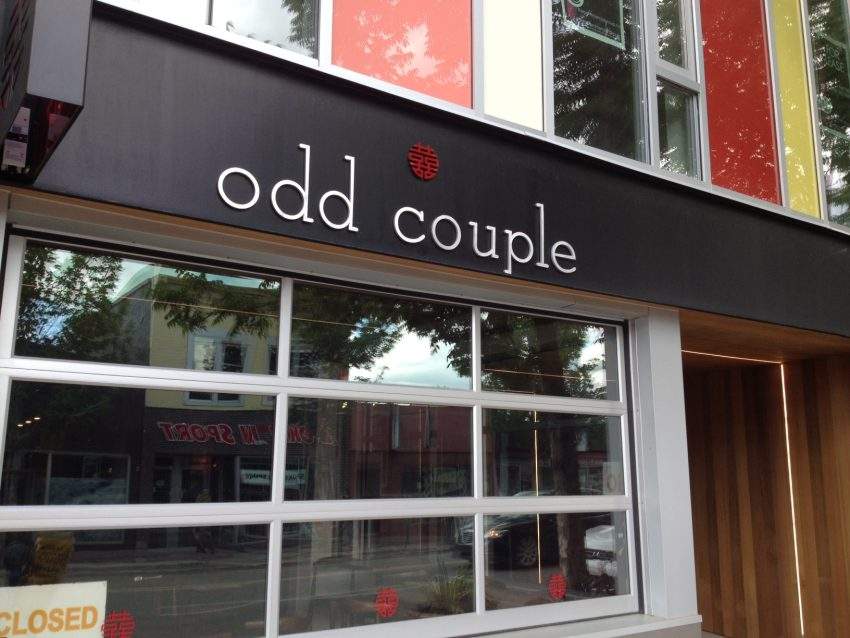 We're on the fence about this one. A lot went into Odd Couple's space, from the branding to interior design. But, when it comes to the menu, items are fairly generic (albeit traditional) and the cocktails are bolder in their idea than their flavour.
Don't get us wrong, we're in full support of Saskatoon's burgeoning food scene, but this establishment could update some of its dishes and could use a more robust cocktail program, which many other restaurants in the city are focusing on.
Rostizado (Edmonton, AB)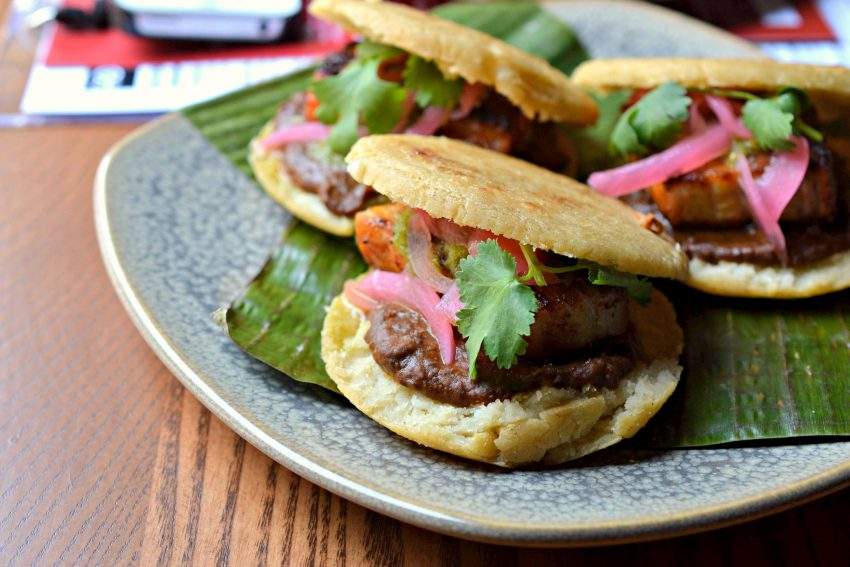 Trying to pull off "upscale" Mexican is no easy feat. Last year, Calgary saw Xocolat, a contemporary Mexican eatery, close its doors after barely a year in operation. It's not that the food was lacklustre, it was more the fact that most of us associate the cuisine with nachos, salsa and tacos.
Well, everything about Edmonton's Rostizado boots your preconceived notions out the door. The room itself explodes with funky elements, with retro TVs playing Mexican soap operas, canned goods running along shelves and 1950s mod fixtures.
There's a big, badass rotisserie that roasts some of the most succulent chicken and pork you'll find in the city; and the gorditas (pictured) are pillowy corn buns filled with everything you could want in life if you like delicious things, which we do.
The cherry on top of the sundae are its churros. Truly a thing of beauty. Damn...
(@rostizado_yeg on Twitter)
Salted Brick (Kelowna, BC)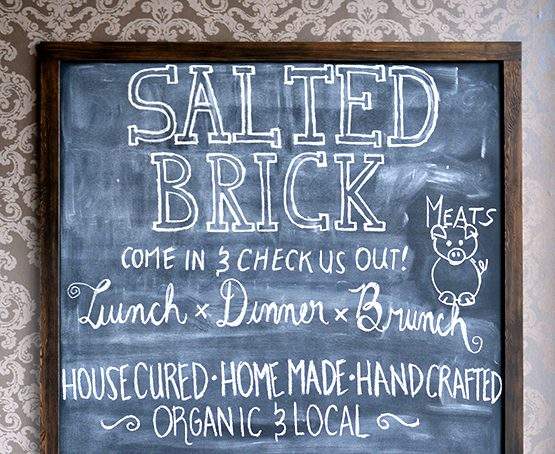 It's easy enough to write Salted Brick off as nothing more than a lunchtime sandwich shop, but consider yourself missing out on some of the best food you can find in Kelowna.
Its bathroom is also sans mirror, with a frame and the words "You look fine!" painted in lieu of a reflective surface. We appreciate that, even if we may not be looking fine.
(@saltedbrick on Twitter)
Wolf in the Fog (Tofino, BC)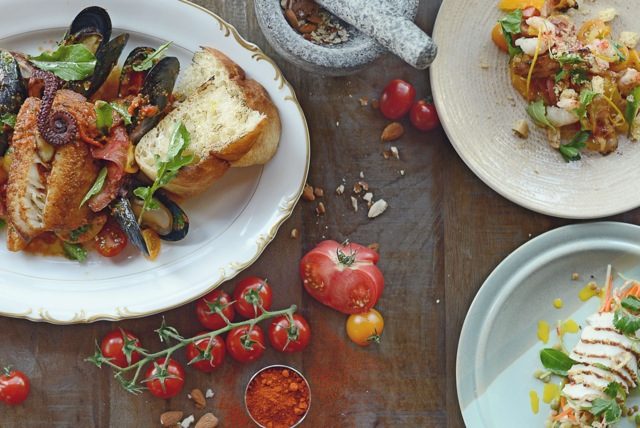 Don't let the name scare you, the food here is anything but dark and mysterious.
Unbeknownst to many outside of Western Canada, Tofino is a hot destination with incredible nature watching, like whale watching and Pacific storm watching. For food lovers, the terroir is ripe with fresh and interesting ingredients. Wolf in the Fog takes full advantage of its abundance, and couples the bounty with chef Nick Nutting's expertise in the kitchen, coming up with ingredient-driven dishes like Bamfield seaweed salad and Tofino salmon.
Not only is the food focused on freshness, its cocktails are made with foraged ingredients, too. Bar manager Hailey Pasemko crafts bitters from salmonberries and cedar-infused rye for her cedar sours.
(@wolfinthefog on Twitter)