Buzzworthy - adjective - likely to arouse the interest and attention of the public, either by media coverage or word of mouth.
It's basically impossible to completed keep track of all of the new, trendy places that are opening up all across the country these days. Cocktail bars, slick cafes, funky fast-casual concepts, brunch spots...the list can go on and on and on...
Here are 15 Canadian establishments that have opened their doors in the past few months that everyone (in their locality), for better or for worse, can't seem to stop talking about.
Charlotte and The Quail (Victoria, BC)
You know a place is quaint and casual when it's named after its garden cat. From the owners of the popular restaurant, Nourish Kitchen and Cafe, comes the equally cozy Charlotte and The Quail, The younger sister restaurant draws its inspiration from its magical and lush surroundings, offering comforting soups, salads, sandwiches and pies, all with the same locally-sourced philosophy of Nourish.
This "special little place", as the owners call it, reflects the relaxed and back-to-nature attitude of the people there, whether they are locals or visitors to Victoria.
Clementine (Winnipeg, MB)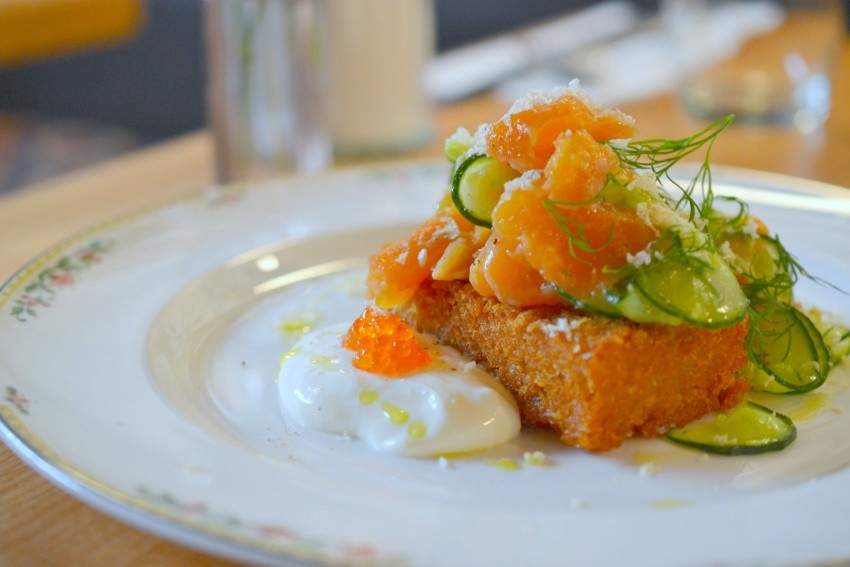 After months of construction, renovations and permit delays, the second restaurant from the owners of Segovia, Clementine, finally started serving at the tail end of the spring. A basement space is not one that you'd typically expect to head to for brunch, but a decent amount of street-facing windows, a well-lit kitchen and interior full of warm tones make it a welcoming atmosphere.
Co-owners Adam Donnelly and Carolina Konrad have partnered with sister, Raya Konrad, and chef Chris Gama on the concept where they collectively work to create beautiful dishes like chorizo verde tostada topped with a fried egg and avocado crema, smoked char on crispy potato cake, creme fraiche, and cured cucumber. As well, the cocktail menu is above and beyond your standard mimosas and Caesars with sips like The Dude, made with Kahlua, espresso, bourbon and tonka bean-infused milk.
We're also shocked this restaurant was not included on the enRoute Best New Restaurants in Canada nominee long list because as far as we're concerned, everything here from the service to the room to the food is impeccable.
The Common at The Forks Market (Winnipeg, MB)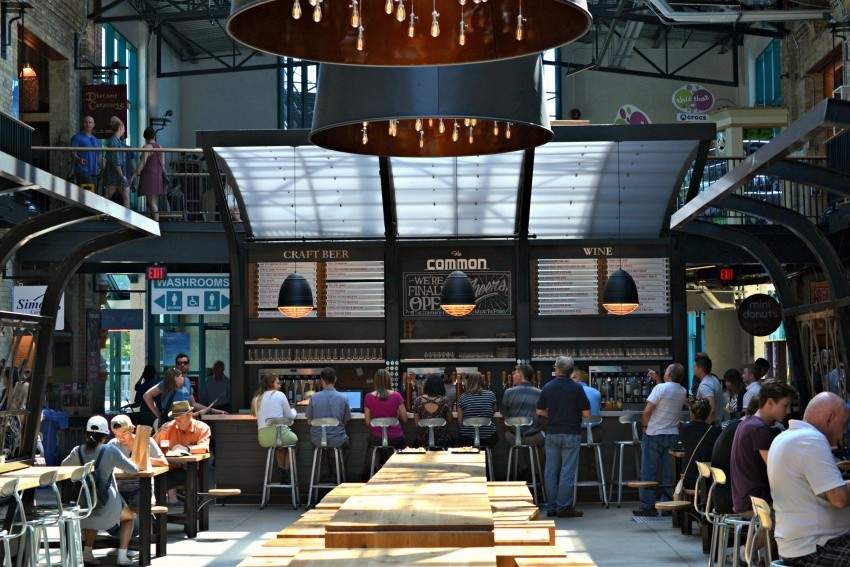 After a multi-million dollar renovation, The food hall at the The Forks--now called The Common--is home to a funky new interior, chef-driven food stalls like the funky Fusian Sushi, which serves spicy lobster rolls, fresh sashimi, and, last, but not least, a bar for glasses of wine, pints of beer or flights of either. The result is a food hall that feels much more European (think Lisbon's Time Out Market on a smaller scale) than any of its Canadian contemporaries.
Being one of the few in its kind in the country, we're hoping other city markets follow suit because having a little wine or some beer to go along with your market experience always makes it a little more fun. Now if only the liquor laws weren't so drastically different from province to province...
Doomie's (Toronto, ON)
Where else can you find vegan "junk food" except in California? How about the new Doomie's in Toronto? The new location of the popular Los Angeles chain is all about the comfort of junk food without any of the guilt associated with questionable meats and treatment of animals, so we're not talking about kale salads or tempeh wraps. Instead, you can wrap yourself in the comfort of that greasy cheeseburger, made with housemade "cheese" spread and "burger" pattie, or that barbecue pulled "pork" sandwich while sticking to your meatless diet.
El Rey (Toronto, ON)
From the early days at the Black Hoof to Bar Isabel and Bar Ravel, Grant Van Gameren has proven himself to be one of Toronto's best chefs, making some of the most exciting food. Now, he's got his hands on mezcal at El Rey Mezcal Bar in Kensington Market. With Montreal's Kate Chomyshyn and Julio Guajardo in the kitchen and co-owner Owen Walker behind the bar, El Rey marries regional Mexican small plates (think tostadas topped with guacamole, pickled shallots and crickets; and sope with refried beans, chorizo and tomatillo) with updated and modern mezcal cocktails, like the Mexploitation, a Mai-Tai-inspired cocktail.
Eliot and Vine (Halifax, NS)
One of Halifax's newest restaurants comes courtesy of Johanna Eliot, a very successful television producer who's produced series for numerous Canadian food personalities like Michael Smith, Laura Calder and Bal Arneson. Eliot & Vine aims to be an upscale dining destination with cool blue banquets, marble table tops and a long bar also topped with marble and accented by a wooden mosaic along the front. The menu is described as "European" so there are hints of Spain via the patatas bravas with tomato, chilies and olives, touches of France by way of steak frites with truffled fries, and so forth.
If you're looking to impress either at an important dinner meeting or on a date, this should be the spot.
Fable Diner (Vancouver, BC)
Since chef Trevor Bird made his name on Top Chef Canada, he's garnered much attention for his successful Kitsilano restaurant, Fable. Now, he's back with his take on the classic diner concept with Fable Diner, which takes out the greasy spoon fare typically associated with diners.
Continuing with the farm-to-table belief of Fable, the diner serves updated classics like grass-fed beef patties with fresh and housemade toppings, ketchupless cottage pie, chickpea fritters, and roast duck pancakes with housemade kimchi and Kewpie mayo.
Foiegwa (Montreal, QC)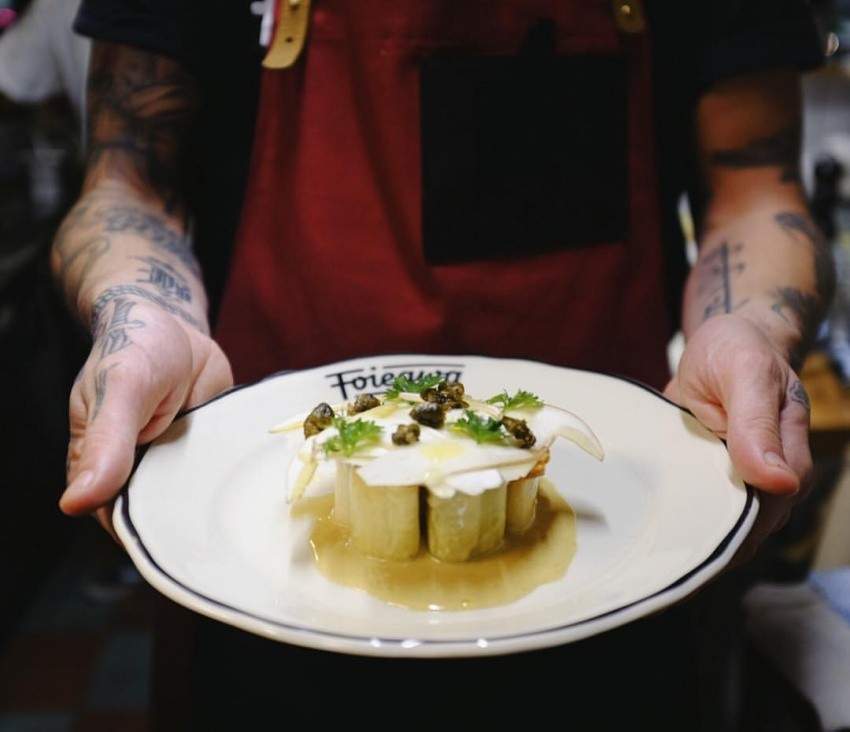 This trendy new French diner in Montreal with a punny name and a slick interior of bright white tiles and black and white caricatures as far as the eye can see is all about rich, quality comfort foods (with the odd refined dish) and attentive service. There's plates of bone marrow, big, appropriately greasy cheeseburgers, escargot in garlic butter, house-made doughnuts and plenty more. Like many diner-style spots in the French Canadian city, Foiegwa is open late (until 2 a.m.) for all your diner cravings.
Montreal Gazette critic Lesley Chesterman found the playfulness of the American-meets-French diner enjoyable, especially the foie gras and the burger, though some of the food wasn't overly memorable.
The Guild (Calgary, AB)
It's been years in the making (six to be exact) but Oliver & Bonacini's Calgary restaurant is finally open, with chef Ryan O'Flynn at the helm in the kitchen. The-160-seat restaurant--plus much more seating on its patio and soon to open subterranean speakeasy bar--at the Bay focuses on butchery and local meats, including game meats and more unusual cuts, like its braised bison and its slow-roasted pigs head.
Edmonton native O'Flynn comes to Calgary with extensive experiences at home and abroad, including a win at the 2015 Canadian Culinary Championship and time as the Chef de Partie at Gordon Ramsay's Petrus, a two Michelin-starred French restaurant in London.
With Oliver & Bonacini's comprehensive list of successful operations, the focus on Alberta's bounty and O'Flynn's resume, The Guild opened with a bang that still echoes.
Have Mercy (Edmonton, AB)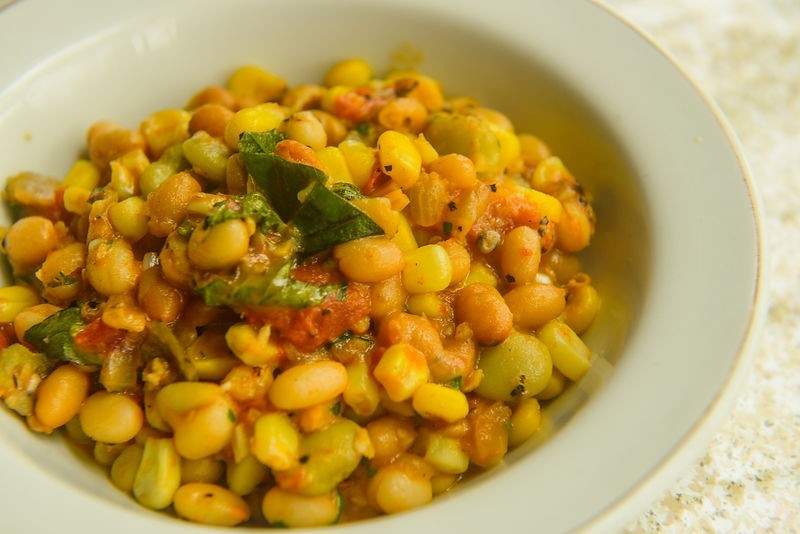 Edmonton is having a much more exceptional year for new restaurants in 2016 than in 2015 and Have Mercy is just another notch in their belt. Described as "tacky, trashy and tasty" by CBC Edmonton's restaurant critic, Twyla Campbell, this Southern-themed bar aims for a high caloric count with its cheesy shrimp and grits with andouille tomato gravy, fried chicken and doughnuts done with a Nashville-style hot spice rub, sweet buttermilk pie and more.
Feel free to wash the fatty foods down with a whiskey or two or one of its stiff, yet refreshing cocktails, like a Mint Julep or John Daly. There's live music every night of the week too, mostly blues, with the exception of piano karaoke on Wednesday, which is a Wednesday night happening that we can really get behind.
Hayloft (Airdrie, AB)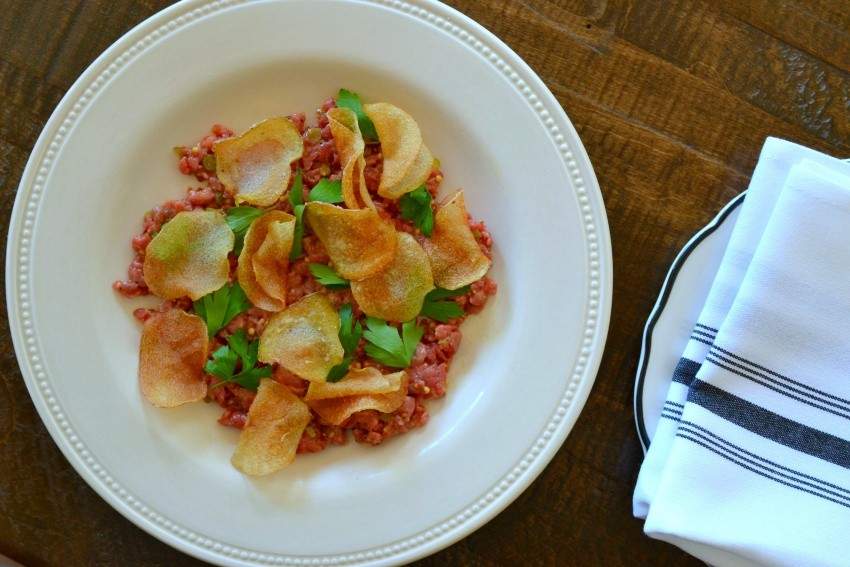 Prior to Hayloft opening earlier this summer, the Airdrie, the small city just outside of Calgary, heavily populated by people who work in Calgary, did not offer much to a more developed palate other than a handful of international restaurants, cafes, watering holes and old school family eateries. This new restaurant that focuses intensesly on local ingredients and chef-driven techniques is aiming to change that.
Chef Jason Barton-Browne, formerly of The Teatro Group, embraces all that Alberta has to offer from bison (served as "pemmican") with Brassica mustard and puffed rice to grilled pork loin with pickled rhubarb, wild rice and radicchio ragu, and more. The room is barnyard-chic in a colourful way. It may be a bit out of the way for urban Calgary residents to make the trek out regularly (it's about a 40 minute drive from the core, depending on traffic), but it is definitely worth the drive.
Little Oak (Halifax, NS)
Agricola Street Brasserie's new sister restaurant, Little Oak is nestled into Bishops Landing right along the famous Halifax Harbour. Though this section of town can be plagued by average food and tourist traps, the charming establishment ain't got time for that. Oak's chalkboard menu of small plate offerings changes day to day. Then, there's platters of fresh oysters, sardine rillette and even a seafood spin on the classic charcuterie board with a mix of uber-fresh seafood that comes au natural as well as smoked, cured and pickled. Couple that with a well-made cocktail (something Brasserie is known well for) and you've got a waterfront gem that everyone, locals and tourists alike, can enjoy.
Ricardo's Hideaway (Calgary, AB)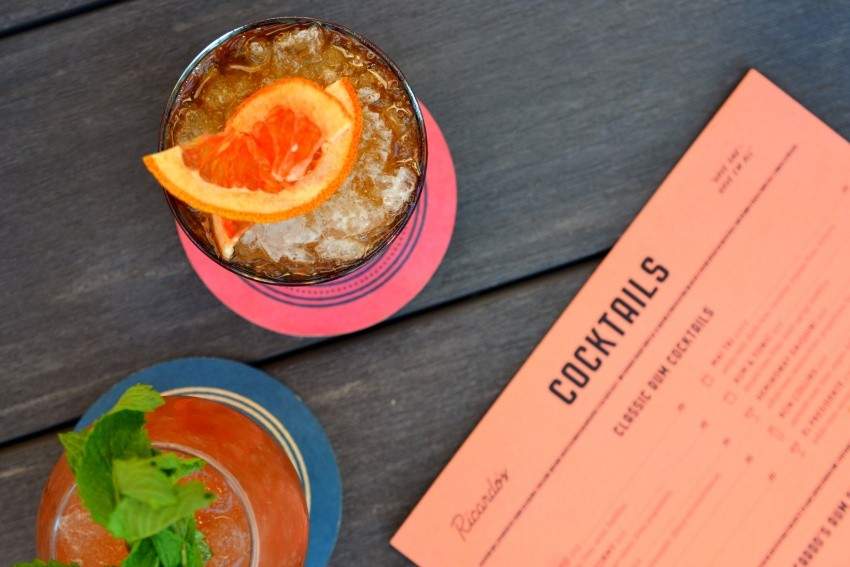 Who doesn't want a longer summer in Canada? While we can't do much about the fickle weather in Alberta, Ricardo's brings the Caribbean vacation to the masses, with its turquoise and peacock blue interiors, wall of rhum and chef J.P. Pedhirney's menu full of Jamaican favourites like jerk chicken, goat curry and doubles.
Under the direction of Stephen Phipps, the bar crafts some of the best and most thoughtful cocktails, like the Roasterie, a concoction of rhum, cold brew coffee and Earl Grey syrup and bitters. Prefer the classics? How about a strong mojito using mint from its patio?
Timber Gastropub (Vancouver, BC)
"Canadiana" is a term that can mean many things when it comes to a restaurant. Sometimes that means diverse regional cuisines celebrated in different provincial eateries and other times, it can just mean The Red Green Show. While that may not be quite what Timber aims for, the kitschy decor--yes, everything you imagine, from Canadian geese taxidermy to plaid shirt-wearing staff, to a wood board bar that looks like it was chopped by lumberjacks presumably working for the design firm-- and menu items like Timber Bits, poutine (of course) or birch syrup-glazed dry ribs paint a much more touristy picture of Canada than most of us would like.
The pub received a fairly damning review from Alexandra Gill, but if you want a healthy dose of Canada shoved down your throat, figuratively and literally, then definitely give this spot a try.
Uccellino (Edmonton, AB)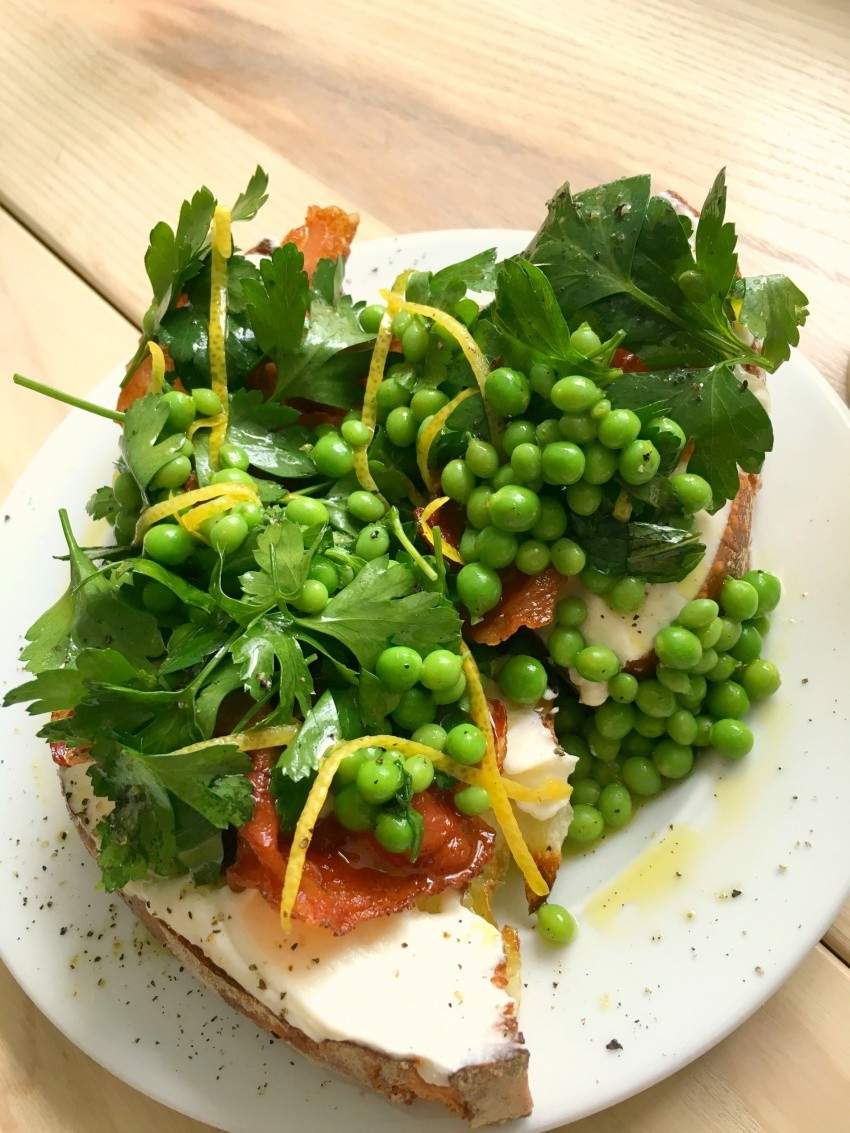 Following the success of Corso 32 and Bar Bricco, chef Daniel Costa has opened Uccellino, a more laid back and affordable trattoria-style restaurant. Its simplicity highlights the ingredients in dishes like pollo al mattone, or chicken cooked under a brick, and bucatini cacio e pepe, long hollow pasta with salty Roman pecorino and lots of black pepper. It's the place to go for simple dishes that you don't have to think too much about as you enjoy it.