In the past five years, restaurants across the Canadian Prairies have mostly finally moved away from that protein, starch and vegetable formula. If Air Canada enRoute's latest Canada's Best New Restaurants accolades are any indication, it is no longer simply the hot spots in Toronto, Montreal and Vancouver that are deserving of the limelight. Every season, we are seeing more and more restaurateurs venture away from the booming and increasingly expensive city centres, opting for suburbs, or smaller cities and towns altogether.
The Canadian Prairies has also seen an influx of chefs returning to their roots after working elsewhere in the world, travelling extensively and returning with fresh ideas: a homecoming which hopefully will lead to delicious reckoning.
The year 2017 was an especially big year for the Edmonton food scene. The city is booming, it seems. Nearly every week, there was buzz about the opening of a new bistro, brewery or booze joint. Calgary, though not booming like it once was, still had its fair share of openings. If you go by local lifestyle publication, Avenue, the restaurant count is 70 and that does seem impressive; but strip away the coffee shops, second locations, third (or fourth) locations of already existing concepts and what have you, that number decreases significantly. If we're looking at new, contemporary restaurants that are chef-driven? Let's go with about 20.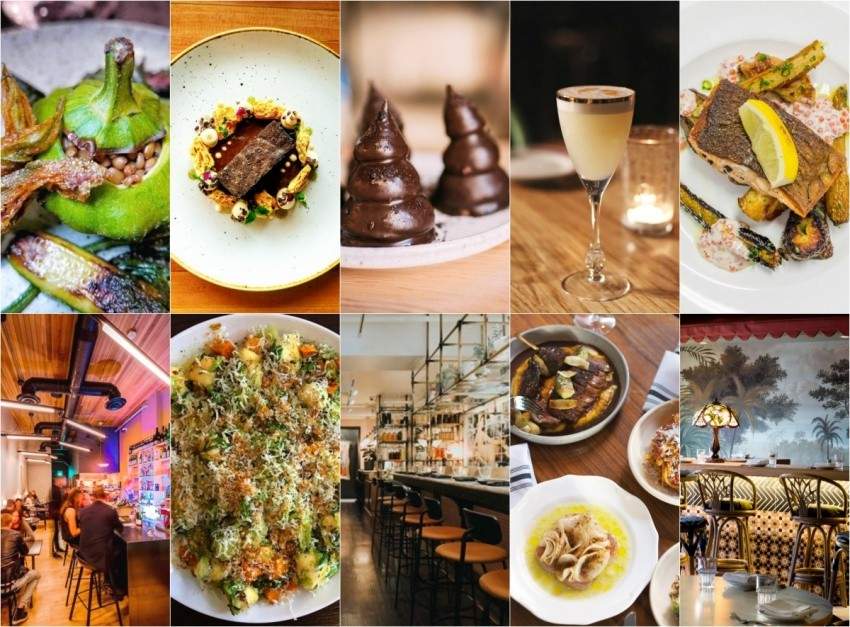 Looking back in recent years, it's interesting to see restaurants wind up with similarities in their names. There was that time that Edmonton restaurateurs were all about the numbers (Corso 32, North 53, XIX, Three Boars). More recently in Calgary, if the word "bar" isn't in your name (Bar Annabelle, Bar Von Der Fels, Bridgette Bar, Ox Bar De Tapas), you might not be rolling with the right crowd.
This year also appears to be the year of "B" in Alberta with seven of our ten best new Canadian Prairie restaurants having names that start with a letter synonymous with a mediocre school grades. Regardless, we know for a fact that even if these restaurants began with any other letter, they would still be as great.
Without further ado, we are pleased to present to you the ten best new restaurants in the Canadian Prairies for 2017.
(please note that only full-service eateries that opened between October 15, 2016 and October 15, 2017 were considered for this list)
Baijiu (Edmonton, AB)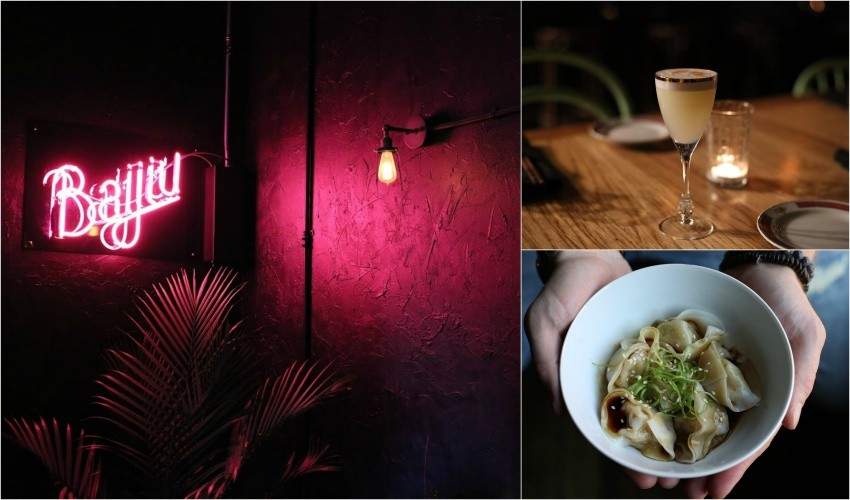 Kevin Cam's second Edmonton restaurant is a mashup of 1930s Shanghai speakeasy and 21st century restaurant-cum-nightclub. A turquoise and pink palette of various birds and flowers are the backdrop to oversized banquettes across from a brick wall and hickory bar with room for you and 25 of your friends to sit. As incongruous as some things are—with artwork ranging from a picture of Notorious B.I.G. on one wall to a vintage pinup on another—everything seems to make sense… or will, after one or two cocktails. You'd be wise to order a few plates of food to go with those drinks, and chef Lex Boldireff, the quiet mastermind behind the frequently changing menu, has just what you need.
The braised red pork bao and the lip-smacking Szechuan chicken are two dishes that are must-tries. Boldireff works wonders with cabbage, stir-frying it with confit onion, soy, ginger, chilies, chimichurri, egg and garlic chips. And, if the fried bao ice cream sandwiches are on the menu (especially the Captain Crunch flavour), get one—no matter how full you are. He should be mass marketing these cool treats.
Baijiu, pronounced "bye Joe" by the way, translates to "booze" in Cantonese. The cocktails here will knock you on your butt…and make you ask for another one when you pick yourself up—like the Last Days in Vietnam: a cocktail of soju, Hennessy VS, sherry, black pepper and Thai basil syrup, with some lime, lemongrass, soursop, and bird's eye chili to keep things interesting. Tart and spicy with a kick like a mule. Don't say I didn't warn you.
Bar Von Der Fels (Calgary, AB)
Calgary is generally not a city that offers many restaurants under 80 seats. With that in mind, the 20-seat or so Bar Von Der Fels easily stands out for being, well, so damn teeny. Small, but mighty, is perhaps the best way to describe this impeccable wine bar where owners Will Trow and Thomas Dahlgren pour unusual and satiating wines by the glass in a minimally designed, but welcoming room.
The third partner, chef Eric Hendry works wonders out of a speck of a kitchen space with signature dishes like maitake mushrooms with birch syrup and black garlic, grilled broccoli with a creamy tuna dressing and furikake and plenty of other delectable small plates. After a couple of glasses of wine, you can look around the dimly lit room, take a bite of your food and just about convince yourself that you've been transported to another metropolis.
Bread and Circus (Calgary, AB)
Embracing a similar size to Bar Von Der Fels, Bread and Circus is sandwiched between Una Takeaway and Frenchie Wine Bar in the heart of 17th Avenue. House-made pastas command much of the small menu here at this compact, but thoughtfully designed, Italian restaurant. Chef Kayle Burns' creative crushed potato and salt cod dish, with crispy wisps of potato chips, olive powder and fresh herbs prove that a humble spud can make a lasting impression on a diner.
Keep your eyes on the small open kitchen to catch chefs tossing fresh pasta into a gigantic wheel of pecorino romano. If that doesn't stir up an appetite in you, I'm not sure what will.
Bridgette Bar (Calgary, AB)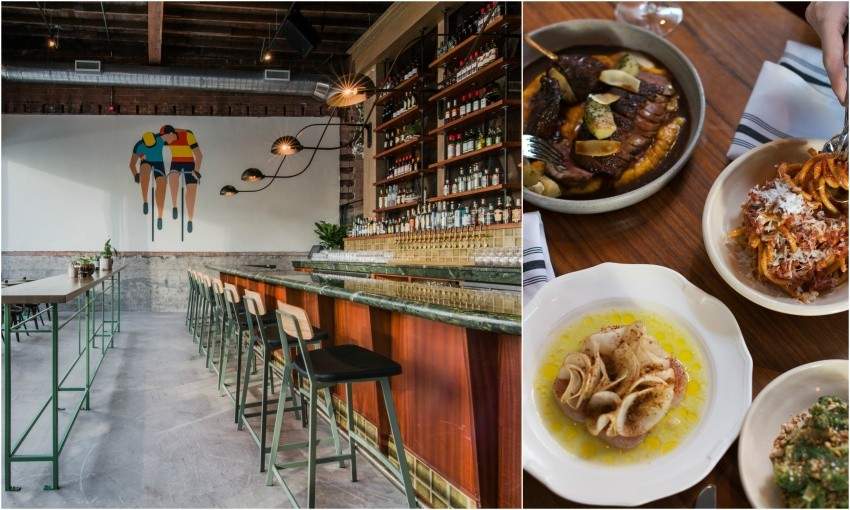 When I first walked into this two-tier restaurant when it opened in February, the lux emerald marble bar top adjacent to the bright white wall and its big, primary coloured cyclist mural gave the impression that the interior design was one for the books. Looking back now that we're in December, Bridgette Bar remains to be the most beautifully designed restaurant of the past year in this part of Canada, hands down.
Good looks and good food don't always go hand-in-hand, but luckily, here it does. Executive chef JP Pedhirney, chef de cuisine Garrett Martin and their team create food that vies for your attention just as much as the many design accents around the dining room do. The braised rabbit, spread on crunchy, toasted sourdough and finished off with a pickled vegetable and parsley salad remains to be one of the tastiest dishes I've had this year; and reinvented garlic bread (dough stuffed with cheese curds, fried and finished with parmesan), though now off the menu, is equally memorable.
The pizzas and pastas, though tasty, are perhaps not as dynamic as other options here, like the spiced lamb sausage on labneh with cilantro vinaigrette, but these offerings gives Bridgette a more approachable edge to some of its contemporary competitors.
Wash things down with a Paper Plane (amaro, bourbon, Aperol and lemon juice) and you can chalk dining at Bridgette Bar up to a win.
Bundok (Edmonton, AB)
Chef Ryan Hotchkiss, formerly of the highly lauded Bar Bricco, is another strong silent type eschewing the social media limelight for a nose-to-grindstone work ethic.
If there was a #yegfood Dish of the Year Award, Hotchkiss would win for his seabream crudo, a delicate fish from New Zealand that he enhances with a light touch of citrus, chilli, olive oil and refreshing Thai basil. It would definitely appear in my "last meal on Earth" along with his glorious deep-fried chicken skin drizzled in honey mustard. Pair those dishes with a glass (make that a bottle if it's my last meal) of the Varichon et Clerc privilège from Savoie, a refreshingly crisp, well balanced sparkling wine full of under-ripe pear, almond and lemon and the perfect foil to a rich dish. Might as well go big, seeing as I'm not going home; so, I'll take an order of the luscious chicken liver tartine, too.
Hotchkiss has a way of making food sexy and comforting at the same time. One sip of the Parmigiano soup, rich with leeks and bacon, and you'll be craving it hours later; same with the lamb schnitzel with fennel, cucumber, sumac and yogurt. Like so many of his creations, the flavours are fully present without the dish being over-complicated and fussy.
Some items crossover to the weekday lunch and Saturday brunch menu, too, and that tidbit is worth keeping in mind: not many restaurants of this caliber are open for brunch, lunch and dinner. You're going to want to keep Bundok on speed dial.
The Butternut Tree (Edmonton, AB)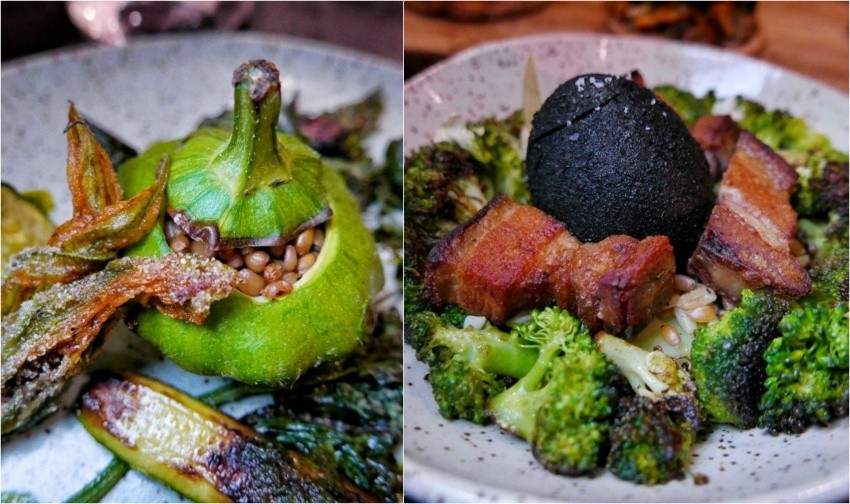 St. Albert chef and owner Scott Downey spent time working at Michelin-starred NOMA in Denmark and Daniel in New York, as well as operating a foraging company before coming back to open this restaurant in the fall. The butternut tree, a species of walnut, pays homage to the tree that grew in his grandmother's garden in New Brunswick.
I'm still dreaming of the broccoli dish with pork belly, soft boiled duck egg and pickled garlic scapes, as well as the burnt leek ash-covered soft boiled duck egg that was featured in fall, but the new winter menu has me salivating over the Pine Haven pig's tongue with braised cabbage and apple. Only Canadian ingredients are used here; it's an admirable yet challenging undertaking. The menu features a rotation of bison, elk, pork belly, rabbit, duck and fish—much of those items roasted and sauced and served with potatoes and root vegetables. Hearty fare, to be sure. It'll be interesting to see what springs up on that menu once the snow melts.
The space is worthy of mention. The room is elegant but not stuffy, and the view of the Alberta Legislature Building and grounds is spectacular. If you want to impress a business prospect (or a date), this would be a good place to start.
Calcutta Cricket Club (Calgary, AB)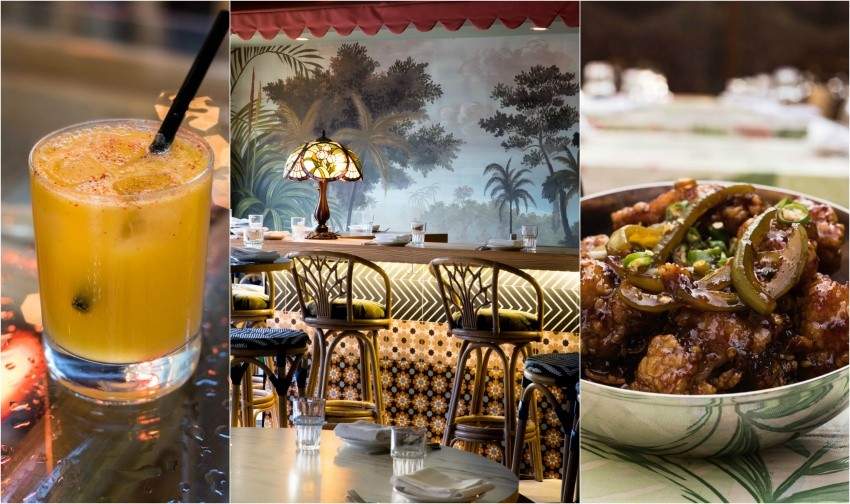 This restaurant is a great example of how a lively atmosphere, equally energetic service and a good cocktail program can play just as big of a part as what's coming out of the kitchen when it comes to a memorable dining experience. Plenty of the dishes at this contemporary Indian restaurant, like its signature chili fried chicken or kati rolls, boast bold flavours; sweet, spicy, tangy. These sorts of lingering sensations are perfectly complementary to the restaurant's bold cocktails, like the stiff saffron martini or the Crushable Gin and Tonic. As the name implies, it is, indeed, crushable.
Come summer 2018, I can guarantee that Calcutta's bright and comfy patio will be one of the places in Calgary to have a dinner al fresco.
Provision (Calgary, AB)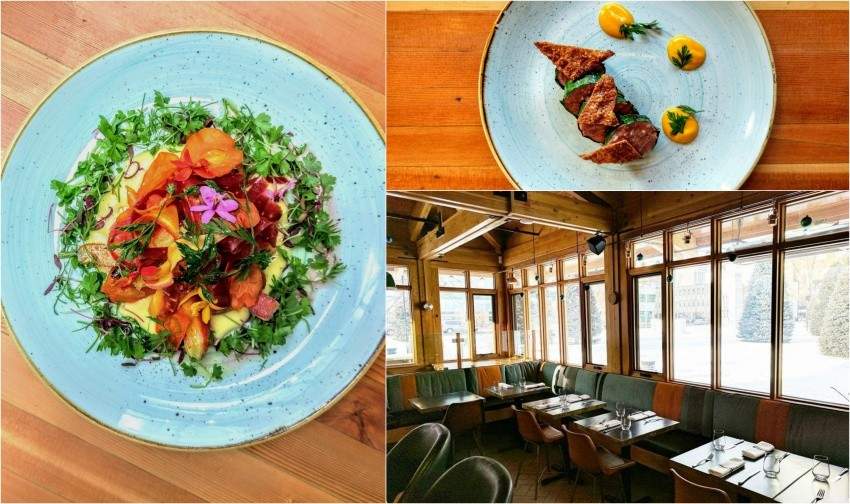 Understated and overlooked are two words that come to mind when I think of this restaurant in Central Memorial Park. From the same owners of Avec Bistro, Provision offers interesting and beautifully composed dishes courtesy of chef Daniel Pizzaro (who I still think is one of the most underrated chefs in the city) and a concise, well-curated wine list courtesy of co-owner Jackie Cooke. With a preference for vegetables, the chef works wonders with humble ingredients like cabbage (charred with garlic bread crumbs, sorrel, chili aioli) or celeriac, which is brunoised and served risotto-style with parmesan, earthy truffle and a poached egg. The baked-daily cookies are always simple, delicious and a perfectly sweet antithesis to the vibrant plates of food one has just enjoyed.
Shift at the Remai Modern (Saskatoon, SK)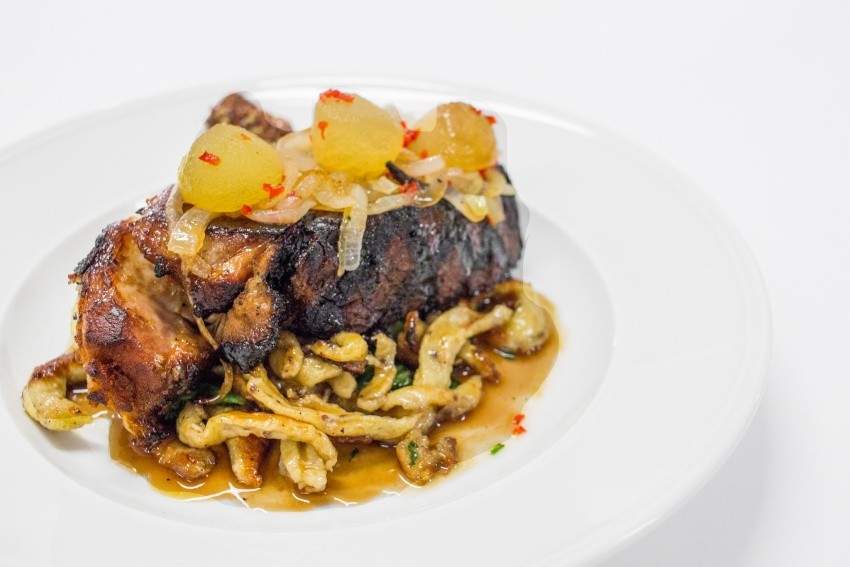 Being a proud Saskatoonian by birth, and knowing how tight-knit the Saskatoon food scene can be, hearing about a Toronto-based restaurant group moving into the Prairie city with the goal of opening an eatery inside of a museum that focused on contemporary Prairie cuisine made me quite wary. Couple that with the kitchen being run by two chefs who had never been to Saskatchewan before? Well, this could certainly be a disaster. What would come to materialize as Shift this past October had me pleasantly putting my foot in my mouth.
So much of the menu here is what I would consider to be a true celebration of the Prairie region: the ingredients it offers, the immigrants who settled the lands and the refinement its food scene continues to strive for year after year. The deceiving simple mushroom and barley soup with brown butter bread crumbs, thickened by pureeing the barley, tender perogies with bacon and sour cream (of course), slightly elevated with bonito flakes, roast pork shoulder with mustard spaetzle and sweet and sour apples, the brûléed wild rice pudding studded with chunks of chocolate and fruit compote--all thoughtful and wonderful.
One notable downside is that Shift's wine list leaves a lot to be desired and the interior also seems a little restrained, especially when compared to other Oliver and Bonacini concepts in the country. But, sit by the window and those stunning views of the Saskatchewan River, bordered by snow drifts sparkling in the moonlight on a winter night, help make up for that.
Best overall: Biera (Edmonton, AB)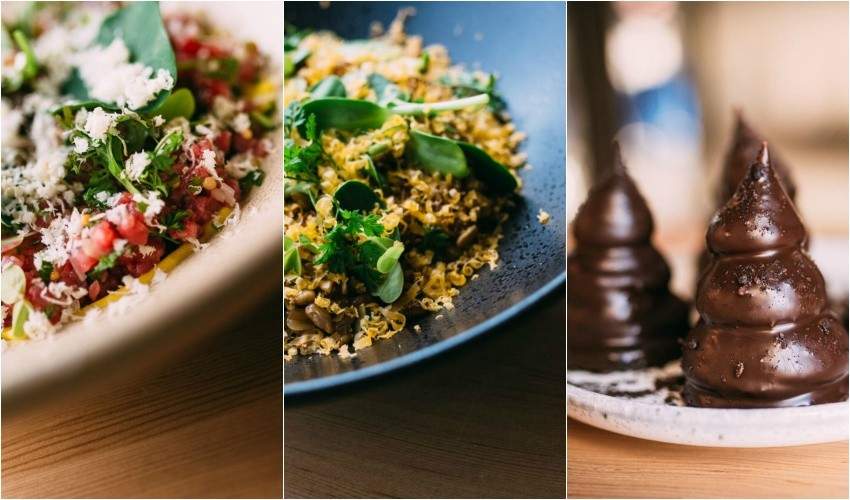 Chef Christine Sandford's food is thoughtful, exquisite, and restrained. She could go hog wild in this no-expenses-spared kitchen (probably the most coveted kitchen in the city), but she doesn't. Her food is inspired by European travels, where she worked as chef at In de Wulf, a Michelin-starred restaurant in Belgium, and as chef de partie in its offshoot, De Superette, in Gent.
The food here is meant to pair with the beer brewed at Blind Enthusiasm, the brewery in which Biera resides. It does for sure, and while the beer is very quaffable, it's the food that's making all the waves.
Sandford coaxes flavours out of ingredients like very few can. Fresh ingredients get the lightest touch of exquisite emulsions and fermented concoctions. You've never heard anyone say they're craving kohlrabi unless they're talking about the kohlrabi rolled with queso fresco and sunflower shoots at Biera. Then it makes sense.
Lardo on fresh-baked tangy sourdough, smoked potatoes with freakishly awesome potato chips (that I wish were sold in bags to go), charcoal grilled "Korean cut" beef ribs glazed with wort, and a pork shoulder that will have your eyes lighting up like hearts on a love-struck emoji face. I couldn't pick a favourite dish at Biera if I tried.
Sandford will be one to watch in 2018. Her skill on the line is a direct result of time spent traveling and sweating in foreign (and local) trenches. She's been schooled by some of Belgium's best, and Edmonton, thank Bacchus, is lucky to have her.
Restaurants to watch heading into 2018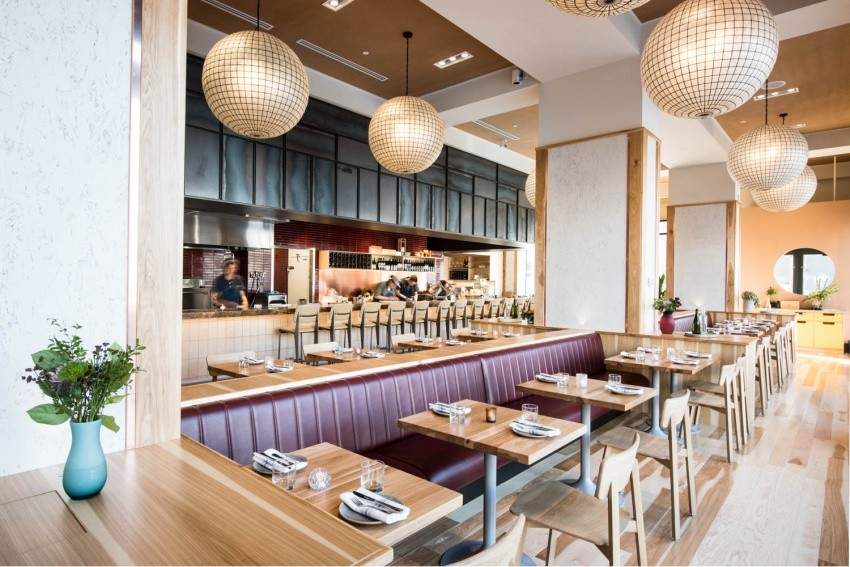 New restaurants usually have a few kinks to work out before they start operating to the best of their abilities. Here are a few places that are still relatively new, but are generating plenty of buzz.
From the co-owners of Calgary's cocktail hotspot Proof and boutique liquor store Vine Arts, Jesse Willis and Jeff Jamieson, comes this elegant eatery on the corner of 10th Avenue and 9th Street in the Beltline area of the city. Named after general manager and third co-owner, Amy Turner's grandmother, Donna Mac works with a mantra of "new neighbourhood cuisine", which could loosely translate to elevated comfort food created by chef Justin Longpre. The room itself (designed by Sarah Ward Interiors) is a stunner with warm wood tones, oxblood leather banquets and a mesmerizing rainforest brown marble bartop that looks like it was plucked from an alien planet in a Guardians of The Galaxy film.
Chef Lindsay Porter is going back to her roots with foods of the United Kingdom—mainly those of England with an occasional appearance of Irish favourites, like the savoury mashed potatoes and cabbage mixture called colcannon. The food at London Local is decidedly British, but with Canadian influences along with a smattering of gutsy creative license of which Porter is known. Here, Porter happily makes her own HP and curry sauces, and uses copious amounts of Stilton cheese. Sticky toffee pudding, treacle, and trifle will satisfy your sweet tooth, providing you've managed to save room for dessert.
Passero (Winnipeg, MB)
Restaurateur Scott Bagshaw's newest venture heads straight in the Italian direction with Passero, a slick-looking eatery located inside The Forks market. Bagshaw's other two restaurants, Enoteca and Maque, are highly regarded both locally and nationally, so the odds seem forever in his favour with this concept too. The romaine salad with chestnut bagna cauda regianno, brown buttered bread crumbs and fennel sausage is just the tip of the iceberg when it comes to the dishes here that are getting Winnipeggers excited.
Chinese-inspired dishes and contemporary service come together on 1st Street in a restaurant space that had previously been vacant for years. From the same owners of Calcutta Cricket Club, Two Penny puts a similar foot forward in providing a buzzworthy dining experience in a chic dining room. The space--which like Donna Mac was designed by Sarah Ward Interiors--is described as "Chinese Deco" and includes a lower level level "tea room" (i.e. their cocktail bar) which is almost cave like. Lit subtly by paper lanterns strung from the ceiling, this downstairs bar boasts a frenetic tiger graphic wallpaper that might just be the most memorable design accent of this past year.