Surprisingly, Canada doesn't have a large number of regularly food-related podcasts, so it's nice to see the Vancouver-based Chefs' Table Society of B.C., or CTS (a province-wide collaborative dedicated to creating a foundation for the exchange of information between culinary professionals) launching their new monthly podcast. Cleverly titled Mise-En-Place, the podcast aims to spark dynamic conversations surrounding the Canadian culinary industry.
Podcast host, chef-restaurateur Robert Belcham welcomes Canadian cooks and culinary professionals into the studio to discuss a variety of topics related to their profession, from education to sourcing, to the reality of costs related to the industry. An official annoucement from the CTS says the podcast hopes to "lay the groundwork for building together a healthy, sustainable future for the culinary profession in a rapidly-changing world."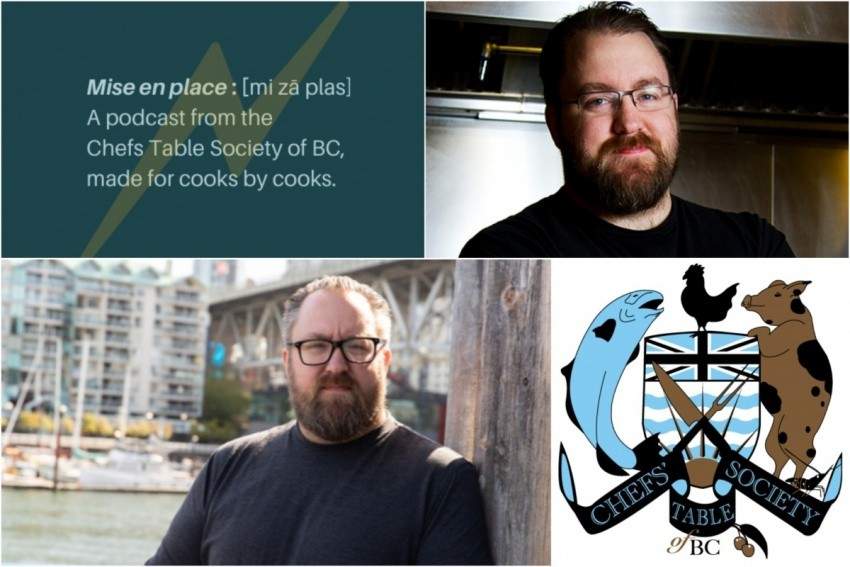 The first episode covers the changes to culinary education based on the needs of the industry and the next-generation of professional cooks, with guests Tony Minichiello, chef-owner of Northwest Culinary Academy (Vancouver, B.C.) and Bruce McAdams, associate professor at the School of Hospitality, Food and Tourism Management at the University of Guelph (Guelph, ON). Together, the three men discuss who is applying to culinary educational programs, workplace expectations, the importance of mentorship and more.
The podcast will also offer a recurring feature called the Walk-in Confessional, where Belcham will invite well-known chefs to "chill" (pun intended) and have a candid conversation. Sustainable seafood advocate and chef-restaurateur Robert Clark is the guest on the premiere eipsode. the CTS invites anyone with ideas for suggested topics and chefs to shoot them an email for consideration.
Mise-En-Place episode one is now available on Apple Podcasts, Google Podcasts and most podcast streaming services.