This time of year can be a hard transition for many of us. Add the ongoing pandemic to a typical annual weather adjustment and getting back in the school-and-work-juggling mindset feels especially daunting.
Thinking about the lunch hour is one thing that doesn't need to cause you--or any of us--extra stress. That said, lunch is one of the most important meals of the day and it needs to be able to sustain people of all ages to get over that midday hump and through to dinnertime.
Finding ways to include Canadian beef into your regular diet is something food and nutrition educator Andrea Villneff (B.A.Sc., P.H.Ec.) says is especially beneficial for little ones.
"Incorporating beef into lunchtime adds protein, vitamin B12 and heme iron into any midday meal. Beef contains many nutrients that are important for a healthy lifestyle and will help keep your kids feeling fuller for longer so that they can focus in class," explains Villneff.
She also points out that outside of drinks like coffee and tea people rarely think to use a thermos to keep their food hot. Since most kids–even those "kids" in university–don't have the ability to reheat their lunches, using small thermoses for things such as meatballs or braised beef for tacos is a great avenue to take.
"Moving into the colder months, a thermos lunch is a great way to pack a more satisfying meal for your kids."
Ok, now we're hungry. You too?
Here are some ideas for how you can utilize different types of Canadian beef in lunch dishes that will appeal to a younger demographic and, with a couple tweaks, can be made more interesting for an adult too.
Roast beef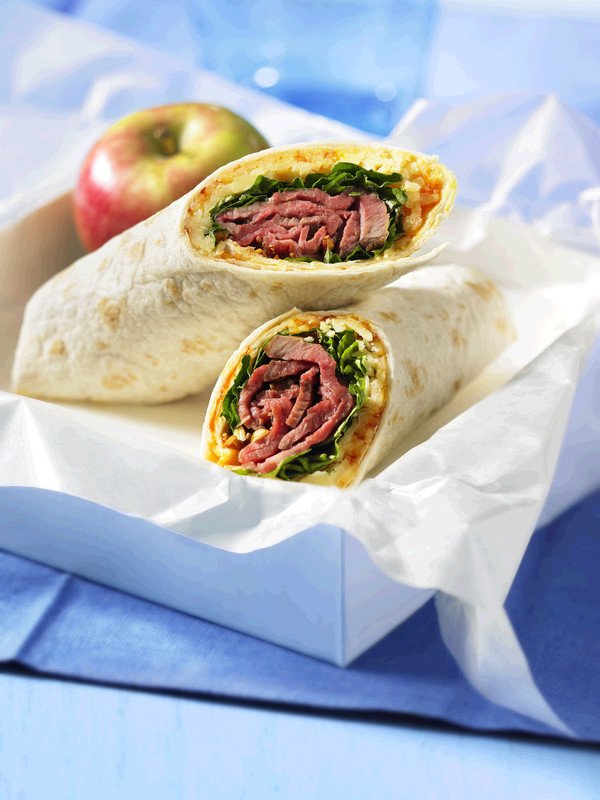 Thinly shaved roast beef placed in a tortilla wrap with cream cheese, leafy greens, pickles and a little mustard.
(pro tip: spread a thin layer of cream cheese on the tortilla first before adding other ingredients, it will help stop the tortilla from getting soggy). If you do want to make it more "adult", try adding a little red pepper jelly and cashews too.
Skip the tortilla and build yourself a club salad with thin cuts of roast beef, chopped up greens, tomatoes, cheddar, cucumbers and some diced pickles for a little acidic punch. Drizzle some blue cheese dressing overtop and you're good to go!
Since ingredients are often left separated in a club salad this simple, but filling dish travels exceptionally well.
Beef meatballs
For the kids - Open-faced meatball sliders
Slice some dinner rolls, butter them up (garlic butter if you've got it) and place a couple meatballs on top of each along with some cheese
For the adults - Meatball grilled cheese sandwiches
Exactly as it sounds. A grilled cheese sandwich can be made even more fulfilling by way of adding leftover meatballs into the mix.
We'd suggest slicing them in half or smashing them with a mixing spoon to help flatten the sandwich out a bit and have it heat through more evenly.
Braised beef
For the kids - Beef quesadillas
Leftover braised beef is the perfect thing to add to a classic cheese quesadilla to help make a filling lunch for high energy kids bouncing around over the noon hour. Maybe sneak in some leftover cooked vegetables too.
This dish can be made either in a pan or on a baking tray while you're fixing up something for yourself.
For the adults - Quick fix French onion soup
If you have 10 minutes to caramelize onions in a pot, then you deserve to treat yourself to some French onion soup for lunch.
Once onions have caramelized, add beef stock and braised beef and season to taste with salt and pepper.
Broil mozzarella-covered crostini in the oven while the soup is heating up and once lightly golden and bubbly, remove from the oven.
Ladle soup into bowl(s) and top with cheesy crostini.
Chili or cooked ground beef
For the kids and the adults - Chili mac 'n' cheese
This dish is so easily made, but rarely thought of and it's something that appeals both junior and adult taste buds alike. Stirring some leftover cooked ground beef or chili into a pot of mac 'n' cheese bolsters the nutrition and also amps up the comfort food factor.
Best reserved for one of those extra chilly fall days.
Consider adding leftover chili to broth-based soups you might be simmering on the stove too!