To most travellers, especially snowboarders and skiers, the Sea to Sky Highway brings them directly to the top of Whistler for its unparalleled natural beauty, outdoor activities and outstanding local and seasonal dining; but don't skip over Squamish, as it is home to farmers markets, brewery tours, rich history and culture and great eats, in addition to its long list of outdoor activities.
Now, you can add The Salted Vine to the list of reasons to visit. Newly opened in the historic Squamish Hotel (the oldest building in town), the modern-country, 70-seat restaurant aims to bring high-quality, seasonal, sustainable and organic Pacific Northwest cuisine to the community with executive chef Jeff Park, restaurant director and sommelier Pat Allan, and bar manager Dave Warren, all from Whistler's award-winning Araxi.
Park comes to The Salted Vine with extensive experience: first at the aforementioned Araxi in 2003, where he was sous chef before moving onto Calgary's Blink and Chef's Table, and later returning to Araxi as chef de cuisine in 2011.
We chatted with Park about the new restaurant, foraging in the Squamish/Whistler area, being in a more quaint community and how that differs from being in a busier city like Vancouver.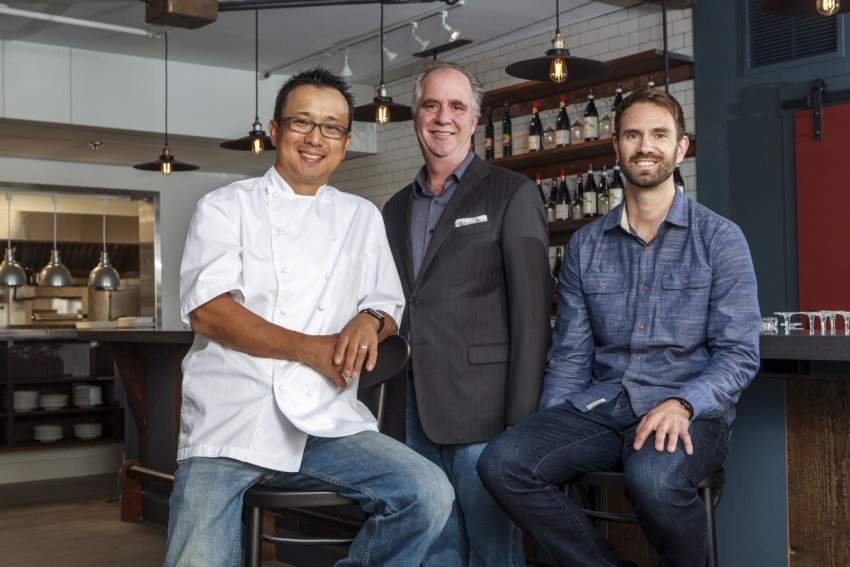 Is Squamish the new frontier and is it ready for food scene growth and more chef-driven dining options?
Over the last few years, Squamish has grown in popularity as a desirable city for young professionals and young families. A lot of my friends and family in the community have told me that they seek similar dining options and experiences to what's offered in Vancouver.
I think Squamish is ready for some change in the food scene. It's just a matter of finding a few talented chefs who want to get away from the busy city and enjoy the great outdoors and a more relaxing lifestyle in Squamish.
How is foraging for ingredients incorporated into the menu development process?
Foraging was something that I always wanted to do, but never had the time to do with long hours in the kitchen and having two young children. After I left Araxi last year, I enjoyed my newfound time by doing things like picking mushrooms (pine, lobster, chanterelles) with my family. Now that I'm running a kitchen in a much smaller restaurant, I'm looking forward to foraging for ingredients on my days off to incorporate on the menu.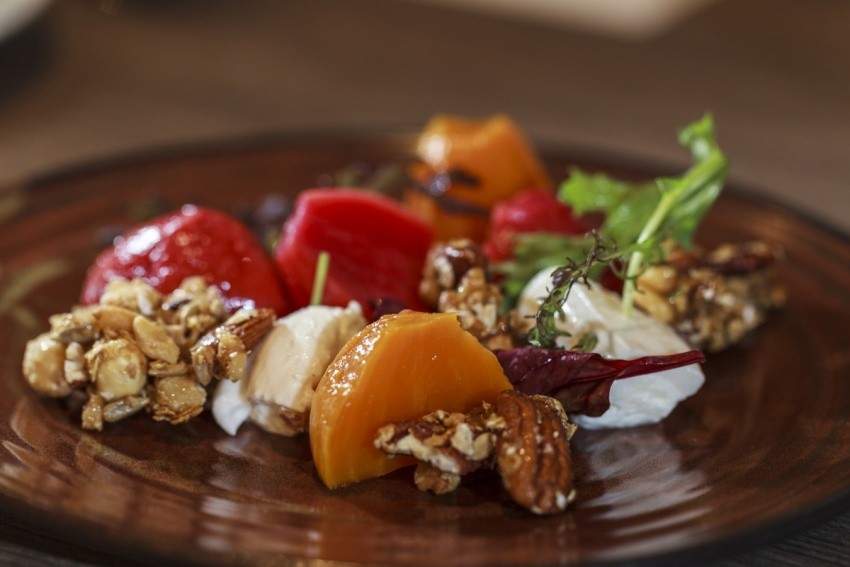 Would you say that the Cascade Mountains have a regional cuisine that differs from Vancouver?
Having worked for chef James Walt for 10 years, my technique and knowledge of cooking has become known as Pacific Northwest cuisine. It doesn't matter where you are in this part of the region, as long as you use the freshest and most sustainable ingredients available, I call that the true regional cuisine.
Have you noticed a lot of interest from Vancouverites since opening? Are people willing to make the drive to try out the restaurant?
We've been open for just a few weeks, but we're thrilled to see Vancouverites and Whistlerites making the drive, specifically to come dine with us. Some people from the city stop in on their way up to Whistler, which we're pretty happy about too!
Are there any local producers or purveryors that you have discovered or now deal with regularly?
Local artisans that we've recently partnered with include Raven Timberworks, a local company that creates wooden cutting boards from trees grown, cut, kiln-dried and milled on a property about six kilometres from the restaurant in Paradise Valley. We also get our ceramic plateware from a potter, Sandra, who also lives in Paradise Valley.
Gillespie's Fine Spirits, a fantastic local distillery in Squamish: we use several of their spirits on our bar menu, including their limoncello, vodka and gin.
Some of our local suppliers include Nutrient Dense Farms of Brackendale, and farms in Pemberton like North Arm Farm and Root Down Organics for produce, and Pemberton Meadow Beef.