With so many Calgarians facing challenging times during the pandemic, the city is implementing a pay-it-forward food initiative that allows customers to support restaurants while helping marginalized people in their respective communities.
The Giving Wall, created by City of Calgary and local food personality Julie van Rosendaal, will soon enable Calgarians to buy a meal for someone who may not be able to pay for one.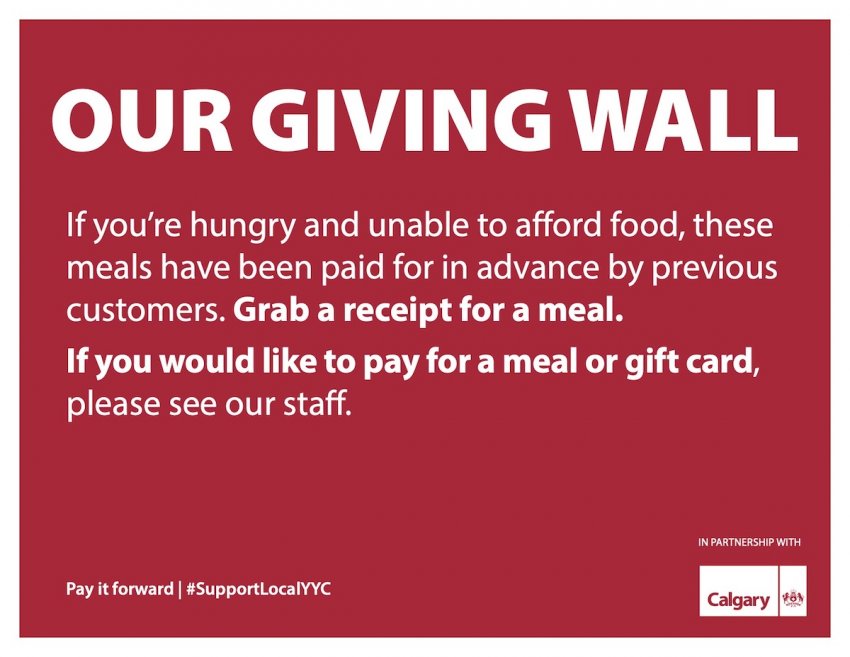 At participating restaurants, cafes, and coffee shops, anyone ordering food for pickup or takeout can pre-pay for a menu item or purchases a gift card, and the gift card or receipt is put on the wall for anyone to use when they're in need of a little boost. There is no registration required for a business to take part in this initiative, but restaurants and bars are encouraged to download promotional materials (one example pictured above) from
the City of Calgary website
to display on premises.
"It really allows Calgarians to support their communities in any amount they can afford in a convenient way and direct that cash through the restaurant," says van Rosendaal. "This sort of does double duty: it supports our local restaurants and allows people to come in and grab a meal."