The epicenter of the event was a donair eating contest at the popular restaurant, King of Donair on Quinpool Road, where over 80 contestants (including provincial NDP leader Garry Burrill) chowed down on the take-out sensation that, in 2015, became Halifax's official food.
The contest was live streamed on donair cam, and on Facebook via Global News, enabling homesick Maritimers located in all parts of the country to tune in.
The speed and brutal indelicacy with which the paper-crown clad hopefuls (mostly men) devoured their donairs was matched only by the encouraging comments from the crowd–things only a Maritimer in a donair shop can say, such as:
"Don't forget your sauce"
"Don't eat the foil"
"Chew it up buddy, and you're done!"
To win, the fastest contestant had to finish the entire meal, including sauce and pita, and, to prove there was no morsel remaining, announce clearly: "I'm the King of Donair! "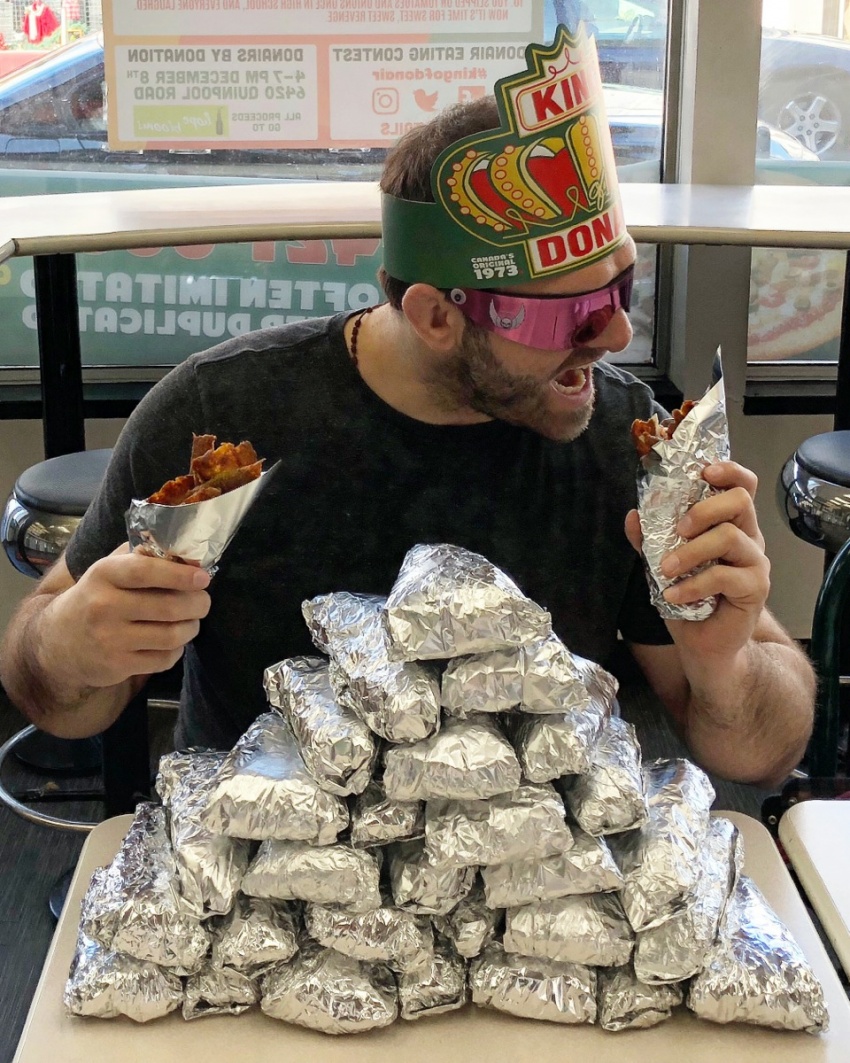 The winner: Nathan Richard from Summerside, Prince Edward Island, with a time of two minutes and 26 seconds.
Donair Day was also day to give back to the community. From 4:00-7:00pm, it was "donairs by donation", with the money from each donair going to Hope Blooms, a local charity that runs a greenhouse, community garden, after-school program, scholarship fund, and a thriving salad dressing business in Halifax's North End.
"This is our second year working with Hope Blooms", says Nicholas Nahas, owner of King of Donair. "We believe in the program and they're doing great things for the community." In total, $1191.50 was raised for Hope Blooms on Friday night.
If you missed the excitement, don't worry, you can still tune in to the 24/7 donair cam–a single web cam placed just above the donair spit on Quinpool Road.
With the tagline, "it's hard to look away," the spinning rotisserie of sizzling, dripping donair meat is addictive, and strangely comforting.