We Canadians certainly love a good road trip—exploring the great outdoors and discovering our country's vast and wondrous landscape; not to mention the incredible, regional cuisine that's as diverse as it is delicious, and an adventure in itself.
In celebration of Canada's 150th anniversary, best buddies and seasoned chefs Chuck Hughes (Chuck's Day Off) and Danny Smiles (Top Chef Canada Season 3) hit the open road in their RV to visit some of the country's most spectacular landscapes in a six-part series premiering March 3, 2017 on Food Network Canada. Chuck & Danny's Road Trip follows this fun-loving duo cross-country—from Fundy National Park, New Brunswick to Salt Spring Island, British Columbia—to source the finest regional ingredients and cook delicious, unique campground feasts for local chefs, farmers and artisans.
We met with the Montreal-based team who shared some of their fondest memories of their unforgettable experience.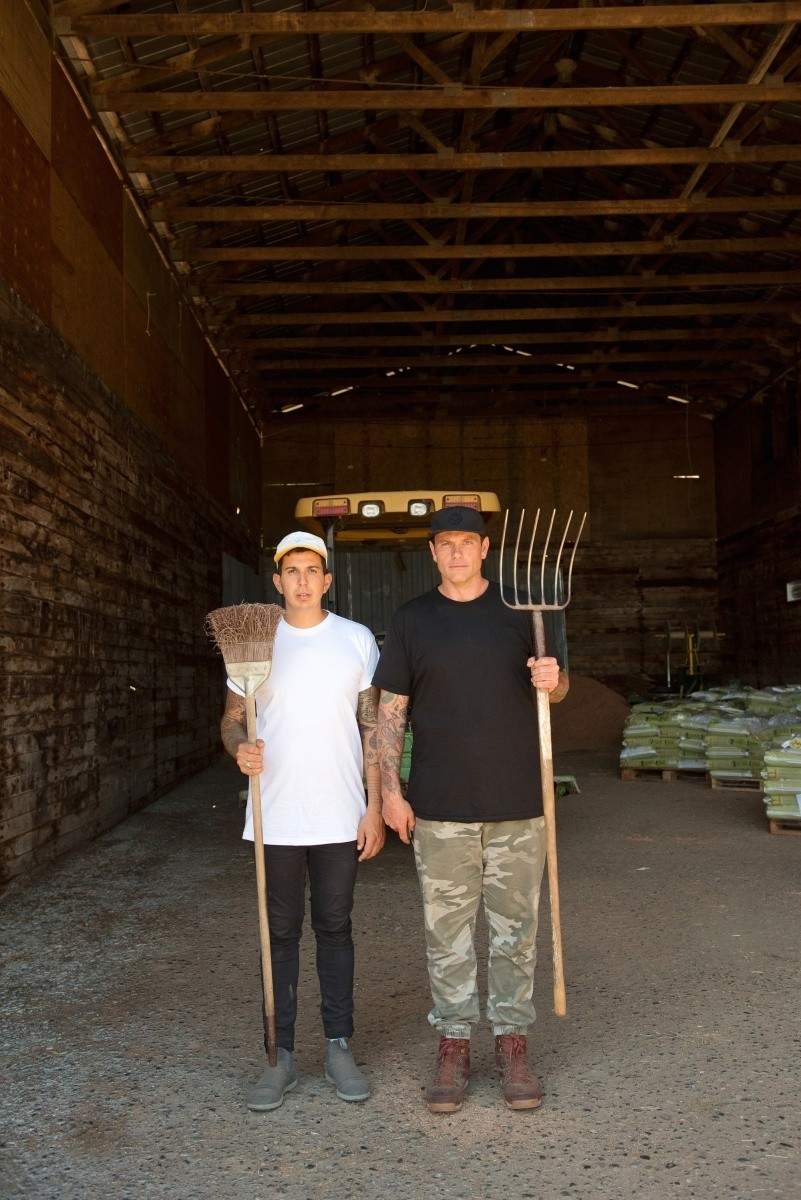 A lot of the road trip was getting out into nature and sourcing regional ingredients. What was the funnest thing you did to get an ingredient?
Smiles: The funnest thing was probably harvesting seaweed in Victoria. We got into wetsuits and went through an underwater jungle of seaweed—that was really special and unusual—and having a seaweed barbecue. When you get invited to a barbecue, you think burgers or chicken, but this was a seaweed barbecue. We ended up cooking bull kelp: sliced it up and marinated it with olive oil, salt and chilli. We put it on the barbecue for 10 minutes—it releases this briny, warm olive-y flavour. It was something super special; out of the water and onto the barbecue. That was something else.
Was there an ingredient that you tried for the first time during your road trip that surprised or inspired you?
Hughes: We got to eat fresh figs right off a tree in B.C. We don't have that back home [in Montreal]. And we made cornbread muffins with figs; that was pretty unique. We also had the guys that were harvesting sea urchin in Victoria bring us a box crab. I had never heard of box crab or seen it before. It's red…
Smiles: It looks like it's 1,000 years old! Almost looks like a coral reef.
Hughes: They brought it to our feast as a surprise. We cooked it on the spot. It tasted a lot like Alaskan king crab.
How was it prepared?
Hughes: We used salt water and steam-boiled it for 15 minutes and served it with lemon and butter. We kind of kept it simple. It was an addition to the feast we were already cooking. We didn't have much time to think about it. That was out of the ordinary. It's very rare to get to cook something you've never heard of or seen before.
What's an underrated or underused ingredient that we should be cooking more with?
Hughes: [Turns to Smiles] I know what you're going to say.
Smiles: Leeks?
Hughes: Raw zucchini.
Smiles: Yeah, raw zucchini. I think it's such a great vegetable. It's boring to people; they either boil or barbecue it. But when you use it in its natural, raw form… I do this raw zucchini dish [at Le Bremner]: a bit of lemon, salt, pepper. It's delicious. It's a very underrated vegetable and our Canadian farms are full of it.
Hughes: For me, it's probably onions. I think people use them a lot, but it's secondary. They don't realize that caramelization… how far that can get you in flavour. It's the base of a lot of recipes.
Smiles: They release this natural sugar.
Hughes: On this road trip, we cooked whole onions right on the coals. We didn't wrap them, just put them right in the hot coals. The skin acts as a protector and it chars on the outside. We took them out and sort of peeled them a little bit, squeezed and they popped right out. It basically steams in its own skin. You can't beat that flavour that onions have… when you make classic French onion soup. And using raw onion takes a salad to the next level. If you start treating them a little bit differently, there's kind of a lot there that's pretty special.
Picture this: You're in the backcountry for a few days and there are only four ingredients left in the RV. Which four ingredients would you hope to see and what would you make?
Hughes: Potatoes. They're so diversified. You can make mashed potatoes, fries, roast them— you can do anything with potatoes. It's my favourite veggie. Then, I would hope to have eggs. Once again, they're like potatoes in their versatility—you can do anything with them. Since I'm in the backcountry, I would forage and find other stuff too. And salt and hot sauce. I can't live my life without both of those things. I'm trying to kind of let up a little bit on salt 'cause it's got a bad reputation, but it's so good. Obviously, in cooking, if we can get it naturally, we'll get it naturally.
Smiles: I would want to have water for sure. Eggs. Maybe a bit of butter…umm….
Hughes: You can't say Led Zeppelin III. It's got to be food.
Smiles: A nice piece of cheese. Stinky cheese. I'm always so satisfied after I eat a piece of cheese. Delicious.
How do you think Canadian cuisine has changed over the years and how chefs have shaped our culture? For instance, farm-to-table restaurants have inspired people to support local.
Smiles: Canada's a young country. It has a lot of influence from a lot of immigrants and it's very interesting. And even for us going into Ontario and [meeting with Los Colibris chef Elia Herrera on the trip], seeing that Mexican influence, what they're growing and understanding their soil… I think that's what Canadian cuisine is. It's very, very regional.
Hughes: I always struggle to define Canadian cuisine. Like Danny said, it's really regional. What you're eating in Victoria, you're not eating in Quebec. So, it's super vast. It's a tough question to answer. One of the most touching and amazing experiences we had was harvesting wild rice with First Nations. In terms of establishing Canadian cuisine, First Nations doesn't really come up. But a lot of food, truly Canadian ingredients, you can't get more Canadian than First Nations. A lot of what they have, they've been cooking forever. In terms of our culture now, we definitely eat better; not just vegetables, but eating more ethically as well. And maybe we can look to them to see the true nature of local indigenous food to Canada. When we went to harvest wild rice, both of us were kind of floored by the experience and the fact that we don't really know much about it.
Smiles: We just hope that people eat more from the land and watch the show.
Chuck & Danny's Road Trip premieres Friday, March 3 at 9 p.m. ET/PT on Food Network Canada.