There's nothing else quite like Botté Chai Bar, the province's first Persian teahouse and infusion bar. This cozy little spot, tucked into the corner of The Blok on Ave B. South in Saskatoon, seeks to recreate Iran's traditional chai khoonet (tea houses) where locals gather to socialize over chai, a tradition similar to coffee row in small town Saskatchewan. And much like coffee is in North America, Chai (black tea) is integral to Iranian culture.
"It's one of the main drinks that people consume every day," says Safari.
The result is a thoroughly modern space, full of light, and dashes of green from wall-hanging potted plants. Turkish glass lanterns are suspended from the high ceilings. Cushions along the wall benches were imported from Iran's artisan city, Isfahan. Chill, lounge-type music fills the space.
Sip your chai under the golden gleam of Tehran artist Pouyan Sadeghian's whirling Sufi dervishes. The custom digital artwork, printed on wallpaper, depicts these followers of the mystic sect promoted by Rumi, dancing the Sama dance.
A Rumi quote graces a corner: "Wherefore is the beloved to intoxicate my soul with the wine of love?"
Babak Safari manages Botté for the owner, Parviz Yazdani. They have modernized the Middle Eastern chai khoonet to share their heritage here on the Prairies.
Botté's makes their own chai blend and a bottomless cup is $5; but don't expect milk or sugar. Gaz--a traditional Persian candy made of flour, rosewater, sugar and pistachios--is served alongside. House herbal tea blends, displayed in glass jars along the bar, are also available.
After opening in January, Botté has already become a community gathering place for everyone, from a small group of friends to families and large groups. There's a range of games, including a wooden hand-carved and painted chess/backgammon set from Iran.
It's also a place to enjoy solitude and reflection, with a bookshelf containing blank diaries for customers to write their thoughts and read those of others.
Farideh Mahram, Safari's mother, is the chef and she has come up with contemporary adaptations of traditional Persian dishes at Botté. For example, kuku--mix of greens, spices, homemade pickles and whipped eggs folded in with various ingredients--is typically served as separate elements on a plate with borani. At Botté, it all comes wrapped in a pita to take the guessing game out of constructing your own Middle Eastern wrap.
Borani, also available on the side as a dip, is made from adding goat cheese to plain yogurt, and comes in four versions at Botté: beet, smoked eggplant, spinach, walnuts and herbs. Spoon borani on each bite of kuku for an authentic experience.
Pair kuku with aush (soup) for a warming winter meal. The thick and flavourful barley vegetable is a fan-favourite.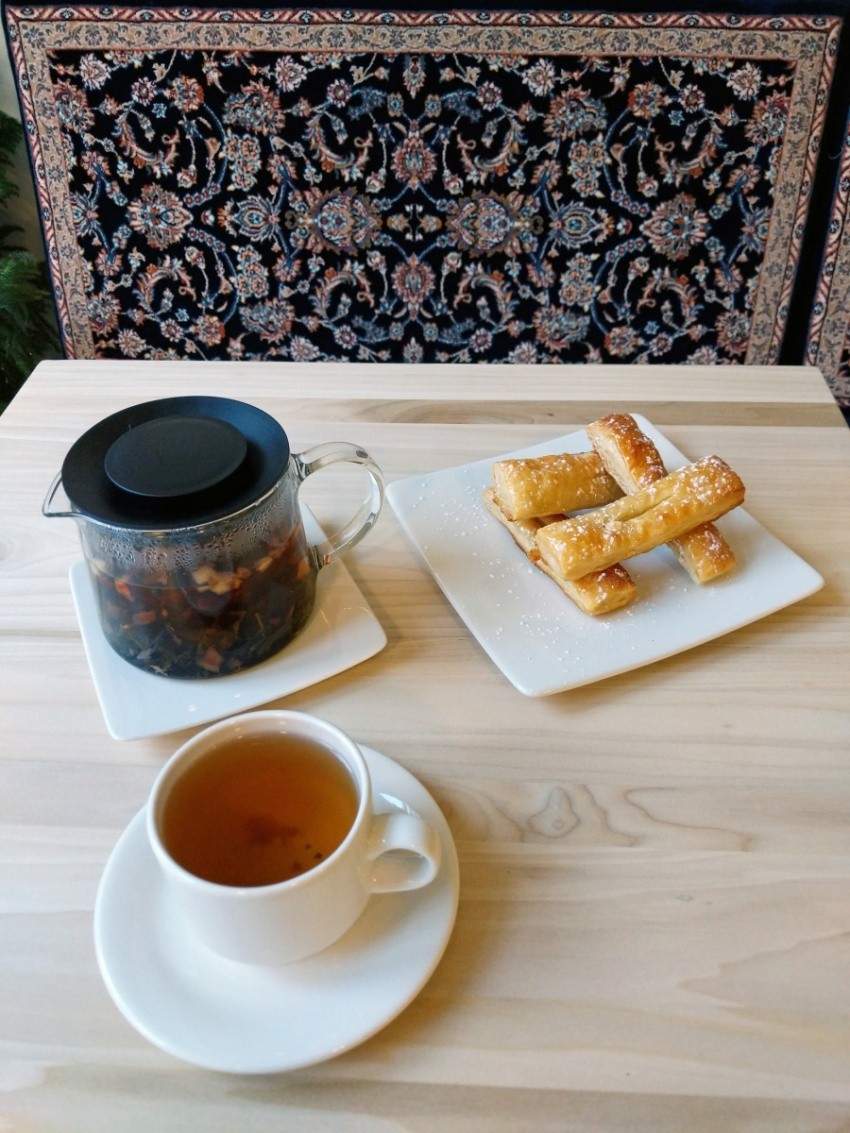 If you have a sweet tooth, you'll want to visit the glass display case full of traditional Persian pastries on your way out. Baklava has become Botté's best seller but do try the saffron pudding: a rice pudding with slivers of almonds throughout that give it texture while the bright saffron elevates the flavour. It's topped with a sprinkling of cinnamon and even a dried rose from Iran.
Extending Persian hospitality is foremost for Safari. He wants all to feel welcome.
"People can come here and isolate themselves from what's going on in daily life," says Safari.
Botté is open daily from 10 a.m. to midnight; food is served all day or until they're sold out and alcohol is not available.