While cod and potatoes may still be at the heart of Newfoundland cuisine, there's a lot more going on than fish cakes and Jiggs dinners. A new breed of chefs are shifting the focus within the food scene, with creative riffs on comforting classics and emphasis on supporting local producers.
Food gives as much of an insight into a culture as a trip to the museum, and as excited as I was to dine at the restaurants of Food Network chefs on my first trip to St. John's, Newfoundland, I wanted to digger deeper. I wanted to do more than look at (and taste) the exhibits. I wanted to excavate them myself. The solution was easy enough. Those with an appetite for adventure need only meet up with Lori McCarthy of Cod Sounds, a culinary excursion company.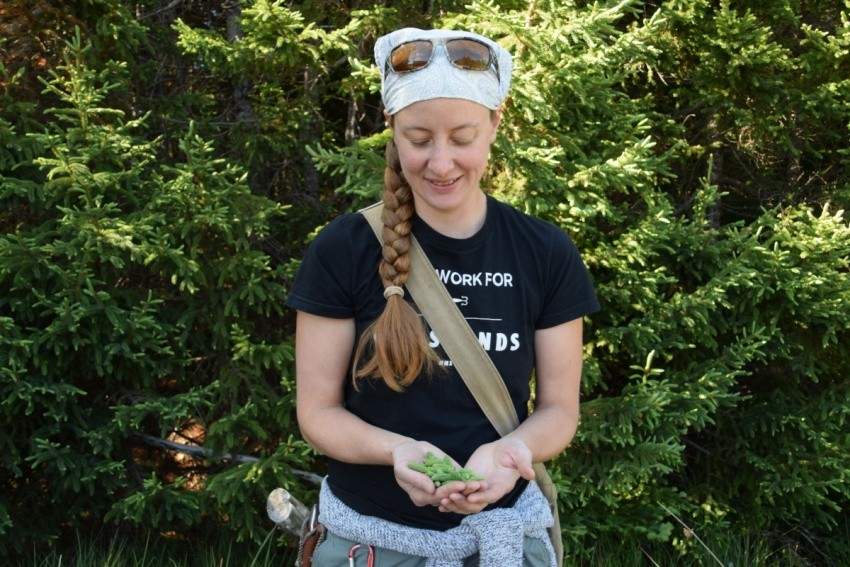 McCarthy is all about reviving traditions and getting to the heart of them. She's been picking wild edibles since she was a wee lass and now forages for the city's top restaurants. Those tender young leaves plucked from the oyster plant that transformed your salad at The Reluctant Chef? She picked it! When not leading culinary city tours or traditional Newfoundland cookery classes, she's likely making a beeline for the woods and windswept beaches to collect her bounty.
Wild foraging in Newfoundland
My daughter and I meet McCarthy in Mobile, a small town less than half an hour away from St. John's. Letting her instincts lead the way, we follow McCarthy along the East Coast Trail, a scenic path that cradles the Atlantic along the Avalon Peninsula. Ambling our way through the thick woods, it's not long before we come upon some Labrador tea leaves, and McCarthy plucks a leaves to make a herbal hot drink.
A few minutes later, she spots a flowering crackerberry (also known as bunchberry) spread out along the forest floor. We nibble on its delicate white flowers and are delighted at how similar it tastes to the skin of a blueberry. Next to it is a Saskatoon berry bush known here as chuckley-pear.
"It's gonna be a bumper crop this year, thanks to the early spring weather," McCarthy notes. We gather spruce tips, which can be dried or pickled, and McCarthy also cuts off some young tamarack needles. "This goes well with gamey red meats, just like rosemary does," she tells us.
Along the way there are so many new discoveries. Who knew that sandwort would tastes like cucumber? Or that oyster plants grows on beaches? Or our favourite find would turn out to be the puckery sally sucker, a type of sheep sorrel? Though there is much to gather, we are cautious under McCarthy's direction. "You never want to change the landscape of what you're picking," she warns. "It's got to be sustainably done."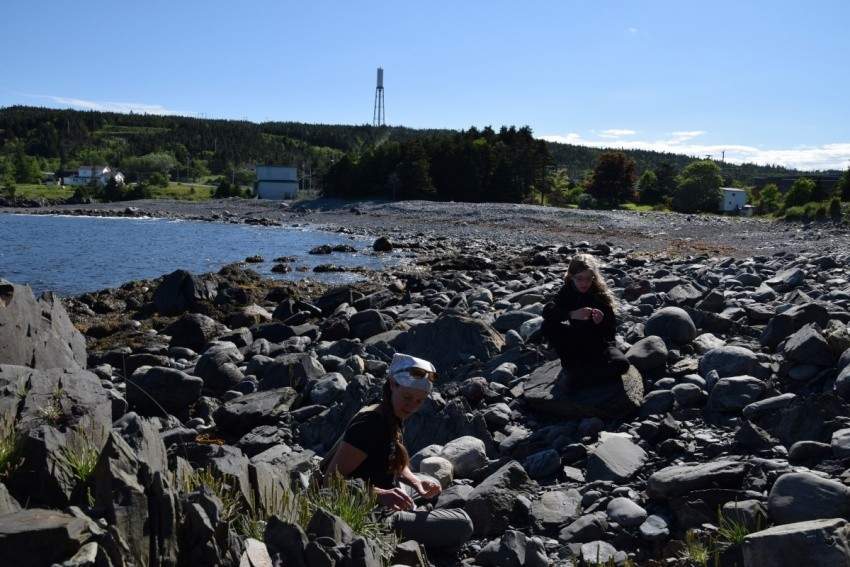 Beach b
oil-up
Our foraging takes us to a deserted beach, where, lo and behold, a fire has been set up for us. Mugs of rhubarb tea are passed around, but not before McCarthy adds a few of our finds to the kettle. Cultured butter is slathered on the hot rocks before plump diver scallops are placed on them. As they sizzle, dried roe is grated, then sprinkled over the cooked scallops before being topped with a sally sucker leaf.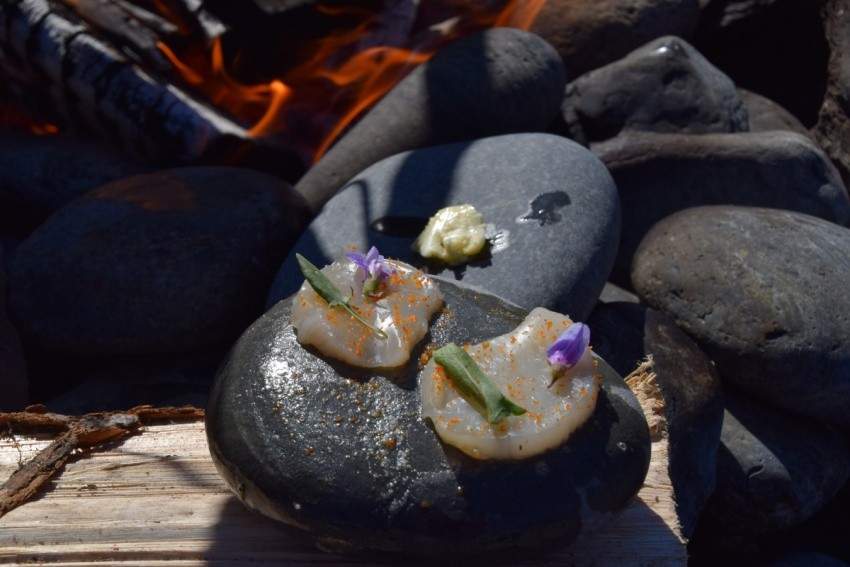 Next, a cast iron skillet goes straight into the fire with butter and cod. So simple, but this pan-fried cod is the best we've eaten during our time here in Newfoundland and Labrador. Thick and meaty, it's picked up the buttery juices, the delicate squeeze of lemon and the invigorating sea air. Lobster is finished off with butter and Japanese knotweed, pickled in a white apple balsamic and sprinkled with lovage. It's almost too pretty to eat, but it's fresh lobster, so who am I kidding? It's wolfed down in a flash.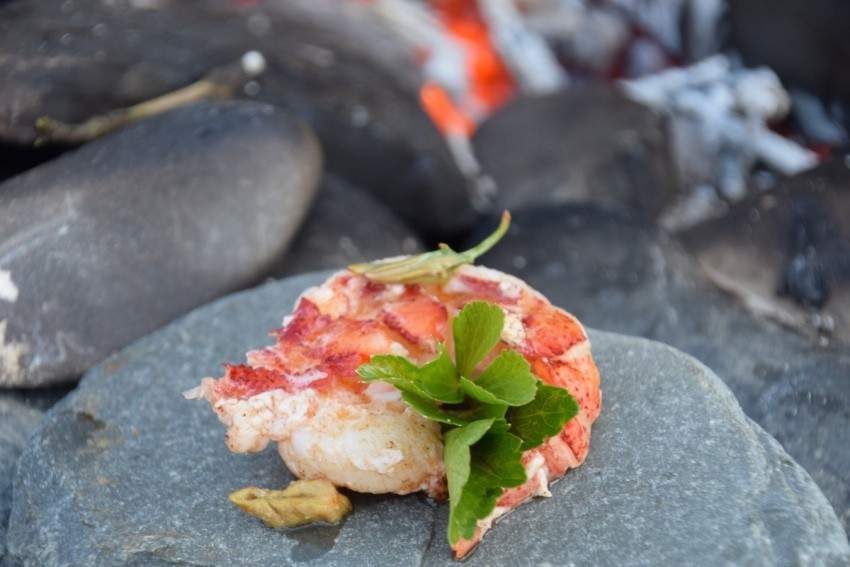 Between courses, my daughter goes beach combing, gathering shells and smooth worry stones. My tween is not a fan of most vacation excursions, but it's evident she's in awe of McCarthy. And because she gathered so many of the ingredients herself, she's keen to sample everything.
More tea is poured from the Stanley thermos. Despite the constant breeze off the bay, the wood smoke is making me drowsy. I feel so very full and happy at this, perhaps not so traditional beach boil-up. In the space of a few hours, I've completely detached from the stressors of modern life and have been transported back to a simpler time. McCarthy is skilled at reconnecting visitors to the past. It's not my past, but we've been given a glimpse of what growing up along these coastal communities might have been like. Food isn't just something you eat in Newfoundland; it tells a story. The story is of hard work and perseverance. It's not just making do with what you have, but making a delicious life out of it.