Jostled from side to side, I'm flying down a bumpy gravel road just outside of Pacific Rim National Park. There are two chefs in the front seat of this off-roading Jeep and me and my daughter wedged in the back. We're off to a secret spot—one that only local foragers know, sandwiched between Tofino and Ucluelet.
This area is a goldmine for foragers and it's also one of the best producing regions in Canada for chanterelles. Chanterelles thrive in a disruption of soil, and this second growth forest where we're headed is tops for picking.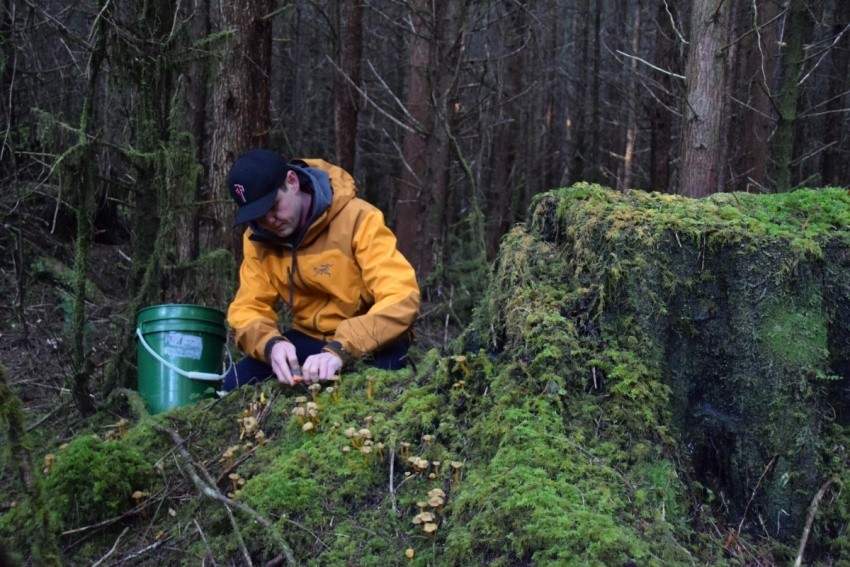 I'm with chef Paul Moran, executive chef of Tofino Resort + Marina's 1909 Kitchen, and his buddy chef Joël Watanabe (touted as chef of the year by Vancouver Magazine). Chef Moran comes by foraging honestly. His great grandmother gathered wild flowers, mushrooms and herbs to sell at her town market in Austria. Now, this fourth generation forager has the opportunity go from forest to plate as executive chef at Tofino's 1909 Kitchen.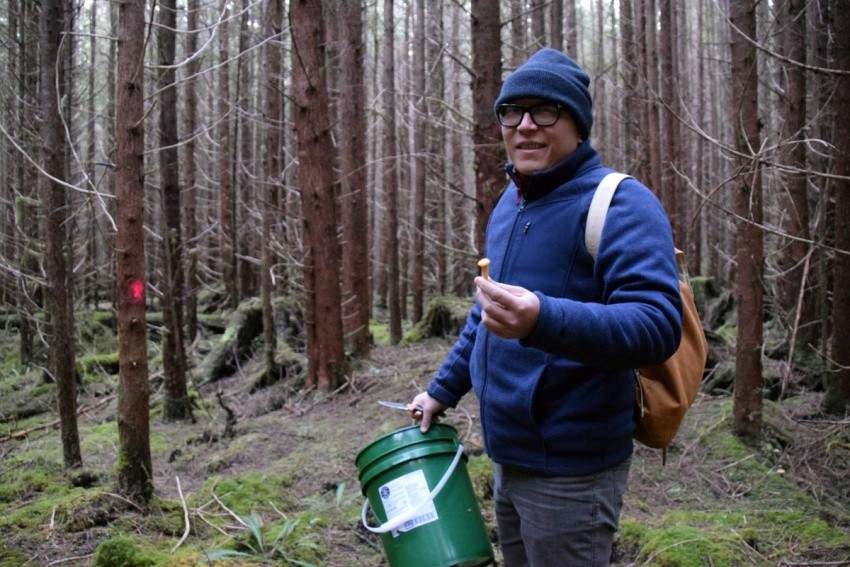 Into the woodland we go
After about a 25-minute drive, we arrive at the secret locale. This forest of spruce and hemlock is thicker and darker than your typical first growth forest. At the outset, the forest looks quite pretty with a silvery sheen of frost coating tree branches. A few steps into it, however, and we've been swallowed up by the dense woods. "With your head down, concentrating on foraging, it's really easy to get lost in these forests. That's why I bring a GPS," says Moran.
Relieved, I begin walking slowly over gnarled roots, in search of, well, anything orange sticking out amid all the greenery. At first, I see nothing, then with eyes acclimatized, I took notice to what looks almost out of place. I spot my first crop.
The hunt is on
I holler for chef Moran to inspect my find. He cuts the mushroom off at the stem, then takes a closer look at its underbelly. This one has gills like chanterelles do, but they stop immediately at the stem. Chanterelle gills run down the stem a bit. What I've found is poisonous.
I get better at spotting both chanterelles and winter chanterelles, which come out the latest of all the mushrooms in this region. It's chilly work and my fingers feel numb. On the bright side, last night's frost has made it easy for us. Most of the chanterelles snap off at the stem. There's no need to bring out a knife, but the blade is handy for scraping off the dirt, before setting our mushrooms into our buckets. When you taste a gritty mushroom, that's a sign a restaurant hasn't cleaned it properly, explains Moran.
We plunge deeper into the forest. We're searching for a mother patch, where you can pick up to a pound in one area. We don't find that many in one spot, but we do come across a few sweet tooth mushrooms. Chef Watanabe spots a pine mushrooms known as fried chicken mushroom in these parts. It looks nothing like a drumstick, more like a large enoki. One whiff brings back memories of cinnamon candy.
Our final bounty consists of chanterelles, winter chanterelles, pine (a.k.a. fried chicken), sweet tooth and angle wings, which chef Watanabe finds and takes back to his restaurant Kissa Tanto. We've been foraging for around two hours and net roughly 10 pounds worth. Then, it's back to Tofino, where chef Moran will put the fruits of our labour in his multi-course tasting menu.
Foraged feast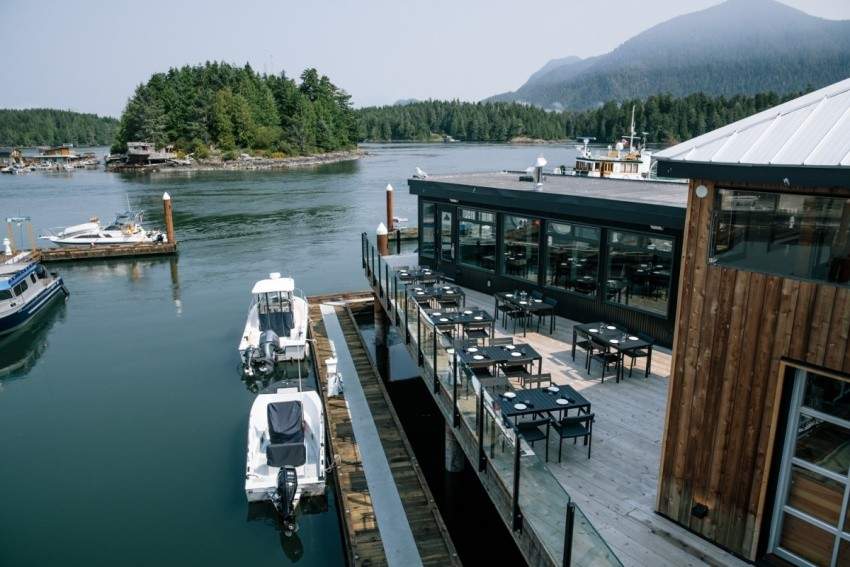 A few hours later, we're sitting in 1909 Kitchen, an airy waterfront restaurant that affords some of the best views in town. Tables are nestled next to floor-to-ceiling windows that showcase the largest private marina in Tofino. Dock your boat, bring in your catch and they'll roast it up for you in their wood burning pizza oven.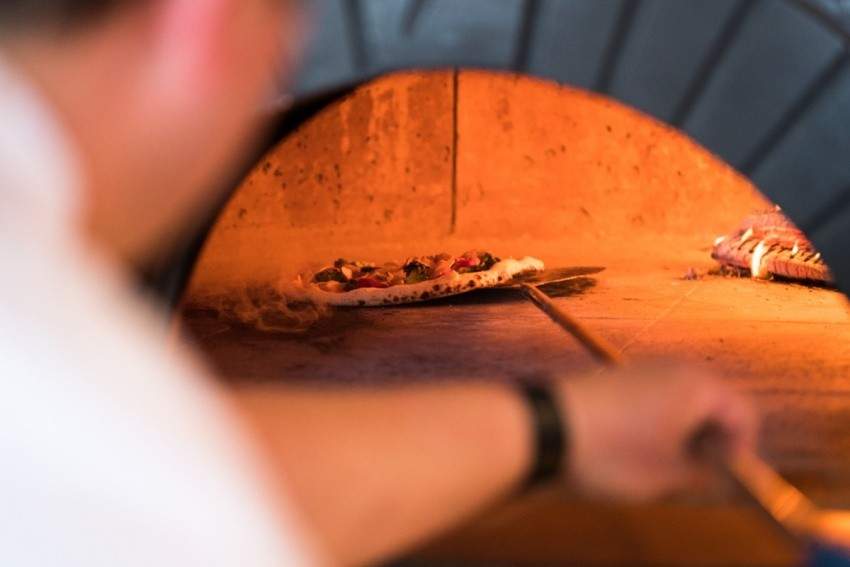 The restaurant has already gained a cult following for its tapas-style share plates. Avocado stuffed with sidestripe shrimp and Brussels sprouts dunked in an aged cheddar fondue are two of the most popular items. But I'm here for the tasting menu, which chef Moran uses as a platform to showcase our foraged finds.
We begin with the meaty pine mushroom done two ways. There are savoury albacore tuna tacos with thinly shaved turnip as the vessel, and a smoked albacore tuna bone broth, a hyper local version of Japanese dashi. The amber broth is poured overtop the stem and cap of the pine mushroom. It's a delicate, clear consommé, yet rich and warming. Just the thing for a chilly night.
That's followed by a creamy, gooey pizza. The Mugnaini oven uses kiln-dried maple from the east coast of Vancouver Island and churns out perfectly crisp pies. The crust is a blank slate for the fried chicken mushrooms with taleggio cheese, white sauce and a light dusting of intense wild Mexican oregano. Roasted, these mushrooms taste almost caramelized and it's a perfect pairing with the pungent, yet fruity cheese.
Chef Moran loves to travel to Mexico, where Argentinian food is popular. His take on chile relleno is up next. He's charred a jalapeno on the pizza oven's wood burning coals and placed it over sautéed winter chanterelles and a mint chimichurri. Topped with a velvety mornay sauce and flecked with buttery sourdough crumbs, the contrast between smooth and textured, mild topping and spicy inflected pepper is a delight.
I am stuffed, but I can't ignore the clam and mussel pappardelle, even if the noodles aren't wheat. They're made of celery root. Another twist? Instead of being drenched in a cream sauce, juice from mussel broth is thicken with celery root puree. Tossed in are the hedgehog and sweet tooth mushrooms we picked today, both orange and cream coloured, just like the mussels.
Finally, it's time for the exquisite chanterelles. It's worth the wait for the perfectly cooked medium rare steak sitting alongside the chanterelles sautéed in olive oil, butter, garlic, thyme and pancetta. It's been a wet fall, yet more water makes these prized mushrooms even more concentrated and flavourful.
I eat way too much, but I feel I've earned it too. It's not everyday you get to forage for your meal. Fortunately, Tofino Resort + Marina is but a few steps away. It's inside this cozy boutique property where we spend the night, visions of wild mushrooms dancing in our heads.