'Tis the season for mingling and toasts, and although the festive celebrations are winding down, there's still one big night left before we call it a day year — New Year's Eve!
For those of you who love nothing more than bringing together friends, family and colleagues to toast the holidays, here's a few tips to help you become the host(ess) with the most(ess) as we bid adieu to 2013.
Simplify
First rule of thumb with any event you're hosting is to simplify. Much like meeting someone from eHarmony for the very first time, it is so easy to overthink things. You want to be able to enjoy yourself and engage with your guests with a smile on your face, rather than be a slave to the process. Nothing ruins a good party quite like a host who is so exhausted and preoccupied — from preparing and executing — that he/she is just a ball of nerves. At the end of the day, your guests are there to see you and have a great time.
Some inspirational websites (ahem, Pinterest) can provide visually amazing hacks for a variety of party ideas, but when it comes to execution, most of us don't have the time, money, artistic talents or attention span to see certain extravagances through. Work within your means. At the end of the night, it's not those cute little squash centerpieces you decorated with metal studs (seriously, who has time for that shit?) that your friends remember; it's all of the laughs and great conversations.
But, if you do have time, stud some winter squash, ok? They really do make all the difference...
Stock the bar!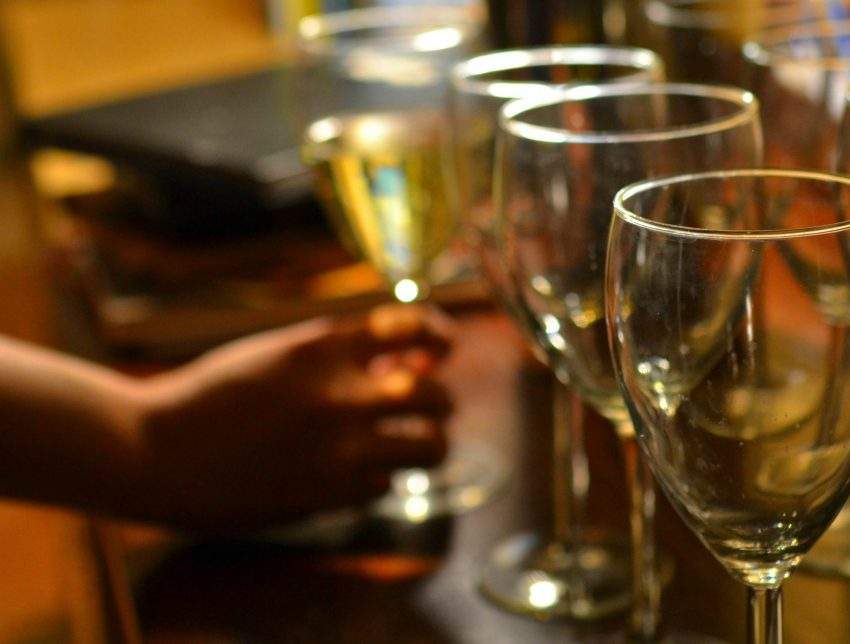 If you are inviting a group of 20 or fewer people, then a well-stocked and well-displayed self-serve bar is sufficient. Offer a variety of red and white wines: this is not the time to choose your personal favourites. Instead, opt for something that is easy going, reasonably priced and approachable for most tastes. And, of course, have bubbles! Nothing says "Let's drink to the resolutions we didn't see through in 2013!" quite like it. It's not just about champagne; there are high-quality and amazingly well-priced Proseccos, Cavas, and sparkling wines available at most liquor stores, helping you keep the bubbly flowing without draining your bank account.
Next, make sure to have a couple of options for beer. With a wide array of beers, it's easy to find something approachable like a lager and an IPA. Throw in a few bottles of seasonal flavours to mix it up.
Lastly, spirits. Again, less is more, so go with the staples — vodka, gin, rye, rum, whisky. To make it easier and less messy, invest in some speed-spouts for the bottles for effortless pouring.
If there are more than 20 guests, hire a bartender for the evening. This could be an acquaintance that you don't like quite enough to invite to the actual party (pay them in food and booze) or a professional. The latter will cost you, on average, a couple of hundred dollars, but it is well worth the investment. He or she can keep a lid on chaos, keep things organized, and add that extra level of sophistication.
As for the amount of booze to stock, expect each guest to consume an average of two drinks for every hour of the event. To be safe, multiply this number by two. It's amazing how quickly drinks start flowing as the night ramps up.
The edibles
When it comes to food, you want to have a variety of options to satisfy everyone's tastes. Since most people will be enjoying some boozy beverages, it's better to err on the side of caution and offer more food than less. Have one seafood option, one meat-centric option, one vegetarian option (please, no boring tofu or veggie skewers), a charcuterie platter, and some small desserts.
Your friends will likely be working the room, twirling to tunes on a makeshift dance floor and flailing their limbs, telling tales of escapades from the past years. So, keep the offerings to one- to two-bite portions. No one wants to dance to "Call Me Maybe" with a giant piece of pepperoni pizza in his or her hand.
If you plan to make everything yourself, do so beforehand, and choose items that are sturdy enough to last. During your party, the most you'll want to do is to replenish a few platters when needed and maybe warm a few things up in the oven. If you prefer a more elaborate and polished presentation, then consider hiring a catering company. They will also supply serving staff for a fee, as well as the previously mentioned bartender.
Creating ambience
It's time to bust out the streamers and balloons! Well, maybe those are best left for kids' birthday parties, but regardless, you want to create a festive atmosphere that is warm and inviting. There is always the option of working with a rental company for supplies, as well as tables, chairs, bars, etc. But, you can create a similar effect at home without breaking the bank.
The simplest way to transform a tight space into a place of freeflowing fun is by moving furniture around.
When it comes to lighting, dim the lights, turn on lamps in various spots throughout the room — the lighting on lamps tends to be a lot warmer and much less harsh than bright ceiling lights — and light some candles (ensuring they are in safe places). Don't forget to turn on the tunes! Online streaming has made it easier than ever to find the perfect playlist for any style of event.
For a larger event, live bands or DJs are a great way to compliment any party! We heard Tiesto is still available for the 31st.
Be a host
Don't forget that you are the master of this occasion and it is your job to help create an amazing experience. Greet your guests at the door as they arrive and welcoming them in. This not only gives them an amazing first impression of your party, but also allows them to instantly feel comfortable in your home.
A great tip from Corey Mintz's How To Host A Dinner Party (a hilarious, but extremely informative read) is to invite one or two of your closer friends to arrive before the majority of the other guests. That way, they can help you out with any last minute to-dos and greet arrivals at the door if you happen to be preoccupied. Also, the people you invite earlier will feel more important and ego boosts are always lovely to receive.
Make an effort to chat with each guest throughout the evening, even if it's only for a few minutes, and introduce people to one another, sharing a little tidbit about each person to help create dialogue.
By following these simple steps you are guaranteed to have an event that is fun and memorable.