For anyone who has watched the hit new series Jann, it's hard to not be slightly intimidated by Cale, Jann's new, younger manager. As an in-touch millennial with a keen understanding of today's music industry, she is driven and ruthless.
Elena Juatco, an award-winning actress in theatre, film, and television who made her debut in 2003 on Canadian Idol, portrays Cale.
Though Vancouver born and bred, the actress, singer, writer, and collaborator now calls Toronto home. We sat down and asked the actress about the show and her thoughts on the culinary scene in Vancouver, Toronto, and Calgary, where Jann was filmed.
You've done extensive work in theatre and were a regular on the dramatic television series Open Heart. How do you now find it working on a comedy series?
Jann is my first half hour sitcom comedy and it's unlike anything I've ever done and it's so much fun. Comedy has always been the fastest way to my heart. When I read the scenes for Cale, it's not all comedy, but I just immediately got it and I connected with Kale so well.
Fun acting is fun acting no matter what kind you're doing, and I find it's all kind of connected. For me, I'll get too bored doing the same thing, which is why I love doing theatre, plays, and musicals. The more you can insert yourself into different genres and different kinds of experiences, and just try new things and not be afraid, the more you add to your tool kit, and the better you'll do; and it's more fun.
What do you think it is about the show that viewers love so much?
Obviously, Jann Arden. She's Canada's treasure and she's critical to what makes the show successful. Her music is the soundtrack to so many people's lives and breakups and many intimate songs that everybody knows, but she also has this other hilarious comedic side as well. She's like a stand up comic just making everybody laugh and cry at the same time. I think it's the balance of those two things--the real and the ridiculousness; the self-hating with the sadness--that makes the show so unique and so "Jann".
I keep thinking of the episode when Nora [Jann's mom] gets diagnosed with Alzheimer's. That was the best example of why this show is so unique and unlike anything else. I was just weeping and hilariously laughing at the same time while watching the episode. The comedy can just get right to your heart and the truth through laughter.
What's it been like working with Jann on this project?
It's exactly what you would think working with Jann Arden is like. She's hilarious, she's awesome, she's supportive, she's real, she's an incredible actress, and it's impossible to not do your best work when you are with her.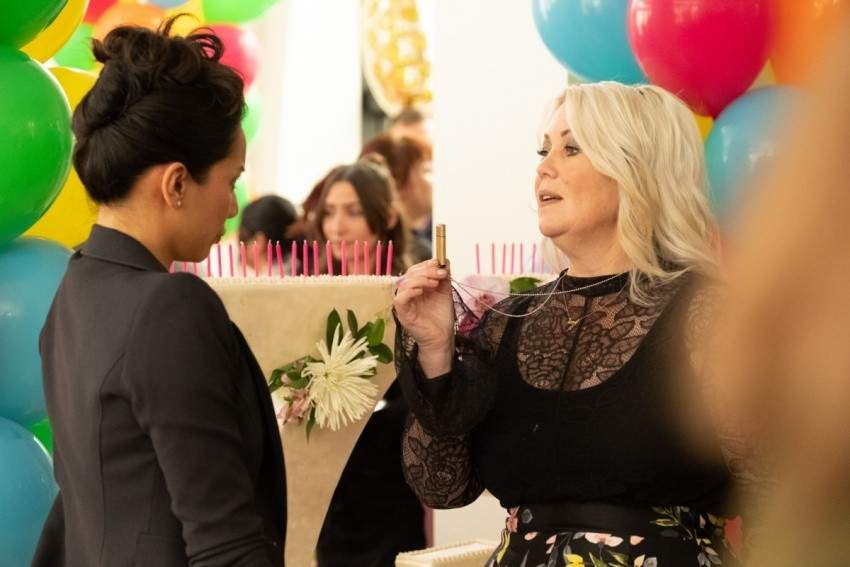 You are an extremely talented singer. Any chance we might get to hear you sing on Season 2?
I love this! This is now the most popular question I am being asked, and I feel like my chances of this actually happening are becoming greater and greater as more people are putting it out there to the universe.
It's the question that excites me the most because I would obviously love the opportunity to sing on the show. I have a huge musical theatre background so I am all about musical anything. I think we should have a musical episode.
Your character is the slick, smooth-talking, avocado-toast-eating, manager of the moment. Are you equally enamoured with avocado toast?
Hahahaha… Absolutely! It's my favourite thing! It is truthfully so good for you with its heart-healthy fats. When you make it, you definitely need some lemon juice, like, let's get re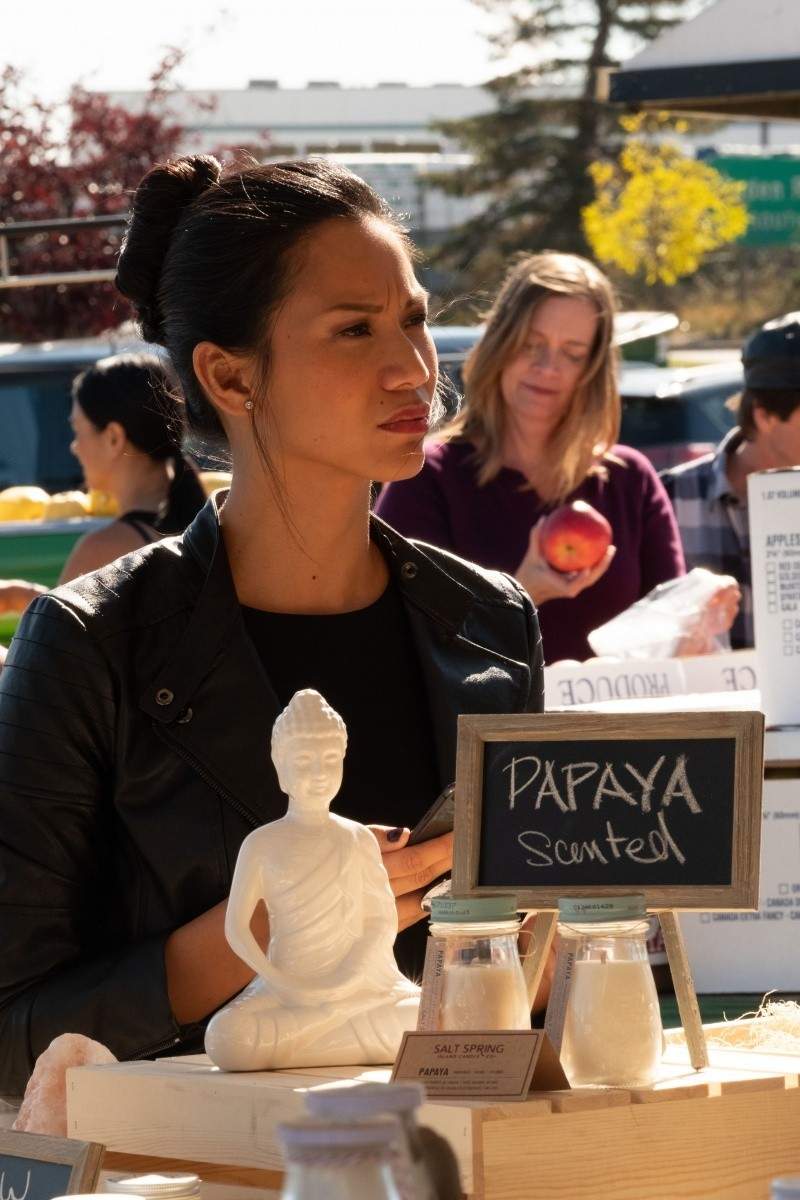 al. And the secret ingredient is a little pinch of cumin.
I was recently in Vancouver visiting family and my mom filled the fridge and she was telling me what she had bought. "I got you this, I got you this, and I got you avocados for Cale." Thanks Mom!
Did you discover any great restaurants in Calgary while filming Jann?
I went to Charbar twice, once with Jann and the cast, and then again with a friend. That place is amazing. There is this cream-corn dish they make, it's amazing. I could have a whole bowl of that and eat it with a spoon.
I was also on the search for a really good sushi restaurant and I found Shibuya on 16 Ave by Edmonton Trail. It was the best sushi I have had in Calgary so far.
Sunterra Market was my favourite place to go if I had a day off and I wanted to treat myself to a little artist date and have something to eat and have a coffee. It was my secret place to have alone time.
You live in Toronto. What would you say is the best thing about Toronto's food scene at the moment?
Patio season. I love that there are so many good patios with great atmospheres. I like the experience, and you need to have a good experience with good food.
What's your favourite patio?
My go to patio is Bairrada Churrasqueira on College and Dovercourt, it's like a mom-and-pop authentic Portuguese restaurant and my husband and I go there all the time. You go through the back and they have a huge patio where you feel like you're in Portugal. We always have great conversation with the waiters. And people just make friends with each other. We bump into people we don't know, but by the end of the meal, they're treating us to drinks and stuff. Their menu is amazing, and a good price as well. You have to try one of their vinho verde wines along with the fish.
Best neighbourhood for a food adventure in Toronto?
I love little Portugal--my husband is half Portuguese. There are so many good Portuguese bakeries and really cool hipster coffee shops. My friend owns Safehouse, which is a little coffee shop at Dundas and Brock that has a great vibe.
You were raised in Vancouver. Do you have any favourite restaurants you like to hit up when you make it back there?
My family always goes for dim sum at the exact same place. I've been eating there since I was a kid, and I still eat there every time I go home. It's called Golden Ocean, in Kerrisdale, and I can tell you this is where you get legit dim sum. Make sure you try their Peking duck. My family members will literally fight over the pieces of duck, it's like survival of the fittest.
You travel a fair amount for work, do you have a favourite snack or food item for when you travel or are on set?
When I'm on a plane, my go to meal is the Cup O' Noodles. I never have them anywhere else. They aren't in my house, but for some reason, when I am on a plane, I love having the noodles and watching a movie. And then on set, if they bring out a tray of sandwiches, I always want the peanut butter and jelly. Like they know to save it for me if I am not around because it's my favourite.
PB&J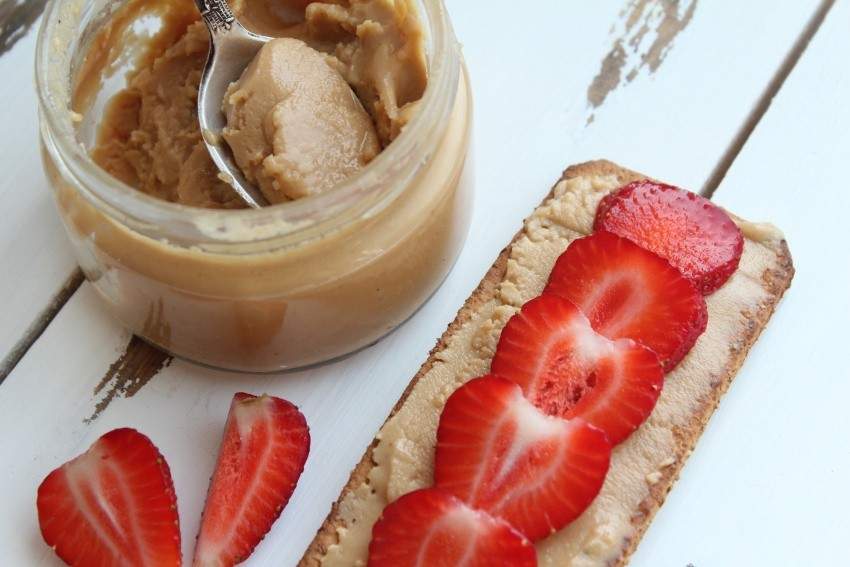 Do you prefer crunchy or smooth?
That depends on so many variables. If you are going to have another thing with the peanut butter on a sandwich, like a jelly, the crunchy is a bonus, but if it's a dipping experience with, say apples, it has to be smooth. And if you are eating it from a spoon, well then, it's smooth.
Best jam flavour for a peanut butter and jam sandwich?
Strawberry, but raspberry when I'm feeling cheeky.
Best peanut butter vessel?
Ants on a log--PB on celery sticks with raisins. That is the best. What other vessel is there?
True or False: peanut butter was invented in Canada?
I'm so tempted to Google this but I am a truthful person. I want to say yes!
True! It was invented in Montreal by Marcellus Gilmore Edson in 1884
It had to be Canadian. Thank you [Marcellus Gilmore Edson] for your contribution to Canadian food and culture. He deserves a coin.
Episodes of Jann are available for viewing online at CTV.ca or on demand with Crave.