The mission of Fruits of Sherbrooke is simple: collect and pick fruit that is not used by homeowners and create local products.
It all started in the fall of 2010, as Christina Piecha and Carol Cooper were walking in their community of Sherbrooke in Edmonton. They witnessed tons of apples that were being piled into garbage bags and left out as trash and wondered why people were throwing out good food when there are so many going hungry right in our city. It was then that these ladies decided to do something about it. They called themselves Fruits of Sherbrooke and away they went.
When they first started, the team knocked on doors to ask homeowners if they could take their extra fruit they weren't using. Piecha was the picker and and Cooper was the preserver, creating fruit jams, jellies and sauces. Of course, now, people are calling them for fruit rescue. Some local B.C. fruit vendors and The Organic Box also donate their extra fruit to be created into delicious products.
"We see high numbers of unused fruit each year, like rhubarb, raspberries, Saskatoon berries, sour cherries, apples and crab apples," says Cooper.
Cooper first started selling preserves and jams that she created in the Sherbrooke community league kitchen at smaller events. However, they were producing more than they were selling. So, the team set up a booth at the Callingwood Farmers' Market, which helped them grow and and become a non-profit organization a year later.
You can now find these local products at farmers' markets in downtown Edmonton and St. Albert. Proceeds from sales go toward running the organization.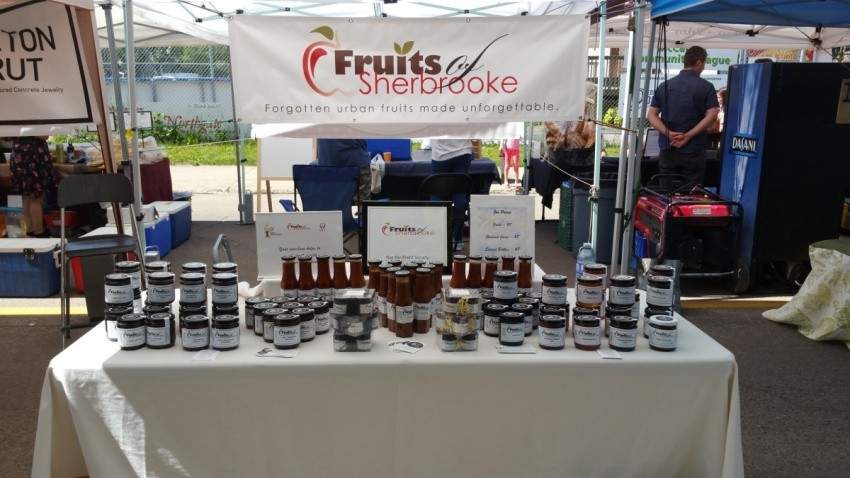 Fruits aren't the only things that Cooper and Piecha rescue, however. Fruits of Sherbrooke has a small team, including, to keep up with demand. Among the team is a refugee who hardly spoke English when she started working with them. "It makes you feel like you are really making a difference," says Cooper.
There are other facets to the organization besides making preserves and selling them to the community. The team also started offering free jam-making courses in the inner city. "It's as simple as teaching a group how to make applesauce," says Cooper. "It's an easy recipe that they can make for their families and even gather the apples themselves to do so."
To further reduce waste in the city each year, like the overwhelming number of apples, Fruits of Sherbrooke delivers them to local group homes, family resource centres, and housing cooperatives.
The organization also embarked on a new journey with help from a kickstarter campaign and partnering with another local charitable organization called E4C. The program, called Project Fruit Stars, is a school snack program that's offered in 24 schools in Edmonton.
Cooper has a social work background and says she has a dream to one day open a small facility to be able to create products that can be shared with more cities that are vulnerable and at risk.
"We are a viable small business. We want to survive and make a difference," says Cooper.
The organization must be doing something right, because they've received calls from people in Ontario and Southern Alberta who want to follow in their footsteps.
Fruits of Sherbrooke will be looking for more volunteers this year come harvest time, so for those looking to help the community and those who enjoy preserving, it's the perfect way to give back. You even get to take home some of what you picked as a thank you.