It's a way to engage the community, bring attention to food security and offer the bounty of fruit producing plants to local residents—food forests are popping up in the Edmonton area.
Edmonton's river valley is now home to two food forests and, most recently, St.Albert has planted one of its own.
In Edmonton, food forests are part of the city's Root for Trees program, a city initiative with a yearly goal of planting 45,000 native trees and shrubs. Residents are invited to sign up and participate in tree planting events throughout the spring and summer.
"Our first year for the event in 2014, more than 50 volunteers joined the effort. Every year, the word has continued to spread and we receive more and more people registering for the event. We have even had groups from Calgary drive up for the day just to join us," says Katelynne Webb with The City of Edmonton's green program.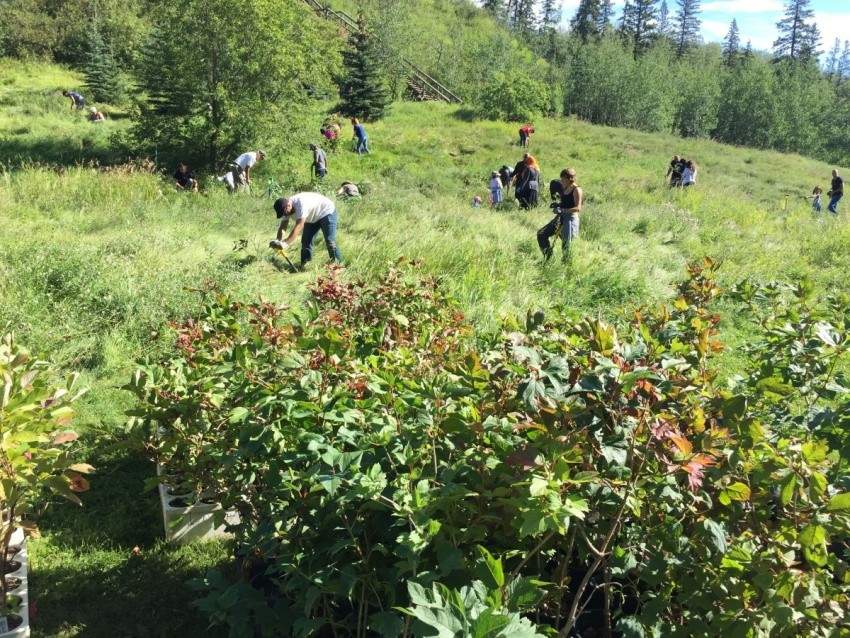 Along the river valley in MacKinnon Ravine, you can find Saskatoon berries, highbush cranberries, currants, pin cherries, chokecherries, beaked hazelnuts, strawberries, and raspberries. The second food forest was planted a couple hundred metres west of the original site.
"The goal of a food forest is to create a self-sufficient edible ecosystem that harnesses many benefits. These include capturing rainwater, increasing biodiversity and removing harmful greenhouse gases from the atmosphere," adds Webb.
In St. Albert, the one-acre, fruit-filled forest is located across from the town's grain elevators and it was designed by permaculture teacher, Kenton Zerbin.
"Food forests are an efficient and sustainable model for how humanity can grow food to the benefit of the environment. By mimicking the structure and process of how a forest grows, and replacing it with edible species, we can create low maintenance perennial spaces that are rich in biodiversity and food, " says Zerbin.
In the planning process, Zerbin considered factors such as water and sunlight for a productive, resilient, and easy to maintain forest that is not only abundant, but also enjoyable for visitors.
This food forest was a wonderful success, thanks to the St. Albert Urban Agriculture community group and all the local volunteers.
Residents can harvest Saskatoon berries, sea buckthorn, apples, plums, gooseberries, red currants, haskap and hazelnut—just think of all the jams, pies and preserves you could make!
To continue to spread the good word about food forests, Zerbin offers two different types of food forest courses. The Permablitz is a one-day event, where teachers lead volunteers on how to build an edible and functional space. The second is a two-day course on how to design your very own food forest. You learn more about the needs of plants, soil, water and methods for optimizing your foodie space.
"Food forests are a wonderful experience for residents and volunteers. People are able to assist with increasing the urban forest and learn more about the important native species growing in their city; all this while eating fresh fruit and enjoying the outdoors," says Webb.
Here's to more food forests!