Who says wine sommeliers get to have all the fun? Certainly not Amane Kanai, sake expert and general manager of Calgary's popular contemporary Japanese restaurant, Goro + Gun. While there are plenty of cocktails, beer and other libations to go along with the restaurant's interesting fare created by Tomo Mitsuno, the foundation of Goro's drink menu is by far its impressive 30 sake collection.
When you've got as extensive of a sake list as Goro + Gun does--the most comprehensive in all of Alberta--you've got to make the most of it. Chef Mitsuno and Kanai have spent months perfecting their omakase experience, a Japanese version of a chef's table dinner that sees delicate and thoughtful preparations of 12 different kinds of sushi served to patrons, each paired with an interesting sake. With Mitsuno travelling over to Osaka, Japan several times a year to discover extraordinary types of fish to fly into Calgary and crafting fundamentals like soy sauce in-house, his attention to detail shines through in this special tasting menu.
Though it can seem intimidating at first, a little guidance from Kanai--coupled with a few sips--will make the wide world of sake a wonderful place for a person to explore. If you need any more insights, then swing by Goro + Gun for a complete omakase experience and walk away with a new appreciation of the Japanese spirit.
Kanpai!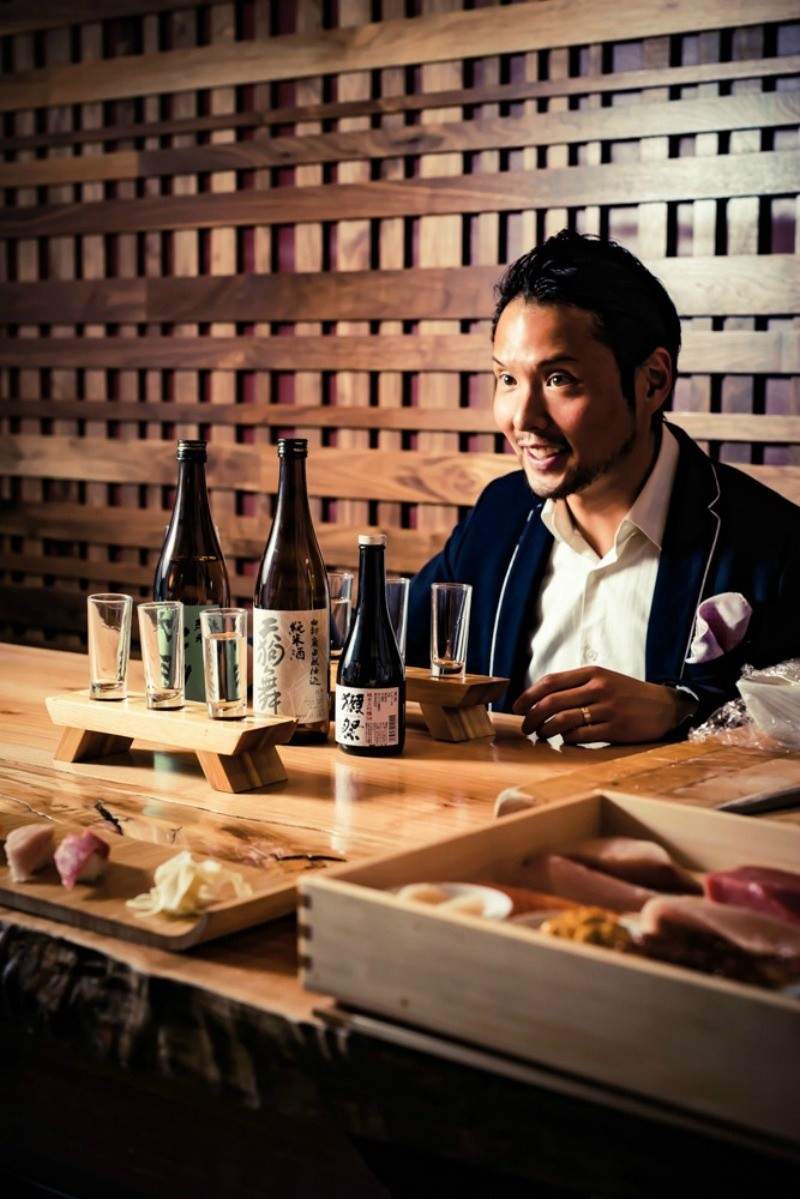 Is pairing sake with food different from pairing with red or white wine?
Yes and no. Generally, sake has amino acids, so it [naturally tends] to go well with umami flavours, which are those savoury-flavoured dishes synonymous with Japanese cuisine. However, there are many different varieties of sake. For example, a flavour of a riesling can range from sweet to dry depending on the climate, what grapes you grow, and so on. Sake is the same idea; you can get sweet sake or dry sakes. It depends on what flavour profile of sake matches well with a dish. Sweeter, fruity wines tend to go with spicier dishes like Thai food. It's the same with sake; sweeter sake goes nicely with spicy dishes.
What's your signature dish at Goro + Gun and what kind of sake would you pair with it?
We have a spicy lamb ramen. If you're looking for something rich and very flavourful in ramen, that would be the go-to. I would personally pair that one with Tengumai Yamahai Junmai. Yamahai means "funky yeast". It [has a] sherry, earthy kind of flavour and it goes very well with shiitake mushrooms and lamb in the ramen.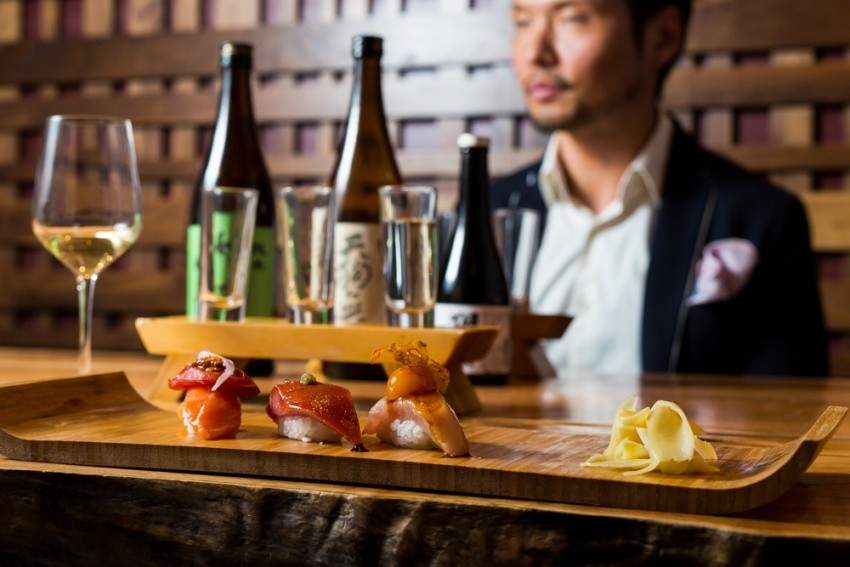 What is your favourite course and pairing from the omakase menu?
Chef Tomo created about 12 different dishes and that means there are 12 different flavour profiles of each piece of sushi. I especially enjoy his albacore tuna with truffle oil and smoked egg yolk on top. It's very rich and flavourful. The sake Tenzan Schichida goes very well with it. It's from the southern part of Japan so it's from warmer, tropical climate. It definitely has enough body to stand up to the flavours that chef Tomo creates!
How much work goes into figuring out the pairings for the omakase experience on your end?
Of course, the omakase experience starts with chef Tomo. I have to decide what type of sake I pair with his flavours, which is always challenging. The flavours he brings out are on high level, so I have to hit the note to be able to come up with a nice and unique pairing. It involves a lot of tasting on my end.
For those people who might be wary of sake, is there certain brand you would suggest for beginners?
Firstly, a lot of people in Calgary are used to drinking warm sake. I would recommend that people to try it cold. [The average Japanese restaurant] usually serves one type of sake, which is lower grade "box sake". They can then overheat it, and overheating sake messes up the aroma and the flavours. It's like they're almost trying to hide its flavour.
In terms of "a starter" brand, I would recommend people to try Dassai 50. It's a top-selling sake in Japan. It's daiginjo grade, which means it is the highest quality of sake and is clean-tasting and very easy to drink. To call it "daiginjo", you have to polish 50 per cent of the rice it contains. More you polish, the more harshness it takes away.
Fun fact: When Obama was still in office and he visited Japan, the prime minister gave him bottle of Dassai to take back to America!
Where in Calgary could someone go to buy bottles of sake to try pairing foods at home?
I would suggest Vine Arts. They seem to stay on top of new sake [and have a good selection]. My friend said he saw one of the sakes from our list here at Goro + Gun at Vine Arts too. You can pair sake with many things. People need to expand their horizons! You will be surprised with how many foods go well with sake.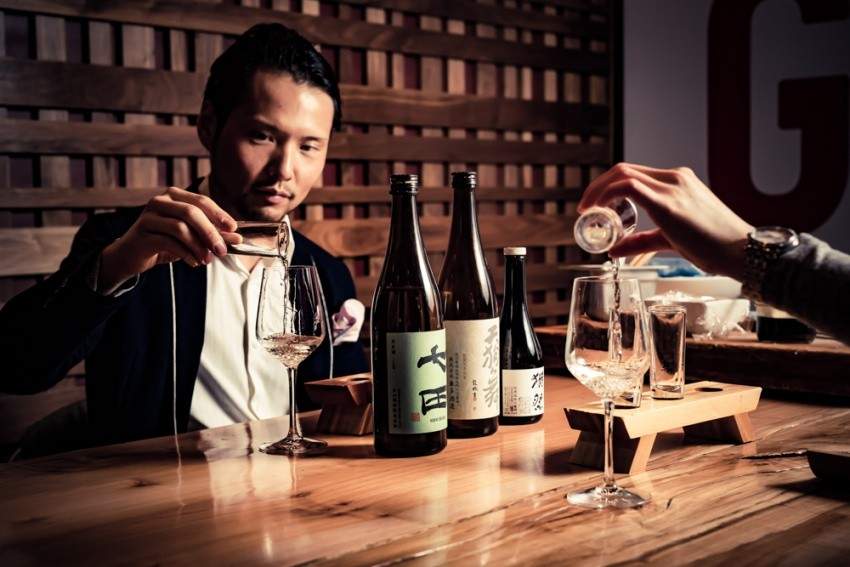 4 Simple foods that can pair easily with sake
Fried Chicken: I personally love fried chicken [when it has a spicier rub on it]. That type of pepperiness can go well with dry sake because it cuts through the grease and heaviness of the coating and chicken skin.
Tofu and vegetable stir-fry: Yes, I would go with lighter sake with very clean taste.
Buttered popcorn: I would pair fuller-body sake from southern area of Japan with popcorn. Like chardonnay, some full-bodied sakes can have a really buttery taste to them.
Barbecued steak: I love grilled steak with mushrooms. It's definitely a "yes" for sake!