Food trends come and go, but good Italian dishes always hit the spot. Behind iconic dishes like spaghetti and meatballs and spaghetti carbonara is the pasta itself.
At Calgary's Double Zero, chef JP Pedhirney and his team have spent the past few months creating a new Italian menu for Double Zero, starting from authentic methods of pasta making.
Pedhirney, who is also the executive chef at Calgary's award-winning Bridgette Bar, has led the kitchens at some of the most well-known restaurants in the city, like Muse and Rouge. Naturally, he brings his polished flair and contemporary sensibilities to the new menu.
We chatted with chef Pedhirney about the process of developing the new Double Zero menu, how he embraced the idea of simplistic Italian and, perhaps most importantly for you pasta fiends out there, how to recognize high-quality pasta and how we can all make delicious pasta dish at home.
How did you approach revamping the menu at Double Zero?
We wanted to make it more traditional, kind of "red-sauce Italian". We wanted it to focus more on the pizza itself and pasta. We took some grilled items off the menu and focused more on the style of pizza and pasta noodles as well.
What's a new pasta dish here that you're most proud of?
I think all of them! I don't have a specific favourite one. We spent about two months creating and working on the menu so we are super proud of every pasta dish.
If someone has never made pasta at home before, what is the best type of pasta to start with? What basic tools do they need?
There are different types of hand-made pasta you can make. There is the one where you use a hand crank and you make sheets, and you have a dial and kind of break it through. It's the most commonly seen. You can also get a pasta extruder, which we have. It can be attached to the KitchenAid, they are really easy to make. It's just the ratio of 33 per cent water to flour.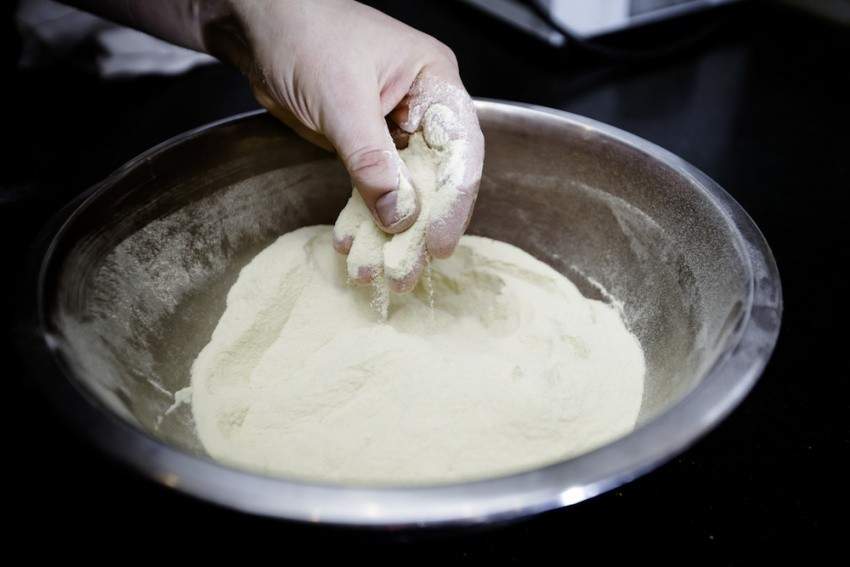 If you don't have a pasta roller, is there a good kitchen hack for getting pasta dough rolled out really thin?
Traditionally, yeah, they use a rolling pin. They would roll it out by hand, but there are some good handmade noodles like pici, kind of like a thick spaghetti.
When you make fresh pasta, does it keep well? Do you need to let it rest or should you use it right away?
We try to serve our pasta the day of. We dry it and then we want to serve it for dinner. If you are going to use a pasta dough that has egg yolks in it, I would use it the day of, because the fresh dough will begin to turn green and oxidize from eggs in the pasta. If the dough is from water and flour, we could dry it and let it sit out or put it in the freezer, and it can last for months.
Double Zero is a busy place, how do you maintain the quality of your fresh pasta when you're making so much of it?
The equipment itself is a huge part of how we do it. To be able to make new shapes and be able to walk away from this allows us to be able to do that efficiently. The guys can mix the dough and then kind of work on something else and then cut it. With the pasta dishes themselves, we keep them very simple, flavour-wise, just so we can keep that execution consistent.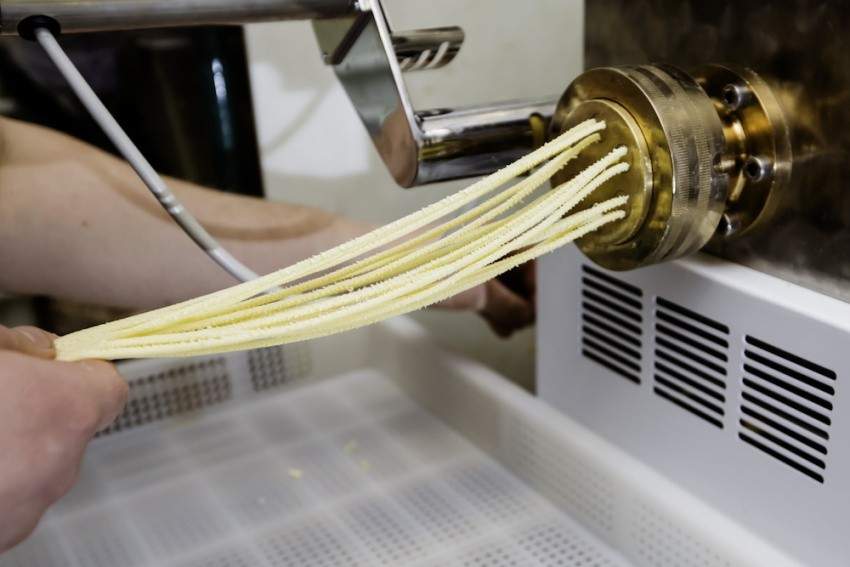 As a chef, what is your biggest pet peeve when you are served a plate of pasta that's not up to-par (under-cooked, over-cooked, not enough filling in pasta like ravioli)?
I feel like you can tell if the noodles aren't cooked in salted water. They are blend, and it just doesn't finish the dish itself. And then over-sauced and under-sauced pasta could be my pet peeve.
How can someone tell the difference between fresh and dry pasta when they're eating out at a restaurant? Is fresh always better?
That's a tough question. Dry pasta can be just as good; the quality of this [touches pasta] will stay great! With some pasta, drying it will make it a better product. When it comes to doing something like fresh ravioli and stuff, you can definitely notice the texture. It's nice to know it's al dente and the colour should be bright vibrant yellow. Sometimes too, just the texture alone on some of the noodles can tell you if it's a well-prepared pasta as well.