We all know the holidays can be stressful, with visits from family and a lot of cooking to do. Thanksgiving may be in early October here, but that means November is just around the corner; and before you know it, it's Christmas. Minimize the stress from the get-go and let someone else do the cooking for you. Plenty of spots across the country are offering Thanksgiving dinners to go, and we've rounded them up so you don't even have to put in the research. See? Stress free!
Fairmont Royal York – Toronto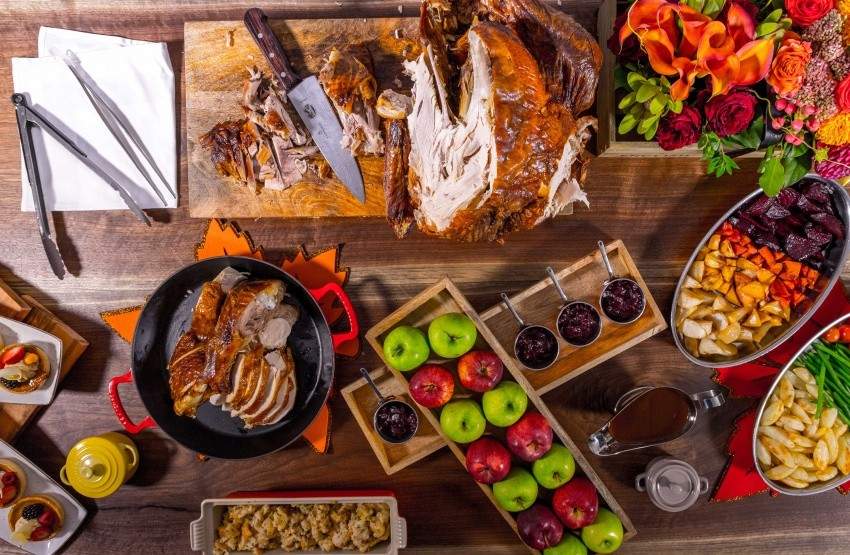 Want to enjoy a Royal York-worthy feast in your own humble abode? Thanks to their Thanksgiving To-Go feature, you absolutely can. Meals are available in a small option (perfect for a family of four) or a larger format (if you're looking to feed a larger crowd of about eight). Look for a similar concept offered at Fairmont hotels across Canada too. The holidays have never been so stress free!
Railtown Catering – Vancouver
For the third year running, Railtown Catering is offering its Turkey-To-Go this Thanksgiving. The package includes a 16-pound bird, with sides, which will feed eight to 10 of your friends and family. The best part is, by buying a meal, you are also helping to support Mission Possible, a non-profit organization that helps those with critical needs in Vancouver's Downtown Eastside. What better way to show the spirit of Thanksgiving?
The Great Gobbler – Toronto
Offering turkey dinner to go all year round, The Great Gobbler only needs 72-hour notice to get your meal ready for you. Depending on the number of people you're looking to feed, they offer both small (12 to14 pound) and large (25 to 30 pound) turkeys. You can even get them boned and sliced if you'd prefer to be 100 per cent hands off. Four sides are included, from mashed sweets potatoes to Brussels sprouts.
Our Daily Brett – Calgary
Calgary's Our Daily Brett is an awesome spot to grab dinner to go any night of the week, and Thanksgiving is no exception. Turkey dinner for six includes a myriad of sides featuring local and seasonal vegetables, from squash to chanterelles, and desserts like apple galette. Just be sure to place your order in advance to reserve your bird!
Kitchen Door Catering – Halifax
If turkey is not your thing, or you have a huge brigade marching over to your house for the occasion and you need more than just one bird, Kitchen Door Catering also offers a Thanksgiving maple mustard glazed ham. Then, there's the staples like buttermilk-whipped potatoes and roasted root vegetables, but the real treat is dessert. Choose between ginger bread with toffee sauce (sticky toffee pudding anyone?!) or individual pumpkin tarts. Food coma, induced.
Eagle's Nest Catering – Edmonton
Having someone else make turkey dinner for you isn't always the cheapest endeavour, but at Edmonton's Eagle's Nest Catering, it's a pretty great deal. For only $16.95 per person, you can order dinner for you and your family, available for pick up October 6th through 9th. Now that's something to be thankful for.
Supper Central – Winnipeg
Roast turkey is incredible on its own, but Supper Central's rendition is really worth gobbling up. For those who prefer white meat, the breasts are stuffed with wild rice and herbs; and for those who prefer dark meat, you can chow down on a whole turkey leg. Don't fill up on too much protein though, because the sides are worth saving room for: stuffing, cranberry rice, mashed potatoes, and of course some apple crisp a la mode for dessert.