Chocolate lovers may be familiar with the Cacao 70 brand. With multiple locations in Quebec, as well as franchises in Ontario and Vancouver, it has quickly become the place to satisfy any and all chocoholic cravings. Recently, it has rebranded its concept, with stores falling under three categories. At the Eatery, you can enjoy brunch, lunch, or sweets; the Sweet House is dedicated to all things dessert; and the Dippery is an ice cream lover's paradise. In addition to these concepts, Cacao 70 has also opened a new bean-to-bar chocolate factory in Montreal.
Head chocolatier, Gaiia Kim, came to Cacao 70 with her fiance Van Hien Dao after they were approached by the company. At the time, the two had their own shop, Le Petit Trianon, in Montreal's NDG neighbourhood. With a passion for chocolate that started from living in France and working in restaurants like Toqué! and Maison Boulud after coming to Canada, Kim is excited to take on the next step in her career.
We had the chance to sit down with Kim to learn more about the new location and what it has to offer chocolate lovers.
What's it like to work with your partner?
Van is a lot better with machines and technology than I am, so I develop a recipe, and he validates it. We balance each other's skillsets well. He's the director of the factory and I'm the head chocolatier, so we each have our own unique roles.
The Cacao 70 Factory is definitely different from other Cacao 70 locations. How does it set itself apart?
Our mission really is to educate people; to show the process of how bean-to-bar chocolate is made. I don't think many people know this, so it helps give them a different appreciation when they get to taste chocolate from different origins.
It's like a playground. The space was designed to give people an inside look into the chocolate making process. We don't have brunch or chocolate pizzas like at other Cacao 70 locations. Our focus is on drinking chocolate and tasting chocolate bars as-is.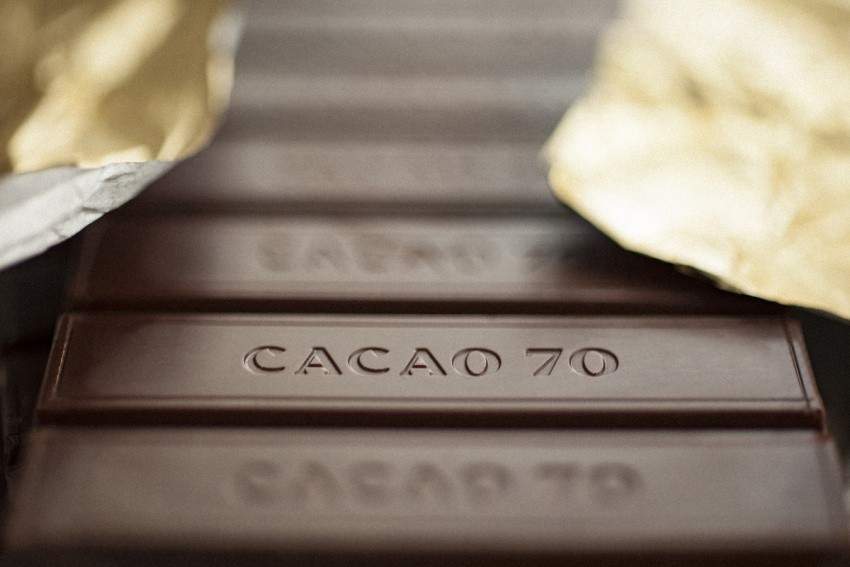 What type of chocolate are you working with?
We are currently working with cacao from the Dominican Republic. I want people to be able to taste the terroir of different cacao from different countries.
Tell me a bit more about your flavoured bars and how you've gone about developing them.
I want people to recognize simple tastes, like coffee and maple. I'm currently developing a mint bar too. In trying new flavours, I don't want to lose the natural flavour of the Dominican beans. I use an infusion technique to impart the various flavours into cocoa butter. There are no extracts or oils. It was a technique I used a lot in making pastries, especially in recipes like ice cream.
How has the process of opening the new location been? What have been some of the challenges you have had to overcome?
Learning how to use machines has been one of the most difficult parts. They don't come with manuals, so you have to figure it out as you go. You can get better quality texture with the larger machines we have, but they aren't always easy to use.
How does life as a chocolate maker compare to life as a pastry chef?
Making chocolate is not like making pastry. With pastry, you have books, and in many cases, techniques have been used for 200 to 300 years. Chocolate making doesn't have the same rules. People aren't using the same machinery, or sharing the same environments. Every day is trouble shooting and learning, so I'm developing a new passion as I go. Starting a project like this on such a big scale has not been easy, but I have learned so much.
What is your favourite part about working with chocolate?
Each step is very important and interesting, but tasting is one of the most exciting parts. The thing about testing a recipe is that you don't know what the flavour will be until the very end. Then you have the opportunity to get different opinions and talk about it so you can refine your recipe for the next batch.
What's next for you and the Cacao 70 Factory?
Our factory is open to public so we are thinking of doing tours on weekends. Given the open concept, it is easy to explain to people how cacao beans are made into chocolate bars. We are also slowly adding different options to our café menu, like ice cream and some pastries: brownies and cookies made with chocolate from the factory. I would love to do limited edition seasonal bars as well around the holidays and other occasions.