After almost nine years in business, Bar Le Lab is practically an institution when it comes to craft cocktails in Montreal. The key to their success may be largely due to the fact that they make their drinks so approachable to each and every person who walks in the door. With an ever-expanding line of syrups, tonic, bitters, and now vermouth, it's even easier to replicate your favourite Bar Le Lab drinks at home. I sat down with co-owner, Gabrielle Panaccio, over a glass of said vermouth on the rocks, and learned more about Bar Le Lab's mission to bring quality cocktails, starting with quality cocktail ingredients, to Montrealers and Canadians across the country.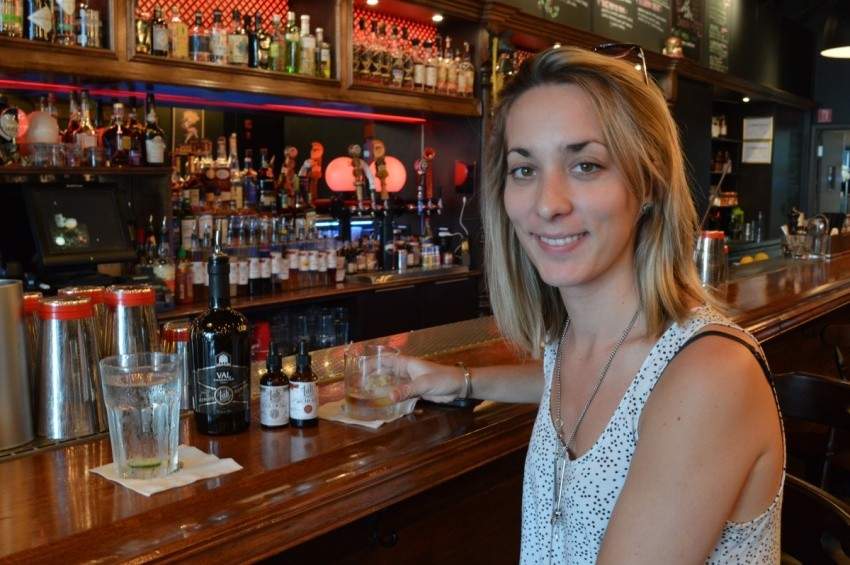 I can't think of many bars in Canada that make their own syrups and bitters retail. What led you to go this route?
My partner Fabien and I both have backgrounds as chefs. We were working in kitchens years before we were working in bars. Cocktail bars and kitchens are the same, except we work with liquids instead of food. We started to make our own syrups, not only for quality but also for having our own brand. People started asking where they could find it for themselves. We were two bartenders who were like, "Hey people like our stuff, let's sell it!" So we started to build our line of products.
What sets your products apart from others on the market?
We do it all handmade with fresh ingredients. We squeeze the limes by hand, don't use any essences or preservatives. It was very important to us that if we put it on the market, we wouldn't change it [from what we were doing on a smaller scale in the bars]. Today, we still do it ourselves, without compromising.
Walking us through your line of products. What stands out that people wouldn't be able to get elsewhere?
The BBQ syrup has tamarind and tropical flavours because we didn't want people just to taste BBQ sauce in the mouth. We wanted something more fruity, more fresh. Our tonic is also really, really different. We don't add citric acid or quinine bark essence. It's more herbal and doesn't have the kick of citric acid. You can add fresh lime for that acidity if you want.
So, out of all of your products, is there one you're especially proud of that took a lot of time to get right?
The orgeat syrup, I'm really proud of. There's not a lot of natural almond orgeat on the market. The texture is really, really nice. The almond fat splits so you need to mix it up before you use it. It's hard to do a good almond syrup and it's also hard to sell because it doesn't look perfect. I'm proud that we've kept it the way it is and have chosen to educate people about why that is.
What's a good starting point for people who want to experiment with these syrups and make more of their own cocktails at home?
It's what I call the "Magic Recipe." It's always one part syrup, one part sour (citrus juice – lime or lemon), and two parts spirits. After that, you can add fruit, herbs, bitters, whatever. The base is always going to be quite well balanced. If it's too strong, you can add some soda water. Once you learn the base, you can play with different flavours. It's a great way to entertain because you can keep the sugar and sour the same and just add whatever spirits people like.
With all of that in mind, is there anything that people do to mess it up?
They don't measure. It's not well balanced and they can never reproduce it. Always measure what you do. After that, you can change it. Maybe you like it sweeter, so you can add a bit of sugar. Also, sometimes people are scared to put too much alcohol into their drinks. You have to add a certain amount to add taste. If you put just 7-Up and juice, it just tastes like 7-Up and juice. It depends– are you drinking to get drunk, or are you drinking to have an experience? It's like having great food. Usually, people don't eat just to eat. They want to enjoy good food. Drinks are the same way.
Over the time that Bar Le Lab has been around, what changes in Montreal's cocktail culture have you noticed?
The tastes are changing. Ten years ago, people weren't drinking bitters. Now people drink Negronis all the time. Drinks are also less sweet, less sugary. People care about what they drink and where it comes from. It's the same as in food. We follow all the same food trends, like more local, more natural, more organic. People want to know where it's from and how it was made.
Speaking of which, tell me more about your Le Lab Vermouth. How did that come about?
Fabien and I are always talking about new project ideas; lots of brainstorming. I was creating cocktails and doing workshops for some different wineries and that's how I met Val Caudalies. Seriously, this project has been so easy. It was meant to be. They are very passionate about what they do and were looking for a new project too. They bring the wine aspect and we bring the knowledge about herbs, infusion, and balance. It's an awesome collaboration and we really did it in collaboration. There were also no other Quebec vermouths, so the SAQ was super open to have us. We found a niche and people love it.
What's the best way to drink it?
We made it to drink on its own, on ice. Vermouth scares people because they don't know what it is. It's just wine with sugar and herbs, and more booze than [table] wine. If you like wine and are open to flavour, you're going to like vermouth. It's really common in Europe to order just a Martini Rosso but people don't do it here because they don't know about it. You can do Manhattans and Negronis with it, but sometimes, it's nice to keep it simple and just drink it as is.
Tell me more about the Montreal cocktail project that has been brewing lately.
Kevin Demers, the owner of the Cold Room, brought the idea up, started a Facebook chat with 20 or so bartenders in Montreal. A lot of major cities have their own [signature] cocktails, so he thought we should have one as well. It's Montreal's 375th [birthday] this year, so it was a great time to create a cocktail for the city. Rye is very Canadian of course. The Suze is French. The Aperol is Italian; we're a very multicultural city so there was no point of only using Quebec ingredients. And gin, of course, is everywhere. It's just equal parts of all four ingredients, a simple recipe that has the potential to become a classic.