Before 2008, Dana Harrison and Joel MacCharles didn't even have plans of starting a blog. But when MacCharles, a writer and home cook, started amassing an arsenal of recipes, Harrison had to put her graphic design skills to use and started WellPreserved.ca (while MacCharles was sleeping) as a platform for him to document them all. What started as challenge to write for 100 days straight turned into 1,500 days of blogging. And, three years ago, that blog led Random House to knock on the couple's door. So, as organically as the Well Preserved blog started, the duo's first cookbook came into being as Batch - Over 200 Recipes, Tips and Techniques for a Well Preserved Kitchen.
With Batch, Harrison and MacCharles hopes to debunk the myth that preserving is time consuming and dangerous, and to show people that it's a good way to make memories and to save food and minimize waste.
As newly minted cookbook authors, Harrison and MacCharles share some insights into the creative process, and why preserving is so much more than jars packed with jams and pickles.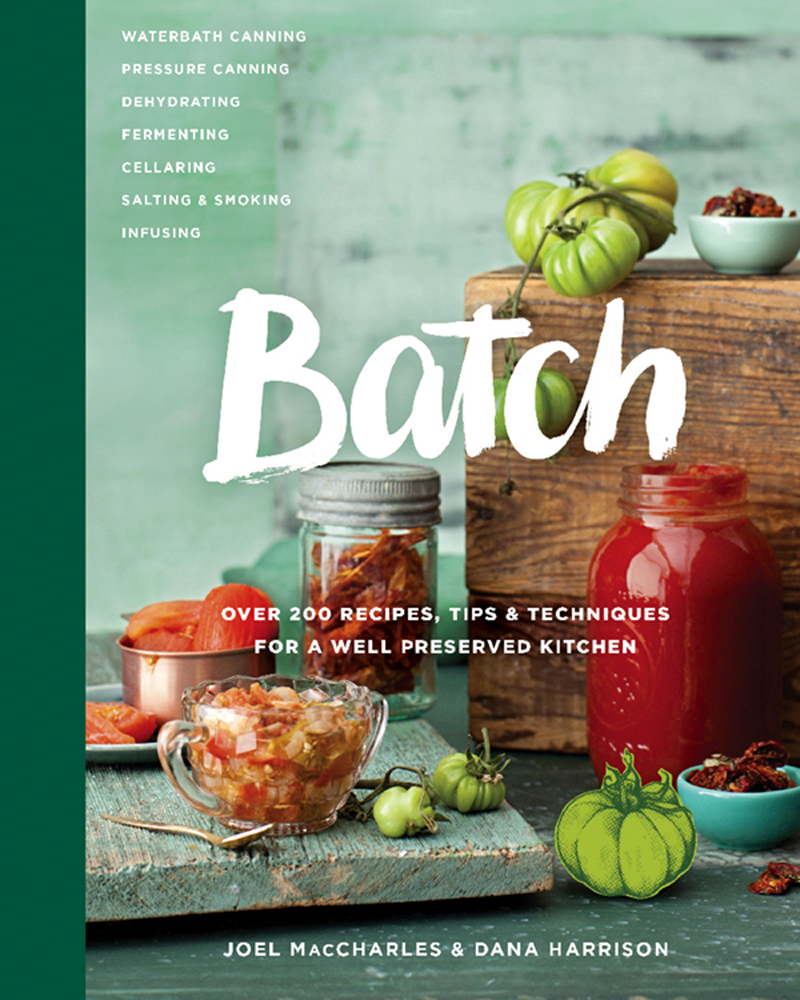 Were each of you responsible for certain aspects of the book or was it entirely collaborative?
DH: The process was collaborative but we each focused on different roles. Joel has always done the recipes and I focus on the design. I joke that if it were only him, the book would have been an encyclopedia with no pictures. If it were up to me, it would have been a picture book.
Who did the photography?
DH: We had some of our close friends do all of the styling and photography. Our photographers were Reena Newman for studio food photography and Margaret Mulligan for location photography. We also hired a food stylist (Claire Stubbs) and a prop stylist (Laura Branson). I was the art director. With my background in graphic design, I knew I should focus on what I'm good at.
When you have a site with over 1,700 articles, how do you decide what makes it into a cookbook?
JM: Although we revisited and updated some favourites, we wanted all of the recipes to be unique to the book. I started by making a list of 200 recipes and went through and ranked them all out of five. I got to number 197 and realized it was so good I had to give it a six. I made myself go back through every recipe to make sure it was where it needed to be.
What sets Batch apart from other preserving books?
JM: When people think "preserving", they assume it is just going to be about water bath canning or making jams and pickles. We delve into seven different preserving techniques--water bath canning, pressure canning, dehydrating, fermenting, cellaring, salting and smoking, and infusing--but the book itself is organized by ingredient. Not only do we provide recipes from the preserves themselves, we also have recipes for utilizing them in other dishes.
DH: We also wanted to give people something with accessible recipes that you can make in on a Wednesday night.
Who is the book tailored to?
JM: There are easy techniques and recipes for the beginning preserver and also many ideas that the more experienced will be happy to add to their toolbox. For example, health-oriented people may start with an interest in dehydrating and discover fermenting, where those with a sweet tooth may be interested in jams and then discover dehydrating. We've found that so many people have an interest in preserving but for various reasons have never tried it. We focused on the most common reasons (e.g., I don't have time, it's too difficult, I might make people sick) and tried to eliminate a lot of the fear and mystery.
What recipe are you most proud of?
JM: I really wanted to do a fermented hot sauce aged in a wood barrel. Then I started to wonder where people would actually be able to get their hands on a wood barrel. I decided it was a bit too esoteric. I came up with the idea to wrap wood chips in cheesecloth and just submerge that into the hot sauce. I'm pretty proud of that idea.
Out of the seven preserving methods in your book, which one do you think people are most intimidated by? What would you say to assuage their fears?
JM: I think people are intimidated by all of them, but for all of the wrong reasons. Botulism is a big one when it comes to canning. There are a lot of negative and inaccurate stereotypes out there when it comes to preserving. People don't realize that you can put together some preserves in only 10 minutes. Things like bacon, sauerkraut, and kimchi hardly take any time [to put together] at all.
Any plans for a second book in the near future?
JM: We're focusing on getting Batch out there for now and getting to meet people, and hopefully inspire them to start preserving. We are hoping Batch will be a great resource for people for years to come, so if we work on another, it would have to top that. We've got a few ideas, but no definitive plans as yet.