Boys' club? What boys' club? In a predominantly male-dominated food and beverage industry, it's not always easy for a woman to make her mark. But as it's been proven over and over throughout history, women fight their way to the top, often working harder, longer and smarter to earn the same level of success as their male counterparts.
In honour of International Women's Day, we're featuring some inspiring female entrepreneurs rocking the food industry (and our palates) across this great nation.
Andrea Carlson of Burdock and Co. (Vancouver, BC)
Highly praised as "the restaurant that best represents Vancouver", celebrated chef and owner Andrea Carlson has been whipping up share plates that celebrate ingredients sourced from the fruitful Canadian Pacific Northwest since opening its doors almost three years ago. Prior to starting her own place, Carlson helped shape the way Vancouverites ate, working at a myriad of influential restaurants that paved the way for a more sustainable way of eating in B.C. The humble chef also owns and operates Harvest Community Foods, a grocery store and noodle bar on trendy Union Street in Chinatown.
Carolina Konrad of Segovia Tapas Bar (Winnipeg, MB)
Konrad opened the Spanish-style tapas restaurant in 2009 with chef and husband, Adam Donnelly. Now a lasting food fixture in Winnipeg's Osborn Village, the trendy eatery has withstood the test of time (in the finicky restaurant industry) and is the proud recipient of many local and national awards and accolades. While her husband keeps guests on their toes with a constant stream of new inspirations and flavours, Konrad keeps the front of house afloat as general manager and Donnelly runs the kitchen all while raising two little ones. The duo is opening their second concept any day now, a much-needed brunch spot called Clementine, located in the Exchange District.
Christine Flynn formerly known a.k.a. Jacques La Merde (Toronto, ON)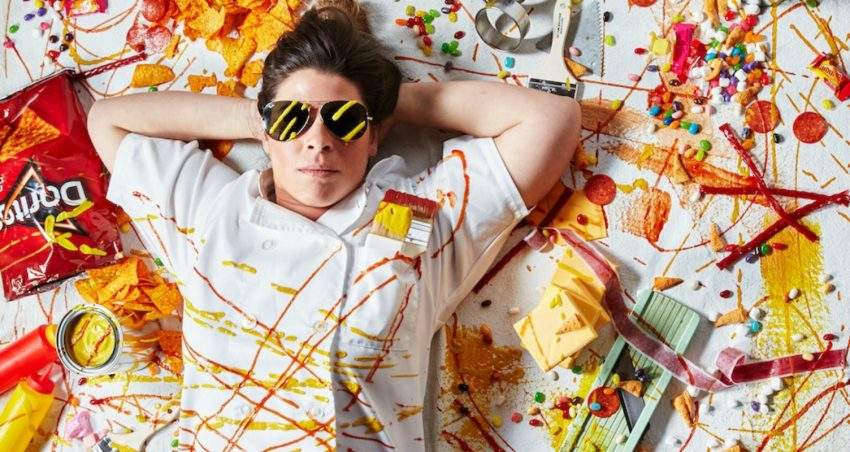 All of those perfectly tweezered, dots and smeared plates that run rampant on Instagram can usually catch one's eye, but no one's plates over the past year were as unique as those at Jacques La Merde. For months, the elusive chef (the name roughly translates to "full of shit") would post elegant plates of food with vibrant colours and tight construction. The weird thing about them? They were all created with junk food. Whether or not the woman behind the now-famous account, Christine Flynn, meant to make a statement, it's hard not to look at her stream and see it as a commentary on the "bro" culture that can surround both kitchens and the Instagram food world.
As big as some egos may get, it's sort of funny to think that sometimes, all it takes to bring people back down to earth --because, you know, at the end of the day it really is just dinner, guys-- is a smear of Cheese Whiz and some crushed Doritos.
Christie Peters of The Hollow and Primal (Saskatoon, SK)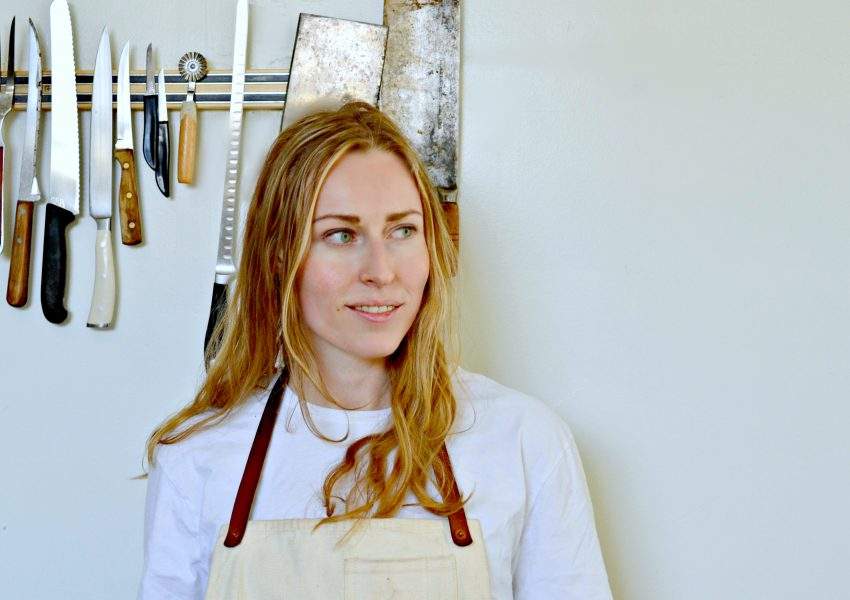 While Saskatoon does not have a large number of prominent female chefs, the ones that are doing well in the city (we love Renee Kohlman too and can't wait for her cookbook to come out next year!) are doing really well. Christie Peters moved back to Saskatoon from Vancouver about five years ago and opened up The Hollows in what was then a still fairly up-and-coming neighbourhood called Riversdale. Now, the area has flourished, much like the restaurant she runs with her partner, Kyle Michael, and the couple now operates another Prairie city hotspot called Primal, which focuses on Italian-style cuisine using local wheat flour that's ground for them at The Night Oven, which is just a stone's throw away. During dinner service, you can find Peters in both restaurants as she zips back and forth between the two that are only separated by a few blocks.
Jen Agg of The Black Hoof (Toronto, ON)
Jen definitely has a reputation in Toronto. She's recognized as a badass, trendsetting restaurateur who helped reinvigorate the Toronto food scene back in 2008 with the opening of her charcuterie-style restaurant, The Black Hoof. She's since opened several more concepts in Toronto and Montreal (Rhum Corner, Cocktail Bar and Agrikol). She also earned her reputation and a little notoriety for regularly battling it out on Twitter with her sharp wit and even sharper tongue, tirelessly standing up for women's rights and taking zero crap on the tired old topic of patriarchy and sexual harassment in the service industry. Seriously guys, why is this still a thing?
Jenna Mooers of EDNA (Halifax, NS)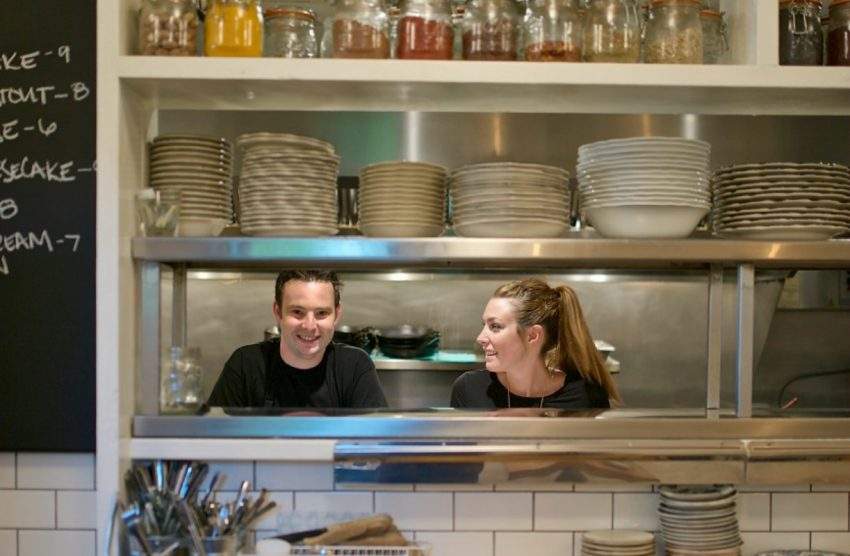 Noted as one of Canada's Best New Restaurant's in 2014 by enRoute magazine, owner Jenna Mooers and team keep diners on their toes with an always-evolving menu at her communal bistro in the North End of Halifax. Once a neighbourhood seriously lacking good eats, EDNA is leading the way in the city's up-and-coming food scene and revitalizing the way locals dine. Now, guests can avoid the lobster and donair heavy tourists traps downtown, and order a great glass of wine with fresh, seasonal dishes that would have been unimaginable in that part of town a just a few short years ago. Mooers had early exposure to the food industry from working in her mother's iconic restaurant, Jane's on the Common, which also earned the title of Best New Restaurant in 2003. Her entrepreneurial spirit and passion for food is undoubtedly a prevailing family trait.
Kerry Bennett of Care Bakery (Calgary, AB)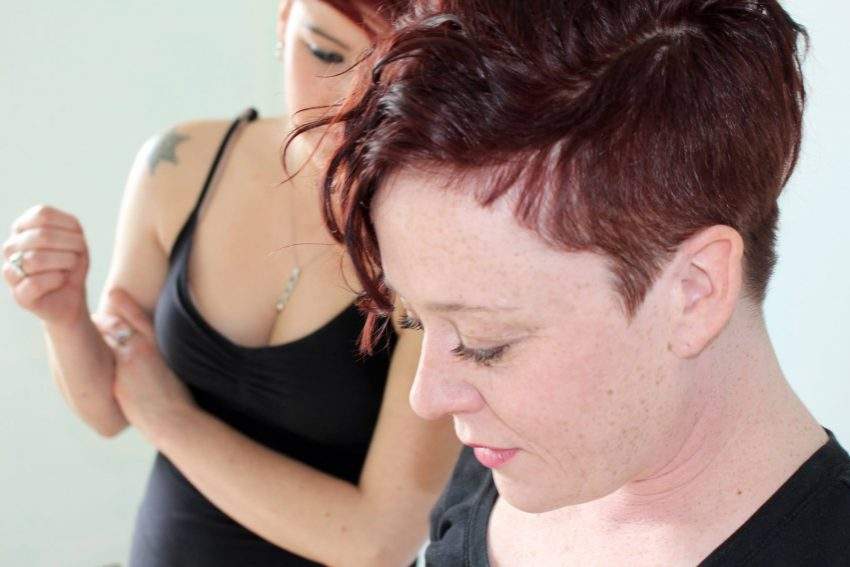 For many people, a sandwich is just a quick lunch, but for Kerry Bennett, it started a new chapter in her life. The SAIT alumni made it her mission to create high-quality gluten-free bread after discovering her own gluten allergy just before beginning her culinary training, and being dissatisfied with most of what was available on the market. Through a lot of research, experimentation, support from SAIT, encouragement from family and friends, and perseverence, she was able to develop and perfect recipes for bread that you'd have to try hard to discern from regular bread. From there, she created Care Bakery with her dad, making buns, loaves and pizza dough that are now carried in stores across Canada and served at multiple restaurants in Alberta. Maybe you've had them and not even known it. Check the bottom of your next gluten-free bun for the leaf logo.


Lynn Crawford of Ruby Watchco (Toronto, ON)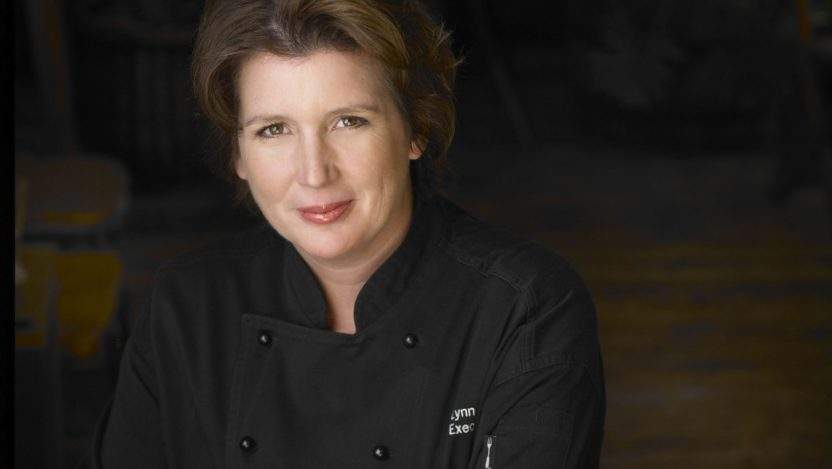 When thinking of powerhouse Canadian chefs, celebrity chef Lynn Crawford comes top of mind. With several cookbooks and television shows under her belt, such as Food Network's Restaurant Makeover, Top Chef Masters, and my favourite, Pitchin' In, she is undoubtedly one of the most talented and likeable chefs in North America. After reaching new heights as executive chef at the Four Seasons New York City, she returned to Toronto in 2010 to open Ruby Watcho alongside sous chef Lora Kirk. The duo takes the overwhelming decision making out of the dining experience with a fixed-menu concept by creating and serving a new menu each night. Just think of it like you're going over to a five-star chef's house for a dinner party, and you don't even need an invitation (maybe just a reservation).
Nicole Gomes of Nicole Gourmet, Cluck n' Cleaver (Calgary, AB)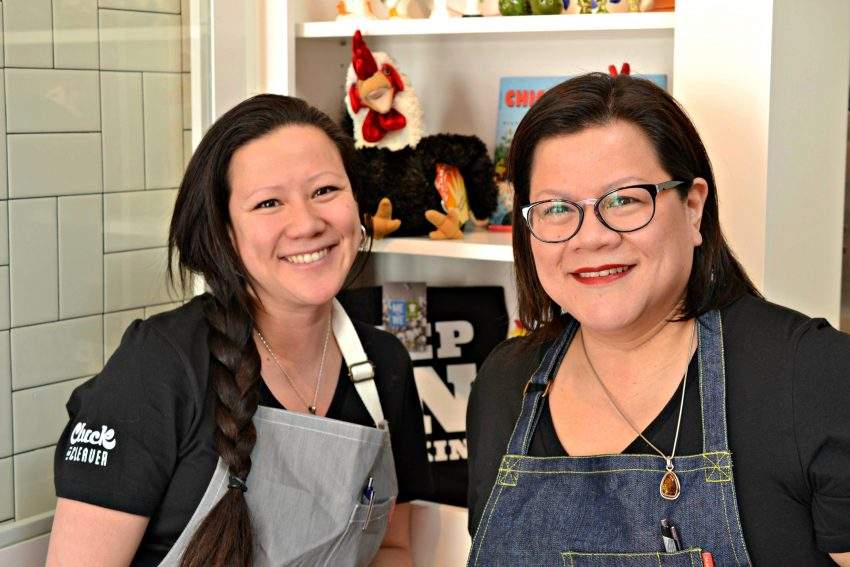 Nicole Gomes is a household name within the Calgary culinary scene, despite the fact the chef has not worked in a restaurant for the past decade (until now. I'll get to that). She's managed to do the seemingly impossible and bridge the gap between the fine dining scene and the catering world, bringing delicious, modern and elegant food into homes and events across Calgary. The rest of the country might know her as the hard working and smart-mouthed contestant on Season 3 of Top Chef Canada. After more than a decade of running a successful business and honing her entrepreneurial skills, she (along with her sister Francine) recently launched a new concept in early 2016, a fast-casual eatery called Cluck n' Cleaver, serving take-out southern fried and rotisserie chicken. We're always curious to see what this extraordinary chef is going to do or say next.
Renee Lavallee of The Canteen (Dartmonth, NS)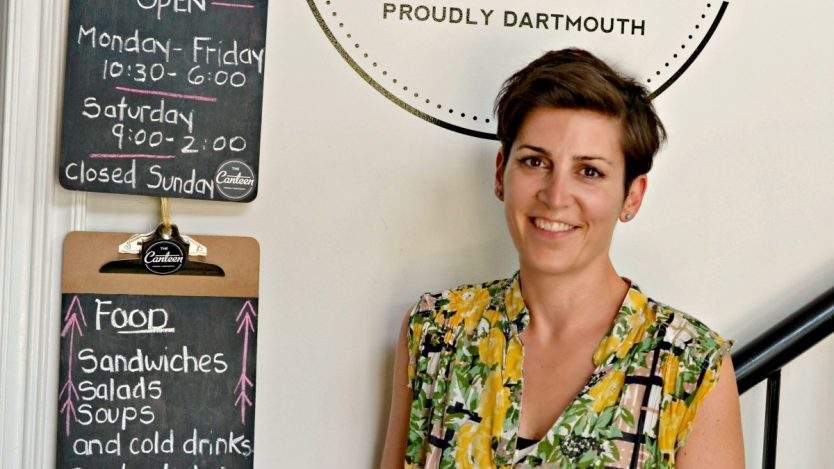 From Canada to the Caribbean, restaurant kitchens to her own as a private chef, Renée Lavallée has experience that most young chefs don't. She spent years cooking in Toronto, Ottawa, P.E.I. and the Caribbean before returning to Halifax to start a family, a blog (Feisty Chef), and The Canteen. She opened the cafe in 2014, serving fresh and seasonal fare like whole-roasted chickens, sandwiches, macaroni and cheese and tandoori chicken curry for lunch and early dinner. With The Canteen, which is close to her home, she's able to find the work life balance she needed.
Sandra Oldfield of Tinhorn Creek Wines (Oliver, B.C.)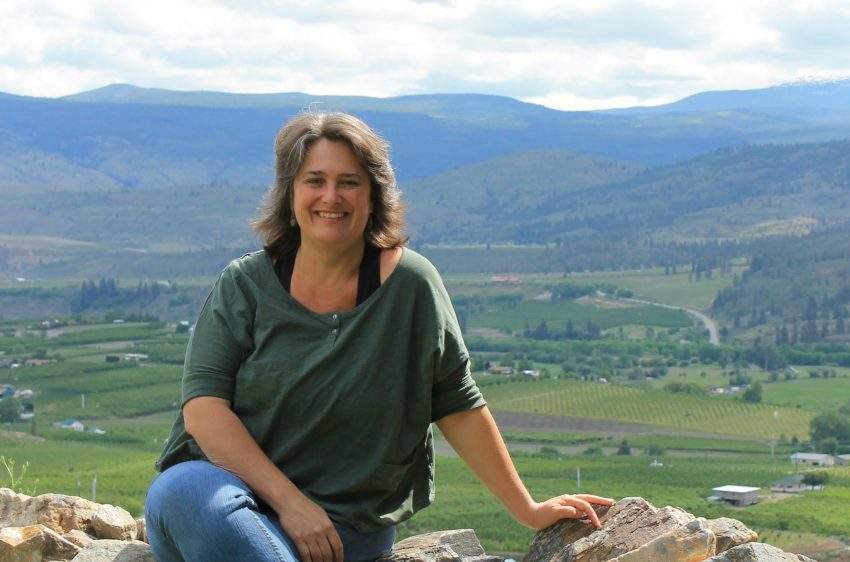 In 1995, Sandra Oldfield packed up her 66 Mustang and moved from Santa Rosa, California to Oliver, B.C. Prior to crossing the border to make a life in a our great country, she studied winemaking and Canadian history at the University of California at Davis. That incredibly tailored educational path led her to her current role as president/CEO/winemaker/blogger/Twitter maven at Tinhorn Creek Estate, a winery in B.C.'s Okanagan Valley. Home to Miradoro, the in-house restaurant with panoramic views of the Valley, overlooking many of the farmers supplying local ingredients on their menu, it's a true destination for wine and food lovers alike.
Talia Syrie of The Tallest Poppy (Winnipeg, MB)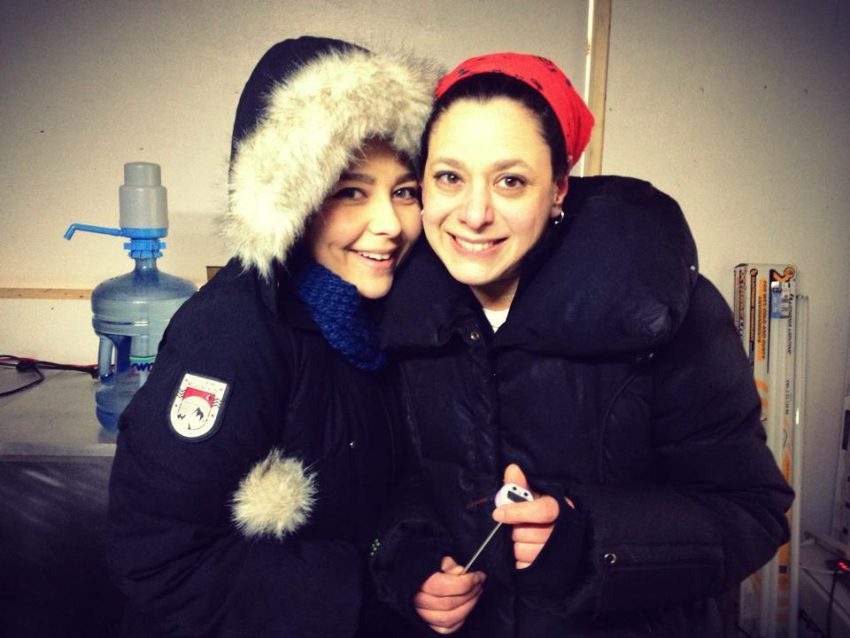 It took an unfortunate accident that involved stepping on a broken beer bottle for Syrie to find her true calling in the culinary world. Unable to do her job at the time, planting trees, she befriended the kitchen folk at the B.C. camp she was working at and opted to help feed 1,500 hungry tree planters while she recovered. The kitchen sucked her in and she's never looked back. After returning to Winnipeg and dabbling in catering, Syrie opened The Tallest Poppy in 2006, a popular brunch spot serving upscale comfort food. She closed the doors in 2012, only to reopen after a short hiatus with a bigger location in the Sherbrook hotel. The Tallest Poppy 2.0 now had its sights set on accommodating people for breakfast, lunch and dinner. Selections such as chicken and Belgian waffles landed Syrie on many top brunch lists in the media, and a spot on Season 1 of Food Network Canada's You Gotta Eat Here!
As well, Syrie is a massive supporter of the local cultural community, giving back in a long list of ways and also curating various artwork and allowing Poppy to be home to a rotating artist-in-residence program.