Armed with a degree in French literature, Diana Olsen left Vancouver and moved to Paris in the late 80s, immersing herself in the culture and language working as an au pair. She quickly developed a taste for the finer things in life, most notably for the slower-paced, European-style cafés found all over the city that pay homage to the unique and sometimes quirky personalities of the neighbourhoods in which they resided.
"I'd go into the cafés and feel a real sense of belonging. You only have to spend a few bucks and everybody makes you feel welcome," she reminisces, about spending many enchanting afternoons in said cafés in an interview with Best Health magazine. "I loved the concept of being in a beautiful space that had been there for hundreds of years."
When Olsen returned to Canada in the early 90s, big-brand coffee franchises were on the rise, but she remained captivated by the idea of charming old-world cafés. She was inspired to bring the sophisticated celebration of coffee and social tradition home with her. She knew there was a niche that needed to be filled within the over-saturated market, sensing that other Canadians like herself were looking for a more authentic experience than the grab-and-go culture.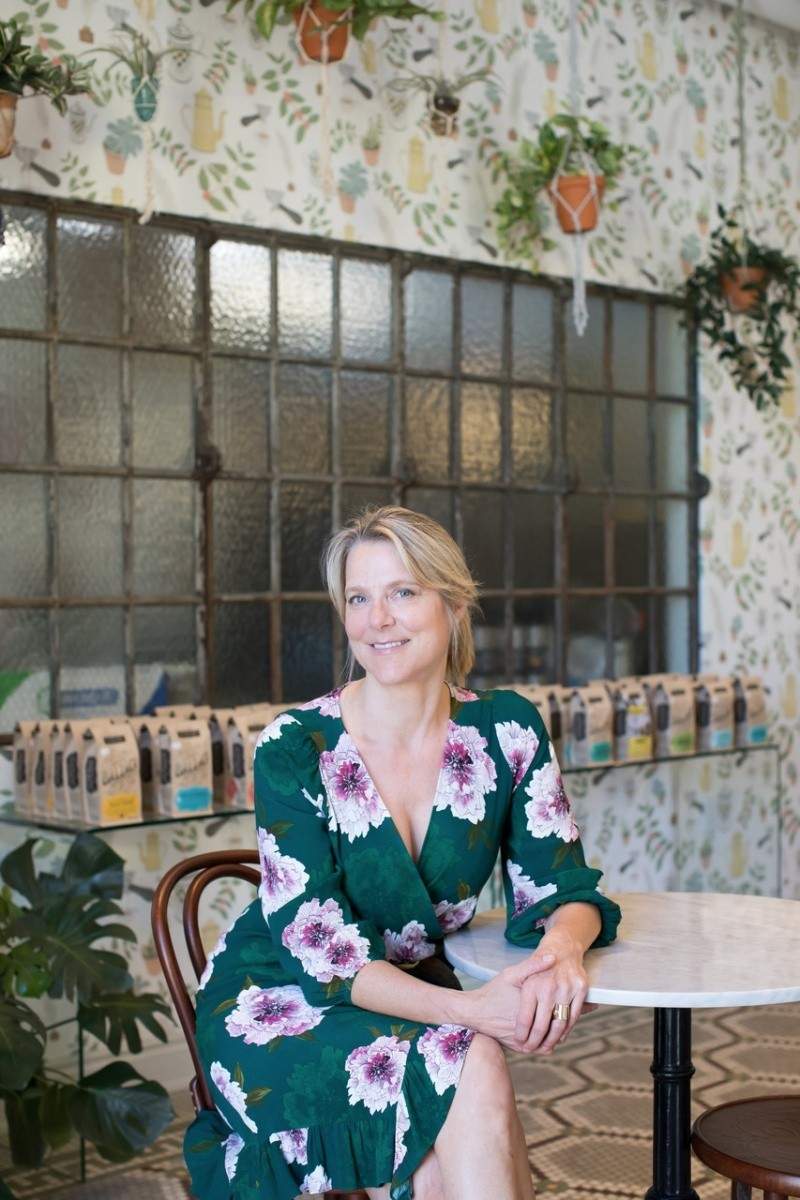 "My first paying job was when I was 14 at an Italian restaurant called Il Giardino in Vancouver, and one of my responsibilities was operating the espresso machine. That's where my passion for coffee began," she explains when reflecting on her inspiration to start her own coffee shop. "I traveled to San Francisco in 1993 to learn the craft of coffee roasting and bean selection at the West Coast Specialty Coffee Training Institute."
With a powerful desire to blend her love for coffee with café vibes and French culture, she opened her first Balzac's Coffee Roasters location in Stratford, Ontario in 1996. She named her company after Honoré de Balzac, a 19th-century French novelist well-known for his love of coffee and cafés. "While earning my degree, I discovered a kindred spirit in him and his genuine passion for coffee," she says. "I was Inspired by his famous quote, 'The café is the people's parliament,' which we use to this day as our mission statement."
Olsen has since grown the artisanal boutique concept to include 14 locations across Ontario, overseeing all aspects of operations and coffee roasting from the Balzac's Roastery in Ancaster, Ontario. She currently employs more than 150 people, 70 per cent of which are women.
"Early in my career, I did notice that women were underrepresented in the coffee industry, not just as growers, roasters and baristas, but as owners. Today, women continue to be underrepresented. This challenge did not dissuade me from pursuing my passion for coffee. There is a need for greater equality and inclusivity in the industry. And in Canada, we should be proud of women-lead coffee businesses."
Equipped with the unique perspective as a female founder in the male-dominated industry, Olsen is using her influence to help level the playing field by embracing business practices that support women across the supply chain, like the Las Rosas Women's Group. This Columbian-based project sources whole bean coffees that are directly traded within a community of more than 400 female coffee farmers. By prioritizing gender equality and inclusive decision-making, the group empowers women to receive credit and take ownership for their work.
"I'm inspired by the community of support that surrounds women-led coffee businesses. Kicking Horse Coffee and Bridgehead are both female-run Canadian coffee brands that inspire me and make me proud to be co-pioneering within the industry. There is room for a female perspective, and a need for women to play a more integral role in the production and management sides of the business," she explains. "It's my aim to inspire and spark dialogue around this reality - and encourage coffee lovers to be proud of women-led, Canadian coffee brands."
If female farmers were given the same opportunities and resources as their male counterparts, they could increase their farm yields by 20 to 30 per cent, according to the Food and Agriculture Organization. Not only would this be great financial news for all the female producers breaking their backs working twice as hard as some of their competitors, it would also be a major perk for the future of the beloved industry. The International Coffee Organization states that closing the gender gap could unlock an extra 30 billion cups of coffee per year. That's a lot of blissful caffeine jitters.
"The greatest challenge is the feeling of being inadequately represented in the industry, but this also presents itself as an opportunity to encourage women to consider entering the coffee roasting industry as a viable career option, especially from an ownership standpoint," she continues. "I have a unique opportunity to cultivate a community of women who share my passion for coffee, nurturing their success as valued employees. The fact that 70 per cent of my employees are female is an aspect of my business I am very proud of."
Her founding vision and business practices have translated into a growing company that is 100 per cent Canadian. Because of the nature of the ultra competitive multi-billion dollar industry, Olsen is motivated to stay on her toes to ensure her brand stands out in the crowded market. Beyond providing diligently-sourced, sustainable, and local products paired with a unique and inviting artisanal café experience, her company sets a standard for sustainability leadership in an industry that is often called wasteful.
Notably, Balzac's was recently named Toronto's Greenest Coffee Shop-Roaster in 2018 by the city's Live Green initiative.
"Adopting business practices that embrace sustainability and community have helped us carve out a unique identity in the industry. We prioritize sustainability as our long-term success strategy," she explains. "We are proud to be LEAF (Leaders in Environmentally Accountable Foodservice) certified."
"We also source high-quality ingredients from local suppliers to reduce the environmental impact across the supply chain. And we bring in limited edition or direct trade coffees from organizations such as Las Rosas and The Long Miles Project, a not-for-profit organization that works to help coffee farmers improve their businesses and lives in Burundi."
Always looking for savvy ways to grow her brand, Olsen appeared on CBC's Dragon's Den in 2011, seeking strategic investors to help catapult her vision to the next level. She locked down a deal with both Arlene Dickinson and Bruce Croxon, and tapped into the priceless publicity that comes with national television exposure. The company is set to expand distribution at the wholesale level, its fastest-growing market in 2019.