Fast-paced, high-risk, long hours, hot equipment and even hotter tempers—owning and operating a restaurant is no easy feat. You could say the same for being in a relationship, so imagine the special individuals it takes to combine the two.
We spoke with eight restaurant couples about how they make it work in such a stressful work environment, the division of labour, whether it's possible to find the elusive line between personal and professional life, and whether it's all worth it in the end.
David Smart and Susan Meldrum Smart, Bessie North House—Canning, N.S.
Just an hour outside of Halifax, nestled at the base of the North Mountain sits Bessie North House, a 130-year-old farmhouse with an attached barn and five acres of fruitful farm land.
David and Susan opened the refurbished space and property last June, raising funds for the renovations through a successful Kickstarter campaign, helping them realize their dream of hosting unique farm-to-table dining experiences in their home. With seating for 12 and just two to three seatings per week, locals and visitors alike are scrambling to get a taste of the seven-course menu.
"If there are any couples out there considering going on this journey together, make sure this is really what you both want to do. Open, honest communication is key. David and I separately always wanted to do something food and hospitality related on a small scale in our home. When we discovered this about each other, we started working toward where we are today: on our own little farm, growing food and feeding people in a more intimate setting.
David is the chef, handling most of the menu planning and all of the cooking, and I do everything else, like guest relations, reservations and front of house duties. We have a fairly large garden planned for this year to supply the restaurant, so we share the garden planning and daily chores. David loves to drive the tractor so that job is all his!
Because our home is our restaurant and vice versa, when we do something for the restaurant, we're also doing it for our home. This is the beauty of having our life, business and dreams come together in one place.
Is it possible to draw a line between our personal and professional relationship? There is no line. It's a constant blur, but if one of us doesn't want to talk restaurant, then we just let each other know, park the topic and come back to it later. Again, communication is key." — Susan
Jeanne and Clement Chan, Torafuku—Vancouver, B.C.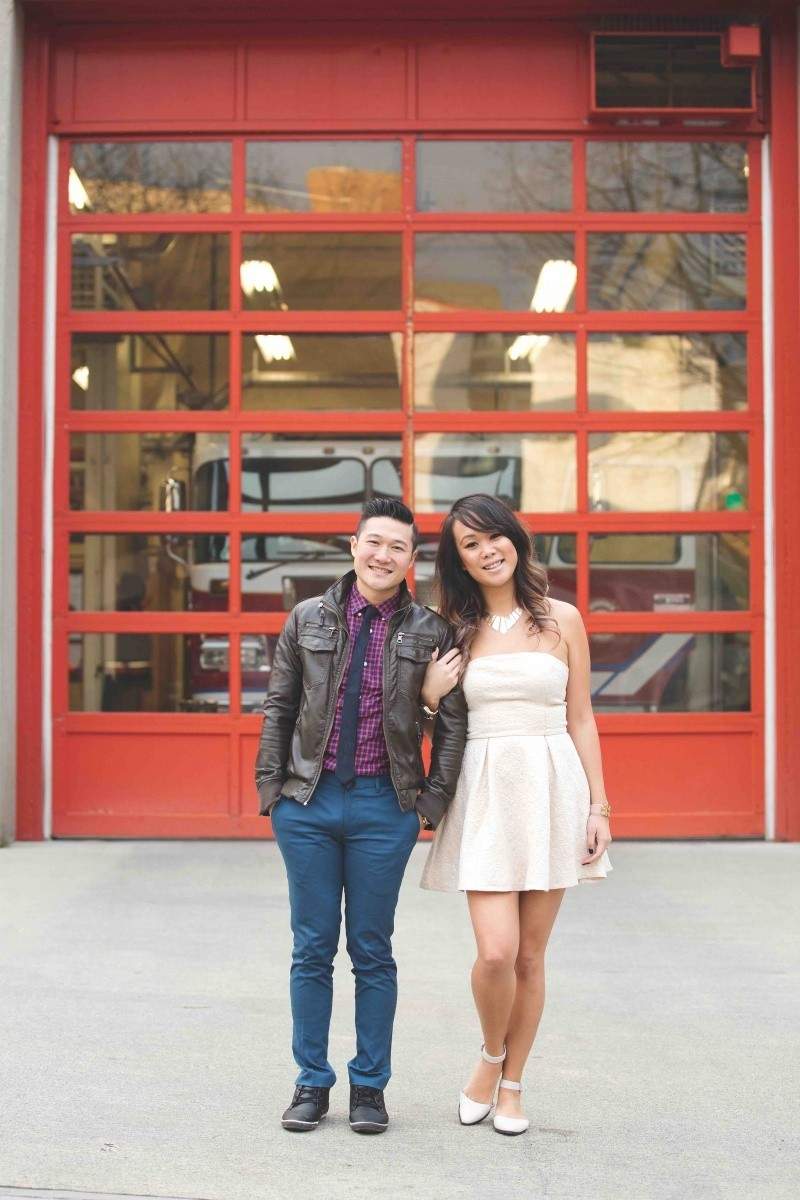 Shortly after opening, Torafuku garnered plenty of praise nationally, and even secured a coveted nominee spot in enRoute Canada's Best New Restaurants for 2016. Needless to say, the restaurant was busy straight out of the gates and hasn't really slowed down since.
"One of my favourite memories of working together was our soft opening in July of 2015. I remember, amongst the madness, looking at Clement and feeling overwhelming pride. He had a vision of what he wanted to bring to this city, and worked relentlessly until he achieved that dream. What an amazing feeling watching him at his craft and seeing it bring such joy to others.
But it's not always so pretty. During what I call our 'learning period', it wasn't unusual to see us arguing at the restaurant, sometimes to the point of me crying. There were many times when I felt that in order to save our relationship, I should just quit. We were faced with the challenge of understanding one another's positions and learning how to compromise. Eventually, this brought us closer as partners and helped us operate better as a team.
It's important to have a strong relationship and realistic expectations. Our relationship is tested daily and we've learned a lot about one another. We've found it impossible to completely separate work and personal life. (If someone can tell us the secret, that'd be great!) We also have very different communication styles, so working together has given us the opportunity to learn how to communicate more effectively. Creating a successful business has brought us closer and made us a stronger team, and those skills have translated to our marriage and now, to raising our daughter." — Jeanne
Beth Rogers and Thayne Robstad, Hearth—Saskatoon, SK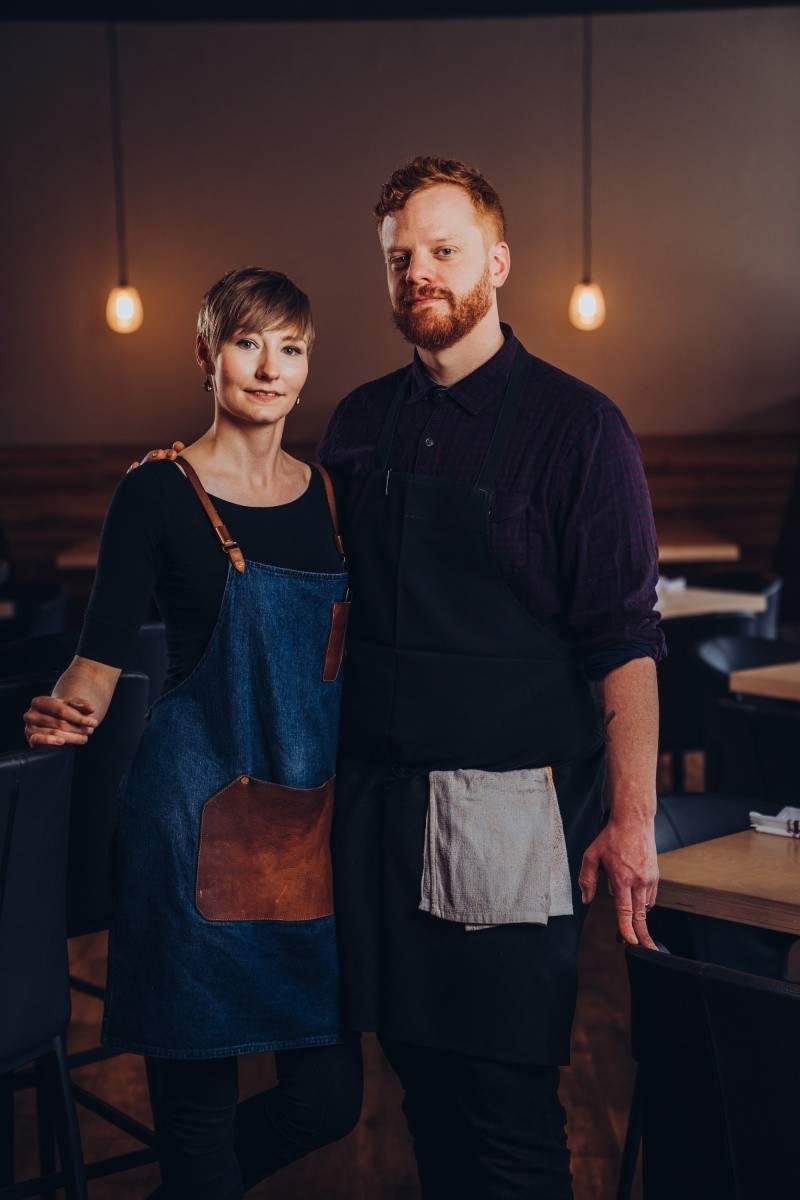 Newer to restaurant ownership, longtime partners Beth Rogers and Thayne Robstad took over the former location of Crazy Cactus in Saskatoon to open their contemporary Prairie eatery, Hearth in the summer of 2018.
"Working together can be the best of times and the worst of times. We renovated our space together for more than 10 months, doing around 90 per cent of the work ourselves. It was hellish day-to-day, but now we look back and laugh ourselves sick about the time one of us got glue in our hair or fell off the ladder." —Thayne Robstad
"Maybe there are people out there that can draw lines in their life, but that's not us. We're like the couple that can't stop talking about their baby, except ours is 2,200 square feet and enjoys scratch cooking. We play to our strengths at Hearth. After being together for 11 years, those strengths are quite complementary. We often joke that if one of us died, the other wouldn't have a clue how to do the other's job. If we could give advice for couples thinking about starting a restaurant together, we'd emphasis making an extra effort to be kind...kitchen-speak can be very sharp, so don't take that tone home with you. At the end of the day, PDA in the restaurant works for us, we even have a make-out hallway!" — Beth Rogers
Jackie Cooke and Kirk Shaw, Avec Bistro—Calgary, AB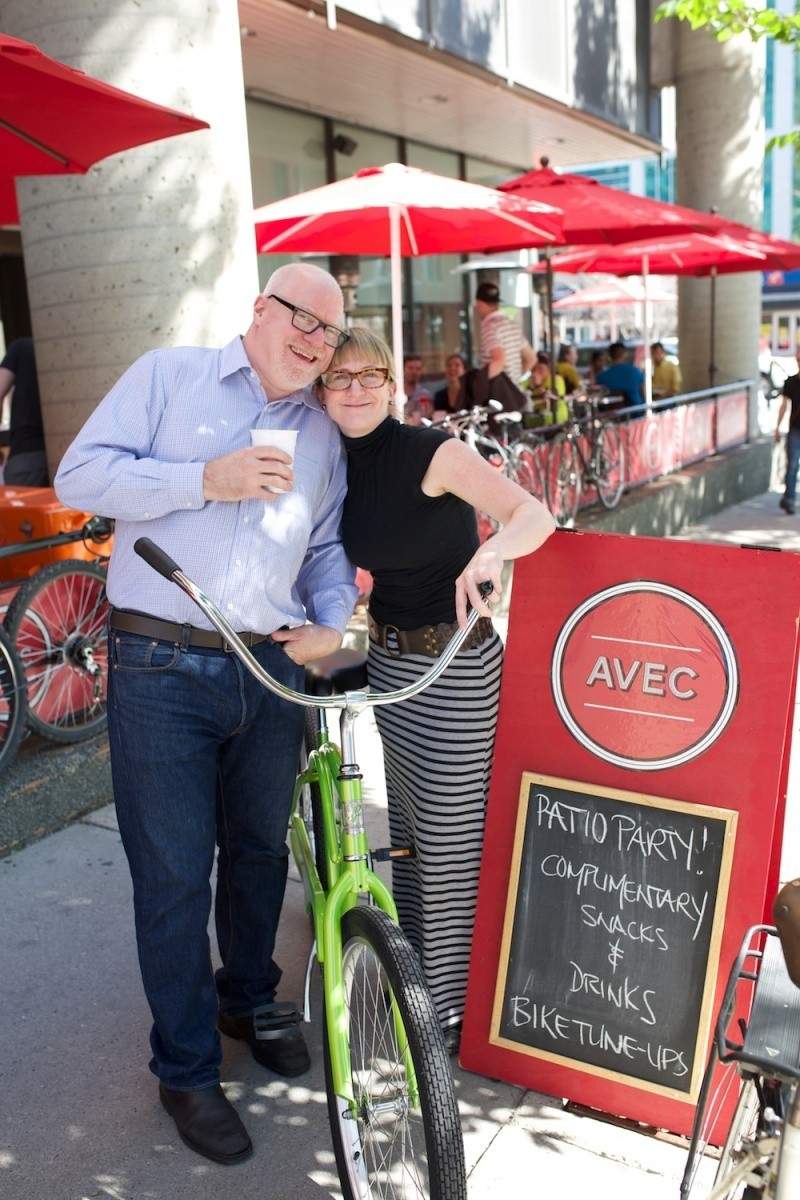 Avec is a classic French bistro located in Calgary's bustling beltline. The small, cozy restaurant boasts an unparalleled wine list, which is no surprised based on their beginnings and expertise. The couple recently jumped at the opportunity to take over the former Boxwood space in Central Memorial Park and opened Provision Restaurant, a tiny space featuring contemporary, veggie-forward food inspired by the park in which it resides.
"We first worked together at the Bearfoot Bistro in Whistler; Kirk was the wine director and I was the sommelier. He likes to remind me that I was his assistant. It was later that we became a couple and we've been together now for 14 years.
I think we'd both say we have each other's backs and can anticipate where the other will be at all times. After all these years, we work really well as a team.
Kirk can fix anything, so he handles a lot of repairs (something is always broken in a restaurant) on top of organizing functions, managing day to day operations on the floor, Costco runs and coordinating purchases and stock… and the playlists, of course! I manage the beverage program, ordering, accounting, office administration, payroll and all other financial responsibilities, day-to-day operation on the floor, social media, and organizing wine functions.
It takes a lot of work to stay focused on each other and keep work out of the home. We haven't mastered this yet, I'm not sure if it's possible! There's no distinct line because running a business means we're always on call, making the days incredibly long.
I get to work with my best friend and partner who I love more than anything, although sometimes, we don't treat each other as well as we should. It's always easier to take out emotions on the person closest to you, so it's important to make sure we have good, open communication, and no matter what, remember we are more important than the business and life goes on during and after." — Jackie Cooke
Alex Cohen and Raegan (Ray) Steinberg, Arthurs Nosh Bar—Montreal, QC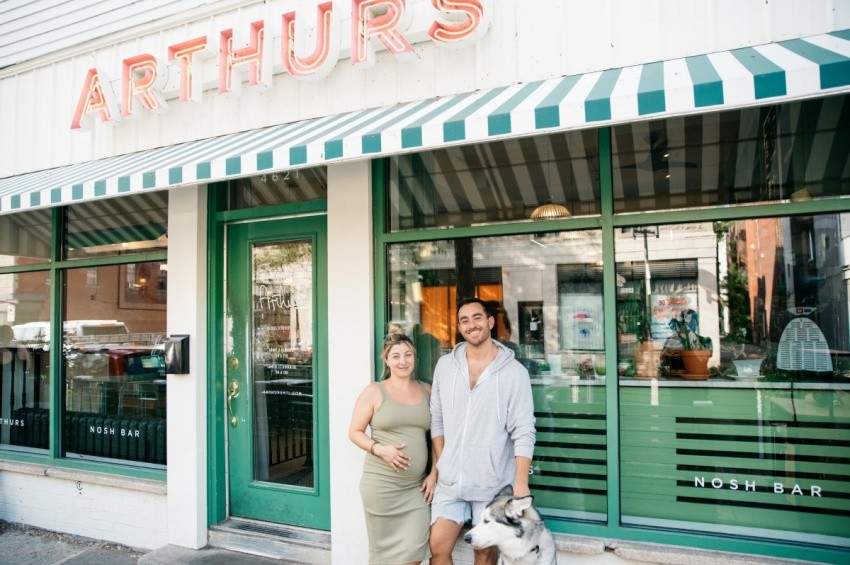 The young husband and wife chef duo opened Arthurs in Montreal's trendy Saint Henri neighbourhood in June 2016, filling a unique void in the city with updated versions of Jewish-inspired dishes, all wrapped up in a young, buzzing atmosphere. The restaurant shows love to Steinberg's Romanian-Polish heritage, and Cohen's Sephardic roots. But nothing quite says l'amour like naming a restaurant after your wife's late father.
"My husband was so gracious and kind to let me kind of build our whole restaurant around my father's brand, so that's very special for me. That first week after opening Arthurs was the craziest week of our lives. Now, the (somewhat painful) memories have faded, but the struggle was very real. Alex helped me push through when I thought I couldn't survive," recalls Steinberg.
"Right off the bat, we were one of the busiest restaurants in Montreal. The most arguing we'd ever done personally or professionally was in that first year of business. But the amount we've grown and changed is for the better. We wouldn't have become who we are if it weren't for those hard times. We always joke that restaurant owning couples go through more in a year than "normal" couples do in a lifetime. We came out stronger with a newfound respect for each other. To achieve success and share the glory with your loved one is priceless. And we don't take our marriage for granted. We made a promise and choice to accept the ups and downs and stick together through the shit." — Alex Cohen
Randy Khounnoraj and Korene McCaig, Khao House and The Good Will—Winnipeg, MB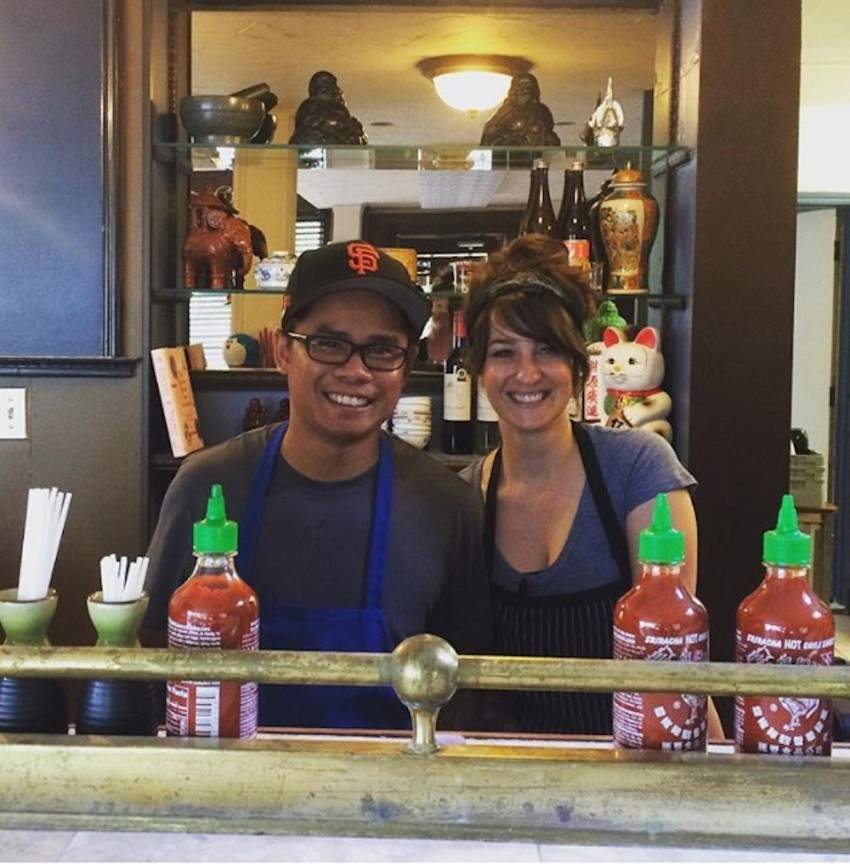 The restaurant has a strong focus on Laotian cuisine, which by nature is a fusion of intertwined cultures, traditions and people. Historically the food has been influenced by outsiders, between a migration from Northern China, years of French occupation, and increased mobility between Laos, Thailand and Cambodia.
Up until a month ago, this quaint Asian comfort food restaurant was run out of a charming, creaky old house on Sherbrook Street, with the couple and their son residing upstairs. Dining there was much like sharing a meal at an old friend's house, complete with family photos and memorabilia of Khounnoraj's family in Laos. The young co-owners have moved shop to a bigger space in the Good Will Social Club, expanding their seating from 15 to 36.
"Luckily, we not only love each other, we actually like each other too, so it's nice getting to spend the time together. If we didn't work together, we would probably never see one another. Because we know each other so well, it helps us work more efficiently and easily maintain our quality and consistency standards.
The stresses of the restaurant industry and owning your own business can be overwhelming. As in any relationship, we butt heads when stresses are high and when finances are a constant topic. We do have to work hard to be respectful and supportive of each other, but it also makes us stronger.
I think the lines naturally get blurred, but at the same time, we've learned it's possible to be professional in our personal relationship. It's important to not let our personal relationship negatively affect our employees or customers.
As for lifestyle balance, we used to live upstairs at Khao House, so there was little separation, especially after our son was born. The convenience of living in our business was necessary for us for those first two years, but now we look forward to living separately (from the restaurant), where we can at least go "home" at the end of the day.
There were moments—rarely, luckily—where we had to pull it together and put on a smile just for our customers. Sometimes, the pressures of the business became too much. But this is a journey and it's all about learning and growing, and we've learned so much about communicating and making sure to appreciate each other first." - Randy
Kim Montgomery Rawlings and Guy Rawlings, Montgomery's—Toronto, ON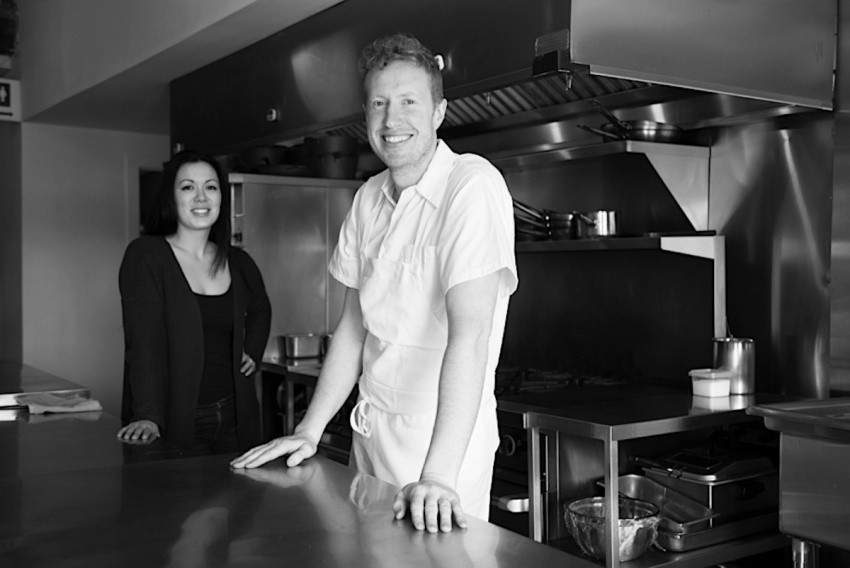 The couple met at a foodie event in 2011 and within two months, they were engaged. They had their first child a year later, got married the next year and had their second child soon after that.
Guy Rawlings has always been one to watch in Toronto, making a name for himself as an innovative chef with his hyper-local ingredient, nose-to-tail philosophy.
"In this competitive market with such narrow profit margins, it's not easy owning and running a restaurant. Sharing that stress with a spouse can also be difficult to manage at times, but at the same time, it's such a relief to be able to turn to your most trusted person and ask for help, a hug or advice.
Guy manages the kitchen, beverage lists and oversees most aspects of the business. Besides managing the family-sphere, I handle all operations, accounting, marketing, event planning and I assist on the floor for special events.
Some days, we rarely see each other. It's tough when the grind of the work day and juggling two kiddos separates our family. To make up for it, we make sure weekends are extra special and during the week, we bring the kiddos to work to see daddy working the kitchen. It's their restaurant too!
The lines definitely get blurred, but usually one of us has the courage or balls to take off our business hat to give the other person a hug when it's needed most. We try our best to enjoy the special moments and family time as much as possible because in this line of work, the days are so very long. It has taken time to work towards achieving work-life balance. One thing we try to keep on our radar are date nights so we can savour those moments and can focus on each other, and just enjoy being husband and wife." — Kim Montgomery
Gordon Glanz and Miriam Karp, Odd Society Spirits—Vancouver, B.C.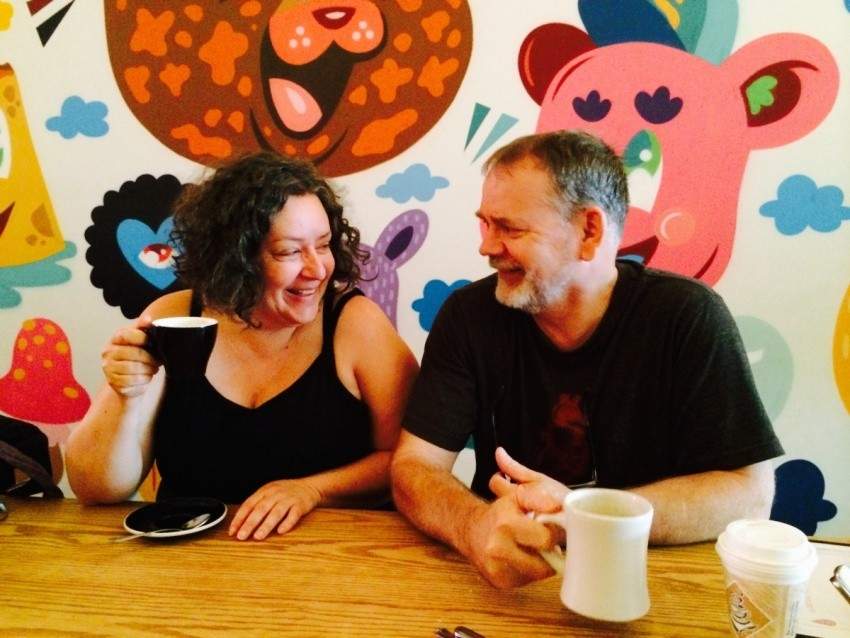 After Glanz completed his MSc in brewing and distilling from Heriot Watt University in Edinburgh with Karp's support (financial and emotional), the couple returned to their hometown and set up Odd Society Sprits in East Vancouver's Port district.
The couple have been in business together since 2013. They're committed to combining Old World distilling traditions with new world ingredients to create a family of spirits including whiskey, vodka and gin.
"We definitely have a very clear division of responsibilities and labour. Miriam is in charge of the front of house: retail, bottle sales, marketing, and overseeing the lounge and lounge staff. I live in the back, making the spirits and bottling with our back of house team. It's almost like having two separate businesses that are closely linked. When we're not in the same room, we're on the phone with each other several times a day. Making the spirits is the easy part of the business!
Because the distillery office is in our house, our personal and professional lives have little separation. First thing in the morning, I work from the office before heading over to the distillery. When I come home, I head straight upstairs to the office where Miriam will still be working at her computer. The business is all consuming. But we do have one rule, we're not allowed to talk about business in the bedroom.
It's great having a partner you completely trust. We're just about to celebrate our 30th anniversary, and we still love spending time together. When times are good, we share our accomplishments and a strong sense of satisfaction. In difficult times, we still support each other and have a permanent sounding board off which to bounce new ideas.
A challenge of working so closely with a loved one is that it often feels like we live in a bubble, cut off from the world. All our activities revolve around the business and each other, especially because to my surprise and delight, our two daughters also work for the distillery." — Gordon