Canada's craft distilling scene has exploded in recent years. Just like the craft beer scene preceding it, the passionate distillery owners who move to the front of the pack are often the ones who embrace their local community and prefer collaborations over cutthroat competitions. Calgary's Burwood Distillery is just that, a relatively new distillery in the Alberta market that has made a name for itself with an interesting line of spirits and willingness to work with other local businesses to help grow the spirits community as a whole.
Recently, Big Rock Brewery approached Burwood co-owners Marko Cilic, Ivan Cilic, Jordan Ramey and their marketing manager Blair Bullied on a campaign for their new rosé cider that encourages people to create cider cocktails at home using local spirits.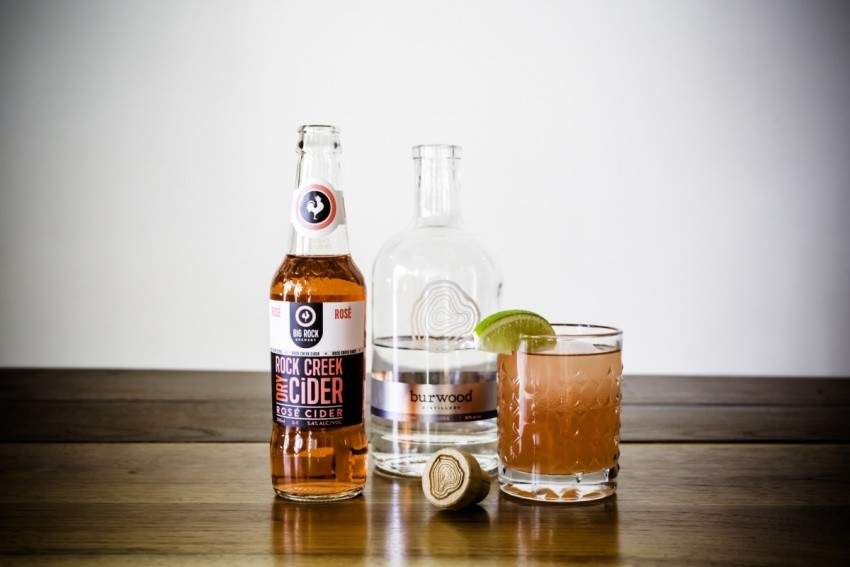 We sat down with the four folks from Burwood Distillery to get their thoughts on the importance of collaboration, the ever-growing Canadian spirits scene and why we should all be excited that spring is just around the corner.
What do you think are the benefits of local businesses working together like you and Big Rock have been?
Jordan: I think at the end of the day, you're always stronger when you're able to have collaborative partnerships, so with Big Rock clearly an expert in the beer industry for quite a long time and with their expertise in brewing and then bringing the cider in, you know that's something that we really wouldn't have a lot of background on, especially the cider part of it. So, being able to partner with other industry experts really helps us to elevate our knowledge. It gets individual experts working together to essentially create something new and novel, and at the end of the day, we're all trying to create experiences. And you know, it gives you an excuse to have a cocktail in the middle of the afternoon.
Ivan: I guess we could wind it back to, "Why did we decide to do this collaboration?" I think it's important to utilize the power of local businesses and grow the community. Big Rock has been around for so many years and we're the young kids on the block, but you know, one day we're hoping to be as big as Big Rock. Utilizing the local ingredients and building that community on the spirit side is very important. I think they're on the same track of building that local community. It's a name that is synonymous with good local beer.
Blair: It's a really cool collaboration and we're so excited. We have a social media contest out there for people to create their own mixes and recipes, which is pretty cool. We've had a lot of great submissions so far.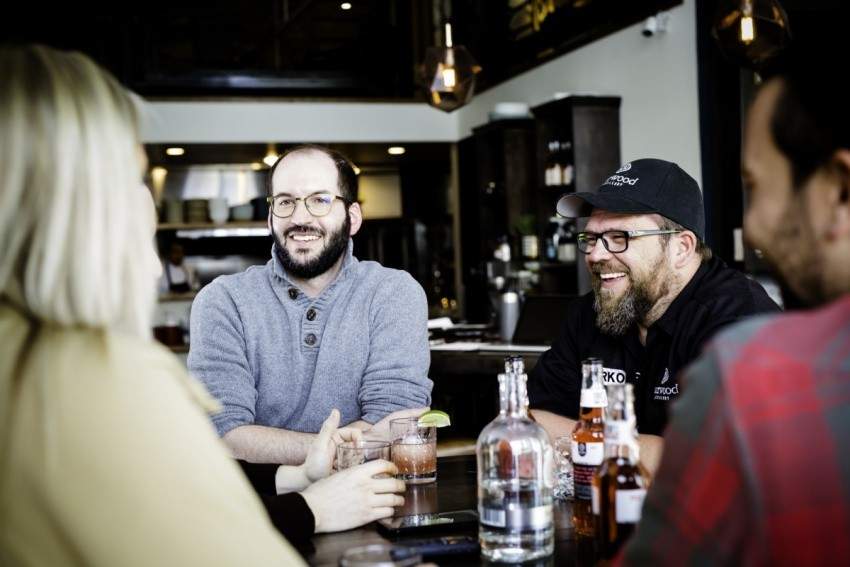 What sets Burwood apart from other distilleries in Canada's burgeoning micro-distilling scene?
Jordan: My background is brewing and microbiology originally, and Ivan and Marko, they had their family farm and had been farming honey for several generations. I like single malt whisky and Kentucky-style whiskies and they were into producing honey and so when we came together to launch a distillery, we said, "How can we do something unique with Alberta ingredients and kind of blend a lot of our traditions together?" We try to take the local ingredients and create a new experience and expression and I think that's what a lot of the craft distilleries are doing; they're essentially creating a name for themselves by creating novel experiences based on the industry and then building a new experience around themselves.
Who's having a bigger boom right now? The cider scene or distilling scene?
Jordan: Cider is such a hot thing right now. It's like cider was kind of this redheaded stepchild for so many years and now it's having a big resurgence. And there's also been a huge resurgence in the U.K.-style farm-based ciders--the funky, weird fermentations--so people are doing a ton with apples now. It's super cool. I know there are also a couple of places out of B.C. that did the same thing and now they're suddenly planting all these new trees and trying to get them established because there's a huge demand now.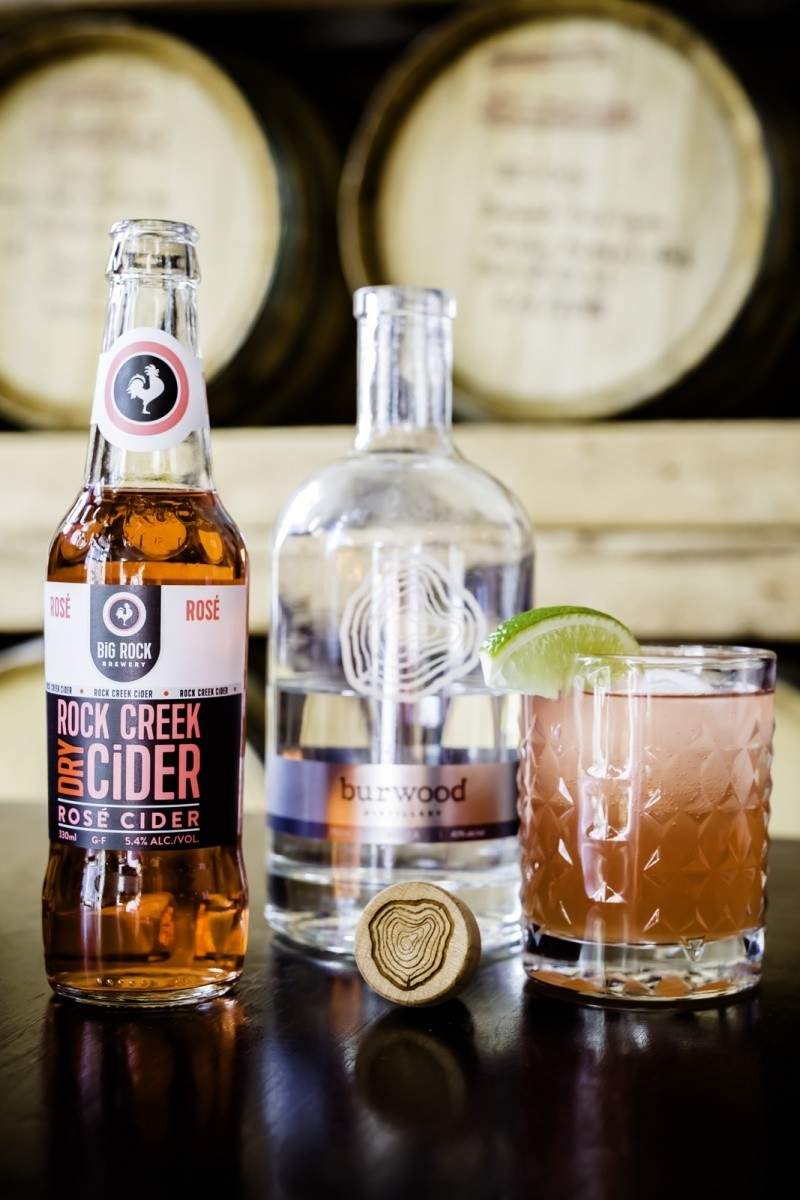 What is cider a good replacement for when making different kinds of cocktails?
Ivan: I'd say you can usually swap out prosecco or rosé for it. Also, anything like a flavoured Pellegrino or bubbly water.
Blair: Going into the spring and summer seasons, having that fresh cider in there with a fresh spirit like our vodka really makes a person want to sip more [than just using soda].
Jordan: To me, when we look at any of the ingredients that might be going to go into any cocktail, we try to just look at it like it's just another ingredient that we can use, not necessarily a "replacement" for something else.
What is the perfect drink to have in the spring?
Blair: I think Moscow mules and rosé really say "spring" to me when I'm thinking of a drink to order.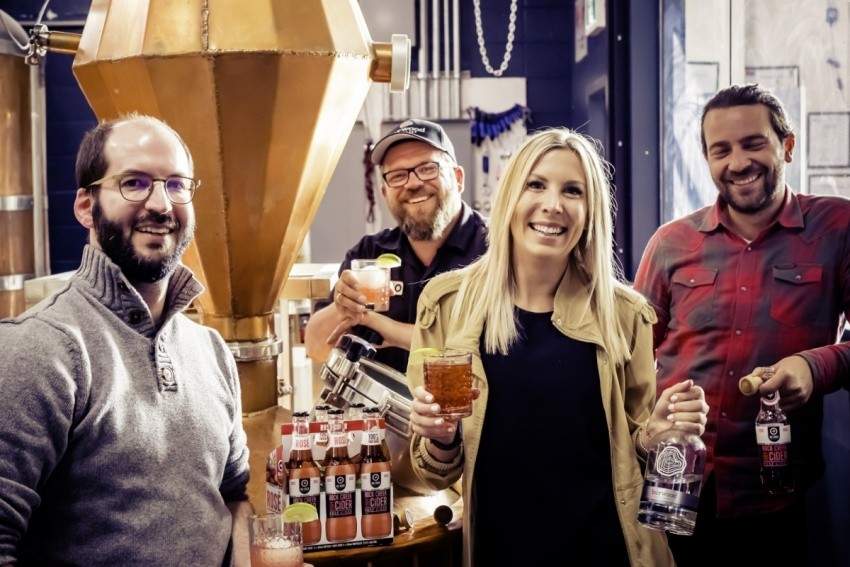 Ivan: In my opinion, this cider cocktail is a perfect spring and summer drink. It's refreshing and it's fun. Though, when I think of spring, I'm not so sure if something jumps at me. It's kind of like, I start thinking, "I can't wait for summer to come." Ha, ha.
Jordan: A cocktail like this is a nice way to kind of embody that expression. It's bright, it's got acid, it's got citrus, it's got bubbles, it's refreshing and so essentially, it's kind of a way to shed that winter and that heaviness that you feel during this time of year. Now, I want something bright, refreshing, and zesty. Once we finally move into the summer--you know, it's hot, you've been running outside or floating the Bow--this is what you want if you've been outside and want to feel refreshed.