This week, Calgary's Burwood Distillery unveiled the first release of their new Grains of Truth Series, a limited-edition locally grown, fermented, and distilled single malt whisky called The Scientist.
Since opening in 2017, the popular Alberta-based distillery has become one of the province's premier spirit producers thanks in large part to their award-winning honey-based vodka and liqueurs, but co-owners Jordan Ramsey, Ivan Cilic, and Marko Cilic have always been committed to the continual expansion of their catalogue.
"From the beginning, we knew we wanted to make a whisky–something complex and delicious, but more accessible than some of the bottles you see on shelves," Ramsey explains. "The Scientist really does that, with notes of chocolate and baking spices, it really appeals to both connoisseurs and those new to the whisky category."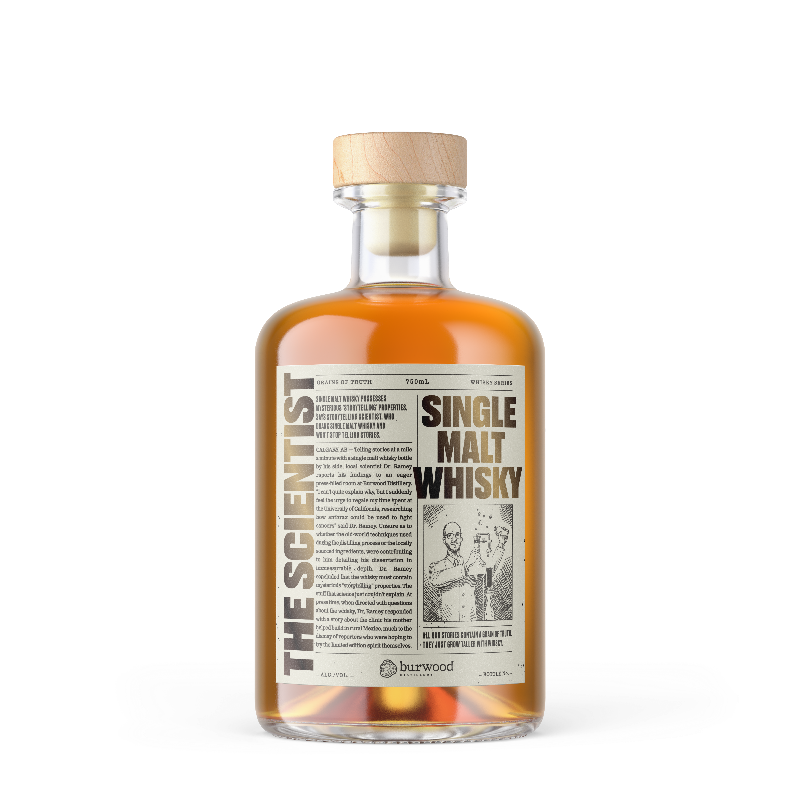 Burwood began aging the complex single malt whisky in 2017, and have produced just 500 bottles that will be available for purchase in the coming weeks. The Scientist label was developed in collaboration with local design agency Daughter Creative, and tells the story of Ramsey and his journey from the world of anthrax research at the University of California.
"It's been tough waiting for so long, but it's a very proud moment for us to have this spirit on the market," adds Marko Silic. "I think we could all use some good news these days."
In addition to the Grains of Truth Series launch, Burwood has also recently announced that the team is planning to move its northeast tasting room to a more central location. The distillery's exact location has yet to be revealed, but they will likely share something soon via Instagram.
The Burwood Distillery tasting room and lounge are currently closed due to COVID-19 restrictions, but pickup and free delivery within city limits on orders of $40 or more are available from Tuesday to Saturday.