Rich with tradition and history, Indigenous food tells the stories of the past using local, seasonal ingredients inspired by the lands and oceans. The cuisine emphasizes living in balance with our surroundings and respecting all forms of life, deeply rooted in no-waste, head-to-tail cooking. Since recently exploding into the mainstream, many Indigenous chefs are fusing contemporary touches and techniques with traditional flavours to give customers a modern taste, greater awareness, and a new perspective of our country's origins.
But why is it just now having its moment in the culinary scene? In most cultures around the world, food traditions are passed down from generation to generation, but the Indigenous people of Canada were long-ago stripped of that opportunity with white-washing via government-funded and church-run residential schools, erasing their food culture. For nearly a century, Indigenous children were relentlessly abused, starved and malnourished to force them onto reservations, and all cultural traditions and ceremonies were prohibited to enforce assimilation. Incomprehensibly, residential schools weren't banned until 1996, so this new surge of restaurateurs are from the first generation of Indigenous "kids" able to embrace and restore their cultural and culinary identity.
Chef Rich Francis starting playing a greater role in creating awareness when he informally became a cultural ambassador for Indigenous chefs after placing third on season 4 of Food Network's Top Chef Canada. And perhaps with the movement of foodie culture toward ancestral cooking techniques and ingredients (slow food, paleo, 100-mile), and a need to know where our food comes from, exploring Indigenous cuisine is a no-brainer as it is almost always locally sourced, foraged and unprocessed.
Using salmon on the coast and buffalo on the prairies, the philosophy of blending the landscape with the season and harvest gives birth to modern interpretations that are still heavily based on ingredients like foraged greens, herbs, berries, corn, beans and of course game meat. This does come with its own set of challenges, however, as Canada's food preparation laws ban the sale of hunted meat such as moose and elk to customers.
With more and more Indigenous eateries opening up in major cities across the country, the cuisine has been exposed to a bigger population who's ready for more.
Here are some Indigenous-owned eateries to discover across Canada.
Salmon n' Bannock Bistro – Vancouver. B.C.
With so much attention focused on Indigenous dance, art and history during the 2010 Winter Olympics in Vancouver, owners Inez and Remi quickly realized there were no Indigenous restaurants in the city, and the world was about to arrive at their doorstep. Eight years later, Salmon n' Bannock remains Vancouver's only First Nations restaurant, specializing in wild fish, free range game meat and of course, bannock, baked fresh daily. Try the popular 24-hour braised bison pot roast or wild sockeye salmon cured in beetroot and citrus.
Kekuli Café – Merritt and Westbank, B.C.
Kekuli Café's owners, Sharon and Darren Hogg, wanted to create a comfortable space where people could gather, meet and mingle. With this spirit in mind, they came up with the name Kekuli, which translates to "pithouse", a home or dwelling where First Nations people once lived during the frigid winter months. Sharon is famous for her homemade bannock, which is evident in their well-known slogan, "Don't panic, we have bannock!" Try any of the pow wow fry bread tacos topped with your choice of Saskatoon grilled chicken, chili, pithouse corn and beans, chorizo or venison. If it's thirst you're looking to quench, share a bottle of wine from local Indigenous wineries or order a Saskatoon berry smoothie.
Thunderbird Café – Whistler, B.C.
After an educational day at the Squamish Lil'wat Cultural Centre, guests can grab a bite at the Thunderbird Café located onsite. The menu is inspired by traditional Squamish and Lil'wat Nation cuisine, featuring dishes unique to both coastal and interior Salish people. The ritual of hunting, gathering, processing, and consuming food remains an integral component to cultural regeneration, helping to reinstate a sense of place and belonging that connects their people to the land. The menu builds off region-specific protein sources like salmon, venison, elk, and vegetation such as mushrooms, herbs, cedar, wild sweet onions and greens. Dig in to their smoked salmon panini served on freshly made bannock.
Little Chief Hotel Restaurant – Calgary, AB
Residing inside the Grey Eagle Hotel and Casino located on Calgary's Tsuu T'ina Nation, this hidden gem has modernized the "land to table" aspect of First Nation living, and honours the principle that everything served is sourced and foraged directly from local Indigenous lands and their communities. Executive Chef Bill Alexander is bringing traditional values to the culinary experience with dishes like braised beef short rib topped with pickled Saskatoon berries, shoestring potato crisps, braised spring onions and rosemary jus.
Feast Café Bistro – Winnipeg, MB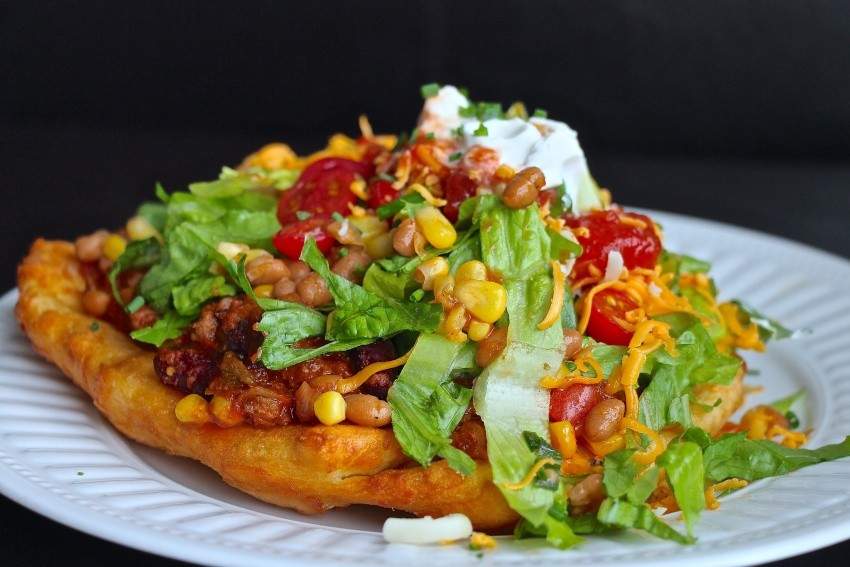 Chef and owner Christa Bruneau-Guenther opened Feast after noticing a lack of representation for Indigenous people looking to explore their culinary roots. She wanted people to experience the culture, tradition, history, people, and of course, the food of her people. The menu is packed with simple, approachable dishes, using bold flavours that are harvested, cooked, and eaten with respect to the plants and animals that provided nourishment. The roasted butternut squash bannock pizza comes drizzled with a maple lime sauce, pine nuts, and chives with the option to add bison sausage.
Wanuskewin Heritage Park – Saskatoon, SK
Once you've explored this National Historic Site that showcases almost 6,000 years of Northern Plains First Nations history, discover executive chef Kirk Borchardt's food, like the popular muskeg tea-battered whitefish and chips, or the juicy bison burger smothered in Saskatoon berry barbecue sauce served on a fresh bannock bun.
Lelem' Arts and Cultural Café – Fort Langley, B.C.
This bright, airy café lies along the Fraser River near the historic downtown Fort Langley. The menu is inspired by the temperate rainforests of the Pacific, incorporating some of the traditional flavours of a Coast Salish diet. Indulge in the mixed bannock basket with a selection of herbs, cheese, cranberry and cinnamon bannock served with seasonal compote and cedar sage butter.
Cookem Daisey's – Winnipeg, MB
This catering company is all about the fresh, the wild, and the flavour of wholesome old-fashioned meals. For 18 years, owner Glenna Henderson moved all over North America with her previous job of opening casinos. Along the way, she collected recipes and techniques from Indigenous families and communities across the continent. Her love of cooking came from growing up on Sagkeeng First Nation, where her grandmothers taught her how to prepare bannock and pick wild rice. This inspired her to name her company after her grandmother, Kokum Daisy. If you're looking for her to cater an event on any scale, don't forget to order her incredibly unique fry bread pie, which can't be found anywhere else.
Native Delights –Edmonton, AB
The popular food truck puts an Indigenous spin on our fast food favourites, using bannock instead of buns on burgers, hot dogs, and "Indian" tacos. What started as a restaurant several years ago has now downsized to a food truck, but that hasn't shrunken their success or popularity. The truck is a well-known favourite in the Edmonton food circuit.