Despite the attention and awareness of campaigns targeting sexual harassment in the workplace, it is still very much present in the Canadian workforce. Every day, there are numerous sexual harassment complaints filed. Since most victims feel powerless, and therefore afraid, to report sexual harassment, one can assume that it happens much more than we would care to acknowledge.
With the current allegations against award-winning winemaker, Norman Hardie, concerning sexual misconduct, The Ontario Wine Awards (OWA) has withdrawn its "winemaker of the year" award from him. In light of this and other harassment situations both large and small, Toronto industry veterans have come together to put on an important event centering around sexual harassment in the workplace.
Highly regarded industry professionals, including Cory Vitiello, Christina Veira (Side Duties) and Evelyn Chick (Pretty Ugly), want to shed light on the current situation and have a straight talk about the state that the industry is in right now. The Industry Sessions are an ongoing conversation series that seeks to engage in meaningful discussion on topics that affect the restaurant and hospitality industry. Vitiello, chef and owner of Flock Rotisserie + Greens, will discuss how he maintains a harassment-free environment at his rapidly growing restaurant empire; both Veira and Chick will talk about the challenges that the front of house faces from customers and how to deal with them; and a lawyer from Jellinek Law Office will also be present to provide information to people on their legal options. The event is being held at Dakota Tavern, where there will be wings, crinkle cut fries and drinks to go along with the discussions.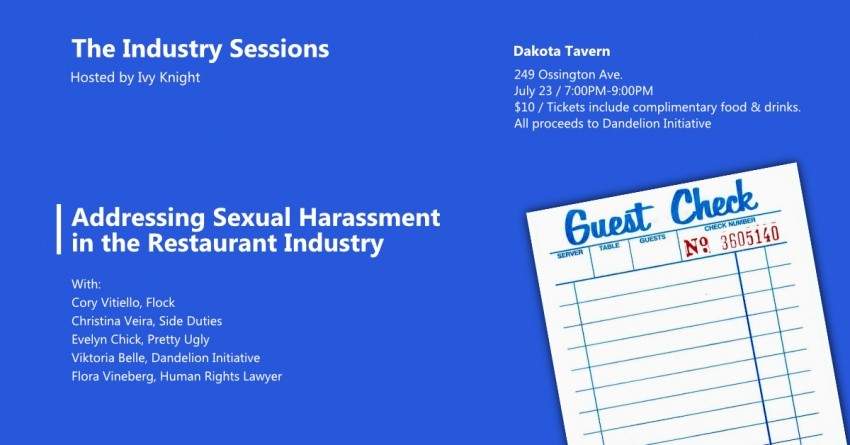 All proceeds from The Industry Sessions (hosted by Ivy Knight) will go toward the Dandelion Initiative, a registered non-profit organization based in Toronto, ON. The Dandelion Initiative is led by survivors for survivors, and aims to combat sexual misconduct in the hospitality industry and provide resources to victims.
The Industry Sessions take place on July 23, tickets are $10 dollars.