The merging of creative industries has become such a major point of cultural obsession that these days, rather than being viewed as an occasional welcome surprise, we've come to expect them. Musicians collaborating with activewear brands? A must. Fashion houses partnering with kitchen appliance brands? Hmm... Fast food chains collaborating with fast fashion brands? Sure, why not?
As you can see, not all collaborations serve a practical purpose: McDonald's and Moschino, White Castle and Telfar. But sometimes, a collaboration comes along that's makes so much sense that it sparks a "but of course!" heard far and wide—even if it was right under your nose the whole time and you didn't even know about it.
Case in point: the five Canadian restaurants below who have partnered with fashion designers to create some of the chicest uniforms you'll ever see.
La Palma and Pink Tartan (Toronto, ON)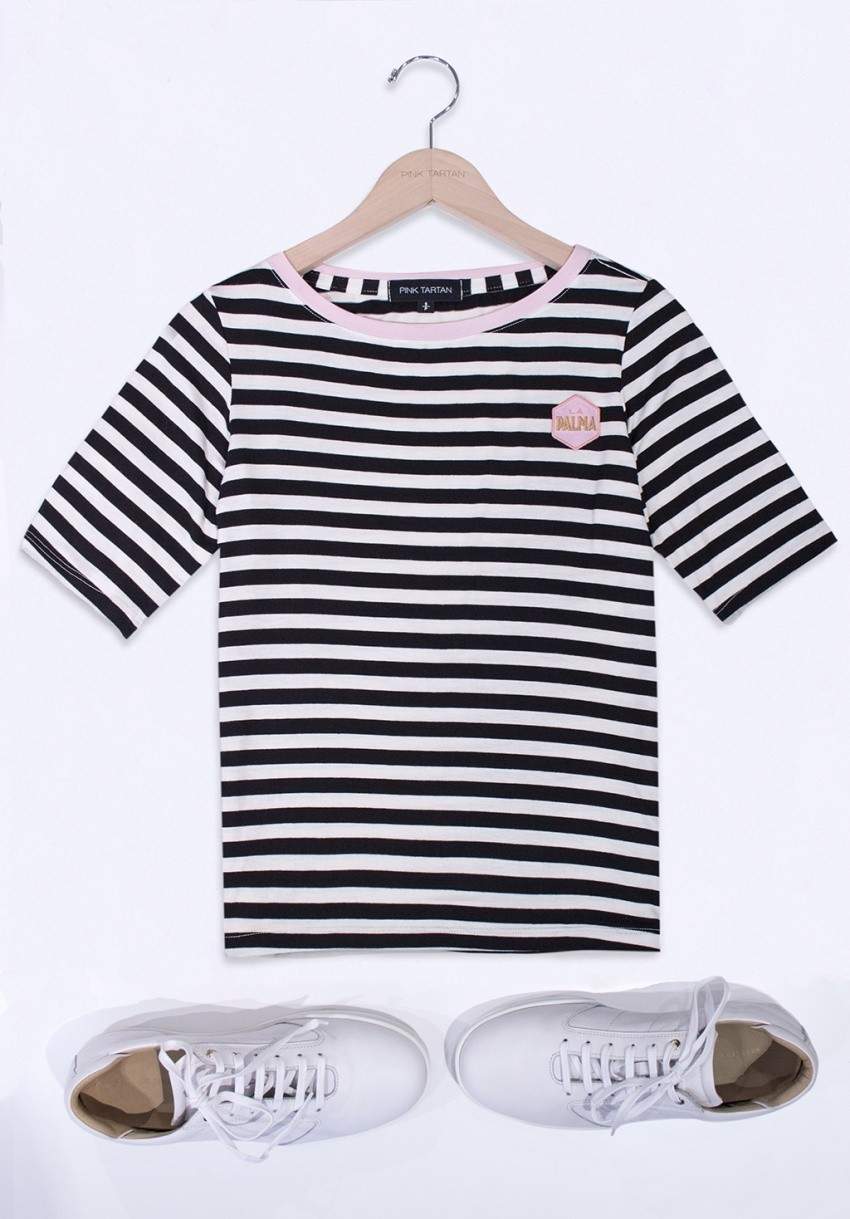 When this bright, Venice Beach-inspired, and very Instagrammable restaurant opened in 2017, servers wore cute black and white striped tops, with millennial pink accents (hey, we said it was 2017, after all) designed by Pink Tartan. "The concept of La Palma was based around embracing our artistic community," says Alexandra Hutchison, co-owner, interior designer and creative director. "I wanted to showcase local talent, and Pink Tartan was the first brand that came to mind because I personally love how Kim [Newport-Mimran]'s clothes make me feel, and the quality is second to none. I wanted our staff to not only look good but also feel great in what they're wearing."
The uniform was gradually phased out about six months ago—servers can now wear any striped shirt of their choosing—but this California-cool uniform, by way of two Canadian powerhouses, will always have a place in our hearts.
Donna Mac and Saturday Clothing (Calgary, AB)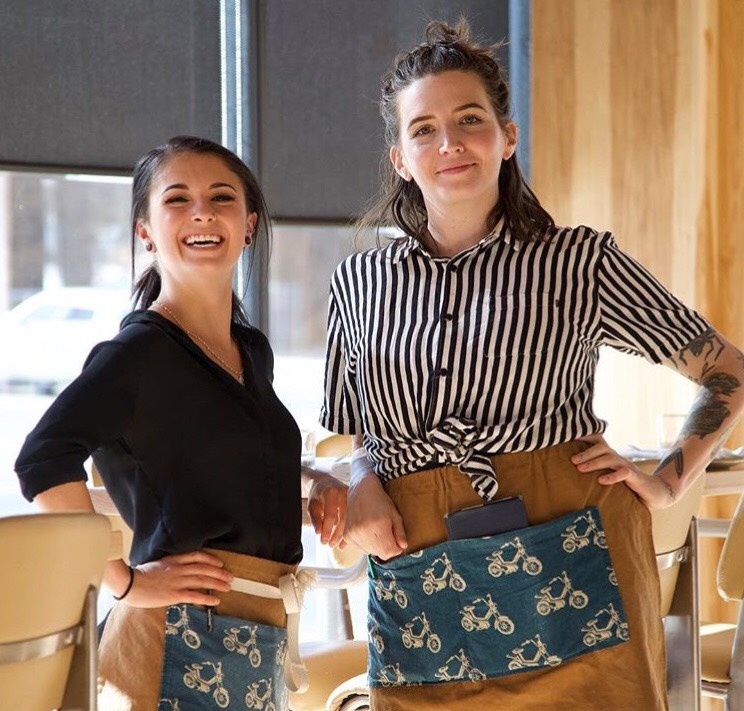 "I've always wanted aprons that were personalized and custom to us," says Amy Turner, owner of Donna Mac. "Something fun and bright. We partnered with Saturday Clothing and [they] brought our vision into reality. We have so many guests ask about them, so it's great cross exposure for a local producer." The signature style of Donna Mac aprons? Fun prints, from florals to bikes, that adorn the pockets, for a look that's playful, but certainly not over the top.
Ki Modern and Comrags (Toronto, ON)
One of Canada's most beloved and long-standing fashion brands, Comrags (founded in 1983 by Judy Cornish and Joyce Gunhouse), is the creative source behind the uniforms at Ki, which serves up contemporary Japanese cuisine. "We've been working with Comrags on our dining room uniforms for seven or eight years," explains Kelly Higginson, executive vice president of operations of Ki Modern Japanese and Bar. "The shirts were designed with some of the restaurant features integrated into [them]." For example, the red stripes that adorn the uniform shirts is designed to resemble an art installation that the restaurant houses.
Botanist and Lady and Butler (Vancouver, B.C.)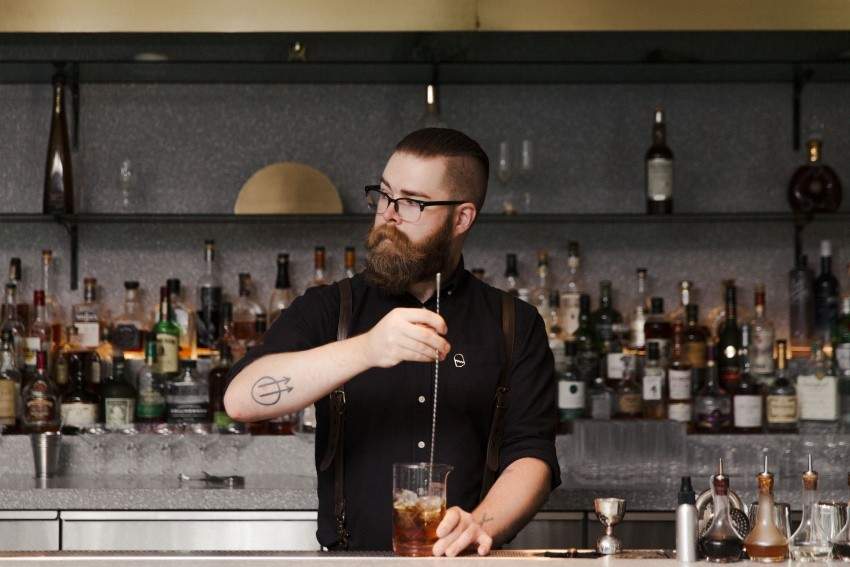 "While the food and beverages are the stars of the rooms, they have an incredibly well-dressed supporting cast," says Kaylyn Storey, public relations manager at Fairmont Pacific Rim. The lush, plant-filled oasis is the perfect backdrop for the stylish yet understated uniforms.
"Eli Canter of New York-based Lady and Butler Collections has designed custom fashion to complement each room. From sophisticated one-piece jumpsuits and voluminous skirts in neoprene, to playful, earth-toned shirts accessorized with bow ties and leather suspenders—snap!"
The Lobby Lounge at Fairmont Pacific Rim and UNTTLD (Vancouver, BC)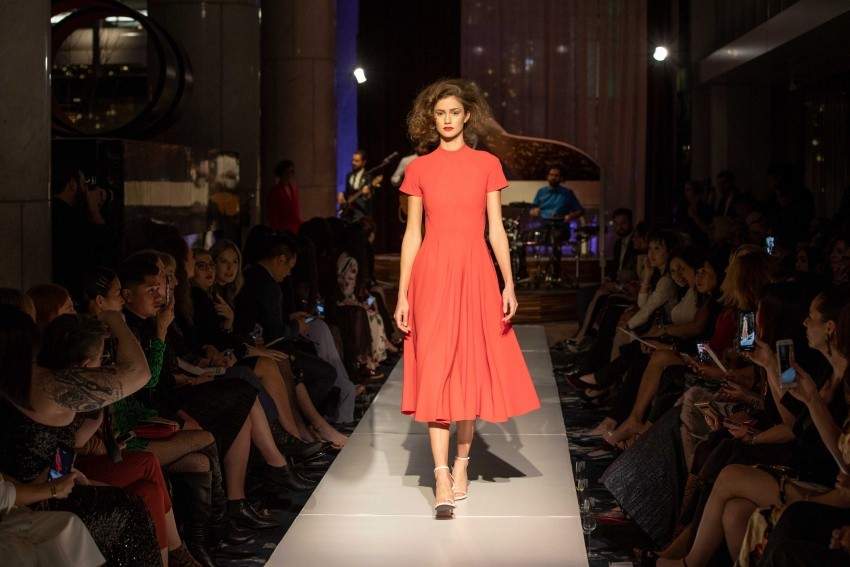 Hardly your average server's uniform, the retro-chic dresses worn by the staff at The Lobby Lounge have been designed by José Manuel St-Jacques and Simon Bélanger of UNTTLD, who have recently been awarded the best emerging design in the 2017 Canadian Arts and Fashion Awards. "Inspired by the colourful Molinari works that hang on the walls of the hotel lobby, this pop of colour is a welcoming contrast to the bold new look of The Lobby Lounge," says Nicole Campbell, marketing and public relations coordinator at Fairmont Pacific Rim.