Hailing from Vancouver, B.C., Josh Gale is a former corporate IT sales guy who's been displaying some unexpected prowess in the kitchen on the current and inaugural season of MasterChef Canada.
He has shown off his cooking skills to audiences across the country. Now, he's sharing a little more about himself, including his exciting plans for the future, and a little something about a scandalous tattoo.
From a life in IT to a life in the kitchen, what inspired you to apply for MasterChef Canada?
Well, I've been a huge fan of the American version of MasterChef since the first season. When I saw the commercials advertising the first Canadian season, I thought, "Cool. I'll definitely be watching that!" I had no plans to apply. For some reason, I just couldn't see myself cooking on TV. Thankfully, my friends and family disagreed with that and basically dragged me to fill out the application. I did, and 11 minutes later, I got a call from one of the producers, saying that they would love to have me at the Vancouver auditions. The rest is history.
You've only been cooking for a couple of years. What dish are you most proud of, and what is one thing that you've yet to master?
Well, I am definitely most proud of my audition dish that got me my white apron. All three judges gave me a "yes" and told me it was the best dish of the auditions. I made seared scallops on a grilled corn and avocado relish, with a charred red pepper puree, citrus foam and a bacon crumb. I had made this dish quite a few times for my friends and family; so, when it came time to pick an audition dish, it was unanimous: this was the one I was going to make.
Baking has always been the weak point of my cooking game, but I have really been working hard on that lately, and I finally have some decent baking and dessert skills to show. Somehow, the one baked good that seems to elude me is a simple batch of cookies. I've made a couple of good batches, but I'm pretty sure I've made more crappy ones than anything else. I think my problem is that I am horrible at sticking to a recipe, and I typically try to incorporate crazy ingredients, like bacon fat or numerous shots of bourbon. Mmm, bourbon.
How has your current gig at Vancouver's Fable restaurant impacted your life?
Working at Fable has been an amazing opportunity for me. It is an entirely different beast, working in a professional restaurant environment. At home, I can take my time and cook all day if I want. In the MasterChef kitchen, we have one hour to produce one amazing dish. But at the restaurant, we have to be cranking out amazing dishes over and over again for the entire day. The pressure is really high, but I find it extremely rewarding when we deliver a great service and see so many happy, satisfied guests. Being in this environment has shown me that I can thrive in a professional kitchen. I know this is where I want my path to go. It makes me work harder everyday so that someday soon, I can open my very own restaurant.
After competing on the show, you must have a few favourite and, well, dreaded ingredients to work with. What are they?
Well, most people would expect me to throw smelts at the top of that dreaded ingredients list. I had never seen them before that elimination challenge, so I just dredged them in flour and semolina and did a quick fry on them, and they were delicious! I would love to work with those little buggers again. I still wish Marida had chosen the ducks for us to work with, because they also had duck fat and foie gras, which are two of my utmost favourite ingredients to work with. I was just in New York for a few weeks, working at one of Daniel Boulud's Michelin-starred restaurants, and I got to see how they work with foie gras. The techniques blew my mind and I cannot wait to try some of them at home — a beignet filled with foie gras mousse, dusted with foie gras snow. Come on! Who wouldn't want to pile their face into that?
What was the toughest part of being on MasterChef: the other contestants, the judges or the challenges?
For me, the entire experience was amazing and life changing. I wish I could cook in that kitchen for those judges every day of my life. It really was a dream come true. I'm not really one to get sucked into the drama, so I really enjoyed cooking alongside the other contestants everyday. We all have such different backgrounds and ideas. I learned so much by being in such a diverse group. I look at every one of the other competitors as a close friend now, so picking the toughest aspect of the show is not easy. It would have to be the challenges: walking into the kitchen everyday, with your apron on the line, was not easy. There were definitely a few challenges that nearly gave me a panic attack (egg yolk ravioli in 45 minutes. Are you f-ing kidding me?) but I love nothing more than being faced with those challenges and working my butt off to succeed.
What's next for you, after this season of MasterChef?
Well, food is my life now, in every single way. I am looking to gain as much experience as possible by working in professional kitchens around the world, and I hope to translate that experience into a restaurant and a cookbook of my own in the near future. I have a deep passion for food and I absolutely love sharing that passion with other people and inspiring them to cook more, and getting in touch with the amazing produce and providers that we can all find in our own backyards.
I hear you're a little kitchen-gadget crazy. What's your dream tool or product?
I do love my kitchen gadgets. One tool that I must have after using it in the pork tenderloin mystery box challenge is a PolyScience Smoking Gun. I love adding smoke to my food, and that little gun is the best way that I've seen so far. That is at the top of my list and I cannot wait to get my hands on one.
I have to ask: where's the Gordon Ramsay tattoo (I did say I was getting a little more personal)?
Very few people in my life know the truth behind my tattoo. I think we may have to wait for our next interview before we get that intimate. And, you may have to buy me a couple drinks first! Ha, ha, ha.
So, can he cook?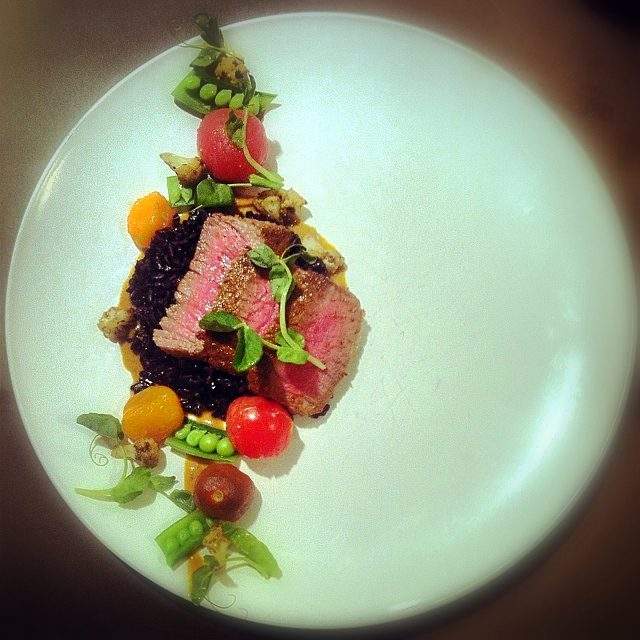 Well, we're assuming that Trevor Bird, Geoff Rogers and the rest of the kitchen staff at Fable don't just let any guy get up from the bar and into the kitchen, so we're going to go with yes. Besides, Mr. Gale snapped this picture of his curry-rubbed bison on black rice with coconut sauce, and it certainly doesn't look half bad. Not half bad at all!