Like it has for 1.4 million other Canadians, MasterChef Canada has piqued my interest. The deliciously good, the disgustingly bad, the grotesquely ugly, the oddly random (and I'm referring to the food, if that's unclear here, people) — the whole package, really, intrigues me.
But, the thing that I've always wondered about the MasterChef franchise is what exactly its competitors gain. Are these home cooks seriously pursuing a career in the culinary field once the cameras stop rolling? For many, likely not; but, I really believe that the drive to cook — really loving the art of cooking — is something that can't be stopped and the people who have it can take an opportunity like this and run with it.
When I met Danielle Cardozo earlier this year, it was clear that there was a lot more to her than a boring pot roast or apple pie. You can tell that her experience with MasterChef Canada has left her invigorated and excited to explore a future in the kitchen. Cardozo chats with me candidly about everything from cooking to why she's heading to Tel Aviv.
Why did you want to apply for MasterChef Canada?
I am a huge fan of MasterChef (U.S.) and the Australian version, so when I saw that there was a Canadian version in the works, I knew I had to apply! I obviously love to cook. I am constantly looking to better my life and fight to get a little further and be a little better. I knew that there couldn't be a downside to applying.
Does where you live (Cranbrook, B.C.) influence your cooking style?
Without a doubt, it does. I am surrounded by lakes and rivers, and my province is known for its seafood. My favorite dishes always include fish. Living in the mountains, it's important to me to keep things natural. Simple and clean is how I love to cook.
What's your "Oh shit!" ingredient? You know, that thing that you just never want to put into a dish.
Pineapple. I fucking hate it!
If you were a judge, what aspect of a dish would be the most important to you?
Flavours, of course! A dish can appear too simple; it can even look a little boring. A dish cannot, however, lack great flavours. With that said, I believe in respecting the ingredients. If I am cooking fish, I want it to taste like fish. I don't want it to be overloaded with cream sauces or chutneys. It's a waste of the life it's given you.
Most people on competitive reality TV say they didn't come to these shows to make friends. What does this mean to you?
Ha, ha... Well, I did not go there to make friends and, honestly, I didn't make too many. I'm not sorry about that; I was there to compete. I'm the type of person that you either love or you hate. The competitive side of me is difficult to love; I am quite aware of that. But, I will admit that I came home with a couple of solid friends who I adore and talk to daily.
Every show has its archetypal villain, underdog, etc. How do you think you will be portrayed?
Ha! Oh, this could go so many ways. I could be described as a self-absorbed, competitive, bossy, career-driven woman. Having said that, I am also an extremely loving, sensitive, and compassionate mom of three. You'll likely see a bit of each, I think. Regardless of what you see, you'll likely be seeing me. I'll own it, and give editing a little credit, too — even the dirty look you saw me giving Kaila in the premiere episode. Sorry Kaila! I consider it a gift to have a resting bitch face! Ha, ha.
When the season is complete, what will be on the agenda for you?
Tel Aviv, Israel! I have a huge crush on chef Alexander Lachnish. He trained at Heston Blumenthal's Fat Duck and owns his own food Lab. I am heading there this spring to learn some new techniques, explore the culture, and hopefully bring him home with me (to Canada)! At the very least, I will bring back some techniques to the Heid Out, the restaurant that I'm now sous cheffing at in Cranbrook!
(Although viewers weren't able to catch Danielle's full audition success during the first two episodes, CTV has salvaged what's on the cutting room floor, so to speak, so you can watch some of it here.)
So, can she cook?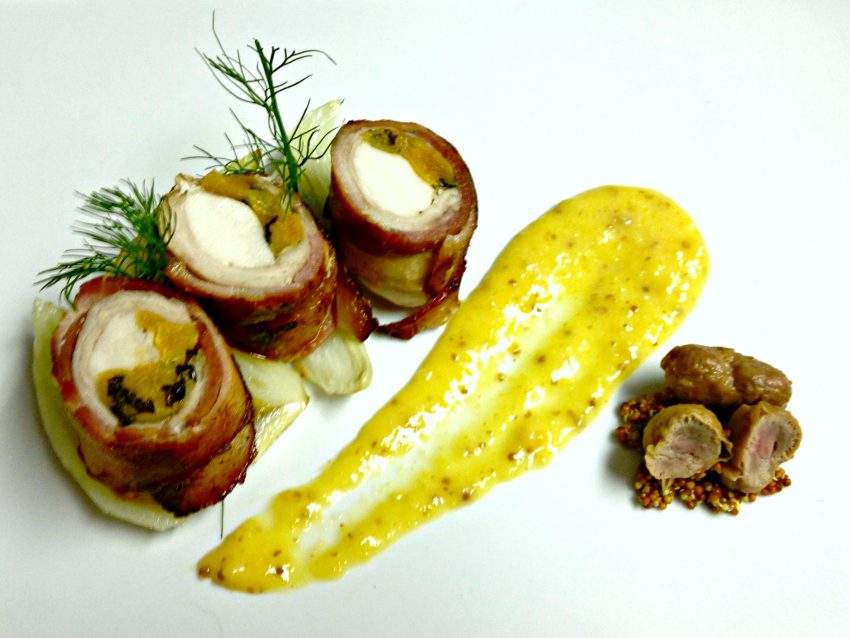 Ever since it was announced that Cardozo would be one of the top 50 MasterChef Canada finalists, I've noticed her getting more and more creative in the kitchen. This kale and apricot rabbit saddle, with sweet mustard and apricot sauce, and rabbit kidneys is definitely not a typical home cook's definition of dinner.
If this dish is any indication, I think she's pretty invested in sharpening those knives and growing her culinary prowess.