Anyone who's eaten hospital food or had photos of campus food sent to them by their kids will know that most institutional food… how shall I put this? Well, it sucks.
Soggy toast, cold porridge, overcooked pastas slathered in sauce, glossy "gravy" and dry meats—why does institutional food have to be awful?
Because while many of these kitchens are staffed by well-intentioned people doing the best they can with what they've got, what they've got to work with are palettes of highly processed ingredients purchased at the lowest price possible.
Chef and food activist, Joshna Maharaj, says that though this "mess" is thanks to government budget cuts, there is a tasty and nutritional way out.
In her newly released book, Take Back the Tray, Maharaj tackles the issue head-on, detailing her experience from mistakes and victories gained over 14 years of analyzing costs and producing delicious and nutritious institutional food—without breaking the institution's budget.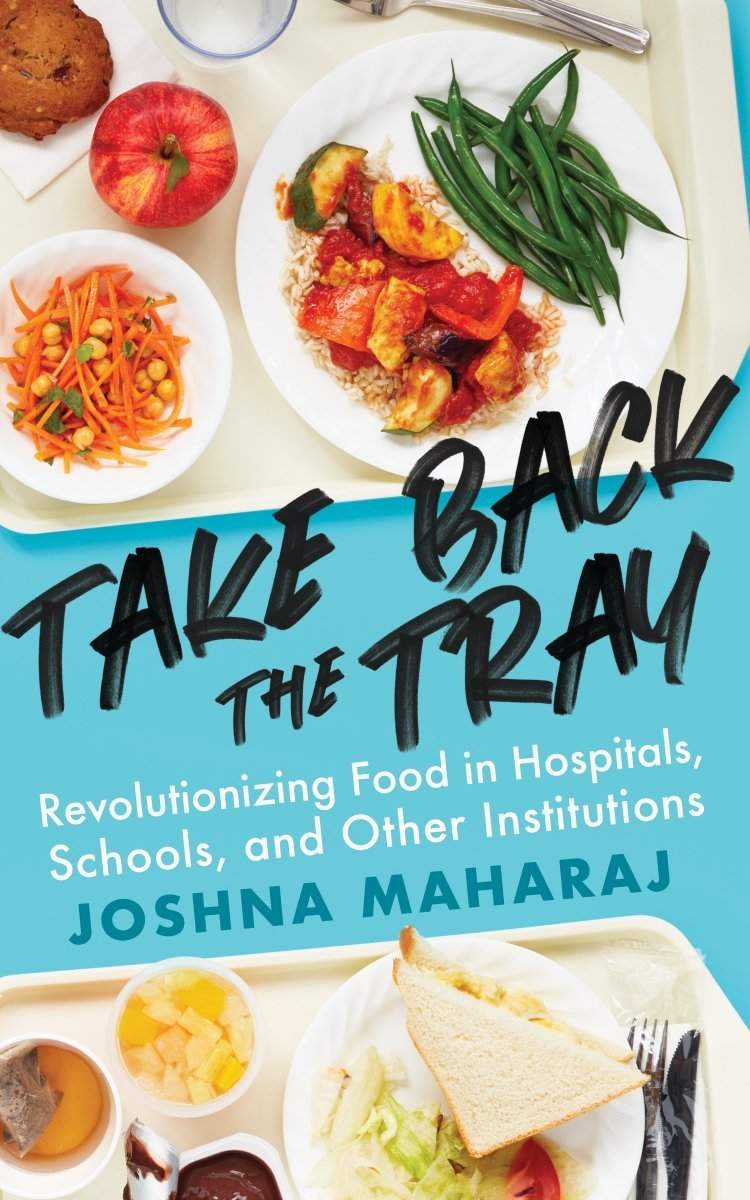 "The good news is there are huge holistic benefits, including economic ones, to [my suggested] changes; we just need to expand our focus beyond the bottom line. With hospitality and sustainability, we can work to rebuild the food system."
Maharaj revamped university and hospital menus to include made-from-scratch frittatas and fresh salads assembled from leaves plucked out of rooftop gardens. She sourced cookies from a local bakery and replaced commercial applesauce with sun-kissed local strawberries. House-made ravioli was stuffed with surplus grass-fed beef procured from a nearby farm. Fresh, nutritious institutional food is possible, folks.
Within one month, COVID-19 accomplished what the local food movement has been trying to achieve for 30 years: prove that the strength of our food supply depends on local producers.
This comes as no surprise to Joshna Maharaj. "We've made mistakes, but they can be fixed. It's time for an update."
The update isn't limited to institutions. Consumers, in general, need to change the way they think about food. How we do that, Maharaj writes in her book, is by shrinking the gap between producer and customer.
Maharaj notes that of the $20 billion worth of food imported into Ontario each year, 50 per cent of it could be produced in-province, and with that prioritization of agriculture and local production, $10 billion could be generated in additional income for the province's food sector. What that means is that for every dollar spent initially in the farm sector, about $2.25 circulates through the local economy.
That's substantial, and what's more, keeping food production close to home also lessens the amount of fossil fuels needed to ship that food in from other countries. If you wonder why a strawberry, peach or carrot in February tastes nothing like one purchased from a local farmer in season, it's because that item has been sprayed and treated with chemicals in order to survive, on average, a 1,600-kilometre journey from the field to your grocery store.
If ever there was a time to lean on community resources to feed the people in that community, it is now.
"I've been training 14 years for this moment," she said in an interview via WhatsApp. "I feel like a boxer in a ring. I'm finally going in, and I am ready!"
Take Back the Tray; Revolutionizing Food in Hospitals, Schools, and Institutions is part manifesto, party memoir and full-on wakeup call about prioritizing that which sustains us: food.
The book can be ordered online through independent retailers and Amazon.