As a food writer in Alberta, I am reminded time and again of the hard-working, and oft-unrecognized and underappreciated stewards of this province: the farmers, the growers, and the advocates who spend their time and money preaching to the masses about valuing what we are fortunate to have.
This spring, a group of stalwart Edmonton foodies hosted Eat Alberta 2017, a one-day terroir-driven food seminar at the NAIT Hokanson Centre for Culinary Arts. The Back to Basics theme coincided with Canada's 150th anniversary of Confederation. It was the perfect platform to celebrate and honour the First Nations people and immigrants who formed the backbone of our country. It was also an opportunity to showcase local product—from bison to rhubarb— and to bond over that which unites us: food.
Keynote speaker, local historian, John Hall, opened our eyes to the value of small-town living, where affordability and land availability is attracting young couples looking to provide for themselves by growing food outside of major centres.
While Hall focused on the issue of food production and securing farm land, award winning filmmaker and acclaimed Indigenous speaker of REDx Talks, Cowboy Smithx, spoke about another aspect of terroir—the frequency of the land; of listening and learning, and coming back to what we know.
"The land, like its people, tell us stories, if we allow ourselves to listen."
The Sessions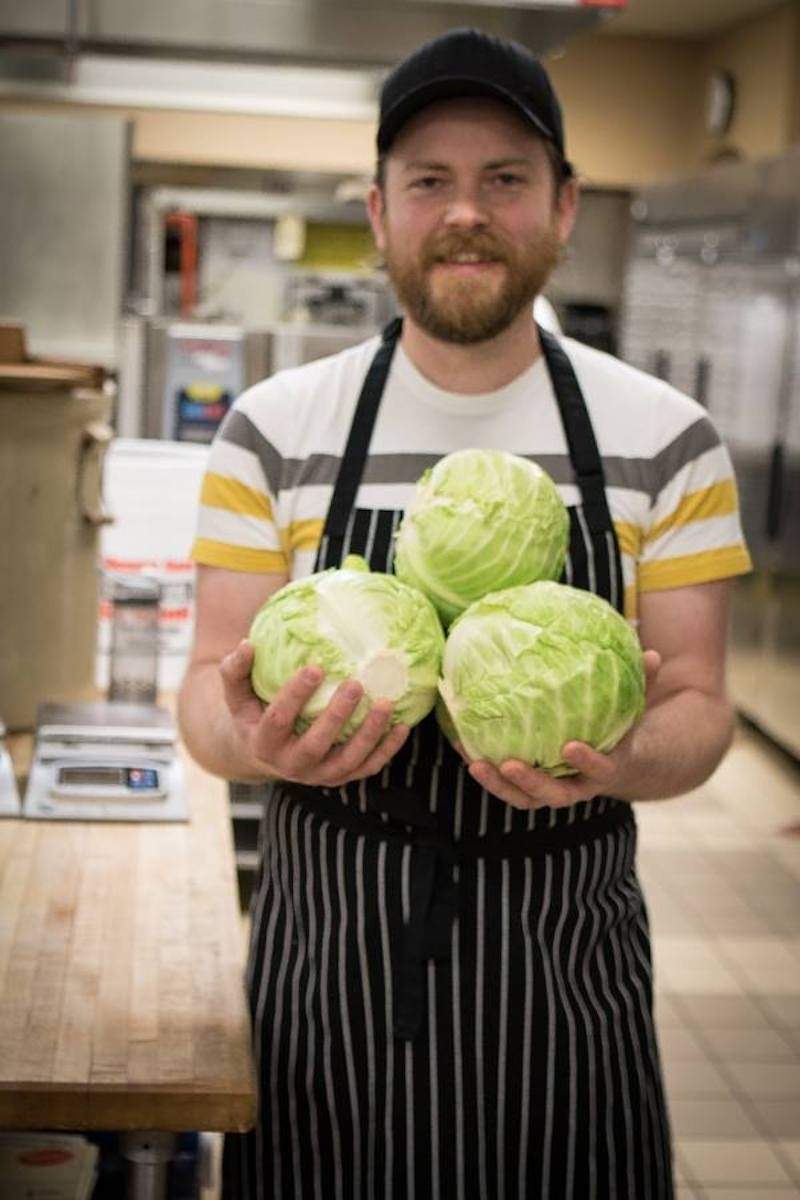 Chef Allan Suddaby spoke of what he knows in his Just Like Baba Used to Make It class. There is something about a man on his knees, hands deep in fermented cabbage that speaks to the prairie-dweller in all of us and Suddaby wasted no time getting down to business, seducing attendees with the sweet, sexy smell of sauerkraut. He alternated between extoling the virtues of pickling with stories of his grandparents who came to Canada from Eastern Europe. The land was foreign to them, but the terroir was similar, and they took comfort in familiarity, growing rutabaga, cabbage, and potatoes just as they did in the Old Country. Lucky participants also benefited from Suddaby's perogy making expertise. Sauerkraut and dumplings? As Baba would say, "Duzhe dobre!"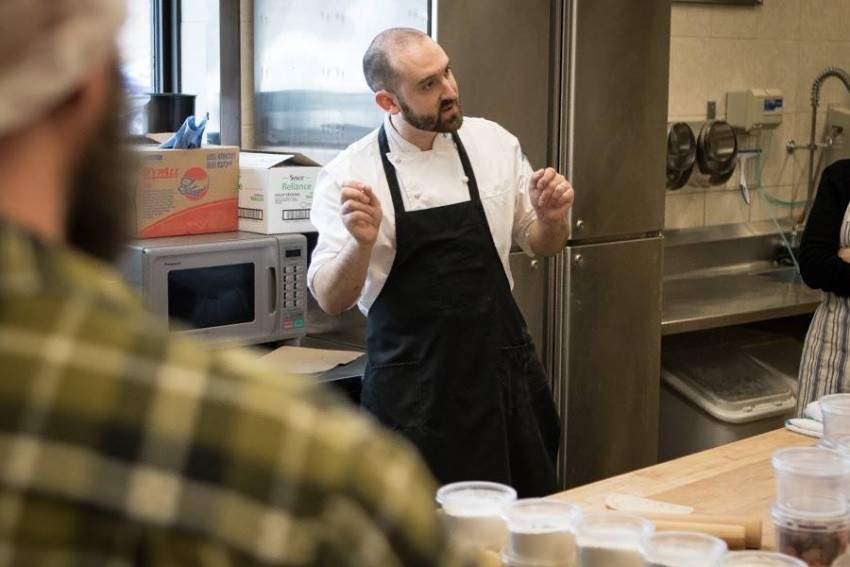 Steve Brochu brought the French side of Canada to the party in his Tasty Tourtiére class. This NAIT culinary grad, excited to be back this time on the instructing side of the classroom entertained and educated his students on the nuances of tourtiére—Chef Brochu's recipe done in the Lac St. Anne style with bison, duck and pork (all raised in Alberta, of course). Terroir is the reason so many different styles of tourtiére exist; what the land produces in a particular region directly affects the outcome of the pie. A thousand Canadian arguments have started over what constitutes real tourtiére. Let's just all agree to disagree and then sit down and eat our pies together, okay?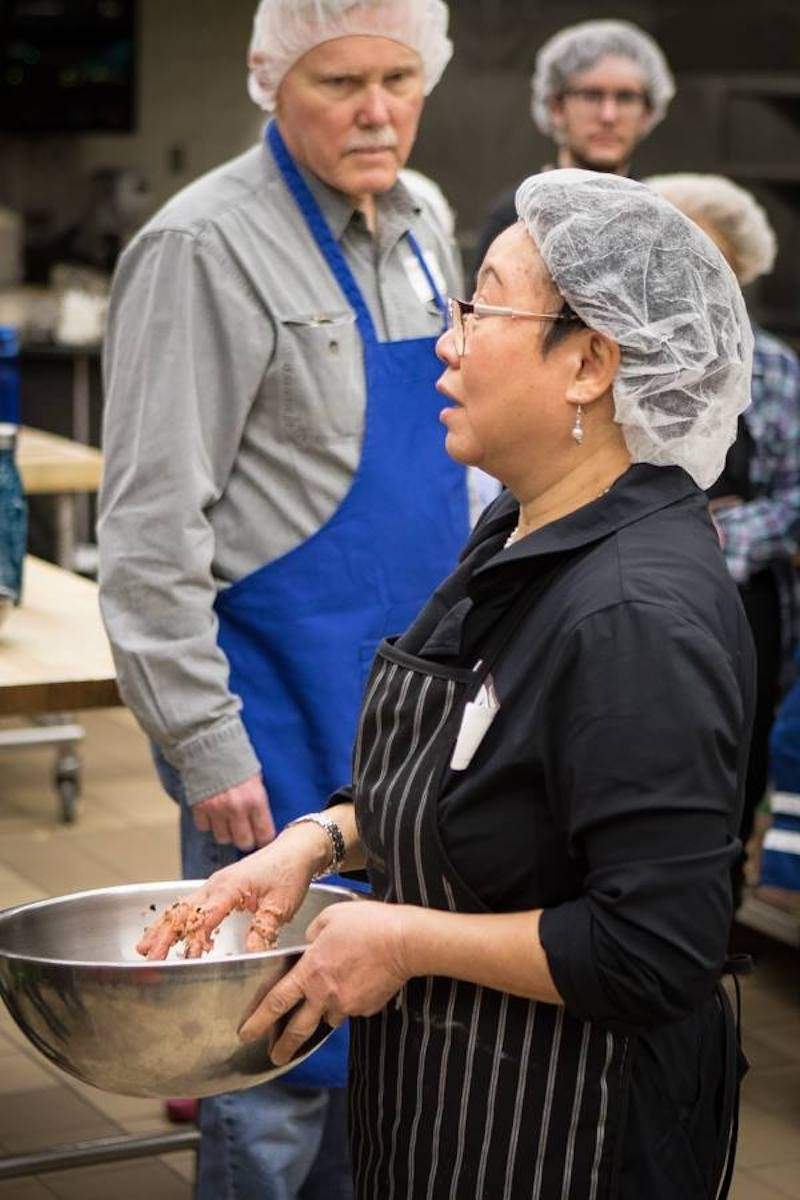 In the Chop Suey on the Prairies session, Kitty Poon whipped up spring rolls and Kung Pao chicken in record time. This small and mighty whirlwind's mantra is "cook with passion!" It was the railroad that brought many Chinese immigrants to the prairies, and the reason why there is a Chinese restaurant in almost every small town. Convincing meat-and-potato prairie folk to eat traditional Chinese food was no easy task however, and dishes like Kung Pao Chicken became westernized using local ingredients to suit the Canadian palate. With 30 years of cooking experience under her belt, Kitty is firm on sourcing local product and cooking with fresh ingredients. Trust me, you don't want to mess with Kitty Poon.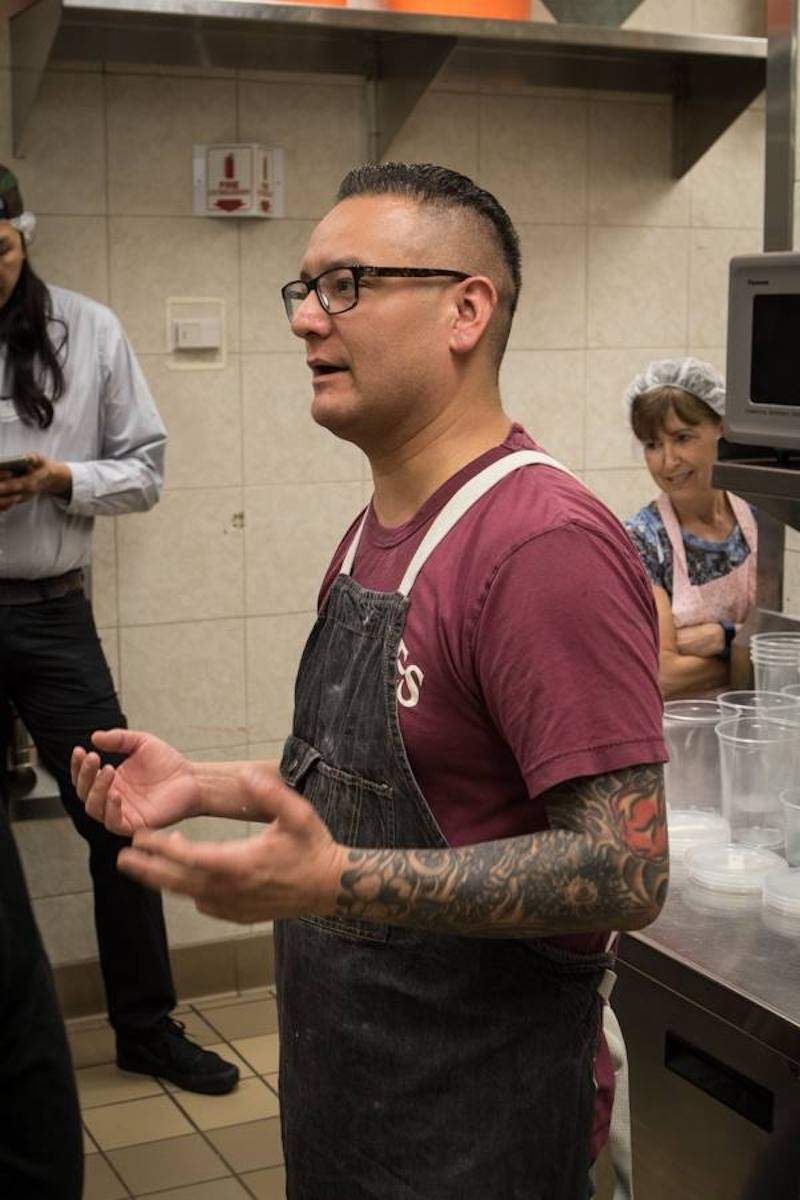 Chef Shane Chartrand, of Cree Indian heritage, was raised on a farm by his adoptive Metis family and lived the farm-to-table way of life before it became the buzzphrase of the decade. "Knowing the farmer and how the animals and plants are raised connects us with the terroir," he said while sharing his bison stew and bannock recipes with participants.
"Alberta's terroir is unique; our people make it better."
Well said, Chef.
Be a part of the story
You have an opportunity to be part of the team that will help share the knowledge of Alberta's incredible terroir in 2018. Eat Alberta is looking for volunteers to join their board for the next seminar. Although the deadline to apply has passed, you can still email them at team@eatalberta.ca .
Watch for tickets to go on sale for Eat Alberta 2018, bookmark their website for updates.