Following successful careers in the finance industry in Calgary, Jak Meyer and his wife Janice set out to master the art of living well and share their good fortune with others with a move out to the Okanagan in pursuit of creating world class wine.
After employing some of the industry's finest, including winemaker Chris Carson, Meyer Family Vineyards have more than achieved that goal with their offerings of pinot noir and chardonnay, receiving accolades from the industry year after year. Confident and at ease with his team, Jak spends his time assisting wherever the experts will let him, be it in the vineyard harvesting fruit to pouring wine in the tasting room.
Taking heed from Burgundy, their hand-harvested, small-lot offerings pay tribute to the unique microclimate of the Okanagan and more specifically, the individual terroir of their three vineyard sites.
Reimer Vineyard, located in Kelowna, consists of 100 per cent pinot noir with clones from Pommard and Dijon. The six acres of this steep south-facing site sit upon a bed of gravel and silt, allowing the vines to thrive and produce structured, age worthy expressions of pinot.
McLean Creek Road Vineyard, located in Okanagan Falls, is the Meyer Family's largest holding with 16 acres under vine. The sites steep south-facing slope and gravelly soil offer ideal ripening conditions for chardonnay and the ever finicky pinot noir (there's a reason why they call it the heartbreak grape) and include the signature McLean Creek, Old Block and Micro Cuvee.
Along Naramata Bench sits the Old Main Road Vineyard. The gentle northerly aspect of the vineyard and alluvial deposits are home to four acres of organically farmed chardonnay. Again, making allowances for the natural expression of individual terroir, this site has been divided into two separate parcels: Stevens Block and Old Main Road Vineyard.
Unique to their story, and a true testament to their desire to live well, Jak and Janice are passing along their good fortune to others through the winery's Tribute Series, a release of chardonnay produced from the Old Main Road vineyard. Each year, the Meyer family donates $5,000 to a choice non-profit foundation or scholarship in honour of one of the many great Canadians whose legacies they are looking to preserve. In previous years, these recipients have included the Hawksworth Young Chef Scholarship, Pat Quinn and his lasting legacy with Canuck Place Children's Hospice and The Emily Carr Institute of Art and Design.
2016 McLean Creek Road Vineyard Chardonnay
An extended growing season allowed for perfectly ripened fruit, lending the wine a richness while also maintaining bright acidity. Notes of green apple and peach appear on the nose with underlying notes of buttered sourdough bread, attributed to nearly one year in French Oak. There is a fullness on the palate with ripe notes of peach, balanced with lemon zest and tart green apple and a beautiful, almost smoky, finish.
2016 McLean Creek Road Vineyard Pinot Noir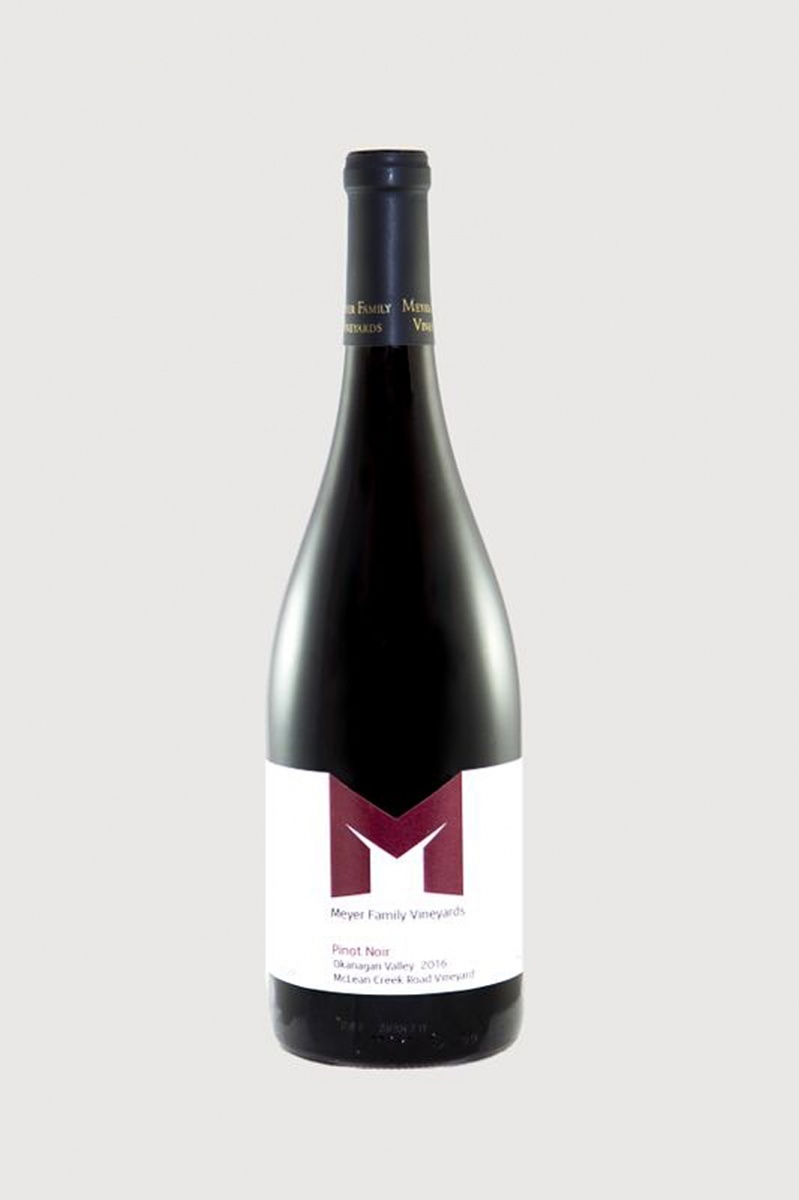 Well constructed pinot noir from the Okanagan has its own distinct character that's an expression of the soil and climate. This wine has ripe notes of black raspberry and candied strawberry on the nose with faint notes of fresh dill and wet cedar. Extending to the palate, the silky tannins and refreshing acidity lead you towards a harmonious and striking finish.