Biases, unfortunately, exist everywhere, even in food.
People tend not to see what they're not looking for. Up until recently, the R-word has been a big word reserved for big things, but as the world awakes, you can see how complicated the webbed layers of racism really is. Humans are complex beings and yet, we're forced to fit into a not-so-pretty checkbox. On top of that, the BIPOC acronym makes us more aware of the division between us--the opposite of what food is supposed to represent.
The system is not broken; it was built this way. Once you accept that it's not a malfunction of something that was once working, you begin to piece together how misconceptions and biases seep into our day-to-day.
Leaving aside the colonial oppression, systemic racism, or the "go home" and "Paki" comments that are harder to ignore, why is Gewürztraminer the go-to oenophilic answer for the cuisine of an entire continent of Asia? The "ethnic" label for aisles at grocery stores is all kinds of awkward. When the tandoor (clay) oven is originally from Persia, how has it become synonymous with Indian cooking? Indians don't use curry powder. That was also a colonial creation by the British way back when to make cooking Indian-ish food fast and more convenient.
Oh, and have you ever noticed how Ayurvedic ingredients like turmeric needed to be "claimed" by a white person or Starbucks to trend? (If you can taste the turmeric in your food or drink, you're doing it wrong.) Then, the desire for "authenticity", a seal of approval, even if someone has never been to that particular country or region from which the food hails. (Never mind that most people only want it on the condition that they still have control over the dish, customizing the heat level and accompanying condiments.)
It's what people want and restaurants use to appeal to customers, but if supporting local is about providing a sense of place, sense of time, and taste for both, should that "authenticity" even exist when I'm telling the story of the Okanagan?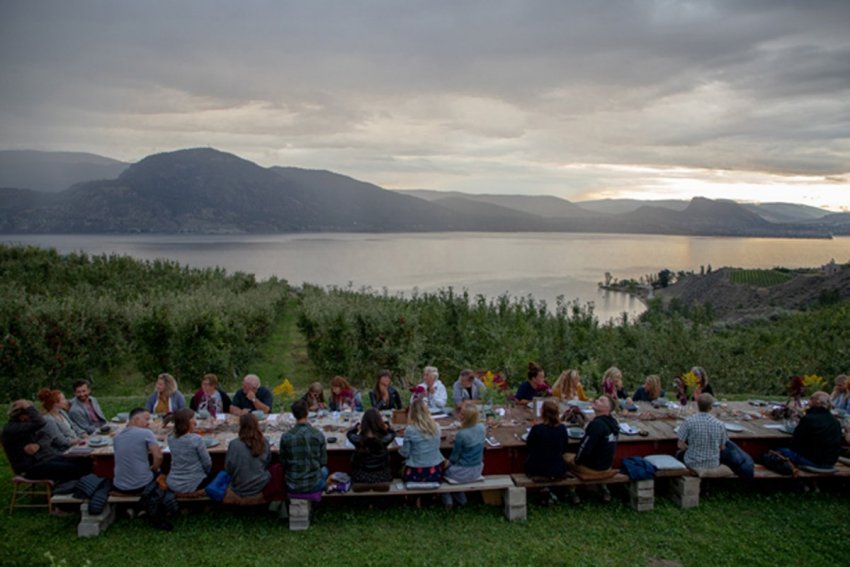 Our wine industry is what it is today because of helping hands from seasonal workers, primarily from Mexico. Yet, in one conversation, a prominent Okanagan winery found no discomfort in repeatedly referring to their seasonal vineyard workers, not by what they do (or better still, their names), but simply "the Mexicans". Tasting room staff assumes every Chinese visitor is solely interested in sweet wines, which is a huge missed upsell opportunity to one of the biggest growth markets for Canada.
The list can go on.
As someone born into it, my bullshit detectors are pretty on point. You feel racism long before it is seen; that's its silent strength.
Throughout the years, "ethnic" cuisines have been stereotyped as cheap food. When migrants first rocked up, prices had to be low for people to try it in the first place. As some of the most labour intensive dishes in the world, time doesn't necessarily equal a higher or even the correct price.
In the words of the late great, Anthony Bourdain:
"I would like people really to pay more for top-quality Mexican food. I think it's the most undervalued, unappreciated world cuisine with tremendous, tremendous potential. I'm very excited about the possibilities for that cuisine, and I think we should pay more attention to it, learn more about it, and value it more. This is frankly racism to assume that Mexican food or Indian food should be cheap. That's not right."
The world is starting to see what I see.
When we owned a restaurant, it was interesting how people were willing to spend $21.50 at places like Joey Restaurants for a "Bombay Butter Chicken" but struggled with the $16 price tag at Poppadoms.
Firstly, Butter Chicken is a dish created in a restaurant in Delhi, not Bombay (now Mumbai).
Secondly, for our version, I ate at that hole-in-the-wall in Delhi to taste the original and to figure out why Canada is obsessed with this OK north Indian dish. Recovering from "Delhi belly" as a result of the adventure, it took me a year to develop my version based on tasting notes and memories. But, our food costs are higher because we made a conscious decision to support local, and subsequently, our community. We cook from scratch, and have an understanding of how to layer the spices--but prices are still too expensive for an "Indian restaurant". I'm not saying all Indian restaurants serve up humanely- and ethically-raised local meats as we did and I continue to do, so I understand that this diligence is not practiced by everyone.
To give you a bit of background, I was born and raised in England, I jumped over the pond to Kelowna in 2008 and started a farm-to-table Indian restaurant without owning or working in a restaurant before. Then the recession hit. We were in a new place, in a new industry, with a lot at stake--failure was never an option. As a small family-run business, you do whatever it takes to keep the doors open, despite persistent staffing issues, health scares, and family emergencies. Fast-forward to the present, and I flipped the restaurant and conventional tourism model with The Paisley Notebook.
It's all about building community one pop up dinner at a time, creating magical experiences without the privileged price tag, turning locals into tourists, following the seasons, changing a few perceptions and behaviours along the way, telling my ever-changing story of the Okanagan and getting closer to our food source. Best of all, Canada is so edible that spices are the only ingredient I import. So, this is not just food.
Recently, I came across a quote by Neil Degrasse Tyson, which left me quietly retreating and reflecting on not the silent damage of past experiences but of freshly re-opened scars:
"In a way, I am who I am precisely because countless people, by their actions or inactions, said I would never be what I became. But what becomes of you if you don't possess this deep supply of fuel? Who from historically disenfranchised communities, including women, LGBTQ+, and anybody of colour, is missing — falling shy of their full potential, because they ran out of energy and gave up trying."
It resonated so hard that I'm guilty of devaluing my own self. Last year's Sourced farm dinners were $100 (without drinks) compared to $140 to 185 found in the Okanagan this year. Once you see it on paper, I had to charge $120 per person as a base to be equal and financially viable. I don't own a restaurant and I'm not a caterer, and I'm not saying my experiences are better; they're just different and perhaps harder to define. Despite winning a national tourism award and consistently sending updates to media partners, I didn't sell out of tickets. After quitting my toxic day job, I needed Paisley to fly, and I'm good at what I do.
It's time to change the stories by changing the storytellers. And we need more Anthony Bourdains in the world because we honestly can't do this all by ourselves.