When you're in the heat of the moment, or kitchen, sometimes you make mistakes or succumb to lapses in judgement. In a competition where everything is on the line and you can end up landing $100,000, a single error can be detrimental. That being said, mistakes happen even to the best of us, and for these Top Chef Canada alumni, they just happened to be captured on television.
From season one's winning chef, Dale Mackay to season three's charming, beaver ball-making Nicole Gomes and a few characters in between, 10 past Top Chef Canada competitors recall some side-splitting, less-than-glorious moments.
Andrea Nicholson (Toronto, ON)
This chef is a perfect illustration of what fantastic opportunities may arise after being on a show like this. Once season one finished airing, Nicholson went on to join the cast of Food Network Canada's Restaurant Takeover. As well, her artisan condiment line, Killer Condiments, is now booming and was just recently featured on Food Factory. Always keeping busy, Nicholson looks back to her experiences on the series.
"Watching the season back, one of the funniest/palm-to-the-head moments I saw was when Jamie Hertz made his blue cheese risotto at the art gallery and related the rank smell of the cheese to Darryl Crumb's flatulence. Ha, ha, ha. Really! Good times!
But honestly, after finishing my last challenge on the first season of Top Chef Canada, my mind became the best PVR on the market. It replayed the good and the bad over and over and over -- things you should have done, would have done or could have done. But, at the end of the day, it's done, and my true reality started again. With time, your cringe-worthy moments become really laughable, educational and, most importantly, humbling moments!"
Dan Hudson (Duncan, BC)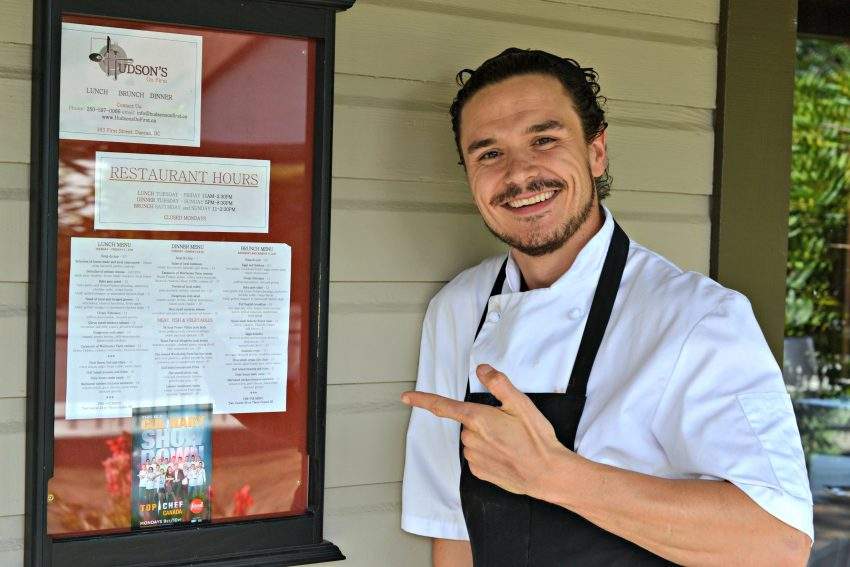 This charming Brit didn't fare as well as he had hoped for season three of Top Chef Canada, but if his restaurant, Hudson's on First, making it onto enRoute magazine's list of best new restaurants is any indication, I think his wounds have healed and he's doing just fine.
"Definitely that 'dog biscuit scenario' I got myself into with Rory White that sent me home! I wanted to crawl into a hole, but we still joke about it now -- the whole shortbread-tasting-like-a-dog-biscuit thing -- I even served some dog biscuit-shaped shortbread as a petit four at my restaurant once. You've got to be able to laugh at yourself sometimes, right?"
Nicole Gomes (Calgary, AB)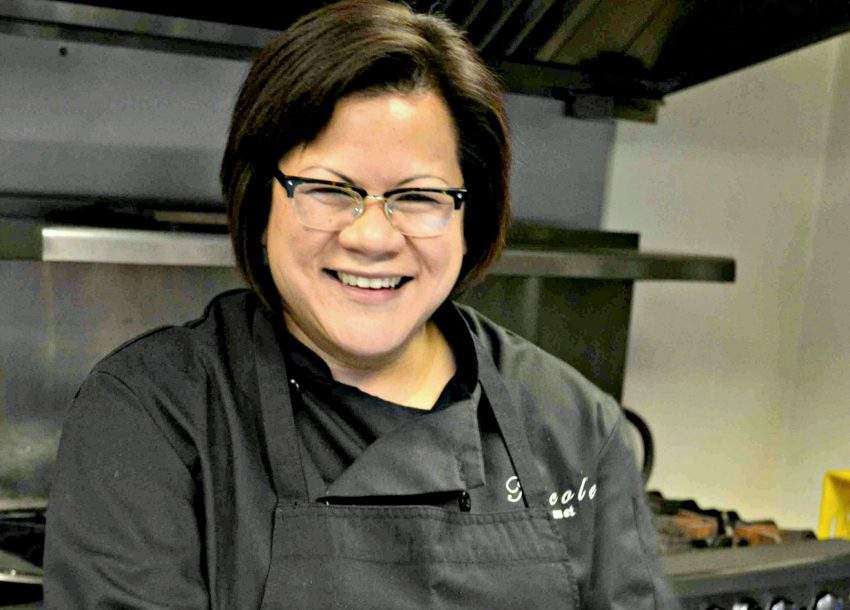 If Gomes' bubbly, yet Tazmanian-Devil-like (as defined by Jonathan Goodyear) charisma in the kitchen didn't make you smile or laugh at least once, then you need to lighten up. Since placing fifth on season three of the show, she's been busy with her catering company, Nicole Gourmet. This moment below may have ended up on the cutting room floor, but Gomes was more than happy to share it!
"This wasn't shown on television (thank God!), but I fell down a whole flight of marble stairs one night - it may have been the gin. In the morning, all of the boys asked me how I was feeling. I said, 'I'm not even hungover; I feel great!' Their reply? 'No Nicole. How's your back? You fell down the stairs!' Then I realized that was why my bum was sore! Is that cringe-worthy enough? Ha, ha, ha.
But, on a happier note, my favourite moment during filming was Jonathan Goodyear's birthday. All of the guys had a late night dinner and woke me up to join in. It was so great to sit and get to know one another. For me, those were the best moments of Top Chef Canada; building genuine connections and relationships."
Joel Aubie (Bathurst, NB)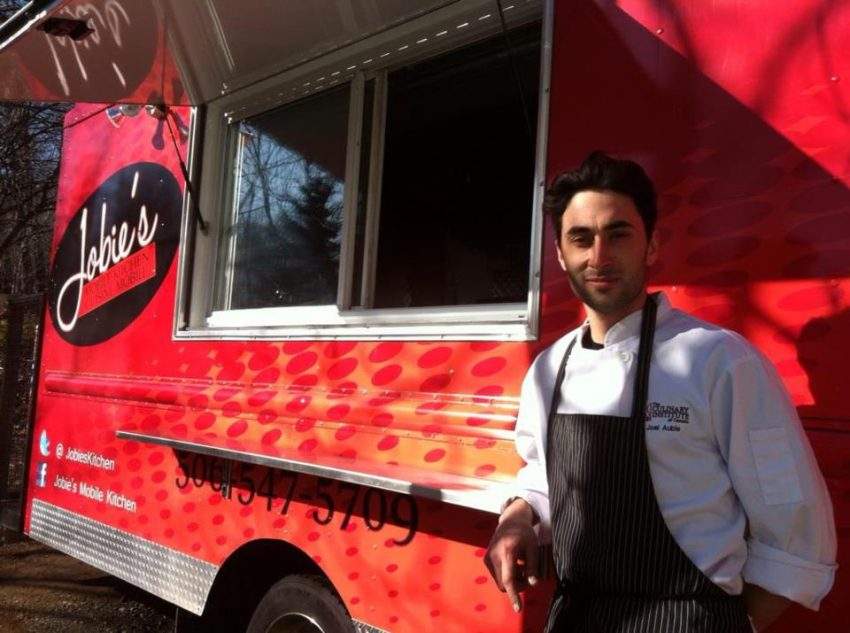 This East Coast chef from season two has been on the move (literally) since opening his food truck, Jobie's Mobile Kitchen in his hometown of Bathurst, New Brunswick. What's one life lesson Aubie took away from Top Chef Cananda? Scallop sausages may not be as easy to execute as they seem.
"For me it was the scallop sausage that I made early on in the second season. It didn't work for me right from the beginning. The sausage stuffer gave me a hard time, then the texture was not right. When I overheard the judges discussing it, I knew I was going to be the bottom that week for sure! Damn scallop sausage!"
Xavier Lacaze (Calgary, AB)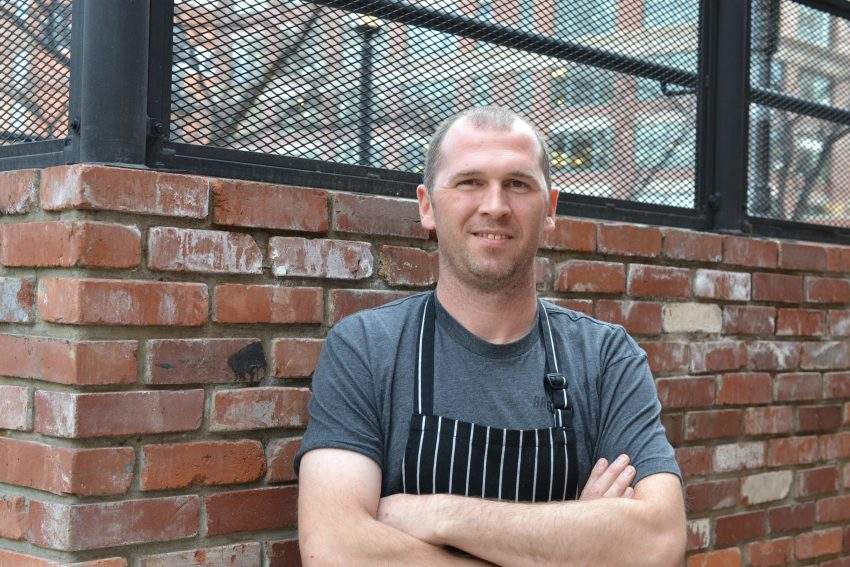 Since placing fifth on the second season of the series, Lacaze has been keeping busy in Calgary between opening Briggs Kitchen and Bar last summer and being a devoted dad to his two children. The only French "import" of the alumni group thinks back to an appetizer gone so, so wrong on the show.
"For me, I think it was the second challenge on the show. I teamed up with Sara to make some appetizers for Shereen Arazm's baby shower. She decided to make a sweet piece and I was doing a savoury one. Hers sent her home because it wasn't great and mine almost sent me home too. I made a crispy prosciutto-wrapped goat cheese with fresh figs and it had good feedback back at Muse (the restaurant I used to work at in Calgary), but the judges hated it and told me several times at judges table how disgusting it was and how they couldn't eat it.
My confidence level went down after that, but I moved on. I didn't really know what their reaction was to the dish until I saw it on television with a full restaurant cheering for me. Both Lisa and Shereen spit it out and almost threw up because of it. I think that was the first time I saw such a bad reaction to the food I cooked. So, yes. Pretty embarrassing moment!"
Dennis Tay (Toronto, ON)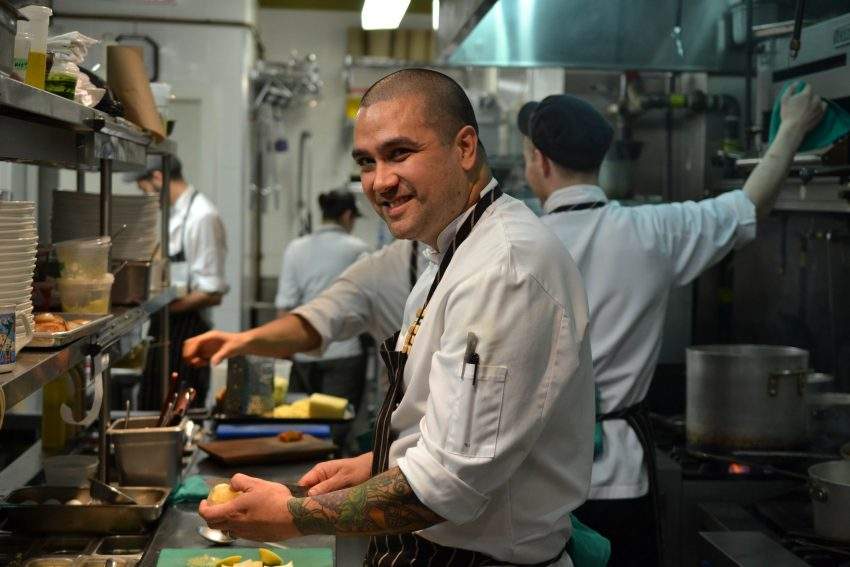 Just wrapping up his gig at Richmond Station (where he worked with 2012's Top Chef Canada winner, Carl Heinrich), Tay is getting set to join the team at GwaiLo, a highly-anticipated "Asian brasserie" in Toronto. He's been enjoying his life in the kitchen since finishing the show at a very respectable fourth place. Second chances don't happen often in life and even less so on television, so this chef considers himself lucky after this low moment.
"My worst moment on Top Chef Canada was definitely getting eliminated for the first time over putting too much tarragon in our dish during one of the first challenges of season three. It was so disappointing to go out so early. Watching it on television, I could see myself just about to lose it on camera. That was for sure a low point in my career and it made me wonder if I should keep cooking or not. I don't think I ever want to watch that part ever again! Thank God for redemption challenge episodes!"
Derek Bocking (Montreal, QC)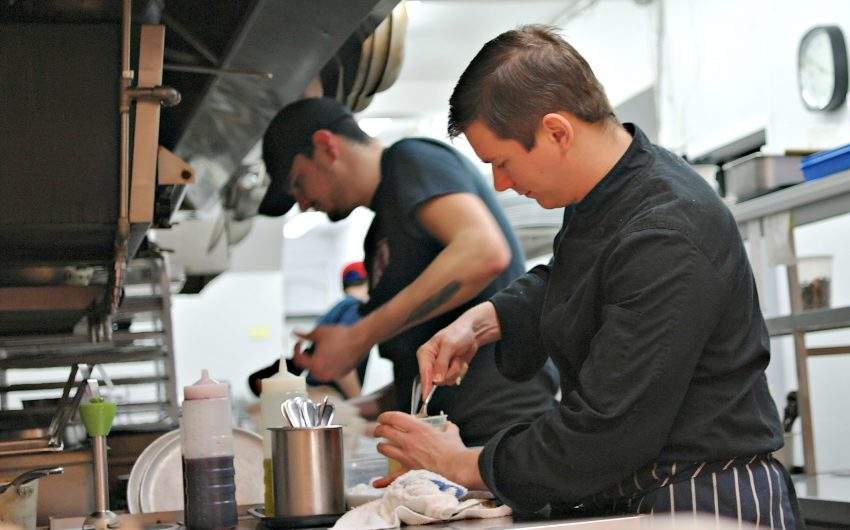 Oddly enough, there has not been very many Montreal-based chefs over the four seasons of the series. Season one's Derek Bocking, currently the executive chef at Icone in Montreal, cooked against some formidable chefs, including Connie Desousa and Dale Mackay during his time on the show. Through the ups and downs of filming, he remembers a little altercation with competitor Andrea Nicholson.
"I remember when we were in a challenge brainstorming for a Russian-themed dinner, I blurted out, 'When I think of Russia, I think of yogurt!', thinking of the fermented milk drink (kefir), which I love. Andrea went ballistic and started ranting about how she has been to Russia and nobody eats yogurt there. I was feeling a bit murder-y at the time, but I've since run into her in Toronto and she is super friendly, so all has been forgiven. Ha, ha, ha!'
Chris Shaften (Calgary, AB)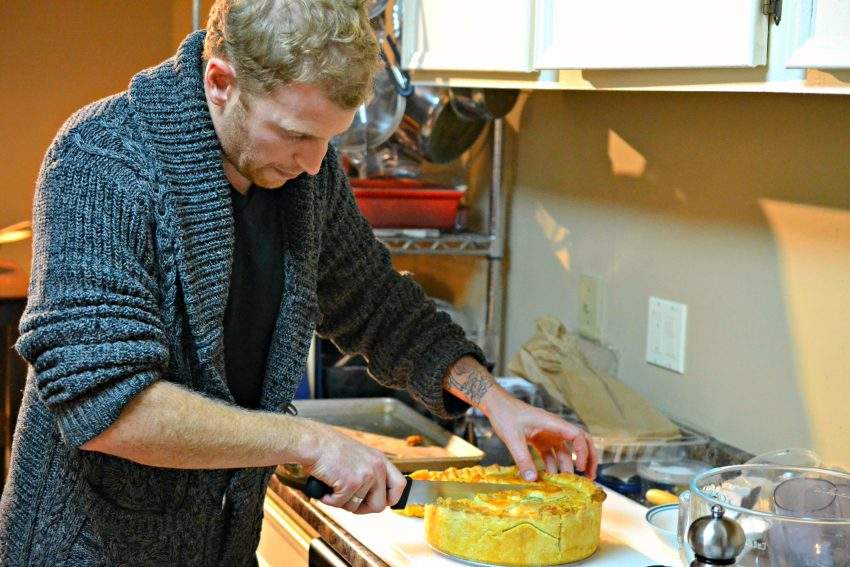 Season three's resident troublemaker, Chris Shaften, was most memorable on the series for his off-the-cuff remarks and care-free nature. I'm almost positive he's the only competitor in the history of Top Chef Canada that actually laughed when he was eliminated from the competition. Oh well, a smile is always better than tears. Currently in the process of relocating to Kelowna to open up his first restaurant, Shaften jovially relives his exit from the show.
"The other week, I was catering a private event and this one guest came up to me while I was plating canapes and started talking to me about Top Chef Canada. I was explaining the challenge where we had to make 'Canada's next iconic dish', the episode where I was booted and he said, 'Well, do you know what you should have made? Some sort of bologna and cheese sandwich!' I burst out laughing because that's exactly what I was trying to execute before my emulsified sausage went horribly wrong! Instead, I ended up with a 'picklewich', which I think you will never, ever let me live down, Clapson."
Jonathan Korecki (Ottawa, ON)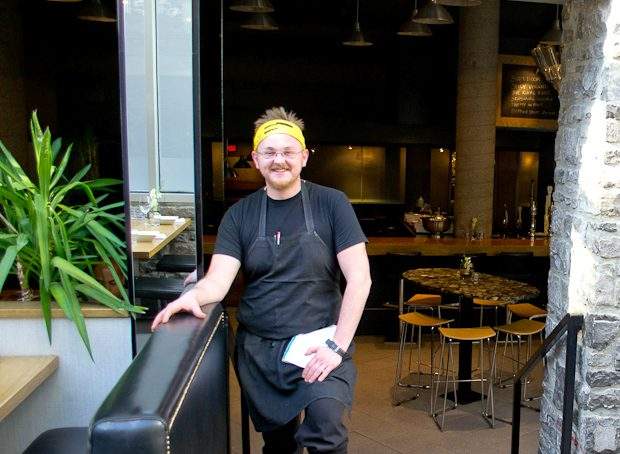 It's nice to see another Ottawa chef doing quite well on the current season of Top Chef Canada, but it's hard to be as likeable as season two's Jonny Korecki. The bandana-wearing, happy-go-lucky chef and owner of Side Door Kitchen and Bar recalls serving a Kraft Dinner-based dish (incorporating KD was part of the challenge, not the chef's whim!) that did not go over too well.
"There were a lot of cringe-worthy times on my season of Top Chef Canada! The funniest one I can remember was feeding an uni cauliflower coconut curry Kraft Dinner creation [during a quickfire challenge] to Keshia Chanté and Lisa Ray! I only remembered after the fact that Lisa hates cauliflower and Keshia hates uni. Bad choice on my part. Gotta remember who you're cooking for!"
Dale Mackay (Saskatoon, SK)
Though he's one of the busiest chefs in the country right now with his new, hard-to-snag-a-seat establishment, Ayden Kitchen and Bar in Saskatoon, the season one winner took a few minutes to share his not-so-proudest moment from his time on Top Chef Canada.
"I have a couple, for sure, but I'd probably say when I got a little angry about getting Trinidad and India for a street food challenge on the show when everyone else got places like Italy or America, the more basic ones. I wasn't even allowed to go to a Trinidadian market to shop for ingredients and I wasn't familiar with that kind of cuisine at all. I definitely acted like a baby about the situation and it was a little bit embarrasing to watch when that episode aired. I cringed as soon I saw that moment it on television."