Banff's food scene has been consistently evolving, with new chefs, restaurants and reimagination of existing venues. The newest addition to its little restaurant community is a wood-fired focused eatery named Farm and Fire. Situated inside the Elk + Avenue hotel and owned by Pursuit--a company primarily known for adventure experiences--this eatery says it's placing preference on Alberta-raised or grown ingredients and aiming to showcase them by way of rotisserie and their forno oven.
The restaurant's executive chef Scott Hergott cut his teeth for years at the Fairmont Banff Springs before joining Pursuit, first at Banff's Sky Bistro and now here at Farm and Fire. The open kitchen design is paired with a simple design with light wood with hints of blues and greys, as well as plenty of natural light.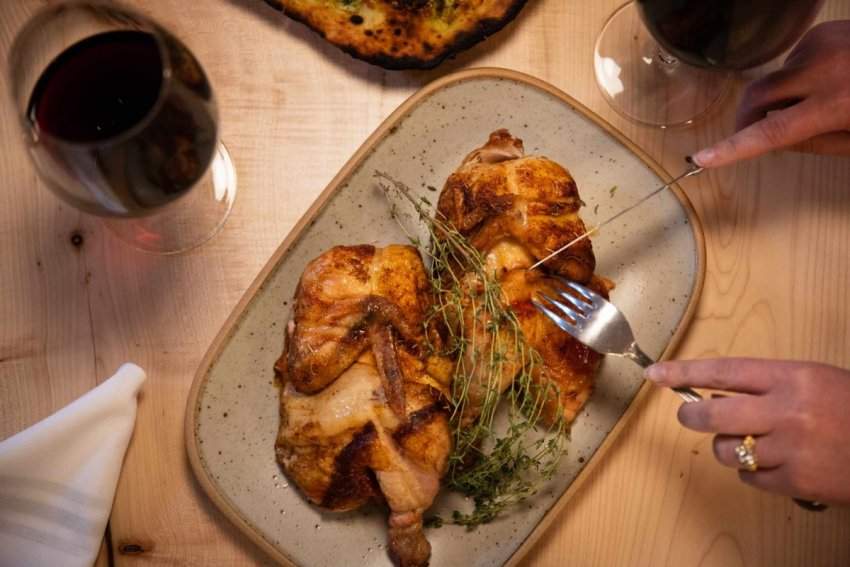 "We want to deliver a culinary experience that is both unassuming and welcoming, that centres around quality-driven ingredients," he said in the restaurant's opening announcement. "Our emphasis on both fire-based and slow-roasted cooking techniques provides guests with simple, yet flavourful dishes."
Hergott's menu includes dishes like chicken rillette with Saskatoon berry preserve and bannock, rotisserie chicken, porchetta with preserved lemon gremolata and more. When it comes to beverages, expect plenty of Alberta micro-distillery spirits behind the bar, including Park Distillery (Banff), Wild Life Distillery (Canmore), Eau Claire Distillery (Black Diamond) and more.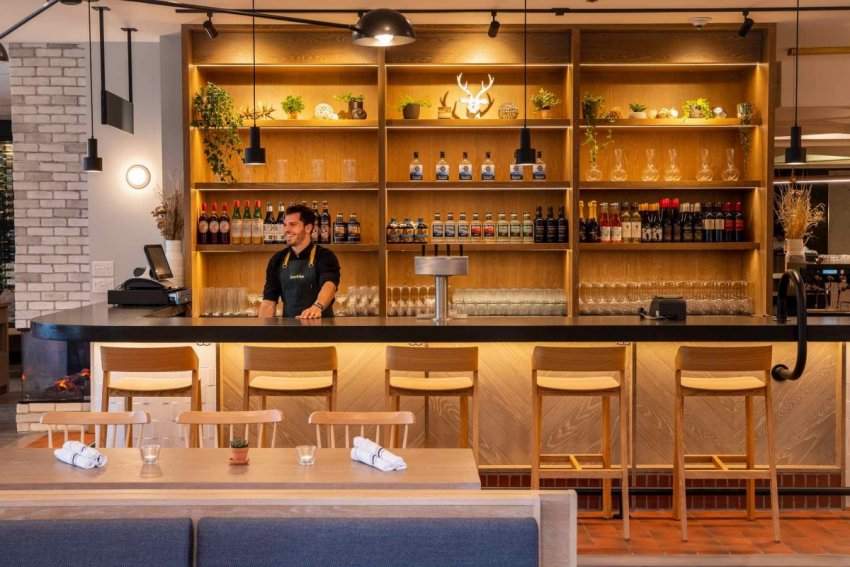 Although the hospitality industry has been scrambling in the past months, the opening of this restaurant is aimed at recreating the welcoming environment that Banff provided not even four months ago. Like all hotel properties and restaurants in the mountain town, Farm and Fire ensures extensive safety measures are being taken, such as constant sanitation, physical distancing and additional training protocols for staff.
Banff's newest restaurant is open seven days a week, 11:30 a.m. until 9 p.m. (for dinner), with the bar staying open later into the evenings.