With its gentle autumns, timid winters and bright, flourishing springs and summers, Vancouver Island just might be the best place to live in all of Canada for locally-grown produce, amazing sustainable seafood and all of that. You know, if you're into that sort of thing. Well, chef Ali Ryan of Spinnakers--the country's oldest brewpub and a local food leader in the Victoria scene--certainly is into that sort of thing.
You'll see that the idea of "local" isn't just a marketing gimic on her menu that spans from sunrise to late night. Take the burgers, for example, that are made with island-raised cattle and chicken, both fed with the spent grains from the business' brewing processes. Ryan makes an effort to partner with all sorts of growers and producers, including the innovative local urban gardener TOPSOIL for all sorts of ridiculously fresh produce that's been picked literally down the road.
Over a hearty brunch of beer-braised pork shoulder Benny and a warming chai latte made with tea from local purveyor Silk Road Tea, Ryan opens up about why she's stuck around at Spinnakers as the head chef for over 15 years, why a person should feel lucky to live in Victoria, how working her way across Western Canada at tree planting camps in her younger days helped turn her into a passionate executive chef and plenty more.
Looking back, what do you think of your career as a chef so far?
That I was never meant to be here! Ha, ha, ha. No, I'm kidding, but I think I was initially destined to be a normal human...I think? I had a degree in biochemistry, but as I put myself through university, I would go tree planting over the summers.
How does tree planting part-time morph into a career as a chef?
I grew up in Ontario. I'm an Ottawa girl and my family always grew vegetables. My dad's garden could pretty much feed a family of four for nine months of the year with preserving and freezing and all of that. That's just how I grew up. Very little grocery store, pre-packaged sort of stuff and my mom was also a phenomenal cook. That way of life was normal.
When I was in university I realized that this wasn't normal for the vast majority of people--just going to the grocery and seeing the crap, then eating the crap. All of this would percolate in my head when I was up north.
Just that idea of how food can play an important part in a person's day-to-day?
Well, there was this moment of realization. When you're up north working like that for 12 hours straight, food is the most important thing. We had a great camp cook who made delicious, from-scratch food. We'd do seven days in camp, eat good quality food and then go into town for a couple of days and eat things like McDonald's, all of that industrial sort of food. Once you got back to camp, you could actually feel the effect of that food. On our energy, abilities, even the smells coming off of you. It was fascinating.
How did you get into the camp kitchen?
Well, I quickly realized that the cook at the camp was the most powerful person in the camp. There's no two ways about it. So, maybe I was power hungry, ha, ha, but the sheer reward they got with that whole relationship between the planters and food was amazing. My second last year I got injured and the camp cook asked me to come on as her assistant, which I did and I loved it.
Why did you leave Whistler?
I just needed more of a real life. Five years in Whistler is a really long time. When I finally finished university, I worked in a few different pubs, some of the hotels--this was back in 1999, so all of the names have changed by now. The more time I spent cooking, the more I loved it. I definitely went more for high volume while I was there, but it's where I really cut my teeth. I came to Victoria because I wanted to go to culinary school as well, because up to that point, I was just kitchen-taught. I started at a little pub by the house I was renting. I ended up in Spinnakers for a bite within the first couple of weeks of arriving and sat on the deck upstairs and honestly, I just fell in love.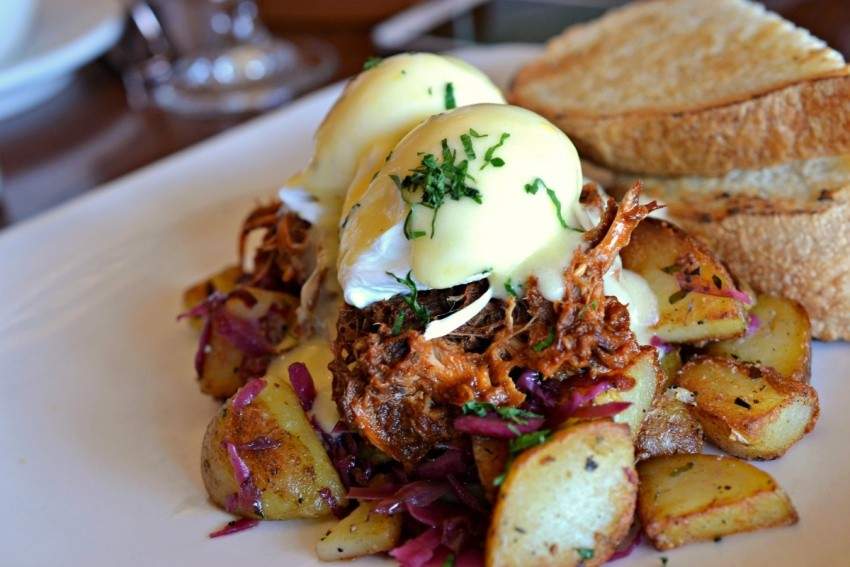 What was it about this restaurant that captured you?
I believe in working in beautiful places. [Even back then] I fell in love with the menu, the view, everything. What really struck me at that point--and this was 2003--was the amount of local sourcing done with the menu. It was all obviously from-scratch and all of that. So, I had a beer and then demanded to see the chef. The rest is history.
If there's one thing you love about Victoria food scene, what would it be?
The relationships and the interconnectivity here in Victoria is really what makes this food community amazing. I can't speak to Vancouver, but here, there is no competition between people because we all recognize and respect what we're all trying to do. You don't just buy local because it's easy here and if you're buying local because it's a fad, you're not going to get away with it here either. So many people here are dedicated to [that frame of mind].
Is there one thing you wish was done better on the island?
We're always looking for a more robust food system here. We need our small farmers, plant diversity and we need to be more self sufficient. We live on an island for God's sake! This is also the best growing area in Canada with the longest growing season and it's threatened, or more-so it was, due to a lack of interest. The vertically-integrated small farm really works here. That means multiple plants, different animals working together.
Do you have a particular small farmer you've worked with and seen them thrive?
The first thing that comes to my mind is TOPSOIL. It's about a five-minute walk from here. I was approached last winter by a young man, Chris Hildreth, who had done a bit of rooftop growing for a restaurant downtown and he was trying to make a model that could actually exist that people could do themselves. They are growing plants in really cool compostable bags with soil from reFuse, the company that picks up all of our compost in Victoria. We decided to try it out. He was given a big chunk of land, but to make it work, he needed a few other restaurants involved too. So Spinnakers, [and a few other places] are working cooperatively to make it work.
There is a fairly notable craft beer scene here, do you have any competitors? You know, healthy competition?
One of the restaurants that we support the urban garden with, Canoe Brewpub, is similar to us--you know, it's on the water, it's a brewpub and in a sense. It could be considered our direct competition, but we believe in enriching the community here. And we also recognize that we all have our little niches and that every place is different. If your success relies on you being the only option [of a certain kind], then that's not great. There has to be other distinguishing factors.
When you take the time to meet different restaurant owners, chefs and producers here in Victoria, you really get the impression that people do what they do here because they genuinely love it and love where they are. That's not always the case in a city's food scene.
I've given that a lot of thought as well. It's definitely my operating mentality and I'm here to enrich to help, to learn, to grow and not become a millionaire. Well, it's pretty rare to become a millionaire in this industry, but I think it has a lot to do with the environment here. There are many beautiful places in Canada, all over the world, but to have access to all of this...I think it propels us. It fulfills a driving force here. So yes, I agree. It is part of the culture here, for sure.