With the 2020 Juno Awards taking place in Saskatoon next month, all eyes are going to be on the Prairie city leading up to the televised awards show on Sunday, March 15. With no shortage of local musical talent and plenty of out-of-town folks making their way to Saskatoon for a week of festivities, it only seemed right to have the Blue Jay Sessions join in on the fun!
The musically-inclined pop-up will be taking over Somewhere Else Pub March 12-15, and transforming it into a cozy venue for 32 musicians to perform in songwriters circles over the course of four nights. Saskatoon-based country singer, Shantaia, says she's excited for this intimate songwriters performance experience to come to Saskatoon.
"There aren't a lot of places you can experience a songwriters circle in Western Canada, so the Blue Jay Sessions are really special," says Shantaia. "They do a great job of curating artists who are complementary to each other and creating an atmosphere where people can get really immersed in the music. Of course, the fun food and drink they serve help make it awesome too!"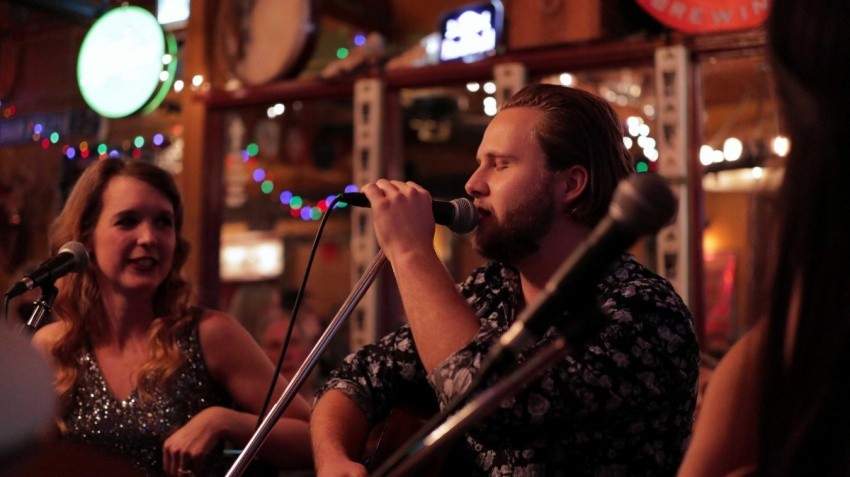 Singer Michael Daniels performing during the Blue Jay Sessions in Calgary this past November. (photo by Colby Johannsen)
Performers for Blue Jay Sessions: Juno Edition include past Juno Awards nominees, Theresa Sokyrka and Desiree Dorion, as well as names from across Saskatchewan and beyond, such as Elsa Gebremichael (Wild Black, We Were Lovers), JJ Shiplett, Alee, Brody Siebert, Tyler Lewis, Rylan Schultz (The Pistolwhips), Shantaia, Mariya Stokes, Robert Adam, Erin Hill and many more.
As usual, Blue Jay Sessions will feature some creative Southern-inspired pub fare to go along with live tunes. Expect dishes like an ooey-gooey patty melt, a fried bologna sandwich and fun spin on boneless dry ribs, a Saskatchewan pub classic.
Rounding out the pop-up experience will be its own custom beer created by Russell Brewing. The Blue Jay session ale will be available for purchase at liquor stores across Saskatchewan as of late February and on tap at Somewhere Else Pub during the March 12-15 sessions.
There are only 50 tickets for each of the Blue Jay Sessions and they are on sale now for at an early bird rate of $15 each until Monday afternoon when the full artist schedule is released.