Our Blue Jay Sessions (formerly known as the Blue Jay Cafe) are returning to Calgary next month from February 12-15 and this time around, the musically-inclined pop-up is focusing on love.
Once again, the Oak Tree Tavern in Kensington will transform into a themed space for 32 Canadian musicians (12 returning performers from last November and 20 new ones) to perform in songwriters circle sessions over the course of four nights. Between performances, musicians such as Annika Cheyne (formerly of Leaving Thomas), Amy Nelson, Krissy Feniak and Drew Gregory will share the stories behind their original songs and seeing that the Blue Jay Sessions is popping up on and around Valentine's Day, the theme is all things love and heartbreak... and happy singledom too, of course.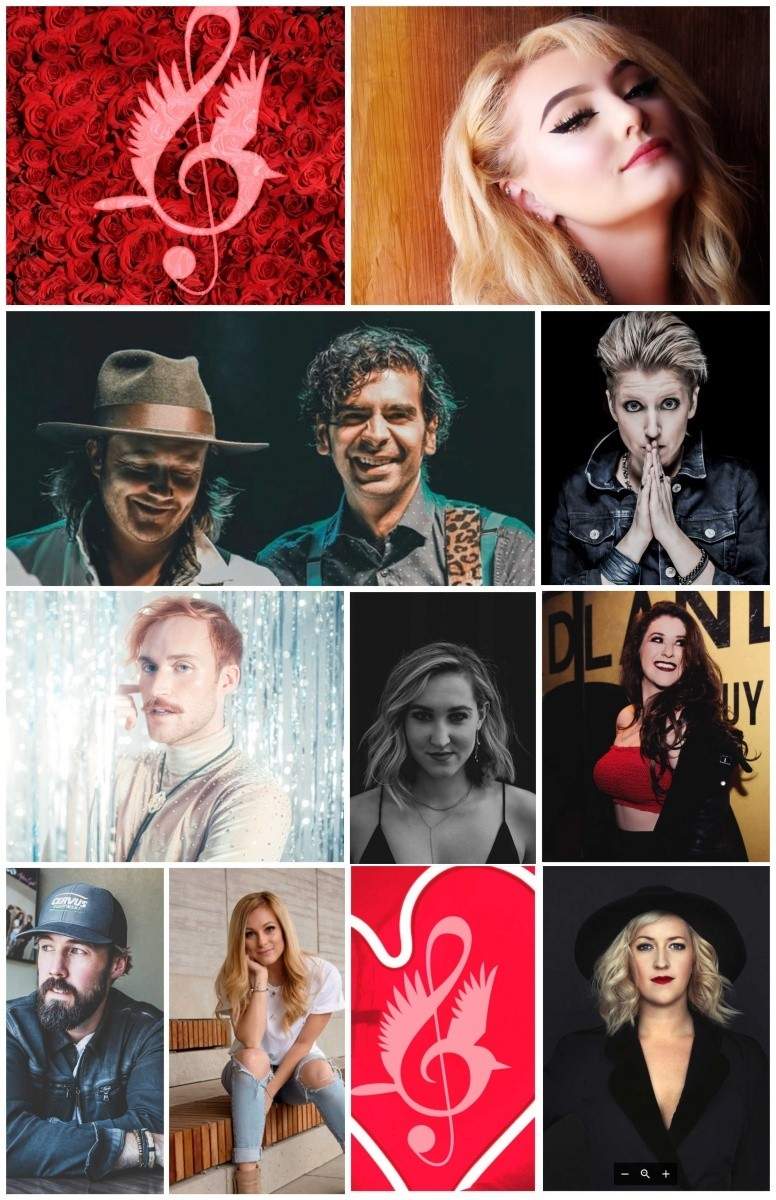 (clockwise from top right: Krissy Feniak, Amy Hef, Michela Sheedy, Justine Vandergrift, Alex Hughes, Drew Gregory, Robert Adam, James Murdoch and Kiron Jhass of The Dungarees and Kaleigh Jo Kirk)
Each night will comprise of two sessions, each with a different theme: "finding love" being the focus in the first sessions and "heartbreak and singledom" for the second sessions. So, whether you're looking to have a fun date night or hear about dissolution of romantic relationships via song, it looks like Blue Jay Sessions has got you covered.
"Performing at Blue Jay in November was an incredible experience and I'm so grateful to be a part of the show again," says returning artist Alex Hughes. "To be surrounded by fellow songwriters and share our stories in a space where we are so appreciated is really unique in the [Alberta] scene and truly special."
The Blue Jay Sessions also has a history of surprise performers, with Jocelyn Alice and Ellen Doty swinging by for the holiday edition as well as Paul Brandt, Jason Benoit and Chris Buck during its inaugural session in September, 2019.
As usual, there will be a special menu to match the themes, including beer cheese fondue for two (or one), spaghetti and meatballs for two (a la Lady and The Tramp), chocolate lovers' cake with cherry whiskey compote and more.
Attendees can also expect Jack Daniels whiskey cocktails, craft beers from Russell Brewing Co. and the other usual boozy suspects.
Tickets are $20 and there are only 52 seats available for each session, which are now available for purchase.