With successful places like the lively Belfast Love on King Street and the barbershop-by-day, cocktail-bar-by-night Gift Shop on Ossington Avenue in Toronto under their belt, it seems that the Vancouver-based Donnelly Group has been putting a good foot forward out east over the past year and a half. This past weekend, the restaurant group—which mostly owns a mix of pubs and bars in Vancouver like The Lamplighter, but also co-owns Royal Dinette—opened up their latest Toronto venture Walrus Pub and Beer Hall on the corner of Bay Street and Wellington in the Financial District.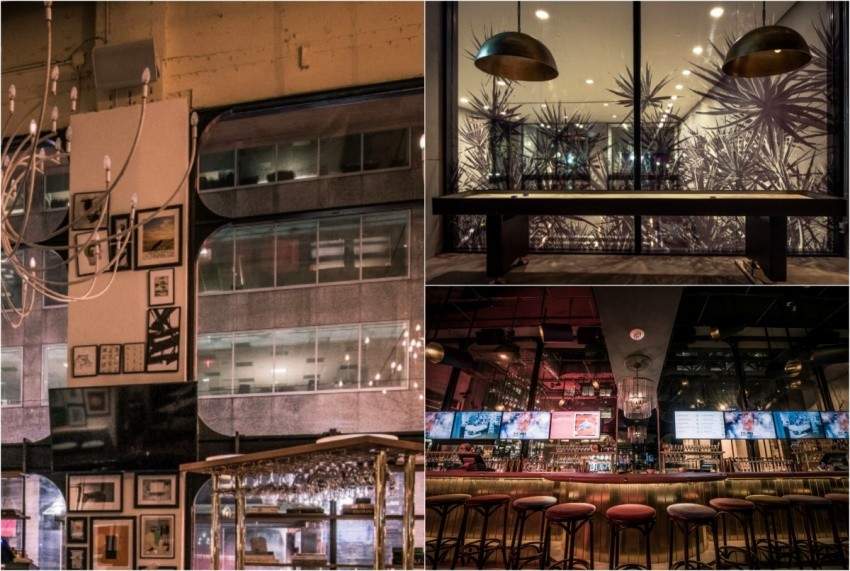 Walrus' large, divided room boasts an eclectic, but polished look, courtesy of Ste Marie Design and their in-house artist/designer, Ricky Alvarez. Ste Marie is arguably one of Western Canada's most sought after design firms and has done the interiors of many award-winning restaurants such as Kissa Tanto and Savio Volpe. This particular space offers up tall walls filled with a myriad of framed artwork, both large and small, properly levelled and purposely crooked, plenty of brass lighting fixtures and sparsely decorated book shelves standing in front of floor-to-ceiling round framed windows that look out onto Wellington street. On the pub side of things, you'll find a long bar with shiny gold paneling and a line-up of flatscreens above their tap lines. Even the shuffleboard here looks reasonably swank sitting underneath modern light fixtures in front of a fern decalled glass pane.
Donnelly's head development chef, Chris Stewart (formerly of Mission Hill Winery and Hawksworth Restaurant) keeps things relatively approachable with a range of dishes, from shoestring fries with housemade Russian dressing to a house-ground burger on a potato bun and a line-up of sesame seed-crusted pizzas like the Bianca topped with smoked mozzarella, fried leeks and crispy fingerling potatoes. Drinks on offer include plenty of craft beer on tap, cocktails and also a list of zero proof drinks for anyone keeping themselves booze-free.
Walrus is open from 11 a.m. until late Monday to Friday and 4 p.m. onward on the weekends.