Still feeling fresh from a recent trip to Vietnam, jetlagged and holding an especially deep appreciation for caffeine this week, it seemed timely to return to Canada only to find out that a Vietnamese coffee bar concept had opened out west.
Called Ca Phe (i.e. vietnamese for coffee) and owned by childhood friends Minna Van (The Network Hub co-founder) and pastry chef Andrew Han, this compact coffee bar is a temporary pop-up located inside the Chinatown House, a community use space on East Pender Street. Both Van and Han have Vietnamese family roots and wanted to open something that served the style of coffee that is synonymous with day-to-day life in Vietnam.
Though you can find Vietnamese coffee at many Vietnamese restaurants across the country, Ca Phe is unique for the variety of Vietnamese-style coffee it offers, such as egg coffee or avocado coffee, in addition to the Vietnamese-inspired baked goods created by Han. It is humble in size at 16 seats and, upon a little digging, is also the first concept of its kind not only in Vancouver, but in all of Western Canada.
If egg coffee sounds a bit unusual, just think of it more as a marriage between strong espresso and a soft meringue made with condensed milk. Somewhat surprisingly, Ca Phe does not offer coconut coffee, which is an equally popular coffee in Vietnam, if not more-so than egg and avocado variations.
Well, now we know there's one vote to get it added to the menu. Mine.
(update: there is now coconut coffee on the menu!)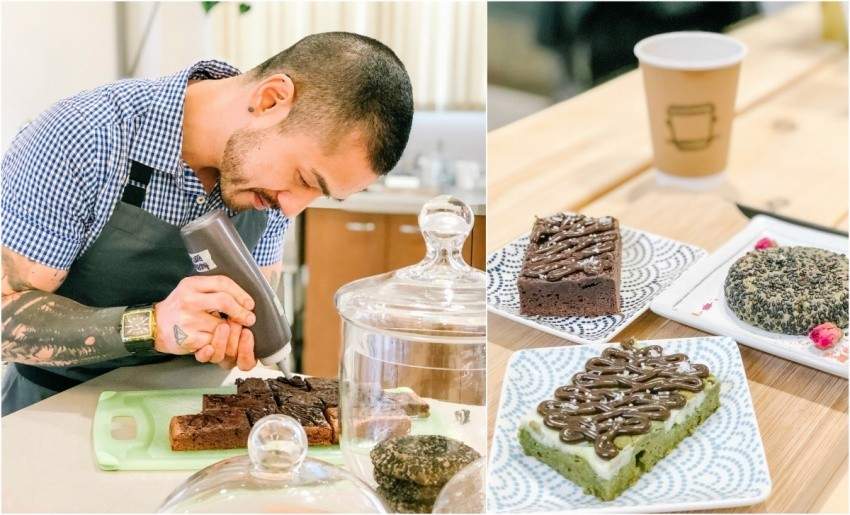 "At Ca Phe, I want to bring back some of the authenticity, the history, and the flavours and experiences I had growing up in a modern way, while paying homage to the Chinatown I knew as a kid," says Han.
Getting creative with classic dessert squares, the chef's current sweet treats Ca Phe include a dark chocolate hoisin swirl brownie with Vietnamese coffee salted caramel sauce and brown butter matcha and cream cheese blondie with black sesame caramel, but the chef says he expects to have the baked goods menu change every second week or so.
"Growing up in Chinatown, we were able to witness, experience, and live the life of immigrant children in Canada, all while maintaining our heritage," says Van on partnering with her lifelong friend on the pop-up inside the historic building-turned-community work space that her company also helped bring to fruition.
There's no firm date on when the Ca Phe pop-up will wrap, but its expected to close up shop by mid-spring.