Celebrated Edmonton filmmaker and wild food explorer extraordinaire, Kevin Kossowan, has had quite the year. This spring, he was was shortlisted for a prestigious James Beard Foundation Award for his work on his visually stunning, beautifully, and occasionally brutally raw—as the hunting and processing scenes hold nothing back—series From The Wild.
The first episode of the James Beard-nominated series officially premiered today and Kossowan opened up to us about how this new season was his most expansive, but also the hardest to capture. The series highlights western regions, such as the Okanagan and the boreal forests of Alberta—Kossowan and friends' most beloved of stomping grounds—before heading all the way out east to St. John's.
"Each adventure was met with snow and chronically wet boots, creating some perilous moments on a multi-day river trip pouring water out of a pelican case of camera equipment, and finding us stuck in our bushcamp until the weather broke enough to allow us to [barely] get out of the boreal," says the filmmaker.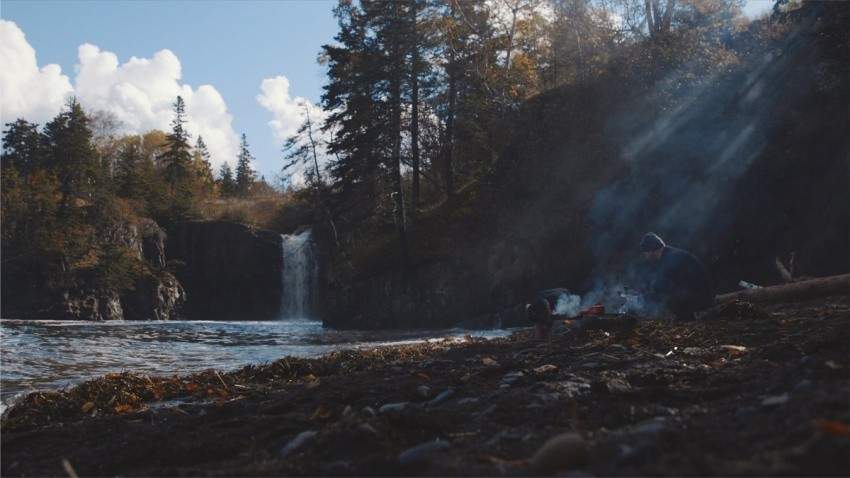 Plenty of familiar faces in From The Wild make return appearances, such as Edmonton's RGE RD chef-owner Blair Lebsack (pictured above) and Kossowan's right-hand man and Alberta abattoir owner, Jeff Senger. Okanagan chefs Adair Scott (Watermark Beach Resort, Osoyoos) and Aman Dosanj (The Paisley Notebook, Kelowna), as well as winemaker Tyler Harlton join in on different expeditions in the west as does celebrated Newfoundland restaurateur, Jeremy Charles when the series hits the East Coast.
Ingredients sought out and cooked with by the mix of chefs and adventurers over the course of the ten-episode season include more commonly known ingredients like fiddleheads, scallops, dulse and hedgehog mushrooms, as well as lesser known ones such as bog cranberry, sharptailed grouse, periwinkles, pronghorn, caribou lichen, snowshoe hare, eider duck and cloudberries, just to name a few.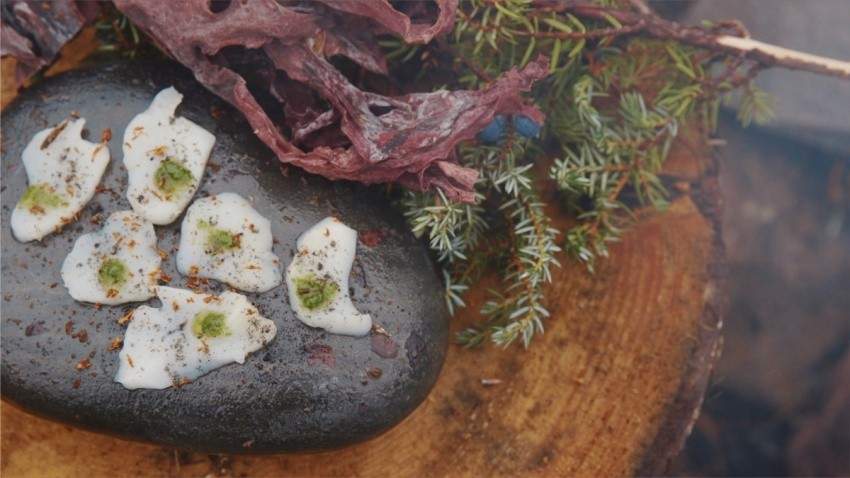 hot rock-cooked scallops with dulse
"There's been a parallel learning over the years with the foods of the wild and my filmmaking, no question," explains Kossowan. "Episodes [in older seasons] used to be 22 minutes and we are now in the 35 to 50 range, with ten episodes per season rather than 12. I'm also relying less and less on interview dialogue to hand-hold the viewer, which allows the viewer to be immersed in a deeper way."
With the premiere of the series' fifth season now available on Vimeo On Demand, Kossowan says his plan is to release one new episode a month for the next nine months.
Watch the trailer for the new season of 'From The Wild'